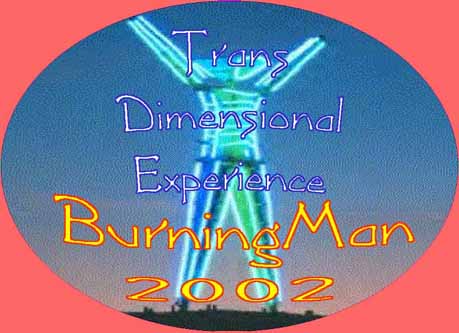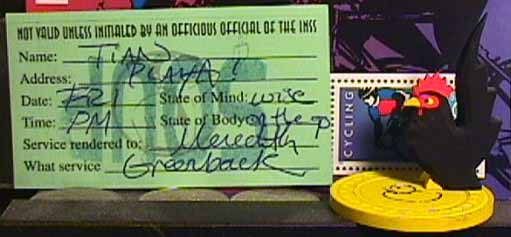 To get a green card at Burning Man, you have to do some sort of community service. Friday afternoon I walked up to the window and explained to the woman there that I had been spending the day sharing
my little speech
with people. She felt that was good enough community service to issue me a card. Click on the picture above to see some of the people that liked what I was doing enough to ask for a copy of the sticker when I was done.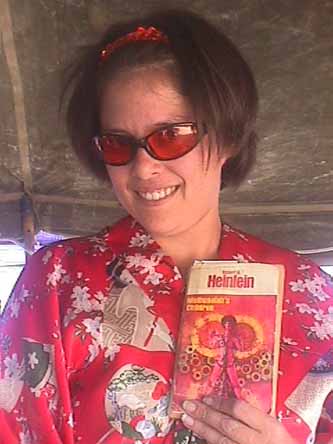 When I was living in Sacramento, two of the biggest events that were organized for my political campaigns were put together by CC, the woman shown above with the old Heinlein book I was carrying my stickers in. At the time she must have been something like 20, a lucky find if there ever was one. Before running into her at Burning Man, I hadn't crossed paths with her since a brief phone call in 1995. She explained that after I had left Sacramento, she had moved on to more important things than Sacramento had to offer, like being on the Staff for Burning Man. That phase had passed for her, and this year she was just another player on the stage like myself. Click on her picture to check out other friends I saw at the event.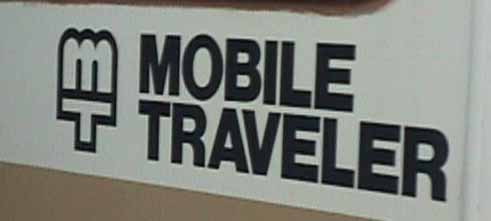 It's a funny thing, but the first problem we encountered on the way up to Burning Man was that MrLiver's Mom's RV died in his driveway. We had to leave it behind. The logo on its side, shown above, was a clear cut case of false advertising. To see some real mobile travelers, click above.