I heard somebody say that this building was called the Temple of Joy. It was a remarkable assembly, built of scrap wood left over from the manufacture of those dinosaur skeletons that you can buy at places like The Learning Company. I went into the thing after I took this picture, and I found out that it was a series of alcoves that people had transformed into memorials to lost friends and family members. They lit it Sunday evening, just as we were hitting the road to leave the playa. The flames were huge, dwarfing everything else we could see at the time.

This was the only picture of The Man I managed to take. It was early Sunday morning, and the sun was just coming up. In previous years, I had always taken far too few stickers to really do a good job of working the crowd with my little speech. This year I did so much of it that I didn't do a good job of capturing the event on film. However, there are plenty of pictures of The Man before and during Saturday night's burn. Seeing it go up in flames was really something.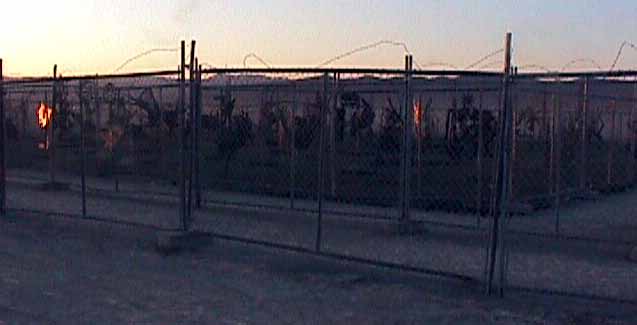 Those pink dots are the first rays of sunlight as the sun climbs above the horizon. Minutes later, everything was easy to see.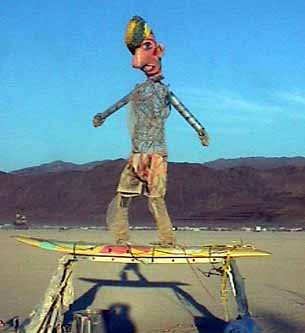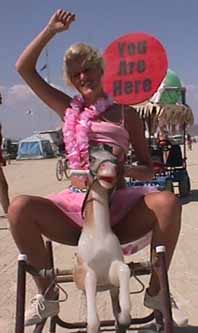 It amazed me that an art car with a huge YOU ARE HERE button on it would pose so perfectly behind this rider for just long enough to let me take this picture. She rode that horse for quite a while, squeaking the springs as it went back and forth under her. I asked her why she would want to ride in the hot sun, and she explained it had something to do with the bar behind her, where a bunch of people wearing western hats were hanging out.