Regarding the June statewide ballot, here is something about how I voted: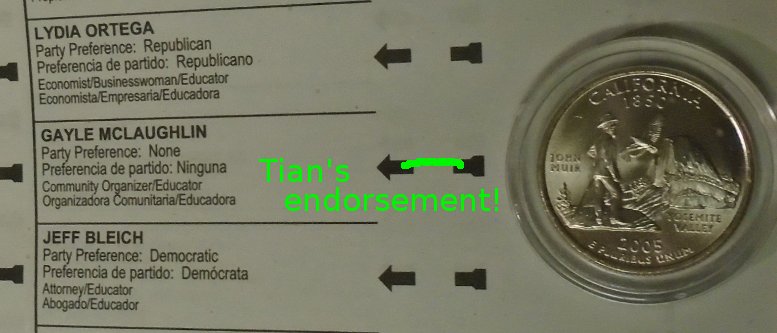 Lt. Gov: Gayle McLaughlin. It is a privilege to vote for an old friend like her. Please vote for Gayle McLaughlin!
Gov: Josh Jones. He was the only candidate I saw building a grass roots campaign and doing a good job as a candidate.
Secretary of State: Eric Ryberg. You might think based on my background that I would say Mike Feinstein, but I was talking to Mike on the phone one time and he asked me "Are you a Green Party activist or a green movement activist?" It rubs me the wrong way that he would think that was an "Either A or B" question. Can't vote for him for that reason.
Senate, Controller, Treasurer, Insurance Commissioner: Threw my vote away on some candidate that didn't win.
RM-3 Bridge tolls to pay for transit: Yes.
Prop 69: Yes.
Prop 71: Yes. I figure minor time delays are okay. That seems to be what this one is all about.
Prop 72: Yes. Getting everything you can out of the rain that falls on your property is wise in California.

May 12th 2018 was all about biking Santa Clara County. To make a long story short, that was 95 miles of pedaling through beautiful places.

Sunday May 13th was Mothers Day brunch with Virginia' daughter and Silicon Valley Open Studios on the tandem.

----

This website is an effort to share my search for happiness with other people. It is a large maze of pictures and words, and if you hunt around you are bound to find something interesting sooner or later. Click the pictures to see what is behind them, scroll when you feel like it, and maybe you will find an enjoyable echo of my bliss. Use the back button on the control panel when you find a dead end.

July 30th, 2018: So happy that the Green Party of Ohio has so many voters among their members. Hoping that means more sustainability resonates with at least that may of Ohio's citizens.

Please, visitor
155047
read my mission statement by clicking here.
Web master: Tian Harter (As of 7/10/2018 the email has been downgraded to something I have access to only when over at the girlfriends or a public library internet terminal. Don't expect the kind of prompt attention I used to give stuff when it came straight to the desk I'm at most of the time.)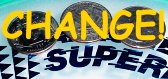 Click on any picture to begin a tour of this world!
(C) Copyright 1999-2018 Tian Harter, All Rights Reserved.