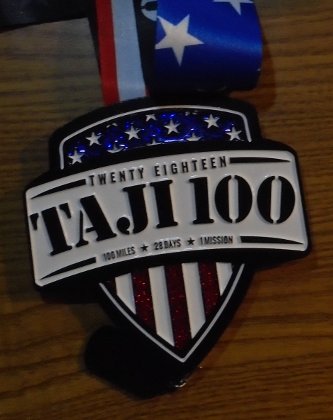 Unlike most of the races we've been involved with, Taji 100 is a month long challenge. The idea is to go 100 miles (or more) on foot in the month of February. Virginia is bent on getting 300 miles this month, and is more or less on track for that. I'm on track for 200, far more than I was expecting. My stated goal for the month was to reach 147 miles, but I'm not going to stop if I get there early. Feeling stronger than I have for a long time because of all the walking.

December 29th, 2017: This was the bling collection that I wore at my festivus party. People asked what my feat of strength was and I said "Carrying around these medals all evening." In the case of the eclipse medal, the real feat was getting to Tennessee on the Greyhound bus to participate in the run. Loving the fact the "San Francisco Berkeley Challenge" covers two cities that elected Green Party members. Forgot to refer to the guy on the Summit Rock medal as "Han Spotted Owl" too many times. Did all those runs with Virginia, plus many others. Looking forward to more of that in 2018!

February 4th, 2018: Did the Super Guadalupe River Run with Virginia. Since it was only 6.2 miles along a river bike path, I focused on going as fast as I can. Did every mile at a pace at or under 15:45. Better at race walking now then I ever was before that experience. Used a new pair of Saucony shoes for the experience. That turned out to be a mistake. They'd done okay out walking with Virginia, but under race conditions they ground a huge blister in my heel that popped and got very sore by the time I crossed the finish line.