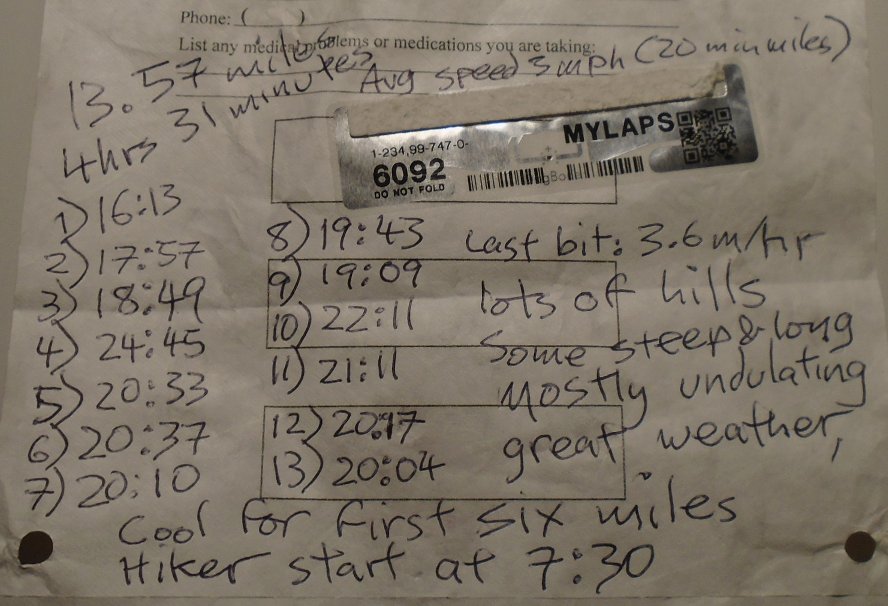 To the notes on my Bad Bass bib I gotta add that the only paved road was the first and last mile or so. The rest was dirt trails, wooden bridges, and lots of minor obstacles to trip over. The setting was Lake Chabot Park in the East Bay hills, a truly beautiful little valley I'd never been in before.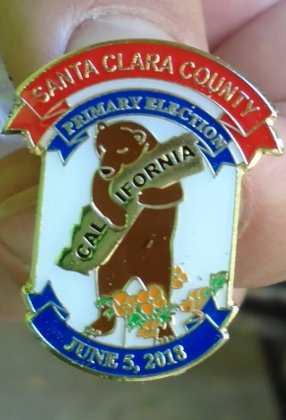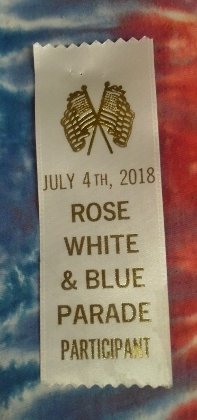 May 23rd, 2018: Did the election officer training at the Registrar of Voters office. At the end of the training they gave those of us who completed it each one of these pins. Wore it on election day. Not sure anybody noticed.

July 4th, 2018: Participated in the Rose, White, and Blue parade with bike party. Had a great time. Got this ribbon at the beginning and wore it all day.

Unlike most of the races we've been involved with, Taji 100 is a month long challenge. The idea is to go 100 miles (or more) on foot in the month of February. Virginia was bent on getting 300 miles this month, and did it. I ended up going for 200, far more than I was expecting at the beginning of the month. Feeling stronger than I have for a long time because of all the walking. Also unlike most races, what makes the experience compelling is the online component. All of the fun of following a favorite baseball team in the paper, except that I was the team. Go! ME! GO! The leaderboard at Taji100.com gives you a sense of your place in the race that makes working out so much more than just a good reason to eat delicious food. The exercise log component has lots of outings on it. So fun!

March 19th, 2018: This was another beer that was already in the fridge. Celebrating in the FINISHER cup I got instead of yet another medal from the GO GREEN St. Patricks Day. Wore as much green as possible. Finished the half marathon in 3 hours, 27 minutes, and 17 seconds, another PR for me. Now my finish time is under the cutoff for more races than it used to be.

April 8, 2018: Did the San Francisco Rock 'n' Roll half marathon with Virginia. Didn't do as well as I wanted, but still took 20 seconds per mile off last years time in the event. Think now part of the problem was that the air filter in my living room was clogged, causing me to have an almost imperceptible (except in stuff like half marathon performance) decrease in lung function. Replaced that the next day.

April 15th, 2018: Did the Silicon Valley half marathon with Virginia. Did it with a finish time three and a half minutes under last weeks, but still not a really good time. I'm thinking the problem is that I have been eating too much and gaining weight. Thanks Willie Nelson.

December 29th, 2017: This was the bling collection that I wore at my festivus party. People asked what my feat of strength was and I said "Carrying around these medals all evening." In the case of the eclipse medal, the real feat was getting to Tennessee on the Greyhound bus to participate in the run. Loving the fact the "San Francisco Berkeley Challenge" covers two cities that elected Green Party members. Forgot to refer to the guy on the Summit Rock medal as "Han Spotted Owl" too many times. Did all those runs with Virginia, plus many others. Looking forward to more of that in 2018!

February 4th, 2018: Did the Super Guadalupe River Run with Virginia. Since it was only 6.2 miles along a river bike path, I focused on going as fast as I can. Did every mile at a pace at or under 15:45. Better at race walking now then I ever was before that experience. Used a new pair of Saucony shoes for the experience. That turned out to be a mistake. They'd done okay out walking with Virginia, but under race conditions they ground a huge blister in my heel that popped and got very sore by the time I crossed the finish line.