November 19th, 2017: Did the Berkeley half marathon with Virginia, coming in at a personal best 3:34:08. Pretty good considering all the hills and the fact my shoe wore a hole in my heel. Every finisher got the same medal, regardless of distance run. That seemed like a really Berkeley touch. There was plenty of good food cheap. The weather was perfect. Too tired afterwards to be a tourist or anything like that. Came straight home and took a nap.

December 9th, 2017: Did the Summit Rock half marathon with Virginia. It was a very hilly course, with 2,800 feet of elevation gain and loss. Looking at the paperwork before the event, I didn't realize what that meant. It was up, up, up, and then down, down, down. Finished in 4:17:27. NOT the kind of flatlander course I'm used to. Two days later my legs are still sore.

August 21st, 2017: Virginia and I did this virtual 10K in the morning. Actually, we did 7.77 miles and finished around 12:30. That was still long before the eclipse, so both of us had these medals around our necks during the event and even for the rest of the day. It was quite something to experience mother nature playing with the dimmer switch on the big light in the sky. Glad I did it once, but not planning to go out of my way to see it again.

September 25th, 2017: This afternoon I went through my corn crop and separated the ears from the straw. Turns out I harvested 25 oz., including the cobs but none of the husks. I'd started by planting kernels from the best looking ear from last year. My harvest is much bigger than last years because this time I planted about five times as much of my plot in corn. Probably not going to do as much of that next year.

Update on the corn, Nov. 2017: I must have put it in a jar before it was completely dry. Not long ago I opened the jar and a bunch of little black flies darted out. Going to leave it drying for a lot longer next year. Either that or eat it a lot fresher, which is probably the right idea.


Wednesday August 16th, 2017: Got my new drivers license in the mail. I'd renewed by mail for more than a decade, so yeah, I've changed a bit since then. Probably this is going to be my last license that says "Hair color: brown." That's the future though, I'm hoping I can renew by mail for another decade before that.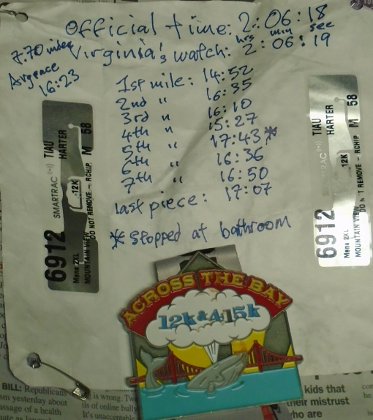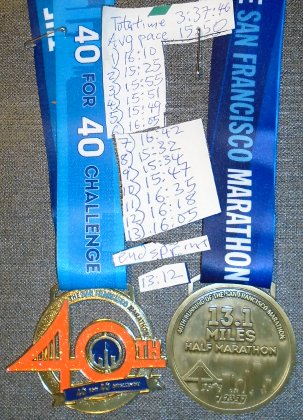 June 3rd, 2017: Last evening I took Virginia to Sub-Zero, an arts and crafts fair on South First St. in San Jose. It was a lot like many such events I'd been to around here before. Rather than take pictures I just enjoyed the event for the most part. When I found another participatory art project I'd squirt another rendition of "California trumps Trump". works (They spell their name with all lower case letters for some reason.) had a booth where everybody was invited to make a button of their own design. I put the one I made on my camera case strap, where it still was when photographed just now. Hoping it stays there a while.

July 9th, 2017: Virginia and I did the Across the Bay footrace. It was the first time I'd tried to go fast for a significant distance since falling off my bike. Afterwards my shoulder that had been getting a lot better started bothering me again. Hoping it gets better quick.

July 23rd, 2017: Virginia and I did the San Francisco Marathon's second half. Getting to the start was kind of nerve wracking because the bus driver decided to get creative on the directions. Then we got plugged up in traffic. The drivers route intersected the first half of the marathon route, and the street was so thick with people it seemed unlikely that we'd ever move forward. The people on the bus had to decide what to do. Some of us abandoned ship and decided to hoof it to the start (another two miles away). The rest of us talked the driver into going back to the suggested route. We got to the start about the time wave seven was hitting the course. It was chilly so Virginia and I left with the next wave instead of waiting our turn. It was a well organized run through a beautiful city. We had a great time. Mile 7 was slow because I stopped at a portapotty. Mile 11 was slow because I was getting tired. After that I picked up my pace because I wanted to get another personal record. As you can see from the finish time of 3 hours 37 minutes and 46 seconds, I did that.

The second medal was a this year only special challenge. Virginia talked me into doing this race by saying "They have a special medal for everybody that did 40 miles of marathons with them." Turns out, back when I was trying different things fresh out of college I did the 1984 run. I did the whole thing in 3 hours 56 minutes and 56 seconds. It's funny that I'm struggling to do half what I could then, but that's what two decades plus of being a political activist did to my race times. Yeah, 26.2 plus 13.1 isn't quite 40 miles, but we did the trip from the hotel to the shuttle bus pickup on foot, and that was plenty more than just seven tenths of a mile.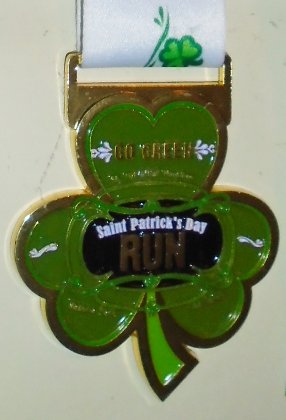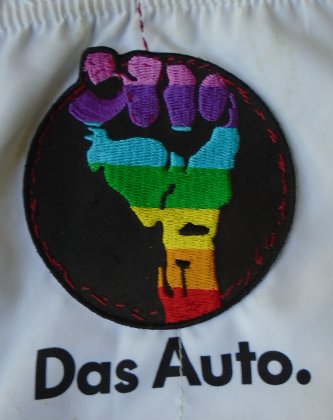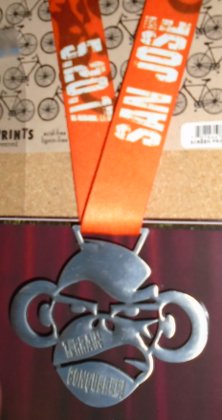 March 2017: I did the Go Green race in Vasona Park, Los Gatos. We were the last finishers in the half marathon race, still finishing in under four hours.

May 18th, 2017: A few days ago I covered up the corporate logo of a cheating German car company with this rainbow patch on my favorite visibility vest. I'm not in favor of autos in general, and raising a rainbow fist at them strikes me as a good idea. Makes the vest way better in a political kind of way.

May 20, 2017: For her birthday I took Virginia to the San Jose Terrain run. It was a 10K race with lots of obstacles along the way. We started by having to climb out of a huge bucket of water. Then we had to do things like flip a huge tire four times, use a sledge hammer to dribble a car sized tire about fifty yards, climb over a variety of walls of various heights, and brachiate over water. By the time it was over we were muddy and tired. So much fun! Ended up with a fun gorilla medal and a shirt that's too small.

March 26th, 2017: Another race with Virginia. This time I set a new record for speed, doing the whole half marathon in 3 hours, 41 minutes, and 12 seconds.

March 5th, 2017: Another race with Virginia. This time I set a new record for speed, averaging 14 minutes 44 seconds per mile over the entire 5 plus mile course. After the finish there was a booth for TAJI 100, where they gave me this dog tag for walking 154.32 miles during February.

Nov. 17th, 2016: They gave out these buttons at the GPSCC meeting. The message was "We're switching from candidate activism to movement activism."