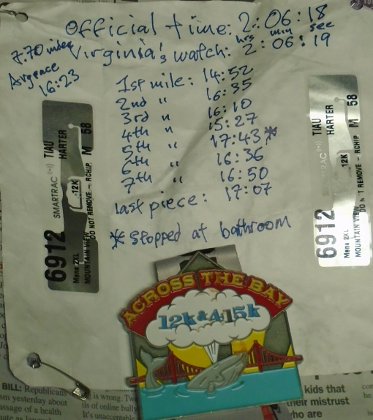 June 3rd, 2017: Last evening I took Virginia to Sub-Zero, an arts and crafts fair on South First St. in San Jose. It was a lot like many such events I'd been to around here before. Rather than take pictures I just enjoyed the event for the most part. When I found another participatory art project I'd squirt another rendition of "California trumps Trump". works (They spell their name with all lower case letters for some reason.) had a booth where everybody was invited to make a button of their own design. I put the one I made on my camera case strap, where it still was when photographed just now. Hoping it stays there a while.

July 9th, 2017: Virginia and I did the Across the Bay footrace. It was the first time I'd tried to go fast for a significant distance since falling off my bike. Afterwards my shoulder that had been getting a lot better started bothering me again. Hoping it gets better quick.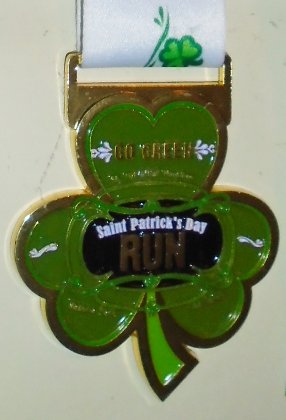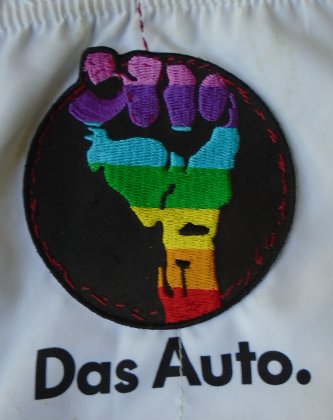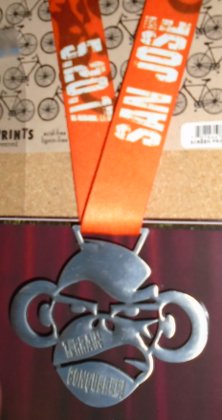 March 2017: I did the Go Green race in Vasona Park, Los Gatos. We were the last finishers in the half marathon race, still finishing in under four hours.

May 18th, 2017: A few days ago I covered up the corporate logo of a cheating German car company with this rainbow patch on my favorite visibility vest. I'm not in favor of autos in general, and raising a rainbow fist at them strikes me as a good idea. Makes the vest way better in a political kind of way.

May 20, 2017: For her birthday I took Virginia to the San Jose Terrain run. It was a 10K race with lots of obstacles along the way. We started by having to climb out of a huge bucket of water. Then we had to do things like flip a huge tire four times, use a sledge hammer to dribble a car sized tire about fifty yards, climb over a variety of walls of various heights, and brachiate over water. By the time it was over we were muddy and tired. So much fun! Ended up with a fun gorilla medal and a shirt that's too small.

March 26th, 2017: Another race with Virginia. This time I set a new record for speed, doing the whole half marathon in 3 hours, 41 minutes, and 12 seconds.

March 5th, 2017: Another race with Virginia. This time I set a new record for speed, averaging 14 minutes 44 seconds per mile over the entire 5 plus mile course. After the finish there was a booth for TAJI 100, where they gave me this dog tag for walking 154.32 miles during February.

Nov. 17th, 2016: They gave out these buttons at the GPSCC meeting. The message was "We're switching from candidate activism to movement activism."