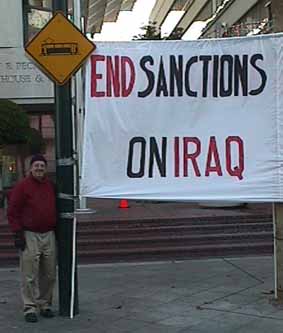 Sunday, December 15th, these activists started a five day hunger strike in downtown San Jose, the goal of which was to bring attention to the fact that there are people here that don't want us to have another war against Iraq. I didn't get down there until the following Wednesday, but when I did this is what I saw.
That sign with the Gandhi quote on it is a fixture at the weekly peace vigils that occur in front of the federal building. If you want to see it yourself, come on down some Friday between 4:30 and 6:00 PM.
Ryan is the only Green Party activist that went the distance in the hunger strike. He is also a huge Jello Biafra fan. Usually he is wearing either an Alternative Tentacles T shirt or Dead Kennedys one. You just haven't experienced true iconic activism until you've seen his leather jacket.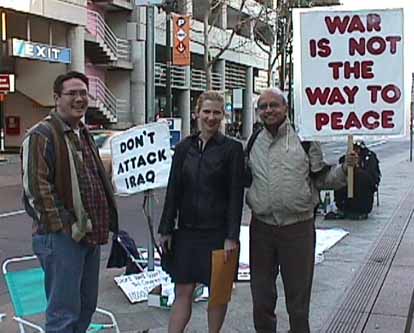 The guy in the blue top on the left works at the Peace Center in San Jose. Like myself, he was just there to show support for the protesters. I haven't met the guy in the San Jose shirt he was talking to before, but I think its great he was taking the time to check us out.
I don't know the guy in the striped shirt either. The woman in black next to him has something to do with one of the downtown area weeklies. I hadn't met the guy to her right before either, but he gave me his card. He is Syed A. Rizvi, the Executive Director of Engineers and Scientists for Animal Rights (ESAR). He was there every time I went down there that week.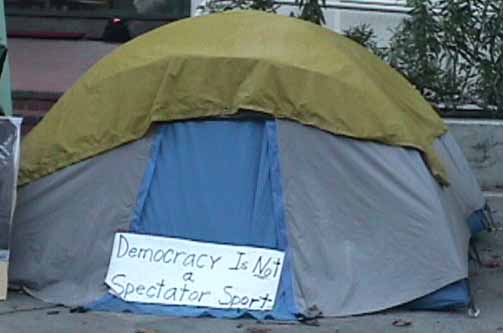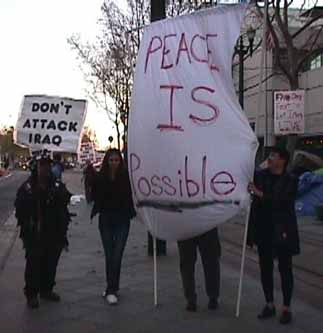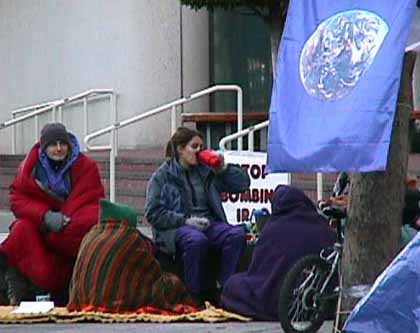 One great thing about a week long event like this one is that it gives the people present a good chance to talk to each other. The guy on the left with the DON"T ATTACK IRAQ sign is a Native American activist that has been involved with lots of big marches and the like. I marched with him for a while during the CHAM march from San Jose to San Francisco for housing for the homeless a couple of years ago. After I took these pictures, we spent some time talking about the Global Peace March in 2000. I had attended the kickoff rally in Berkeley when it started. He had walked with it all the way from San Francisco, CA to Fort Wayne, IN.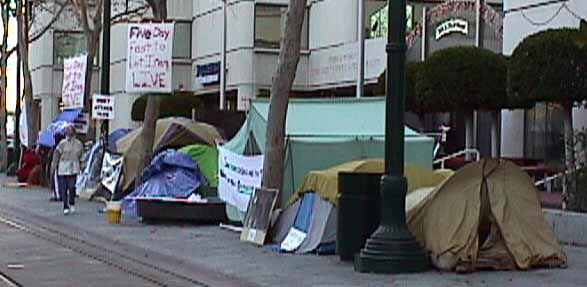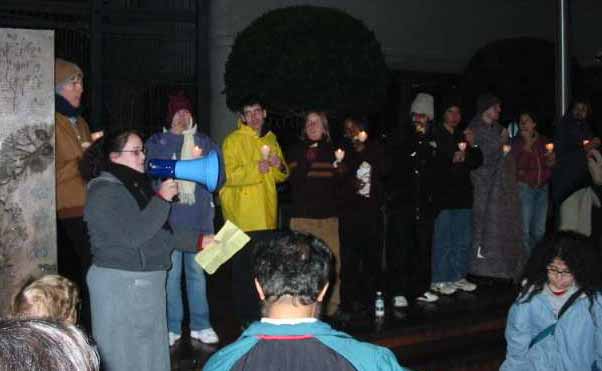 This picture of the fasters being honored at the end of the vigil was sent to me by Charlotte Casey.
Another picture Charlotte sent. There were many people there to honor the end of the fast. I only wish I had been there.
1848