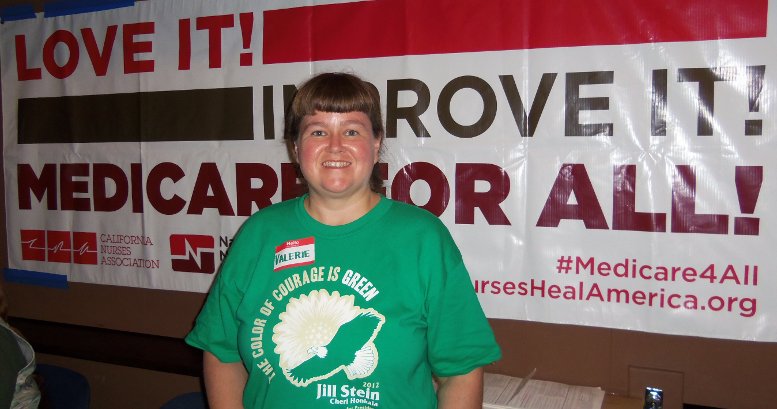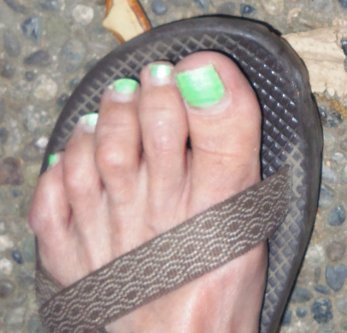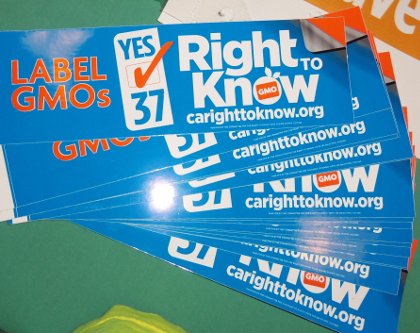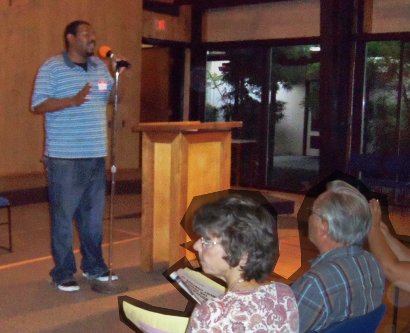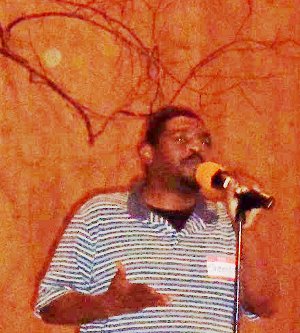 When the poet took the stage we were all mixing outside. He just kept reciting this poem that had lots of rythm and rhyme in an interesting and easy to listen to voice. I found a seat near the front of the pews.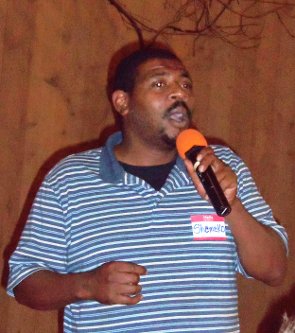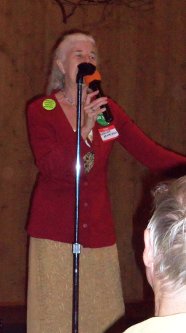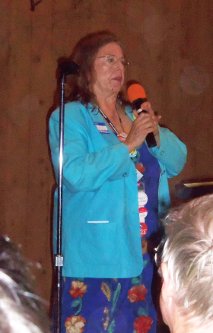 I think one poem was about what an awesome opponent stupidity is.

Then Merriam took the stage and thanked people that did stuff to help out getting the evening together. She asked us all to fill out the volunteer form and turn it in to help with the campaign or just keep in touch.Then she turned the mike over to Lynn Hydekuper.

Lynn Hydekuper talked about how what she saw during 40 years of nursing experience convinced her we need single payer healthcare. Good coverage that does preventative care. We all had fliers for it on our chairs. She asked us to fill out the form and turn it in.

Jill Stein said many things I wanted to hear. She has spent the last year getting her name on as many ballots as possible. As it stands, 80% of the US population will be able to vote for her. I heard "Cut the pentagon", "renewable energy", and "human rights". "The single best thing you can do for your health is switch to a mostly plant based diet and get some exercise" or something like that. She also asked for our support. She wants money to help get the message out in the couple of months. She wants us to do what we can to build the green movement.

There was time afterward for Q&A. Someone asked "why run if you can't win?" She explained that the Green Party needs someone at the top of the ticket that is doing what can be done with that platform. A speaker on the Presidential Stage can do a lot to build the visibility and credibility of the party nationwide. If she can break 5% in the vote, the Green Party will get $20 million in matching funds from the U. S. Government to fund our next Presidential campaign. There are wins to be had below turning the White House into a Green House, which would be okay to. Politics is about everybody getting involved in the ongoing struggle, and this kind of campaign helps a lot with that.
When asked about Isreal and Palestine she said "We need international law based in respect for human rights" and "end settlements" were her middle east positions.

We listened carefully.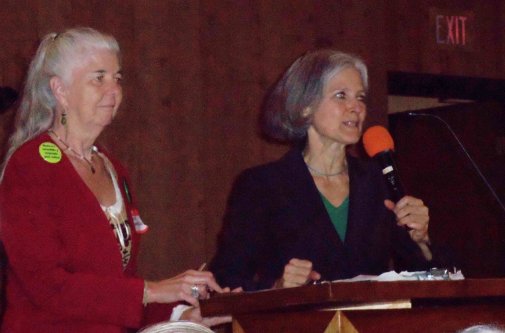 All too soon the candidate had to leave. She asked for our support and ran for the airplane.

I was excited by the candidate. I went to the desk in the lobby and wrote a check to support the campaign. Now I gotta think about what else I can do...
Valerie made a transcript of the speech and emailed it to me a couple of days after the event.
Click here to read that.
October 3rd: Democracy NOW! had a candidate debate.
Click here to see my take on that.