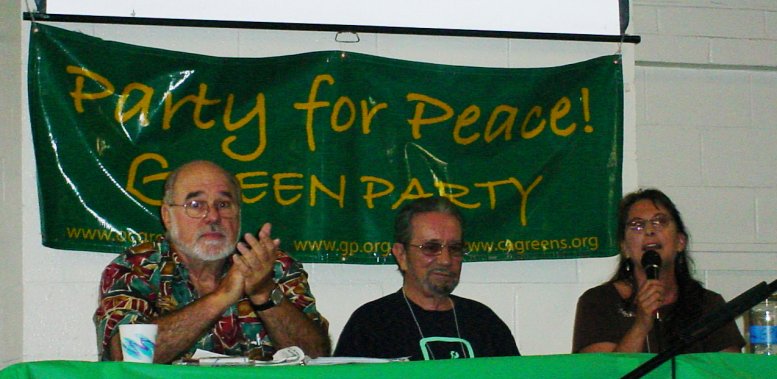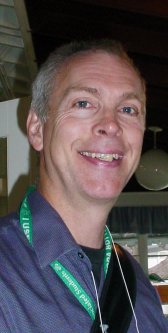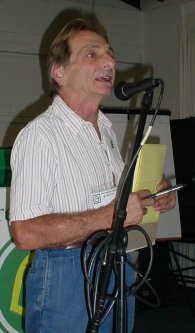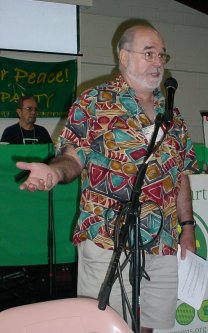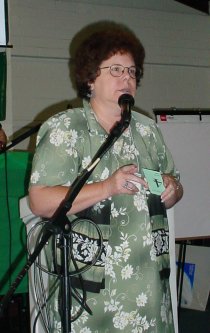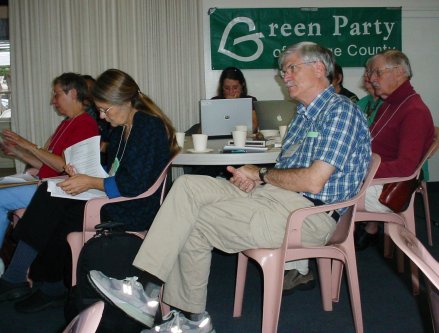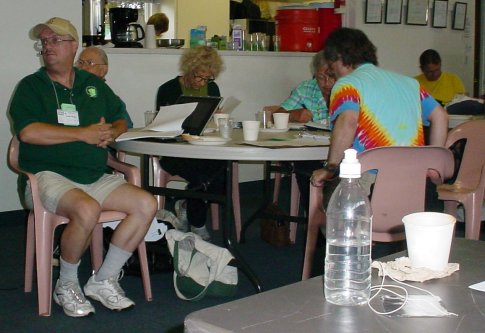 I think this was about a third of the people in the room. I didn't have a good angle to get pictures of the rest from my seat.

They had all of the Green candidates in the room stand and say a few words. Jack Lindblad (AD39) talked about doing something for his campaign every day. Tom Lash (CD??) talked about giving peace voters (including himself) somebody to vote for. Linda Piera-Avila (Santa Monica City Council) talked about her many years of service to the people of Santa Monica, the Green Party, and future generations. She also talked about the many endorsements and big campaign she is running.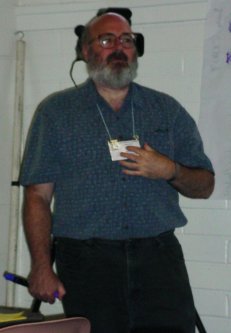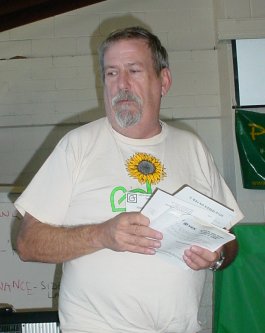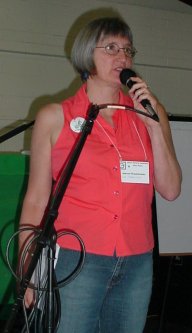 The first breakout session I attended was the Campaigns and Candidates meeting run by Warner. The vast majority of the time available was used up deciding how to allocate the Green Party's money to our candidates for partisan and non-partisan office. The default donation was $250, but star candidates in contested races like Mark Sanchez in San Francisco and Linda Piera-Avila were given double that. A couple of candidates that are embarrassments were dropped from the list. Every candidate in the room got something. There was a lot of discussion about a ballot initiative that Ross Mirkarimi wants us to support. The problem was that there was no State budget line authorizing contributions to local issue campaigns.


After that the Treasurers gave their report on the Green Party's bank account. They ended their time on the stage by asking us all to give money to the Green Party. I gave every big bill in my wallet out, but I gave the money to candidates that were in the room.

Cynthia McKinney spent the lunch hour and a bit more with us. Click above for more details on that.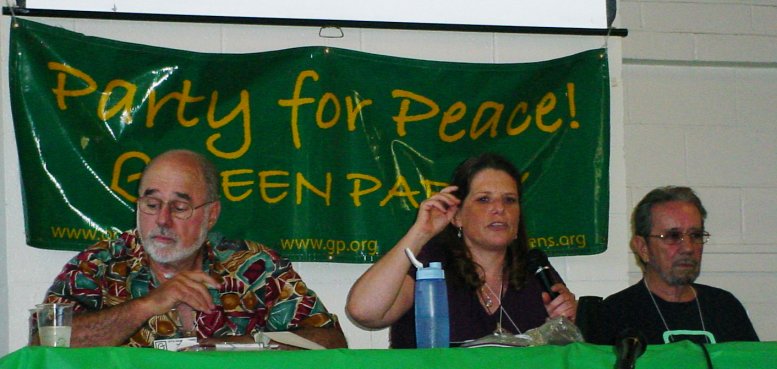 The second breakout session I wanted to go to the International Protocol meeting. The only problem was that the neatness freaks that insist of doing away with things that don't seem to be doing anything were running around saying "there is no international protocol meeting". Accordingly the only people who showed up for it were me and this woman who had been traveling with WILPF. She told me about visiting with a member of the Swedish Parliament who was a Green Party member and a peace activist. She felt that such connections were worth honoring, and that's why she showed up. After talking about fifteen minutes we decided to go to other meetings where more was happening. I took this picture at the meeting on the other lawn. I think it was platform, but I didn't pay much attention. I was unhappy that our international connection point had been shut down.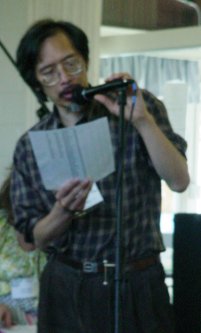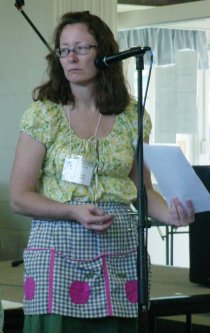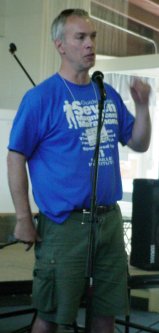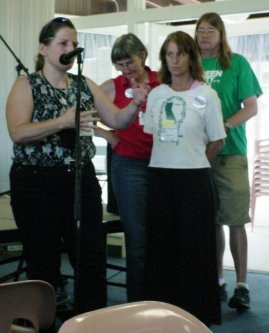 Greg presented the initiatives portion of the meeting. It created some discussion, and even a bit of controversy, but in the end we mostly took the Alameda County positions on the initiatives. Those positions are:

Prop. 2:
Treatment of Farm Animals – Consensus to Support/Vote Yes!
Prop. 3:
$2 Billion Children's Hospital Bond – Consensus to Oppose/Vote No!
Prop. 4:
Parental Notification for Under-18 Abortions – Consensus to Oppose/Vote No!!!
Prop. 5:
Nonviolent Offenders Sentencing and Rehabilitation – Consensus to Support/ Vote Yes!
Prop. 6:
Anti-Gang Penalties (Runner initiative) – Consensus to Oppose/Vote No!
Prop. 7:
Renewable Energy Requirements for Utilities – By Delegates' Votes: Oppose/ Vote No
.
Prop. 8:
Same-Sex Marriage Ban – Consensus to Oppose/ Vote No!!!
Prop. 9:
Victims' Rights, Reduction of Parole Hearings – Consensus to Oppose/ Vote No.
Prop. 10:
Alternative Fuel Vehicles & Renewable Energy Bond – Consensus to Oppose/ Vote No.
Prop. 11:
Redistricting – By Delegates' Votes: Oppose/ Vote No.
Prop. 12:
Veterans' Bond – By Delegates' Votes: Support/ Vote Yes.
The only position I disagreed with was prop 7. I still think greens should be in favor of renewable energy. I sort of feel the same way about prop 10. That one I just don't know enough about though.

There wasn't enough unity on Prop 1, the high speed rail initiative, for a decision. The fall back strategy is to have the Countys vote individually on the matter, and if enough vote, and the votes add up to more than 80% either way, then we will have a decision.


After the GIWG meeting broke up the Campaigns and Candidates Working Group was still at it, so I took this picture of them. They were talking about taking positions on ballot initiatives. Most of the people there mainly wanted to support candidate campaigns though.