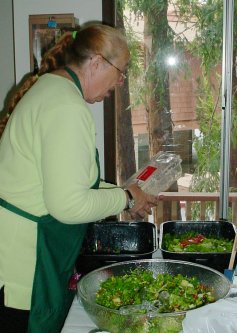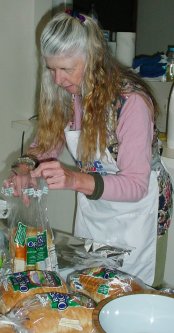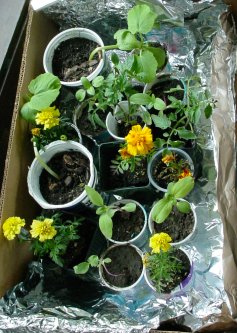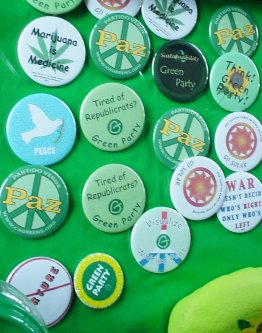 When I got there with my camera the cooks were still working on the food. The schwag table had lots of cool stuff on it, and the guests were just starting to arrive.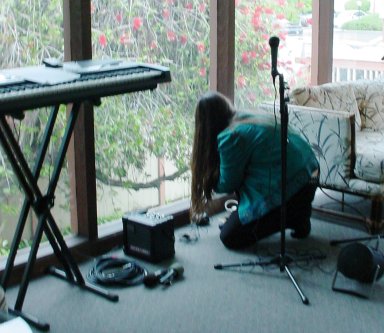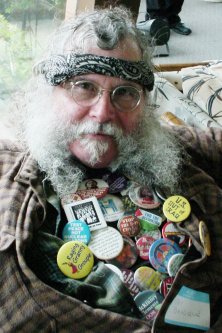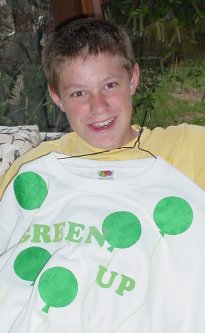 Mitch got one of Caroline's T shirts. She bought plain shirts and added fabric decorations and words to make each one a one of a kind work of art.

Rebecca and Gary did a great set of songs, a mixture of funny and political stuff that added a really nice touch to dinner. I wish I could say I took this picture while they were singing "I'm taking the first!", but I was eating at that time. Click their picture to find out more about them.

Carol Brouillet did the dessert. She made a very tasty organic coconut cake and cookies.

At some point I counted around thirty people in the room. Maybe there were a couple more outside smoking cigarettes or something like that. Everybody liked the food.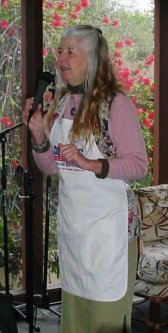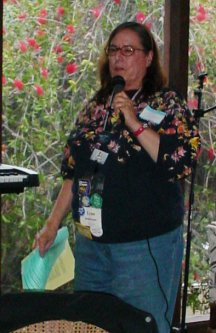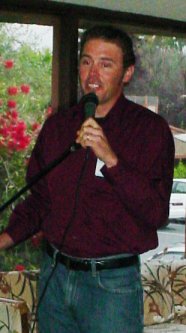 Merriam introduce Lynne, who is a RN, and one of the most active people in California fighting for health care for all.

Lynne talked about how rough it is to get sick when you don't have good health insurance. She said at this point the big battleground is HR 872. The legislature seems to get a lot of money from insurance companies, so they are using any excuse to duck constructive action. She is asking everybody to write their legislators expressing support for the concept.

Dave talked about sustainability. He made a few general comments before talking about becoming a farmer. It turns out that in his back yard is a 60 foot tall fig tree that churns out a couple of thousand pounds of figs every year. The first year he owned the property he tried to handle the situation by giving away figs, but that came nowhere near handling the supply. Then he found out that he had to get certified as a farmer before he could sell at the farmers market. That required an agricultural inspection, which cost a bit. Since then he has become the main source for figs at a nice local restaurant, reducing the food miles on their figs from 150 (from Fresno to Santa Clara) to four (from Sunnyvale to Santa Clara). It was a wonderful feeling to absorb the pride that radiated off the guy. I got a strong sense that a mature fig tree makes the name "One Tree Farm" something to respect.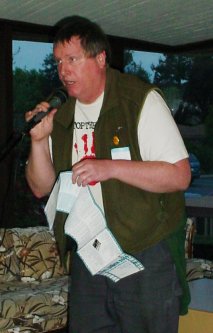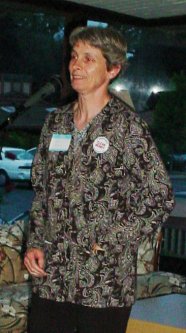 Pete started by saying "I'm in favor of the two party system." Then he explained that he's really in favor of are the Green and Peace & Freedom Partys. What followed was an announcement about an upcoming Raging Grannies film showing, on Friday May 8th at the Labor Hall at 1452 N 4th St (near 4th & Gish in San Jose). There will also be live entertainment by Anne and the Vets and the Raging Grannies. The event is a fund raiser for the San Jose Peace & Justice Center. He invited us all to "Come on down!" for a good time.

Nancy talked about Clean Money. The idea is that a candidate for office gathers signatures and ten dollar contributions from 7500 people and is then qualified for public money to run their race with. It was on the ballot a couple of years ago and was defeated then. This time they are trying to do it just for one Statewide office, Secretary of State. They have already done the work to get it on the Spring 2010 ballot. She is inviting anybody that wants to help with that to get in touch with her.

Mike has developed a great electric bicycle. The thing can go 20 miles on a charge at 20 miles an hour, and works well in the bike lane and in the car lanes. He was inviting anybody that wanted to try it to come outside after the event was over and ride it.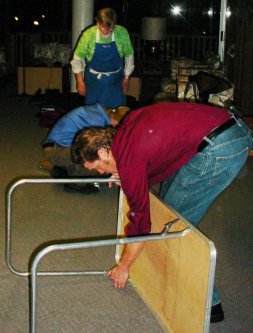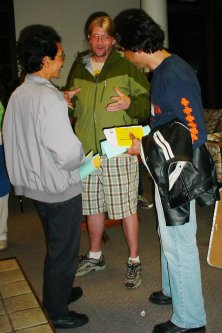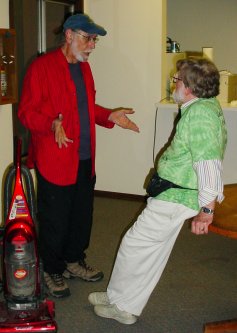 After that it seemed like everybody pitched in to get the cleanup done. For a long time there was the buzz of happy conversation in the background while we worked.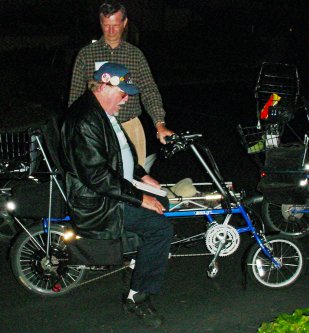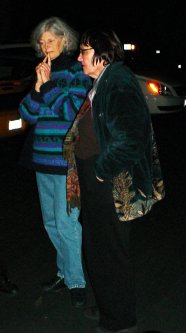 The same was true outside, where people were taking turns riding the bikes that were more like motorcycles than I'm used to.

I was surprised the next day by a couple of calls from people saying "we had such a great time at your event."