Last month I hadn't taken pictures at bike party because I'd volunteered to do the raven trike thing. I just didn't want to handle a camera and all those dead beer containers in the same trip. People were asking if I was going to do my picture pages again. Decided to do this month for sure.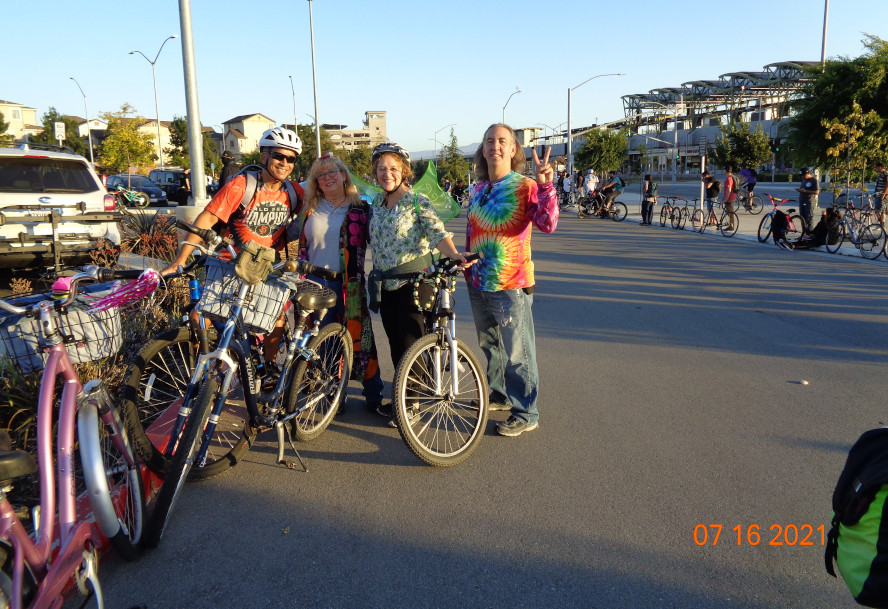 When I got to the start the first sight that made me bring out the camera was this gaggle of people I didn't recognize all excited about the ride getting ready for it.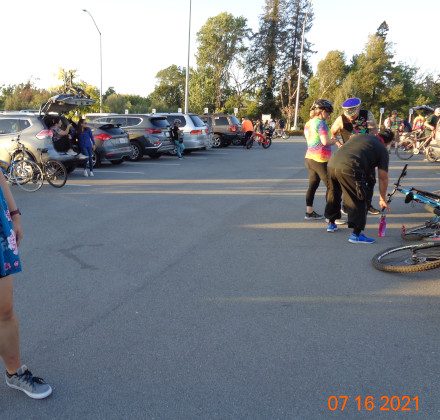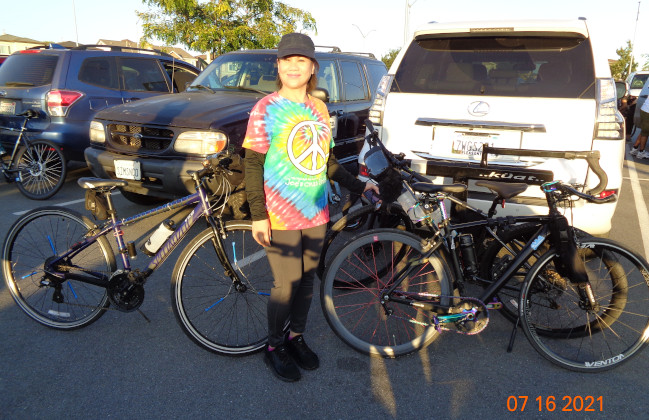 There were lots of people wearing tie dye of various types.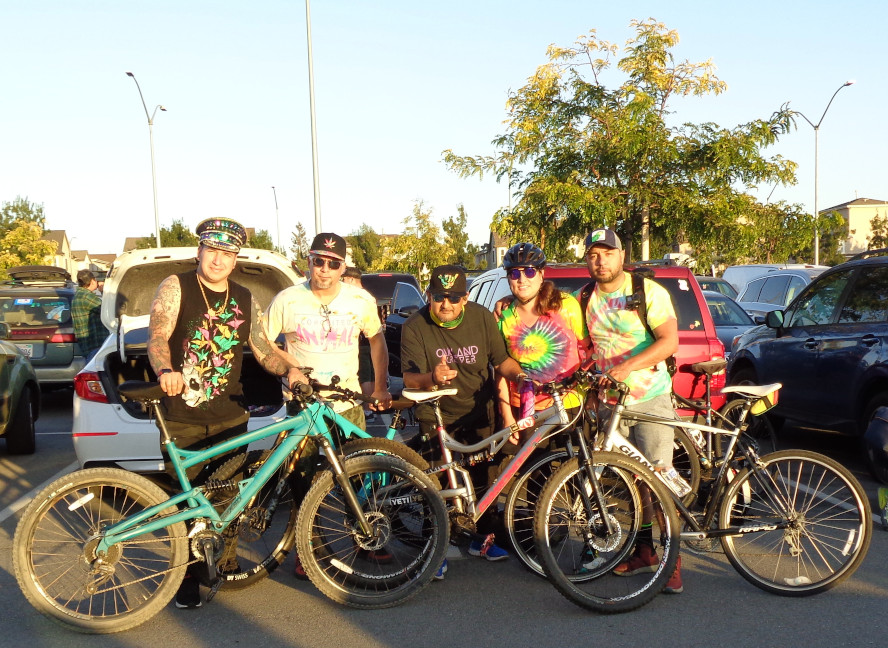 People were happy to pose for pictures. They didn't ask who I was or anything. It was like the good old days of bike party.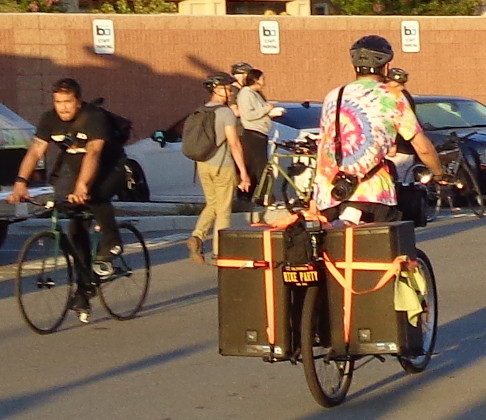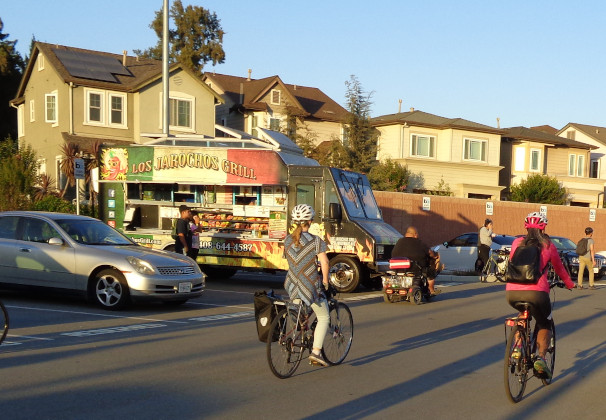 It really felt like the party got started when the big music bikes started showing up.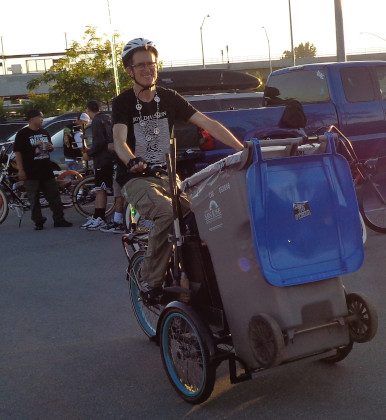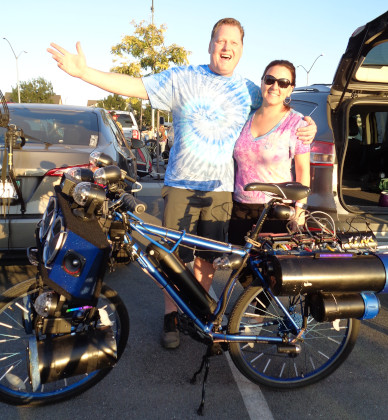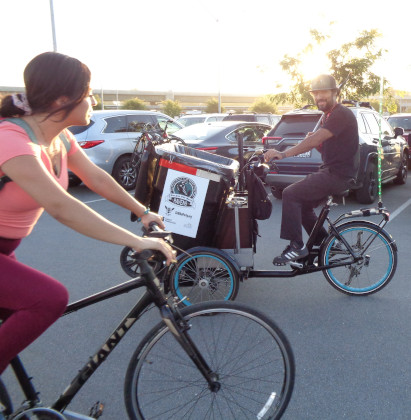 When I see the Ravens with their heavy trikes I honor those guys. It's a lot of work to brink cleanup ability to bike party, and they do it! Without those guys helping out there would be few places we'd be welcome again. They are a key part of keeping bike party rolling.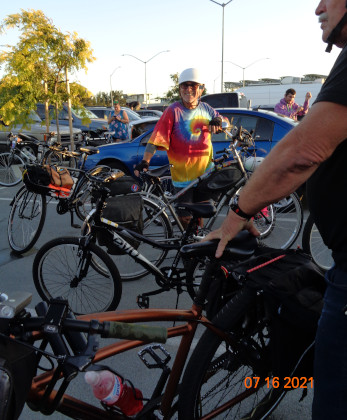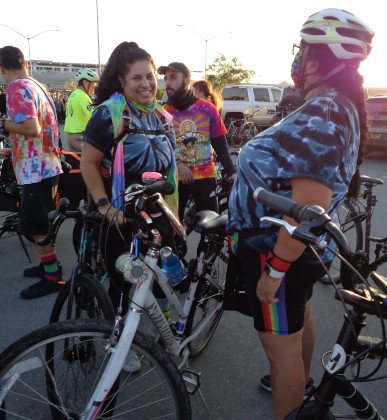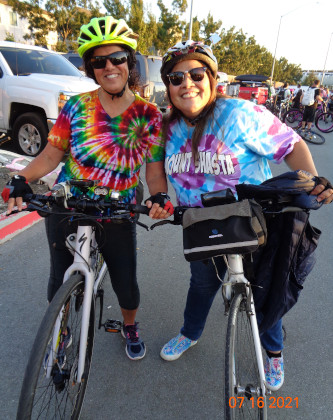 By this time it was clearly a big party. All around me I heard old friends greeting each other with smiles and happy sounds. The air had that smell of tiny fires in pipes. People were loosening up for sure.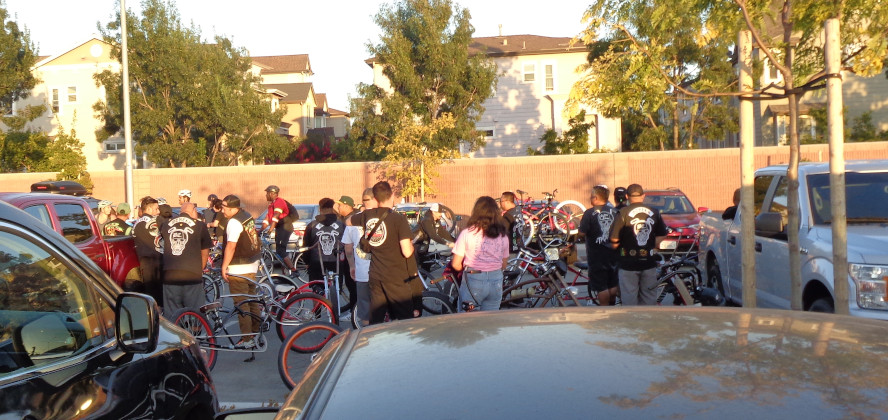 If this party wasn't to your liking there was that other party over there. Many corners of the parking lot had another gaggle of friends partying in another way. So fun to see the different styles and how they enjoyed time in public.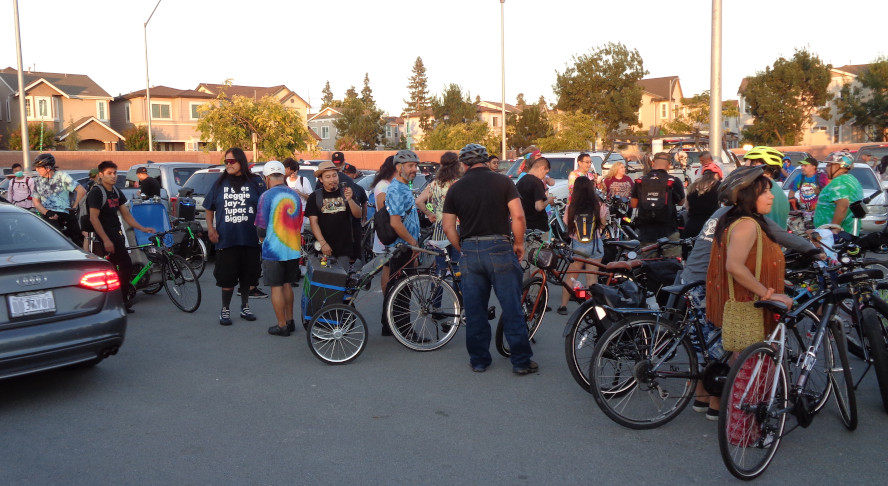 So many good friends!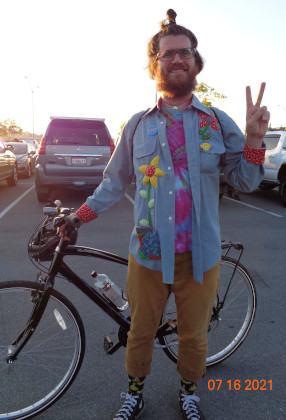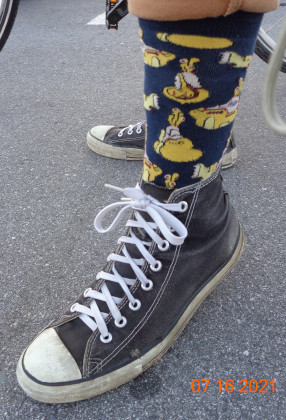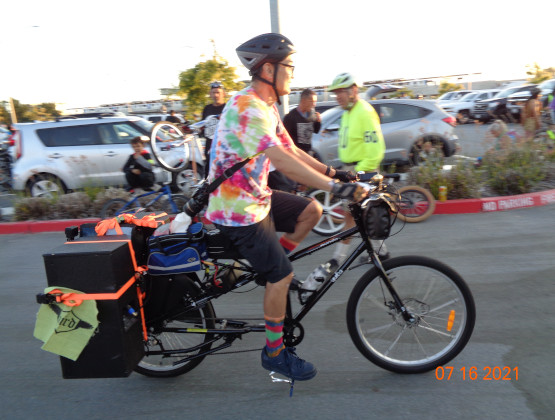 Peter did a better job on the "Authentic Summer of Love Look" than anybody else I talked to. He explained that the shirt was his mothers hippie shirt from those days. The Yellow Submarine sox where also on theme.


All too soon it was time to roll out. Anthony was supposed to lead us, but a wheel fell off his bike on one of the test rides. Others like Lloyd filled in, so it worked out great.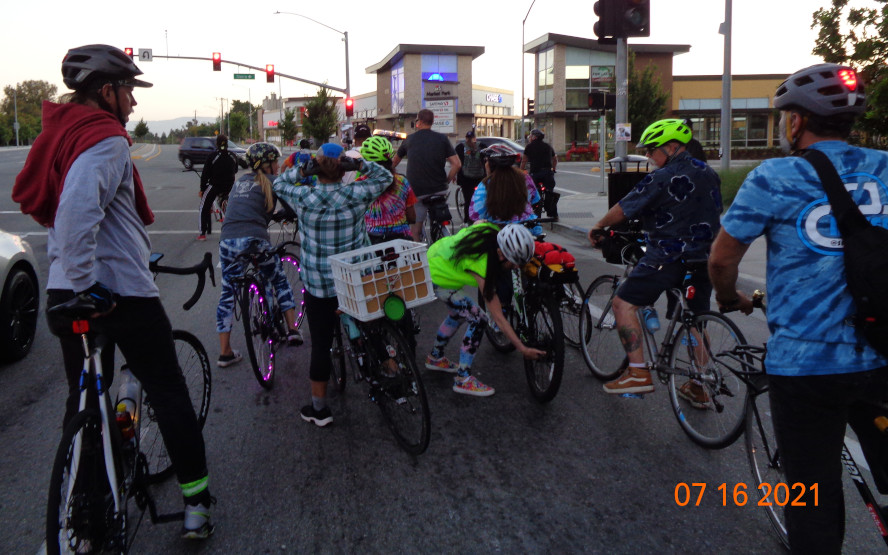 I rolled with the first group because I'd signed up to bird the "Right on Market!" For most of bike party the pace is casual, but for these people it's more about getting to our corners before bike party got there. We rolled pretty fast. I only had time to play with the camera when we were stopped for lights.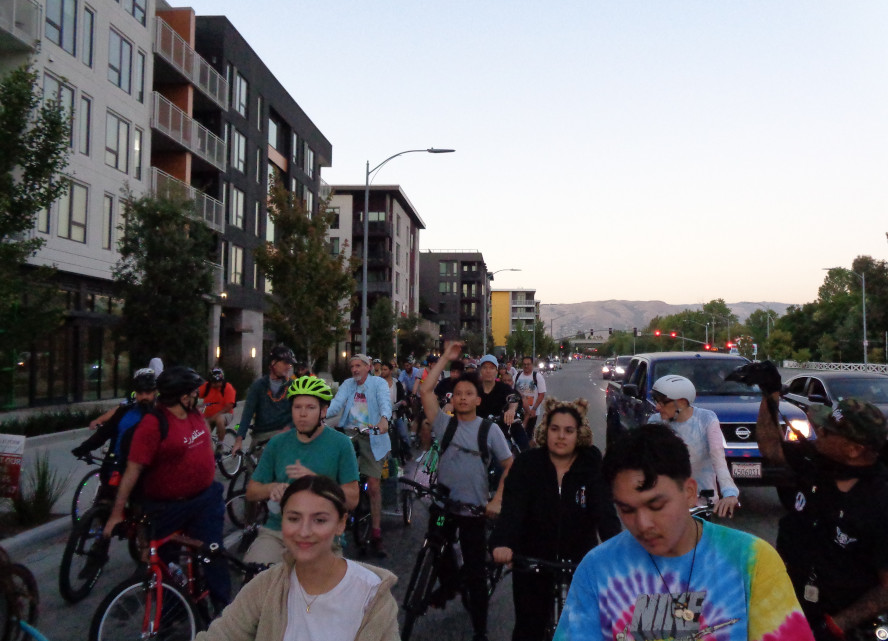 Surprised to find out the road behind me was full of fellow riders already. I remember rides when we were like scouts far ahead of the pack.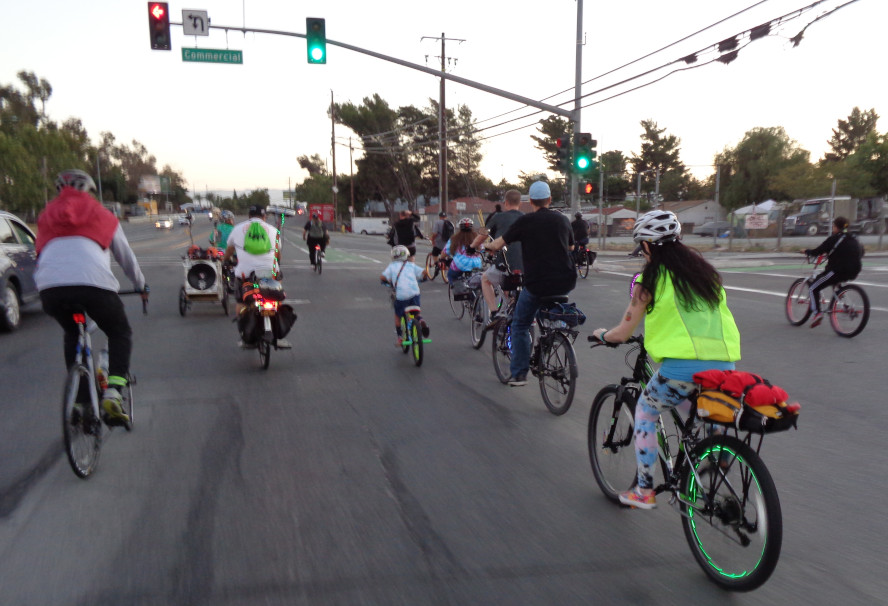 I was expecting a red light, so I had my camera out. Surprise! The green held out and we hit the light at a dead run. Love riding with people that keep the pace and keep safe distances around our bikes. So fun to ride like that.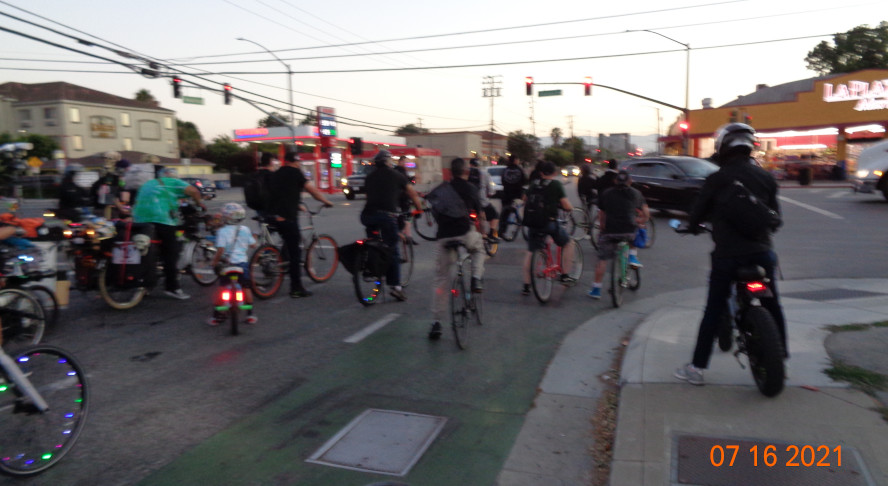 After this intersection I stopped taking pictures until after I got off my bike at my corner. They must have gotten delayed somehow, because it was a while after I got there before they started showing up. Never heard anything about why.


It wasn't quite dark when I got to my corner, but by the time I moved on to the regroup it was night.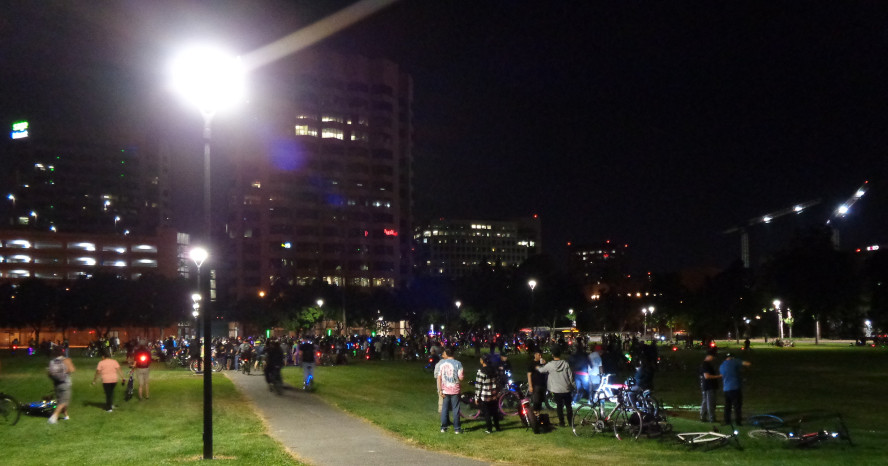 They were dancing on the Monopoly Board for sure.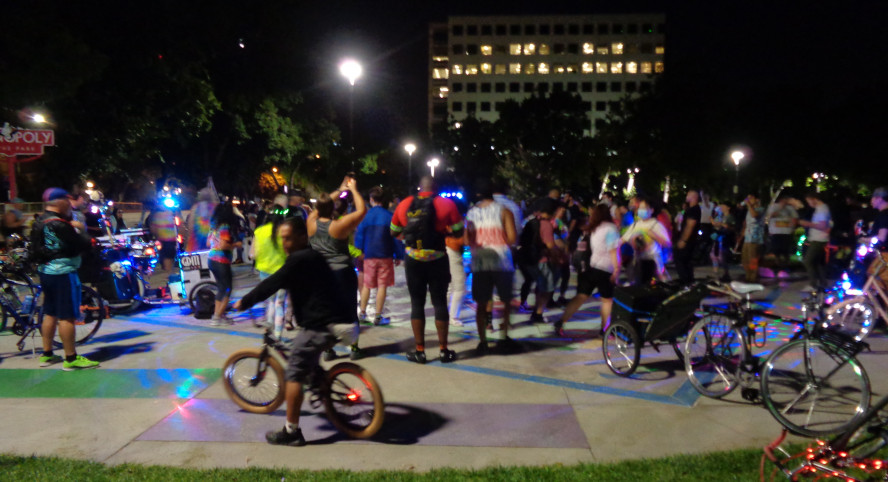 After that I stopped taking pictures. The rest was all about enjoying the moment for its own sake.