The Sharks had a season to remember. They were in contention for the Stanley Cup until the end of the last game of the season. Too bad, Pittsburgh won, so we didn't get the cup. Despite that, SJBP was in the mood to celebrate their best season to date. This month's theme was "The Sharks Ride!" I was expecting lots of fan level participation. I ran into the Ravens on the way there, and some of them did very good jobs on their Shark outfits.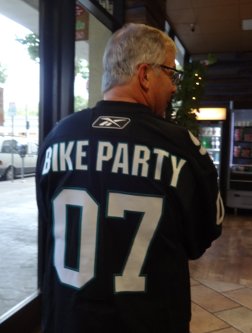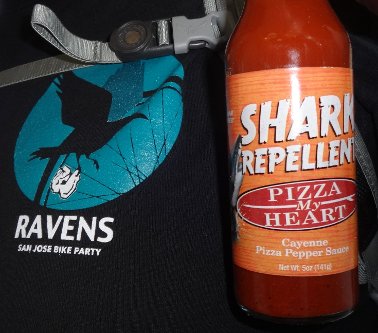 Daniel added some shark repellent to his food. Didn't hang around long enough to find out if it helped. Thanks for the pizza guys!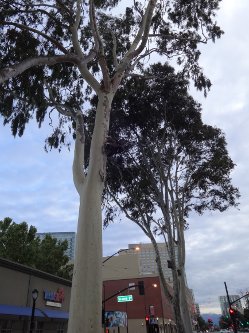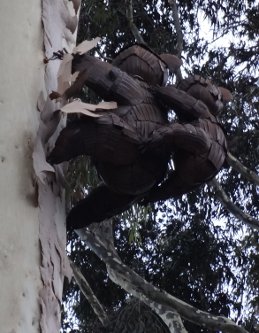 On the way to the start I realized that some comedian had put some koala bear statues in the eucalyptus trees. I guess that makes us more like Australia somehow. Most mysterious if that's not the reason for the sculpture.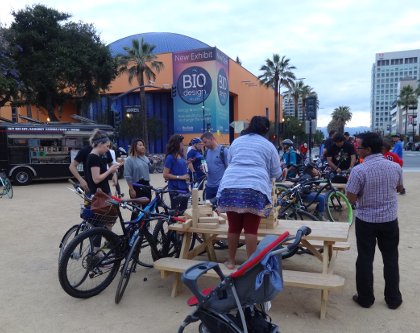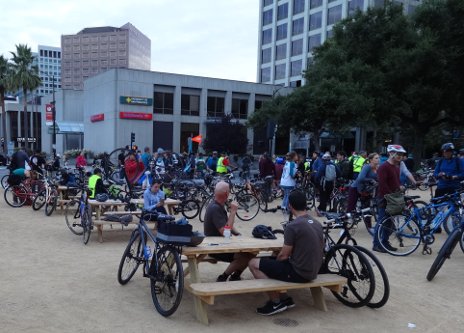 With the long summer evening the start was a daylight affair. When I got there Cesar Chavez Plaza already had a lot of bikes on it. True, the group that celebrated the theme were a tiny minority, but there were plenty of us.

Just before we rolled the crowd was a lot thicker than it was when these pictures were taken, but by then I was thinking about rolling, not taking pictures.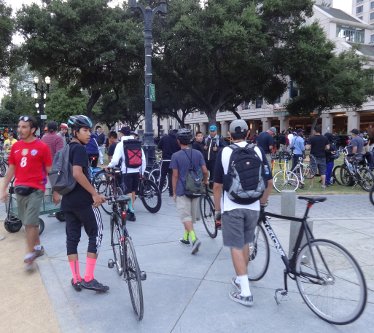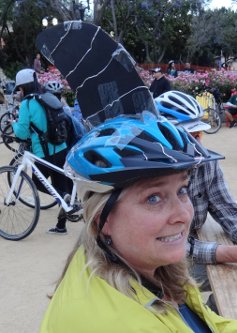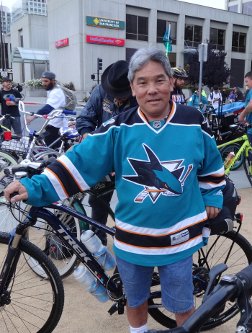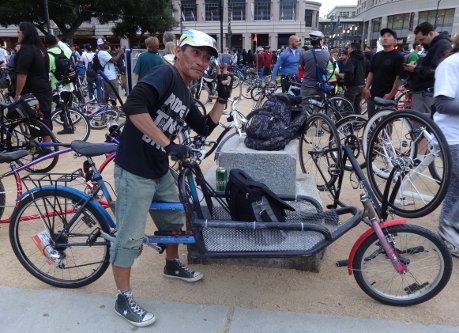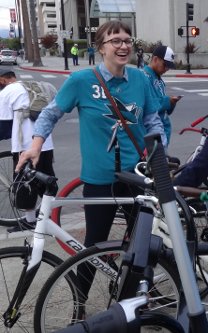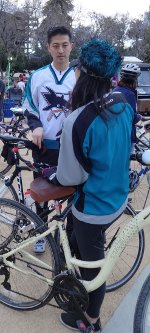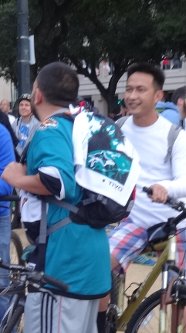 Once again, Bang has a new cargo bike. Guess that means he sold the last one and had to make another one.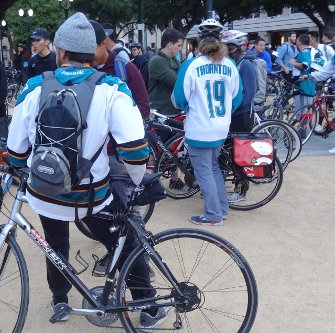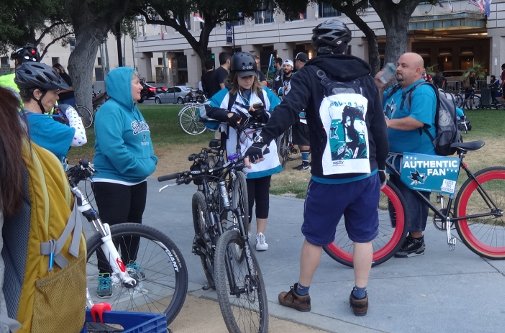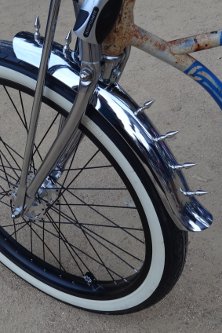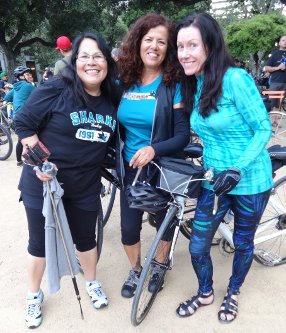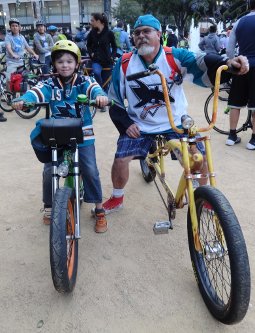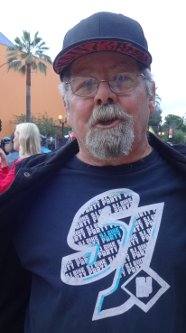 Gary was proud to be wearing one of the shirts from SJBP's first Sharks Ride.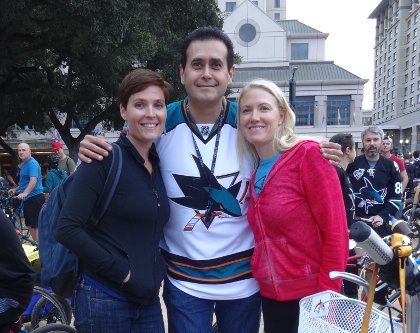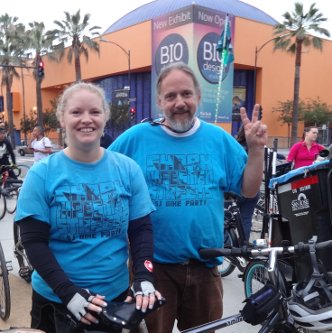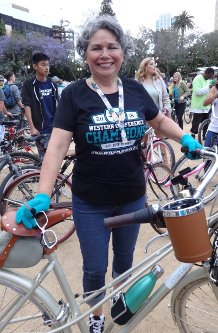 Katie and I had the other popular design from that time. Gotta be old school bike party to have either of those shirts!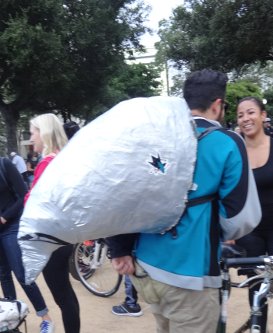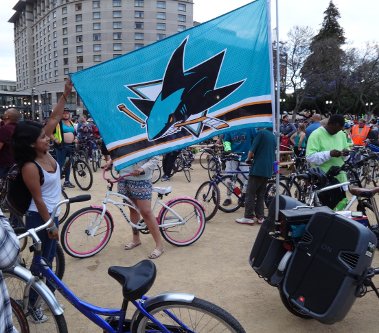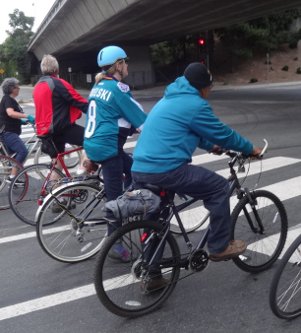 I found out later that there was a guy walking around the start dressed head to foot as a shark, but I missed that sight. Once we started rolling I just took out my camera when we stopped at lights.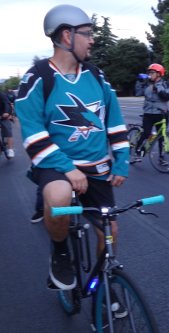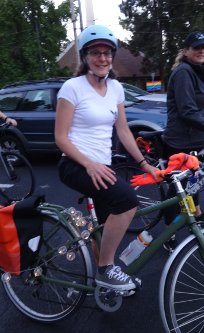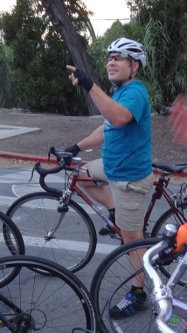 I talked to Karen for a while. One thing we have in common, we've both been single longer than we wanted. She's also allergic to cats, but her list of "must have qualities" for a guy include him having a job and being less than twenty years older than her. Since I've neither of those qualities I didn't object when she moved on to focusing on someone else. But hey, if you're 40ish and have a decent job the odds might be good talking to her. For sure she is quite creative and has good stamina.

Luke counted us all. I heard later on facebook that the count was 1140ish.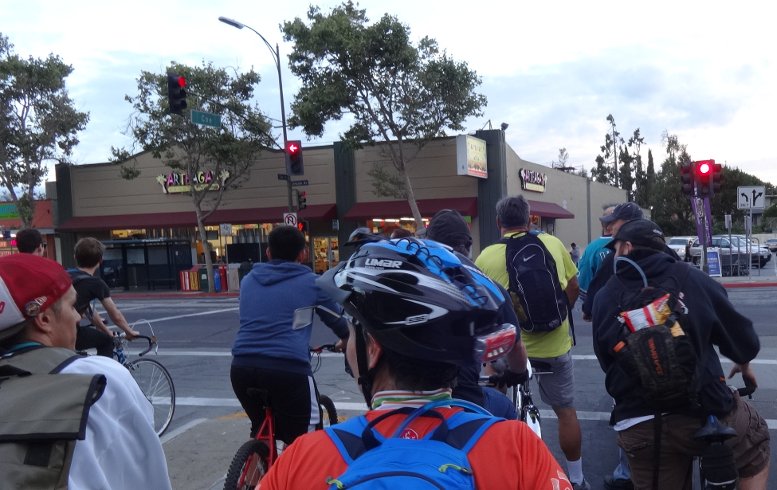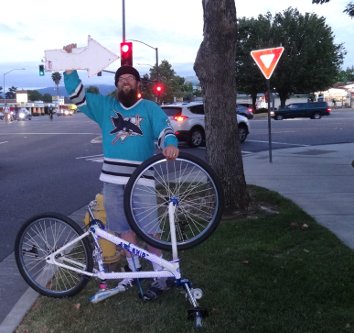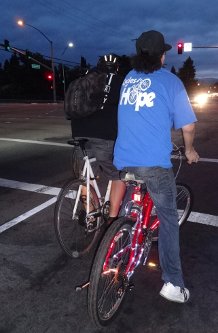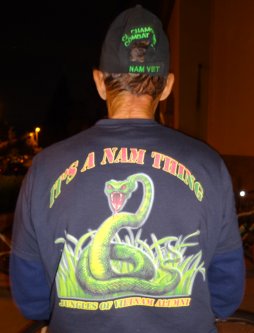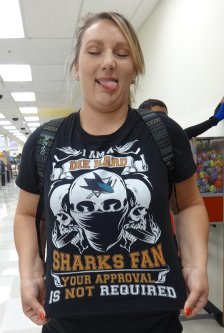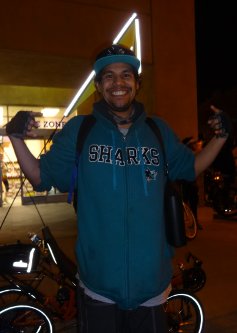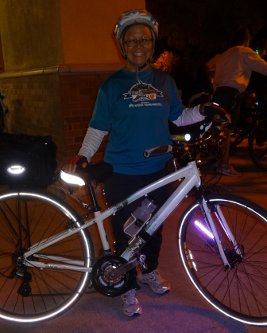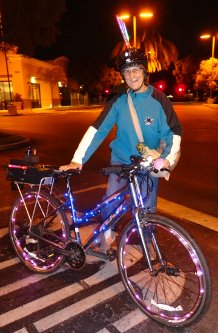 These pictures were taken near the grocery store that anchored the shopping plaza where we regrouped.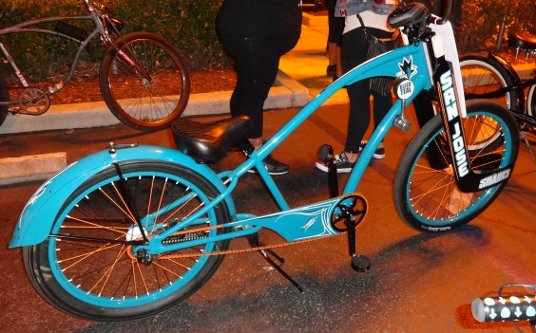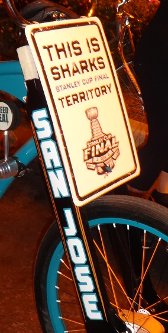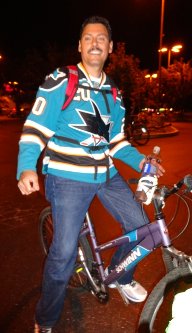 Never found out whose bike that was, but whomever it was is a serious Sharks fan!

By this point in the evening everybody was in a good mood. A lot of fun was being had all around. Lots of smiling faces.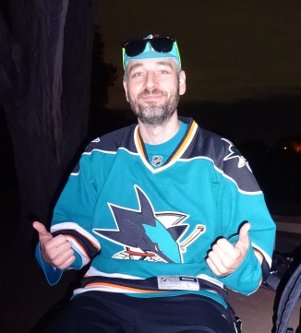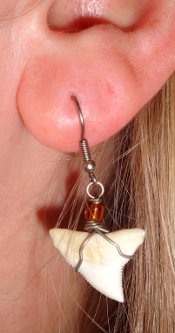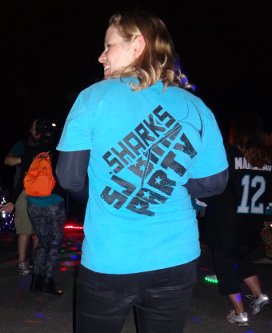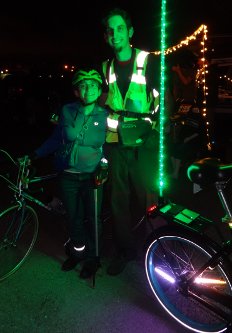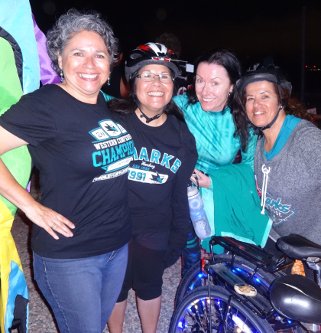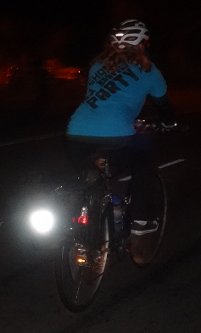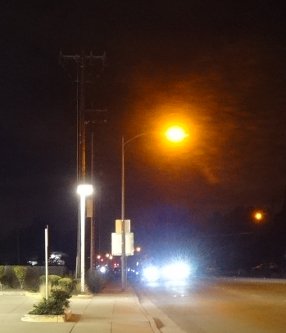 I left the regroup just a little bit early so I could get to the corner I'd volunteered to bird before bike party. Timed it well enough, they got there not that long after I did.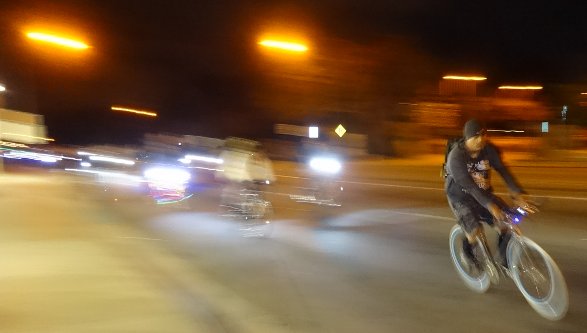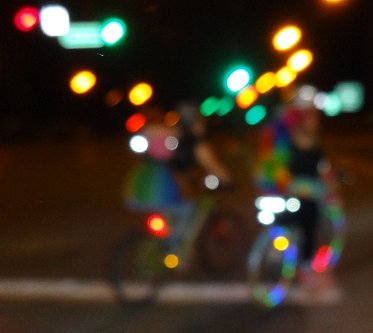 The only problem is that I've not practiced taking pictures in the dark enough with this camera. Didn't figure out the right mode until almost everyone had gone by. Hopefully next fall I can do a good sequence of pictures in a situation like this one.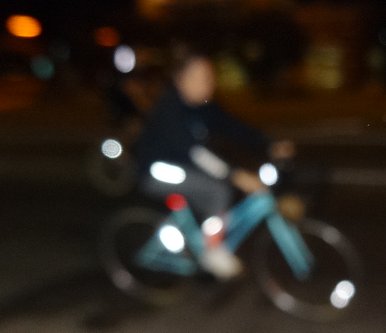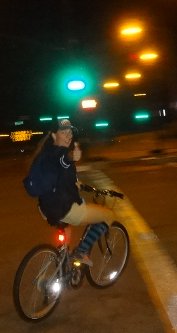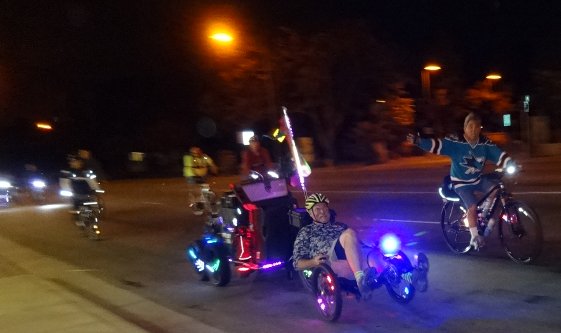 I think after the second regroup a lot of people went off in different directions heading home. I only saw a few hundred go by before I figured out it was over. Headed for home myself, glad to have been there for the ride.