San Jose Bike Party theme this month was "robots and tall socks". I just had to do something so I hunted around the house and found these wind up robots I'd traded for stickers at some high tech trade show. I attached safety straps to an ankle and staged them on my bikes light. I also wore long socks, the "green power" style from Chivaz.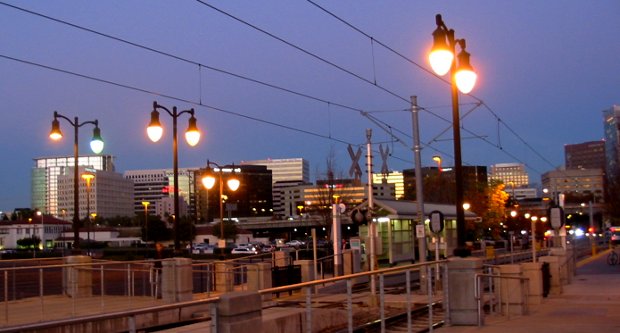 I'm not sure why, but this scene gives me that "San Jose!" feeling. I see it every time I ride my bike from Diridon station to downtown, but this time the light was more interesting than usual.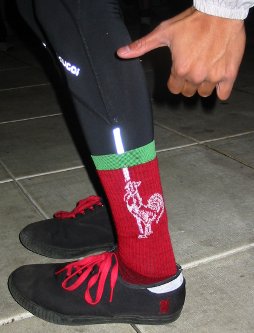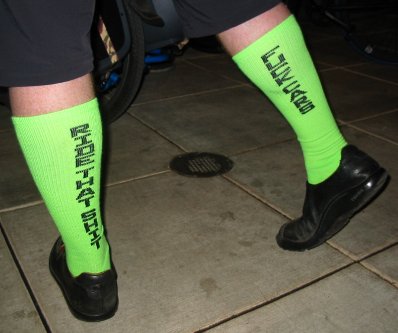 It quickly became clear that "robots" was one of the less liked themes we'd come up with. Robot sightings were going to be few. It was going to be socks, socks, and more socks!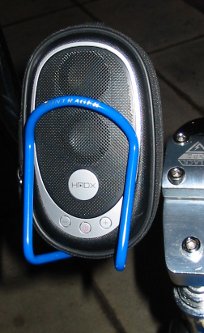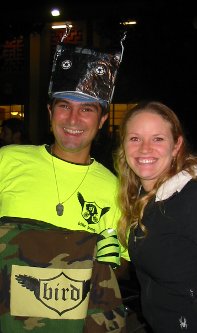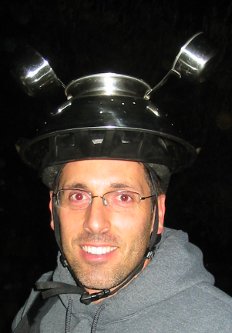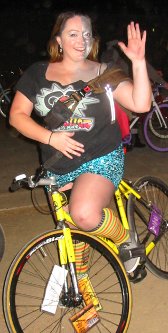 I talked to this guy who said "I didn't do anything to dress up." Then I looked at his handlebars and realized that the radio was in fact a special purpose robot. He said I could take a picture of it. After that I started finding bike party robots. Made my day!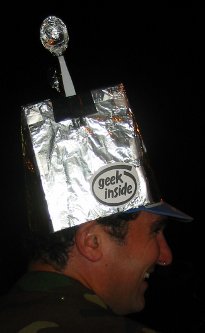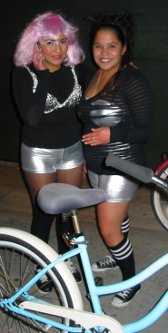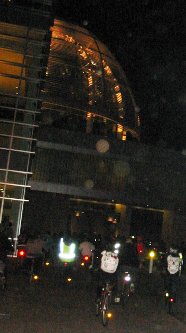 Once we got rolling I took a picture of us going by City Hall because the building looks like R2D2 to me. It was in this general time frame that Boone counted 1300 riders. Not bad for a dark and chilly November evening.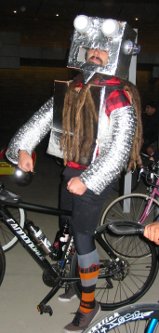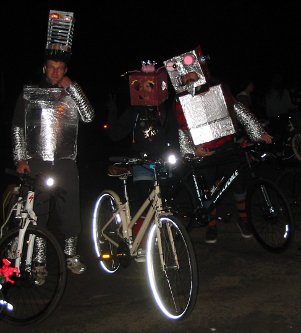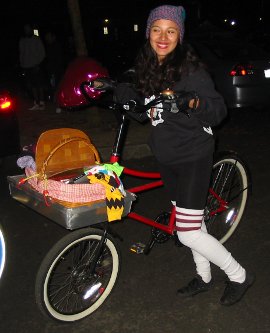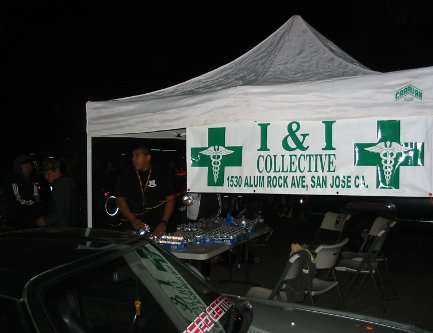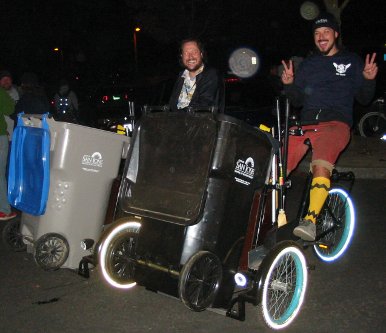 I & I (cannabis collective) was giving small bottles of water to everyone among us who wanted it. Turns out the first regroup was very near their storefront.

After that I tried to get pictures of all the Ravens with their trash bikes. Rolling with those things has to be more work than just pedaling a normal bike! Plus they only have eight gears. Definitely they cleaned away the trash we would have left at regroups otherwise. All of us should be doing what we can to make that job easy! If you see them please, finish your drink and drop the container in the bucket while it's near.

For Ed this is the 50th bike party in a row he's been part of. We think that's the record. For sure it's the record among the people that step up to make the rides work by doing test rides and helping out.

Ivan was the only Raven who decorated his bucket. Click his picture to see those...

Sorry about missing Joe Tate and the other Raven.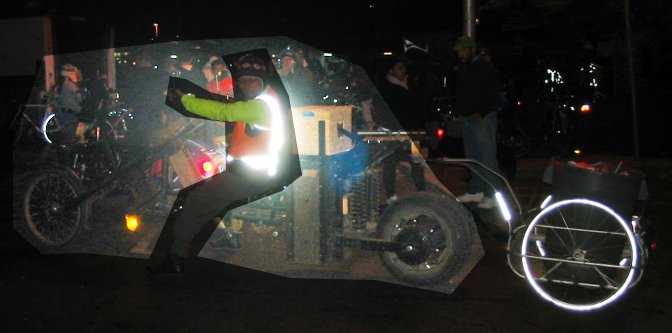 Kat wasn't one of the "official" ravens, but his electric powered ride was so intense I had to include this. Especially considering his trash bucket was plenty big enough to be hauling off lots of it. The bike was so big I had to stand back so far the flash didn't do much, so I turned up the contrast in gimp. Didn't move any pixels though!

Boone (mirror by left eye) is the creative force behind the "RIDE THAT SHIT" meme. He's been saying it for so long that it was what they etched in socks to make a bike party statement. You can get your own pair(s) at Justin's bike shop on 3rd St, not far towards the bay from Santa Clara St. The screaming yellow color helps your visibility as well as spreading a sustainable idea.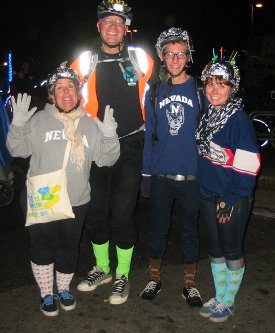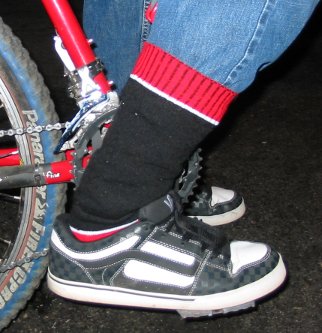 Thank you Eric!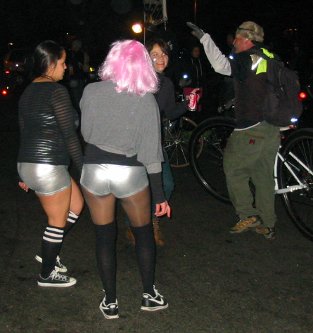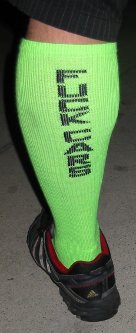 The dancing was good enough that I didn't realize the bulk of the party was leaving that regroup until most of them had left. I was playing catch up the rest of the ride...