The theme of this bike party was "rapture". I'm not sure if that was because that preacher in Florida predicted the rapture would occur that day, or if it was a coincidence. Anyhow, many people asked "how do you dress for that?" Yoshi said "think angels and devils." As you can see below, many followed the letter of the suggestion.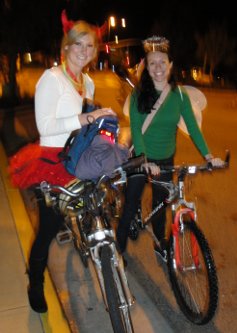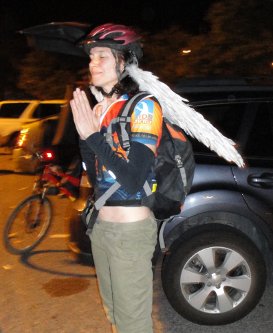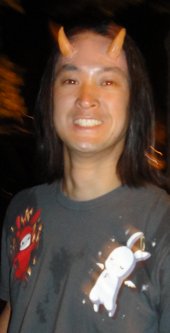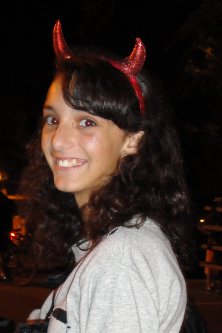 Unlike most bike parties, this one had four discrete starts. The one I joined up with was the one in Campbell.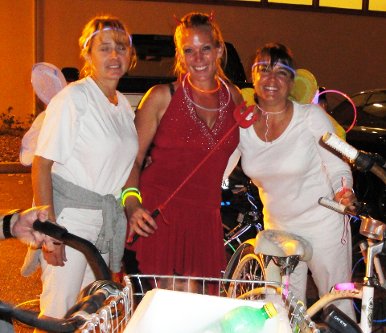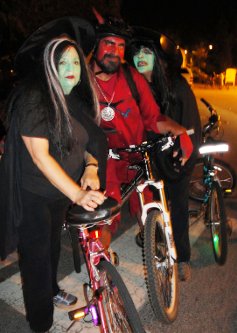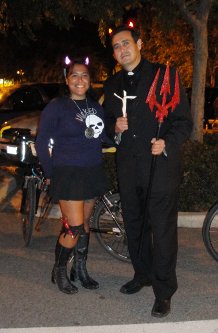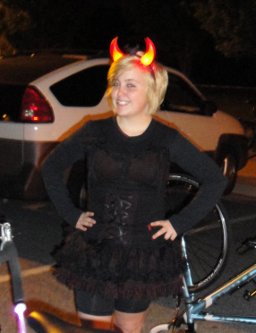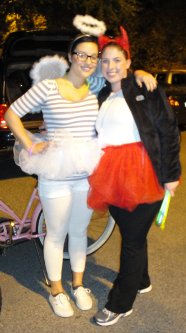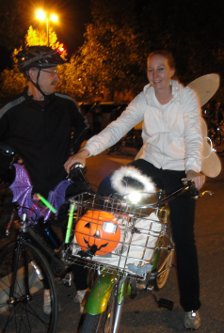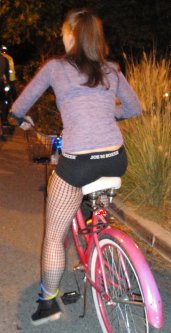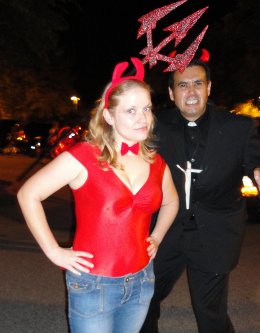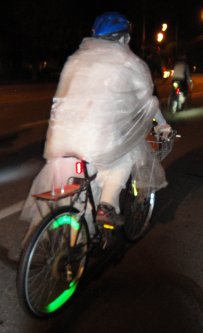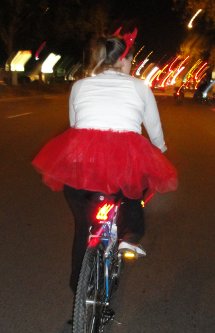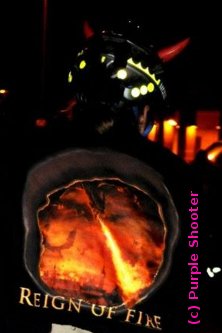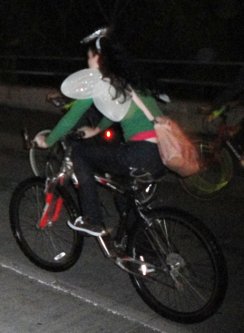 There couldn't have been more than a few hundred of us that picked that start. I didn't get that "wow, this is a major happening" feeling until I got about a block from the first regroup. That was when we met up with a river of people coming in from the east side. From that moment on I was surrounded by lots and lots of people.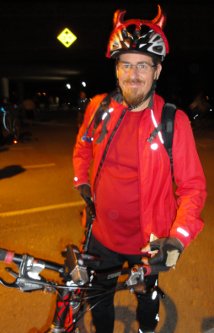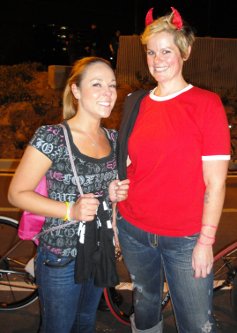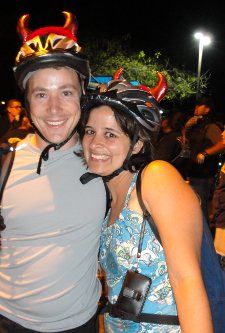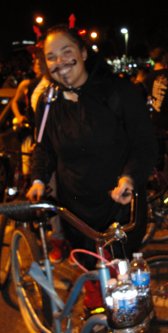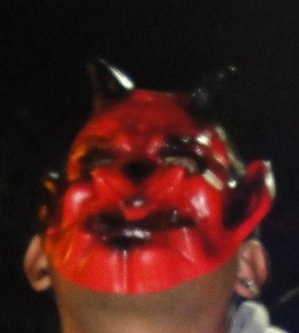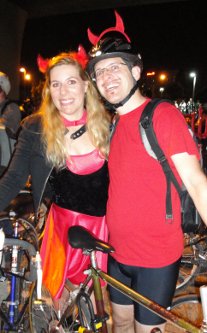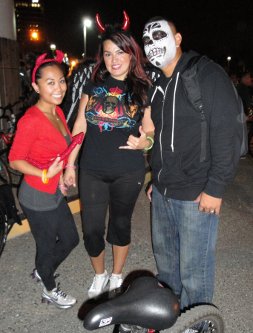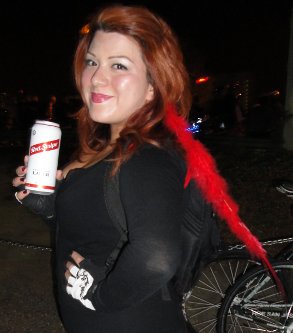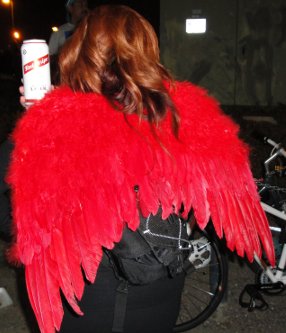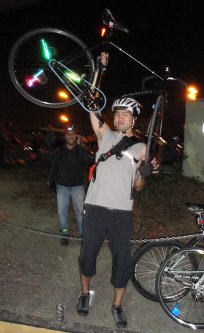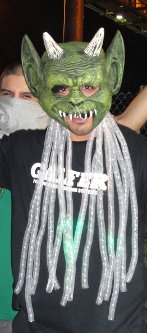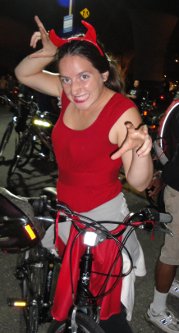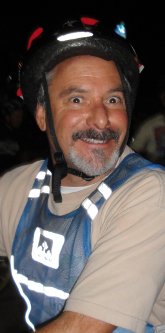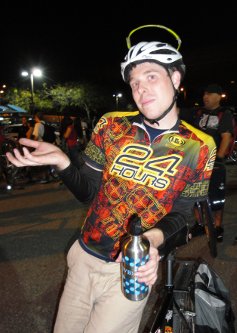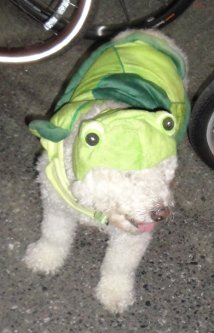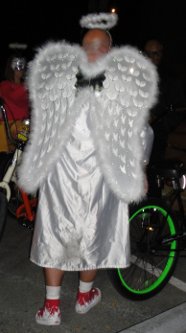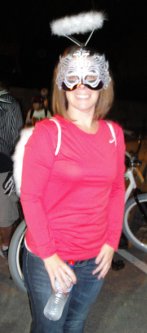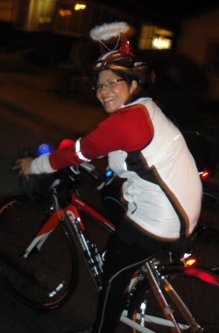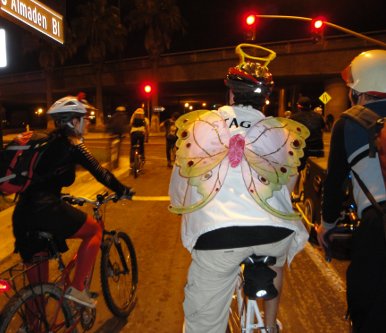 Billy Cool counted us as we passed him riding on Almaden. I heard later that he'd seen 4100 of us go by. That's easy for me to believe.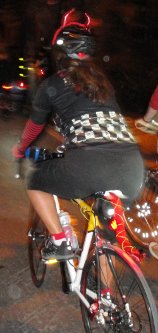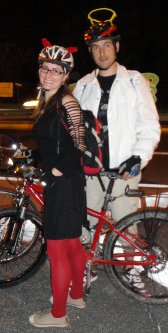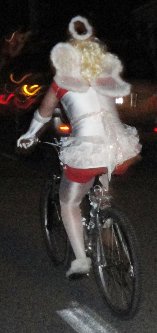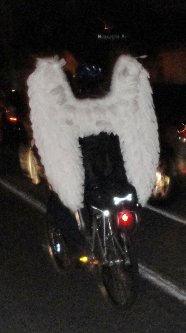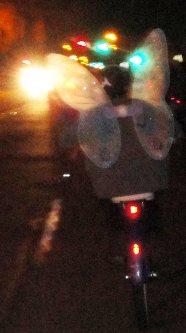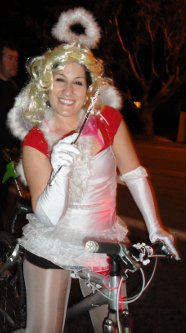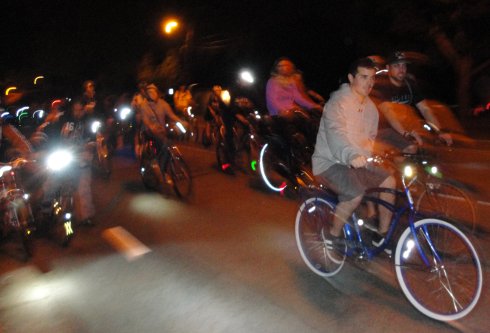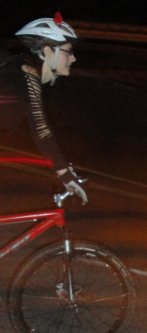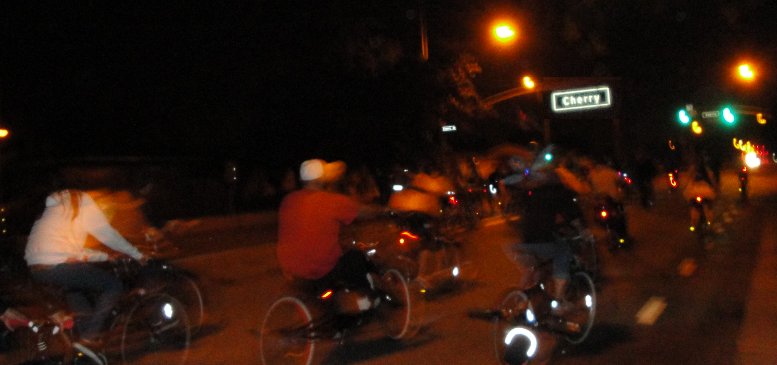 I birded this intersection for a while, telling people "left on Cherry!" over and over. Maybe it was half an hour that bikers rode by in such a mass that cars didn't even try to use the left lane. Then there was a plug of pent up cars, and after that another long period of biking groups. These definately left the left lane to the cars, and weren't big enough to monopolize the road. After that it would be smaller groups, all of which had someone who knew the way and was calling out the directions. I was proud to learn there must have been hundreds of birds in the ride. After Isaul and these women he was helping passed I saw a few more clumps of riders, but it wasn't long before I decided any other riders were on their own. At that time the road had been empty of bikes for at least five minutes. I wanted to catch at least a little of the next regroup.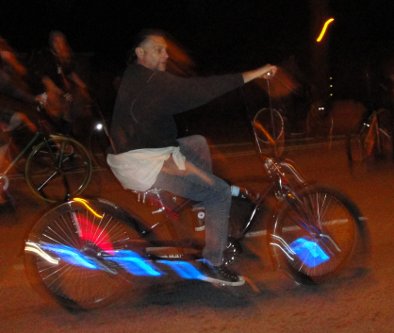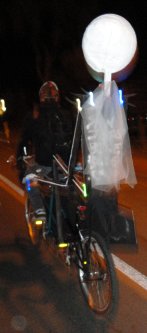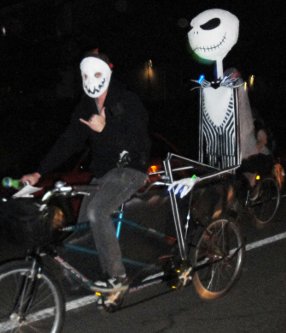 That tandem bike with Jack Scarecrow on the back had "NIGHTMARE BEFORE BIKE PARTY" on the other side. A Danny Alfman reference if there ever was one!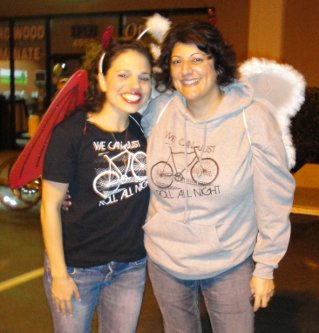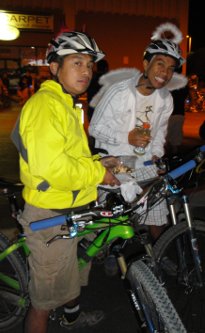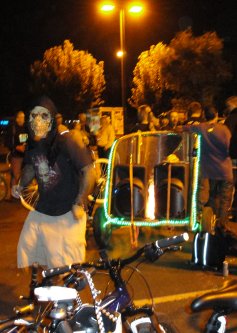 That chariot behind the dancing hooded skullface had an awesome sound system. The tunes were well picked for dancing to.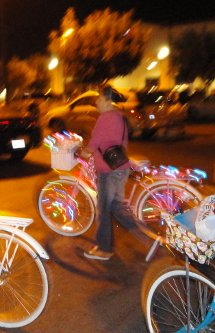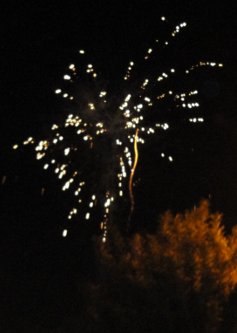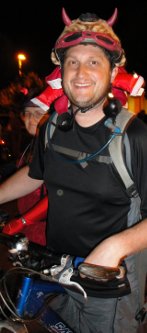 I saw fireworks go up at all of the regroups, but this was the only time I caught one of the rockets exploding.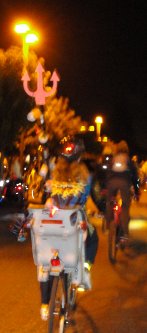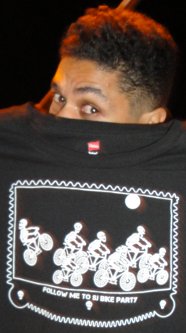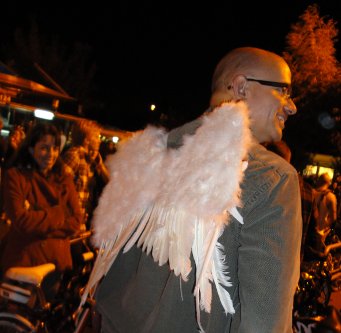 We sang "happy birthday bike party" to celebrate our 4th Anniversary at about this point in the ride.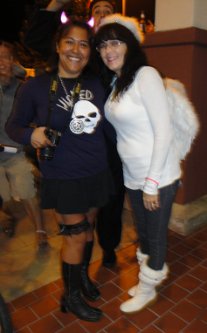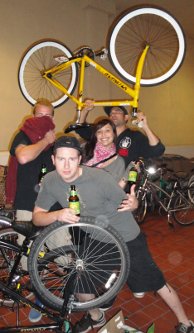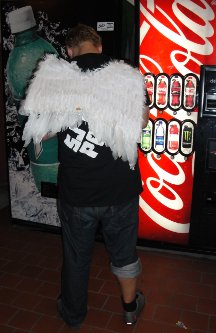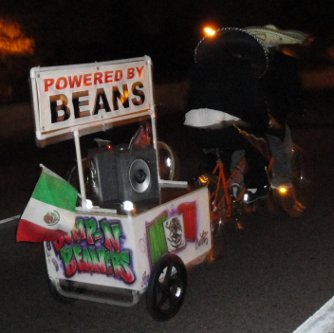 The pedicab companies were well represented this evening, I think for the first time at bike party. I counted at least half a dozen of them, I think from two different (companies? groups?).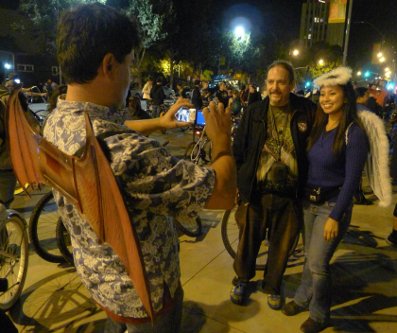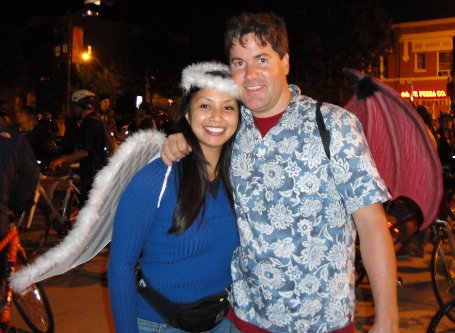 Thank you Lia for the picture of Nat taking two pictures at the same time.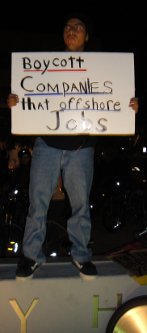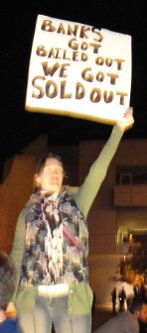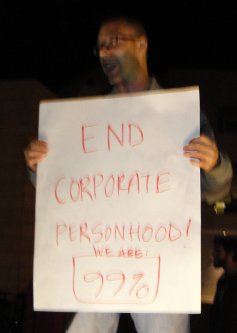 The third regroup was at City Hall Plaza, where Occupy San Jose was speaking out against Wall Street's corruption.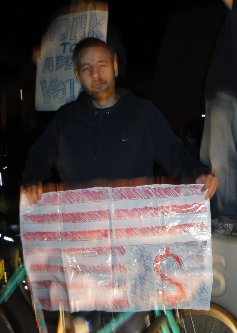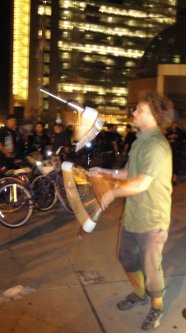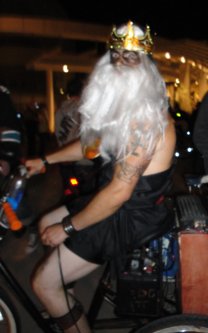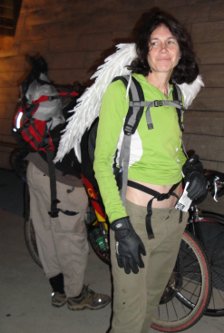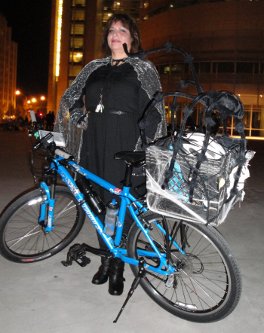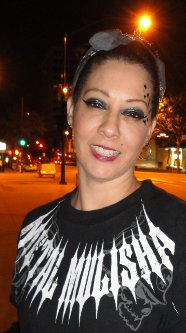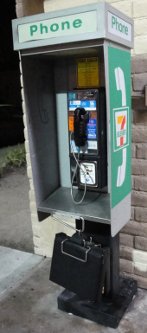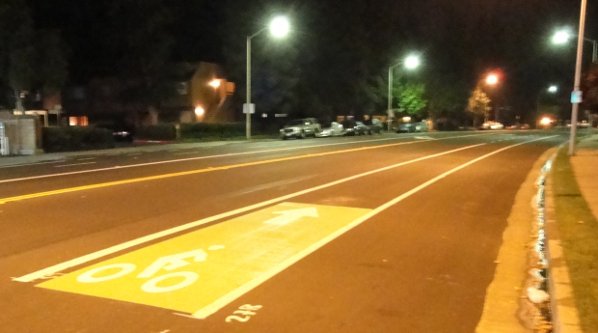 From there I joined the post ride going west and north. There weren't many of us and as people reached their destinations our numbers dwindled again and again. By the time I was going through Sunnyvale I was on my own, except for such friends as this green logo bike lane marker that has recently been added to Evelyn in Sunnyvale. I love how clearly it shows who the bike lane is for!