The third Friday of every month bike party hits the streets in San Jose. This month the theme was "Day of the Dead", a big crowd pleaser, and one that I was sure would give me lots of great pictures.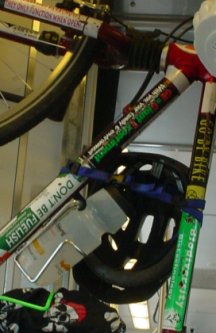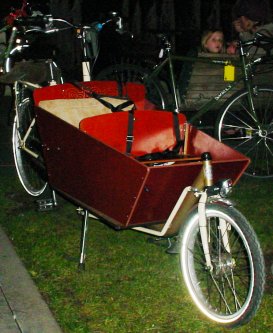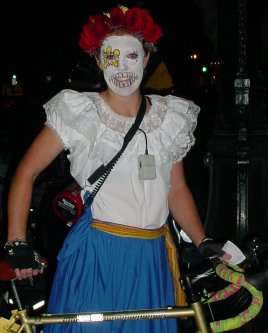 When I first got to Cesar Chavez Plaza, the pre-ride was small enough that it wasn't obvious which bicyclists it was.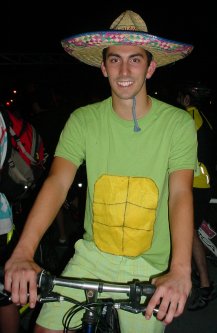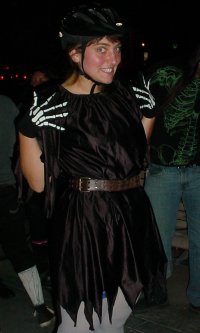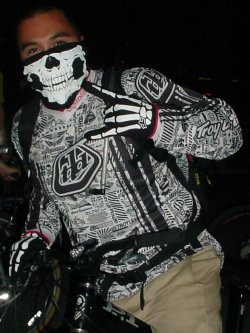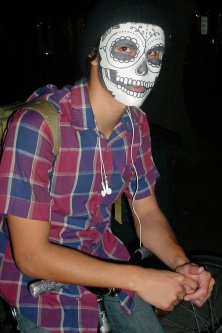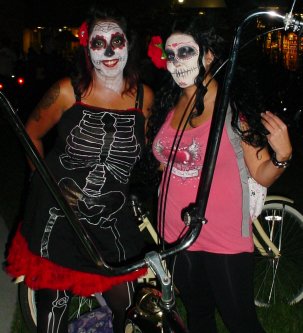 The plaza where I've danced many times to famous live bands was thick with bicycles when the loudspeaker announced that the pre-rides to the three different starting points would separate and head out.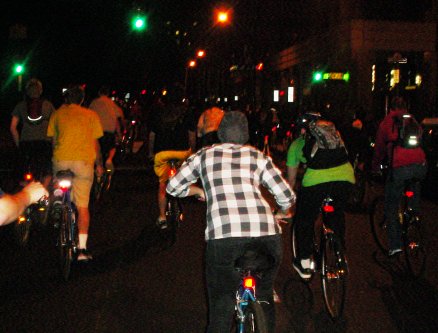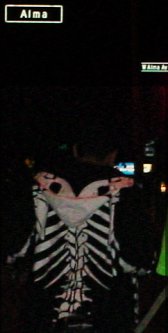 I joined the southbound group headed for The Plant.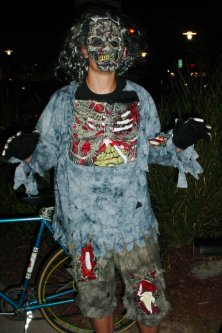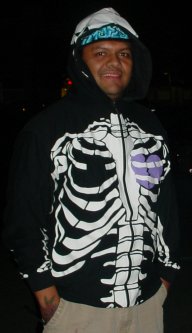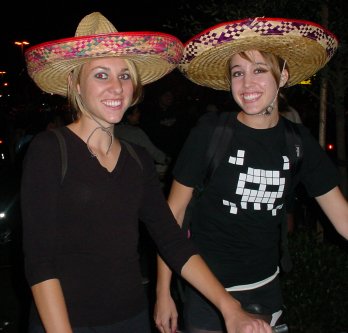 When we got there we nicely filled a litte plaza outside a healthy fast food joint. Slowly more people filtered in. Ten minutes later there were groups of bicycles all over the place.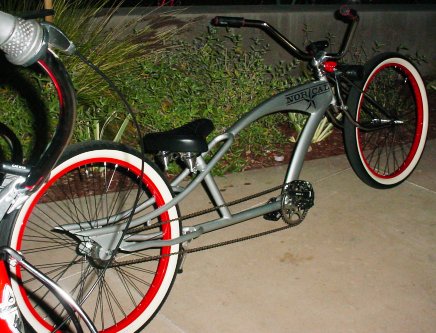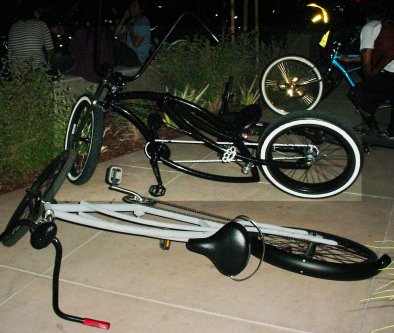 There was a clump of guys with wild cruiser bikes. Somebody among them is a good metalworker, to say the least. I'm not used to seeing things like this at normal bike shops.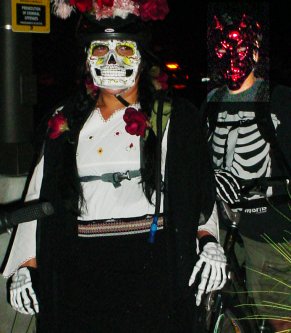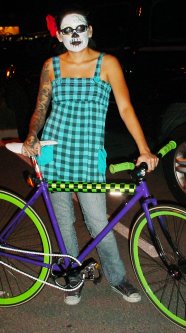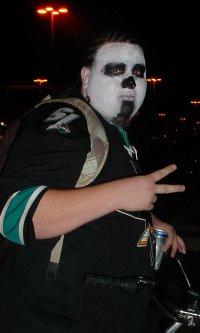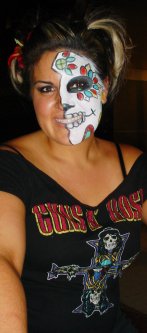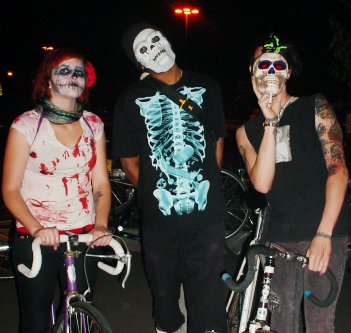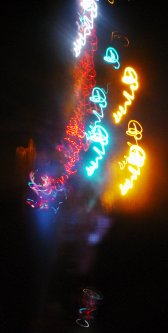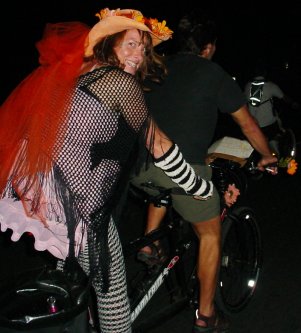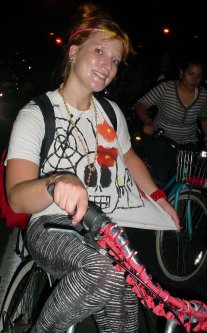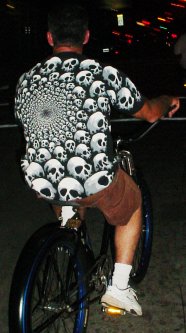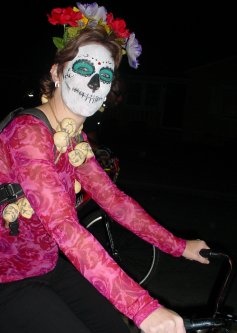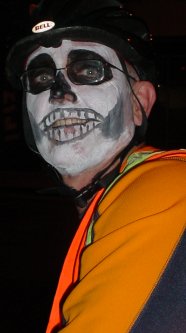 What was missing was the sound of Oingo Boingo singing about "a dead man's party". But then, maybe that's just my Orange County days speaking...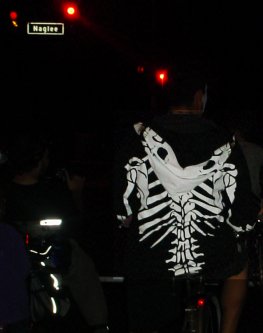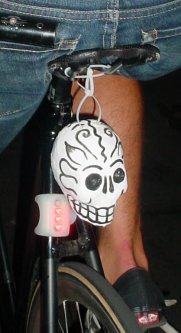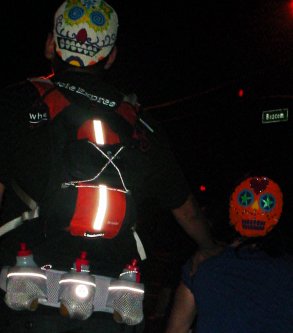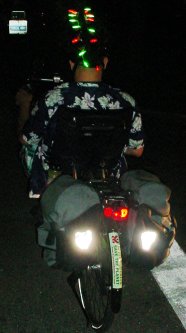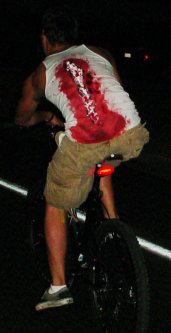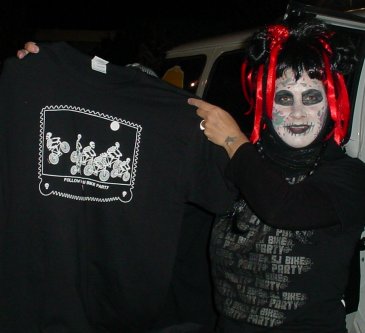 At the next regroup, there was this woman selling bike party shirts out of the side door of a pannel van. She was doing a good business. Walt's Bikes was selling bike lights, tubes, and helmets out of another car. They were also doing minor repair work.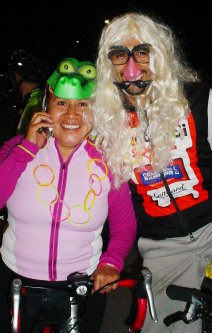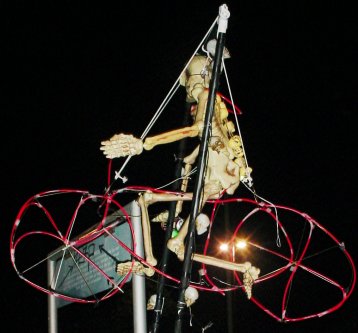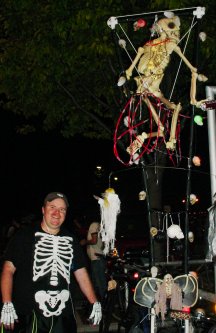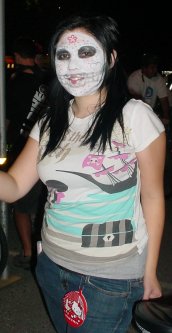 The guy riding the bike with the skelaton riding above him told me his bike is ten feet tall, including the man upstairs.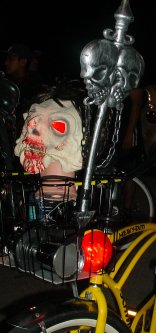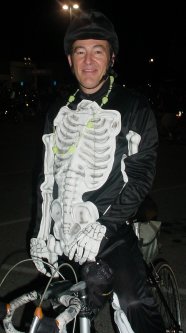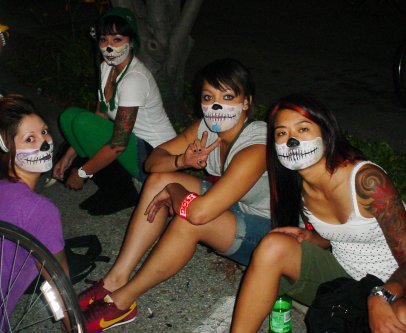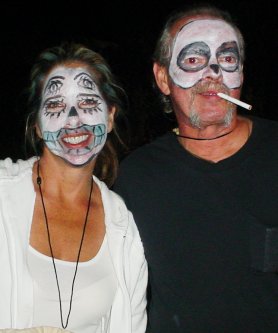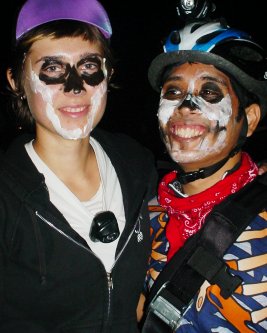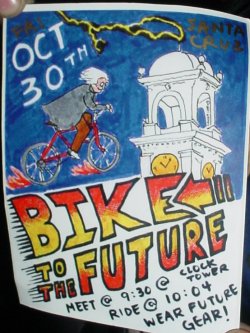 The guy with the orange ribs wanted everybody to know about this upcoming bike ride in Santa Cruz.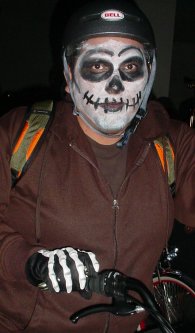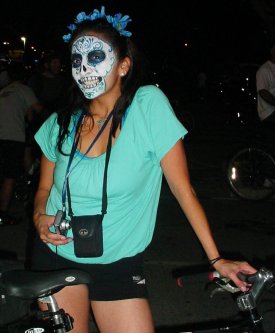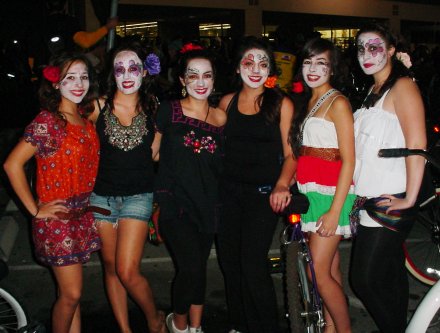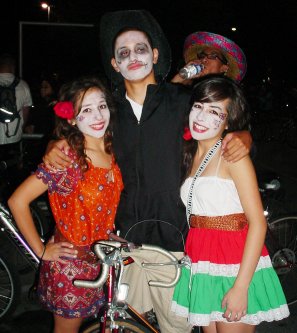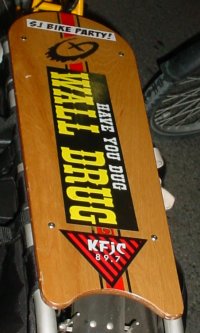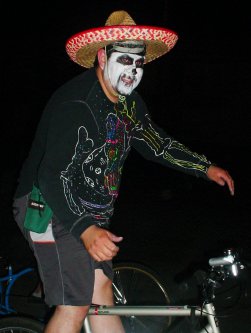 Getting a good picture of the guy ballancing on two wheels was sort of a challenge. Part of the problem was that it was so dark where we were that I couldn't use the viewfinder on my camera. I had to point and pray, and then see if the picture worked out. The guy worked with me. It took several tries. I'm greatful for what I finally got.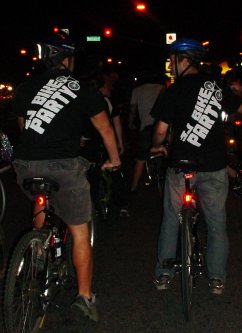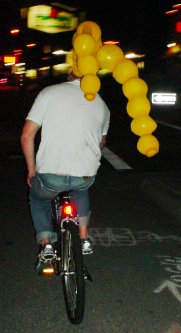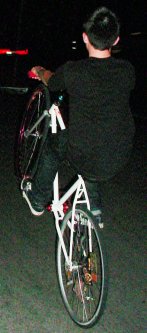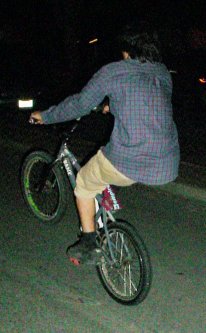 I had the same trouble getting good shots of the bucking bikes.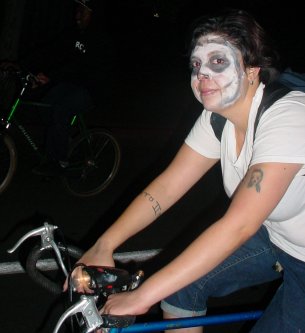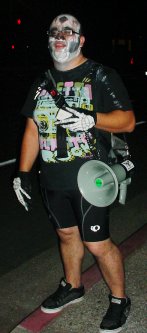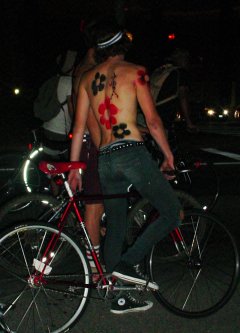 The bird with the megaphone was telling everybody "Right on Miller! Bike party right on Miller!"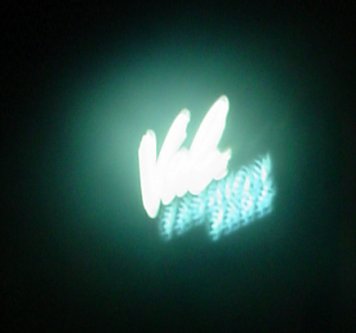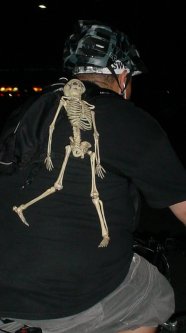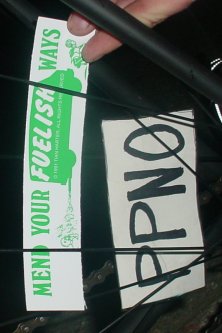 PPNO stands for Push Pedals Not Oil!, and is the brain child of the guy holding the other sticker.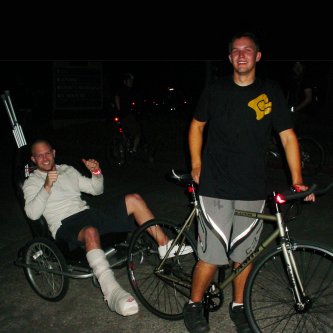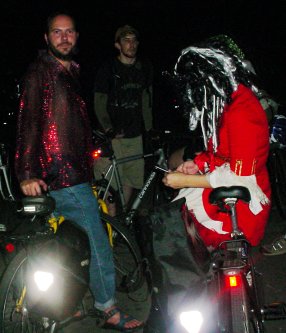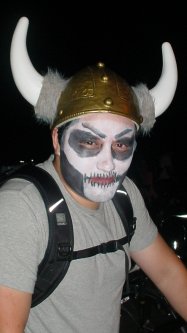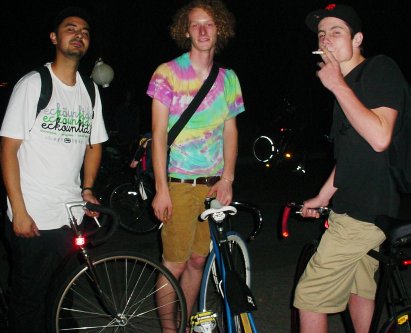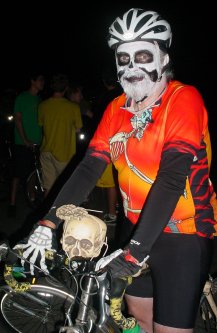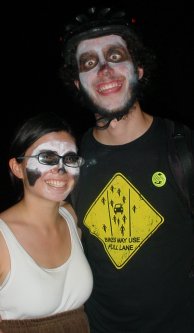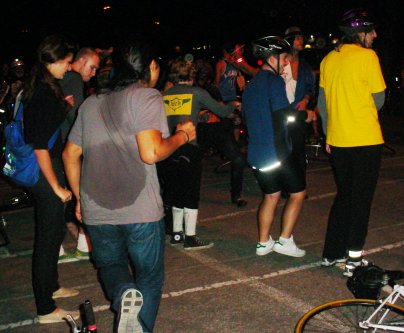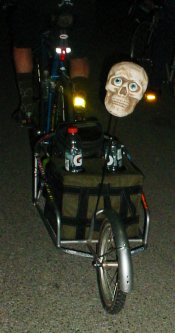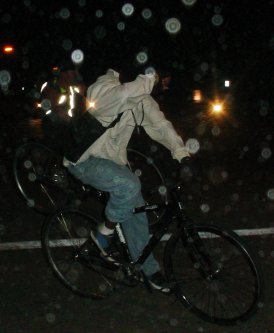 Not shown is the pedal couch that was providing the music to dance to.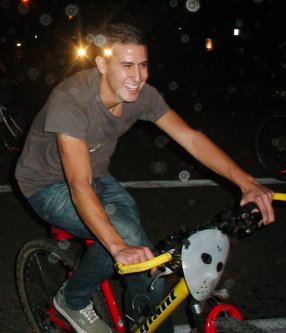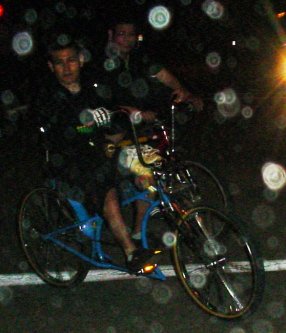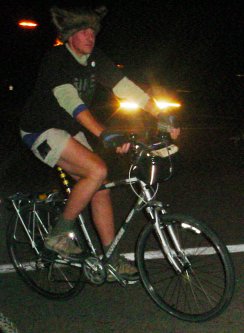 When we got to Pruneridge and Tantau, there was only a small island of dry sidewalk on the corner. I took up the task of telling everybody that didn't obviously know "BIKE PARTY! RIGHT ON PRUNE RIDGE!" I also took as many pictures of eye catching riders as they went by as possible.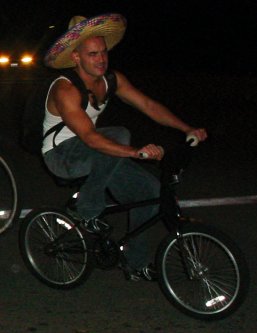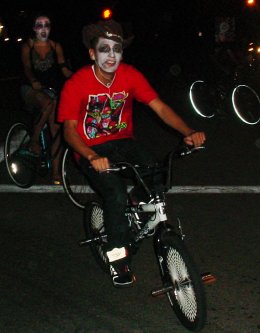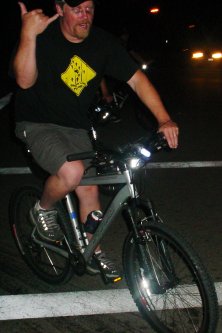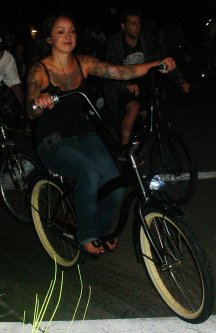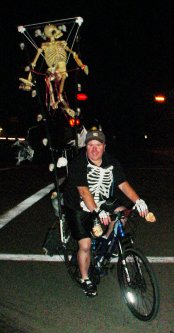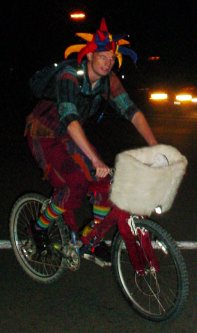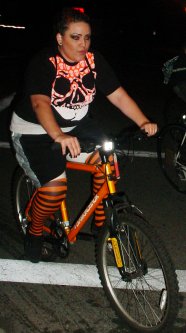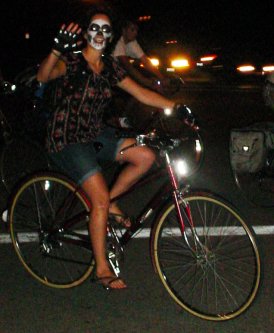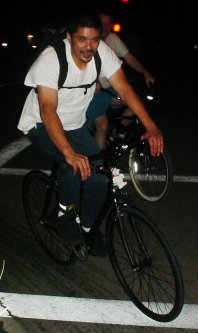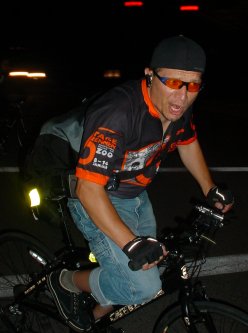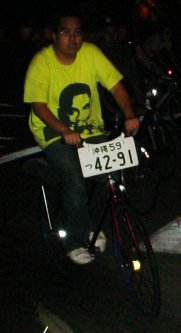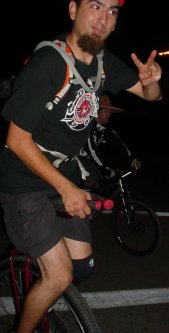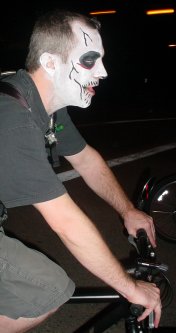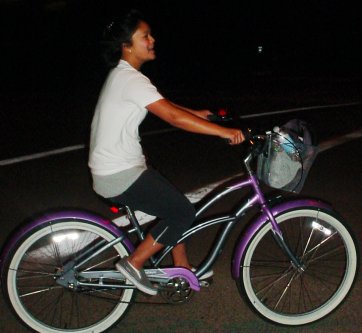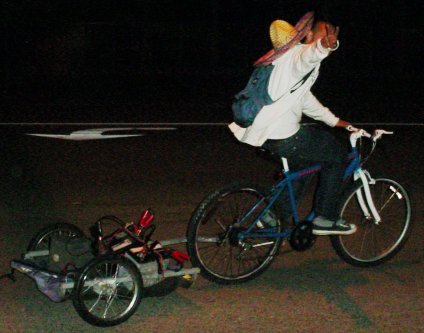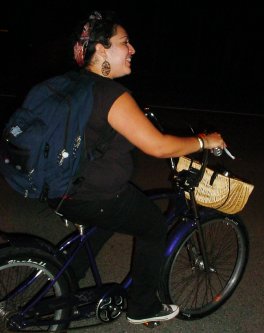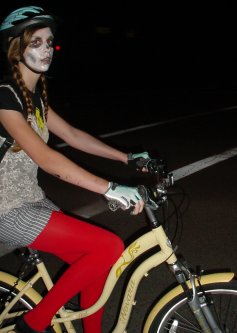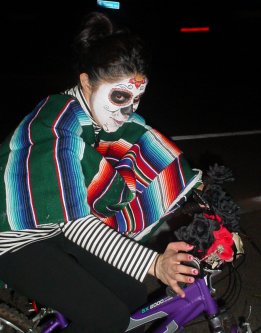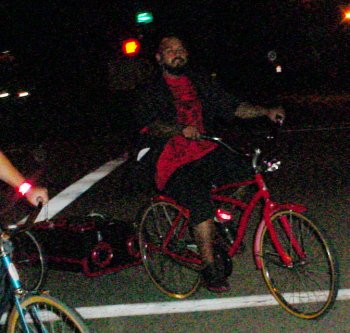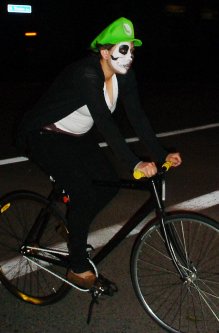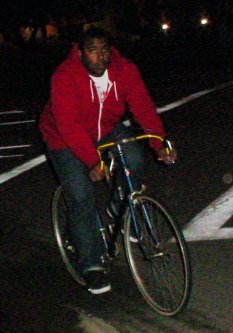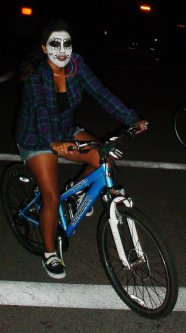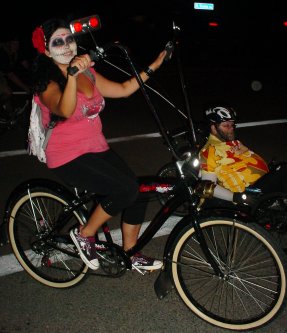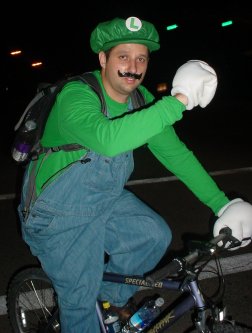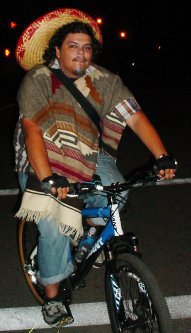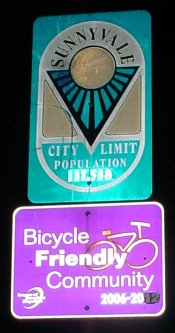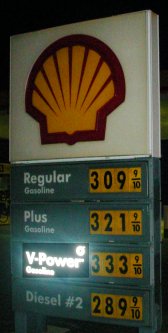 People rode by me from about 11 PM for three quarters of an hour. At first it was a steady stream of bikes that dominated the road. Nearer the end it was clumps of friends that really needed the directions. Some of them were even grateful for the help. Then a couple of guys in a white SUV came up and grilled me about what was going on. I told them "
visit sjbikeparty.org for more information
." Then they thanked me for the help and drove off. I waited a few more minutes, but nobody else went by. At that point it was over for me. There is quite a bit of pedaling between Cupertino and Mountain View, and I knew that the next day was going to be quite busy. I rode home from there, getting there just before 1 AM.
...4870 ...