This theme started as a rumor that the Lord Mayor of Dublin Ireland would be visiting San Jose as part of the Sister City thing. The idea was to invite him to ride with Bike Party during his visit. To fit it all together better, Carlos Babcock talked us into the Irish theme. It was an easy sale, because the event lined up well with St. Patrick's day this year. Then it turned out that the Lord Mayor had to be back in Ireland by the third Friday of the month, so we scheduled a special ride the previous Saturday. Hundreds of us showed up for it, and we had a nice time.

After the ride there was a long meet and greet session on San Jose's City Hall Plaza. At one point Billy Cool called for all the Birds to come forward and have their picture taken with the Lord Mayor. While we were standing there he thanked us all for being wonderful, and said that he would be starting a Bike Party in Ireland when he gets home.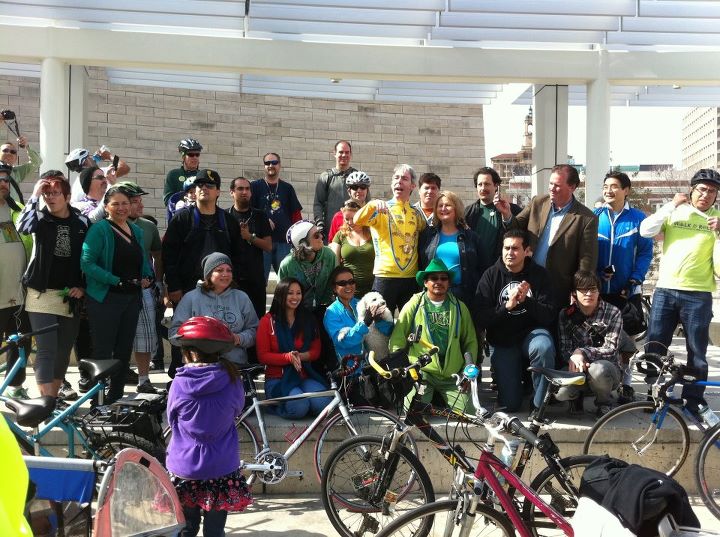 The only non-bird in the picture (except for the Lord Mayor, who is an honorary bird) is the woman in a blue shirt and dark coat to his right, who is San Jose City Councilwoman Rose Herrera. She also rode with us. I downloaded this copy of the picture from the internet. I'd give credit to the photographer if I knew who it was.

Later on facebook Billy Cool said "The event should make the city more responsive to BP and our events." I hope he is right.

---------------------------------------
The actual ride had something like real Irish weather. It was a wet, wet night. From before the ride started until late, a warm gentle rain fell on us. It was wet enough that I didn't really want to take out my camera and take pictures. At the beginning of the evening there were more than 60 of us, and some were quite festively attired. I should have taken some pictures of that, but I didn't want to risk getting my camera wet.

The Sunnyvale cops kept a close eye on us. If there were the fair weather contingent we usually bring out it probably wouldn't have been a big deal, but with at least a dozen of them on motorcycles and who knows how many in patrol cars, we felt very monitored. It so happens that somewhere on Tasman they gave Eric a ticket for "riding with red lights on his wheels." I couldn't believe it. That was so wrong! After that the cops just seemed like way too many "heavy hands of the law". Grrrr.... My take away message: don't put red blinking lights on your front wheel. They are appropriate (and required) when seen from the rear, but nowhere else on the bike.

Another mishap was that we weren't allowed into the parking lot at a shopping center we were going to patronize. When we got there they told us "keep moving!" We did. A bit further along we found a freeway overpass to stop under. It was dry there. By that time I was glad to get off my bike for a few minutes. I'm bummed that the shopping center didn't want our business. I often get something at those regroups, but not this time. Seems like we've developed something of a bad reputation. (Is two failed regroups in two months a coincidence?) Probably if we want them to want us, we need to become better customers. I'm guessing the Ravens need more help keeping the parking lots clean to.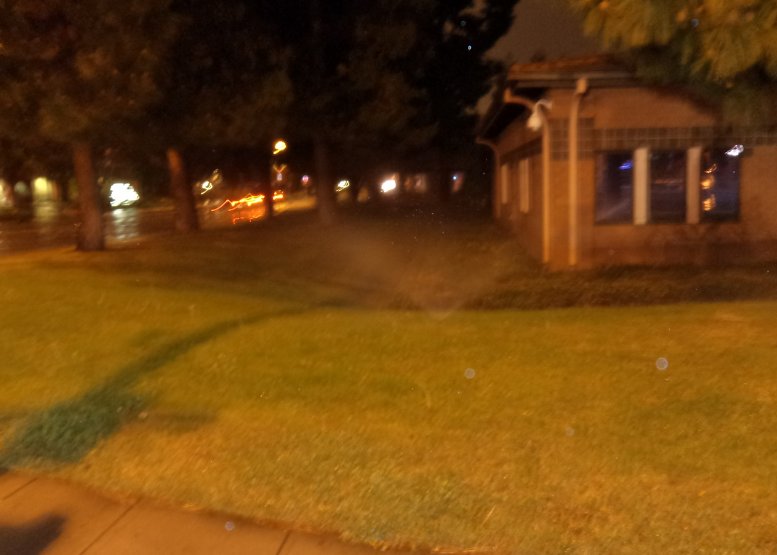 The ride was almost over when I came across this sprinkler watering in the rain. It was so wrong. We need to conserve water! I just had to witness it, so I took this picture.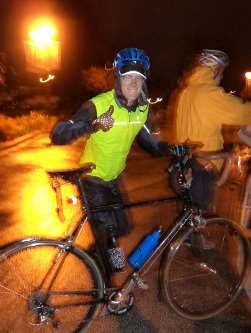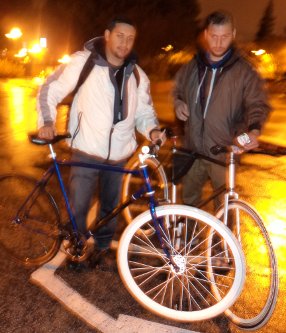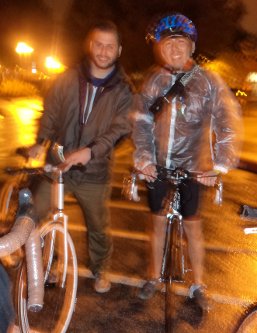 Maybe a third of the group that started finished the ride. About ten minutes after we got there it stopped raining. I took pictures of the people that I was talking to. The good news is that I've finally found a mode in the camera that makes fairly good pictures in low light.

When I got home my shoes were totally soaked. (Usually the dark stripy parts are the same green as the area over the toes, but not when they are wet.) My rain poncho protected most of the rest of me, except for my legs from just above the knee down, the neck area, and my forearms and hands. It wasn't cold enough that I wore gloves, so my wet hands weren't much of an issue. My toes looked like prunes, but that's not much of a problem.

The thing to do when dealing with rain is hang everything out to dry went you get in. If you don't the wet stuff that stays wet will mildew. I got reminded of that again after the circus ride, when I left some wet tamarinds in my favorite grocery bag (the one Cheryl Crow signed) and it got mildew stains on the inside. This time I had stuff hanging on every doorknob in the house twenty minutes after I got home. I also opened all the zippers on my bike's trunk and propped it open to dry.

Two days later I can gladly say that I didn't get a cold! I consider that proof that I've learned how to dress for the rain. Basically, the secret is keep the rain out of your core and dress just warmly enough that you don't overheat. Standing in the rain takes much warmer clothing than riding in the rain.