Bike Party started in Sunnyvale this month. That was close enough to home that I just rode down there. Took about 45 minutes. I'd tried to make a pre-ride out of it, but I'd waited until the evening before to make a facebook event for the ride. In the end only a couple of us did that. Next time I'm going to start earlier on that!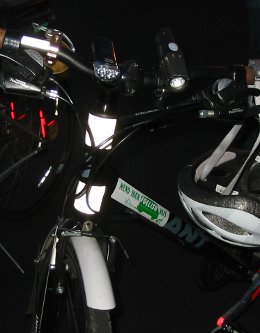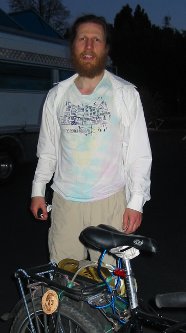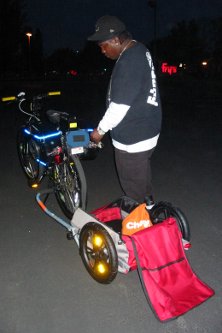 I find something humorous in the fact that covering up the GI in GIANT with a sticker leaves you with an ANT bike.

That faded tie dye on Lawrence is from a truly hippie Palo Alto institution. Much more "Hippie" than the average.

The guy with the red trailer is one of the bike party regulars I see at so many rides. Sometimes he has a kid riding behind on a smaller bike watching a movie on the TV screen on the back of his bike. This time he was riding with the trailer for the first time. He explained that powering the sound and lights for the evening ends up taking three motorcycle batteries, and he was getting tired of carrying the extras on his back. The trailer was his new solution to that problem.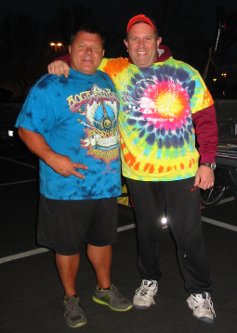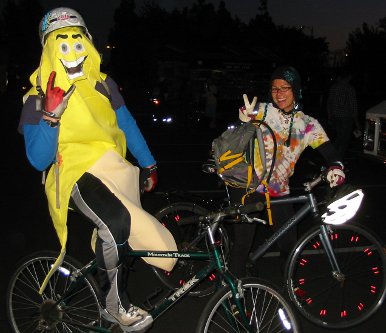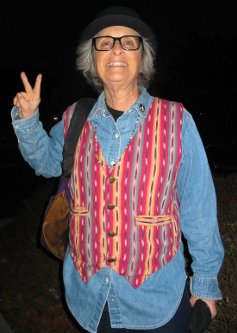 Turns out that lots of the "Hippies" were people that pulled tie dye out of the closet. I think Diane was the only one I saw in a Guatemalan vest, even though that was truly a hippie icon back in the day.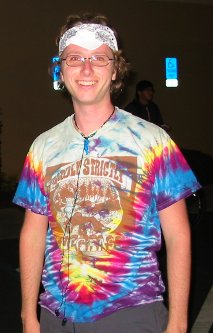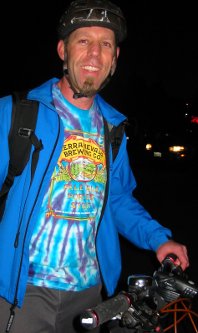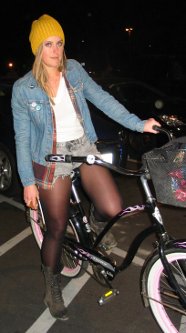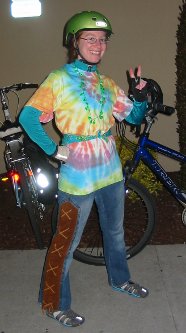 The official theme was "Hippies vs. Hipsters". I wasn't really sure what hipsters looked like. The woman in tights was the first one that said "yes" when I asked "Are you a hipster?"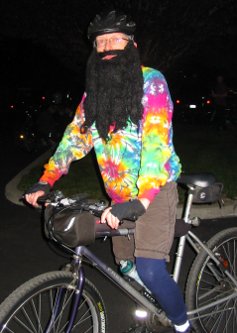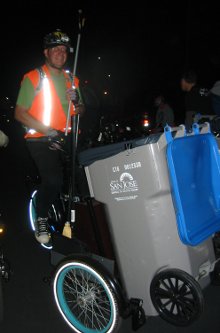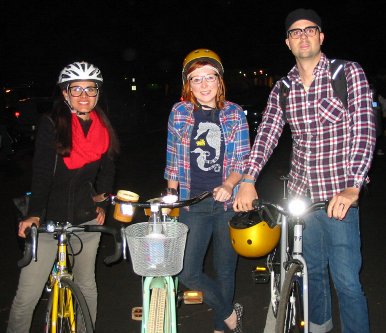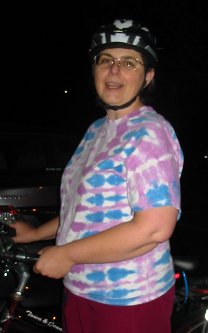 I think checkered flannel shirts are one hipster theme. If I'd have known earlier I could have photographed many more of them.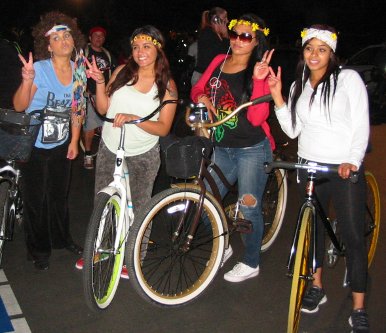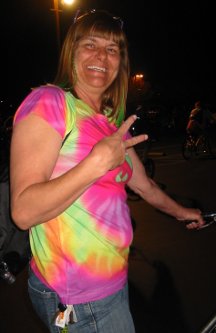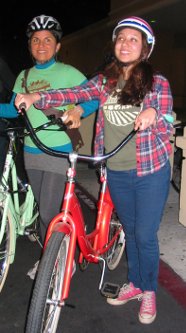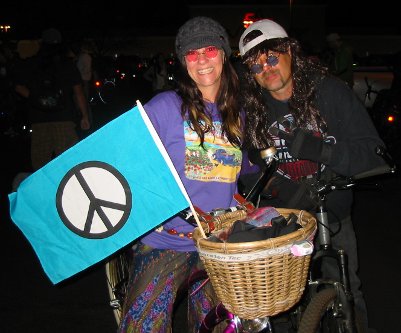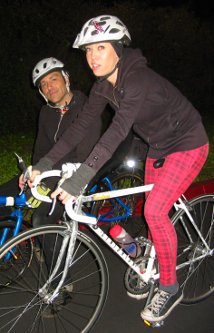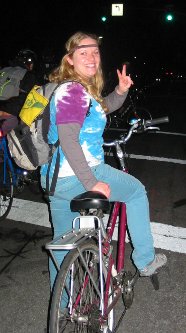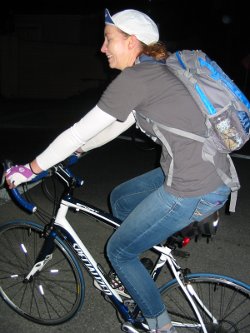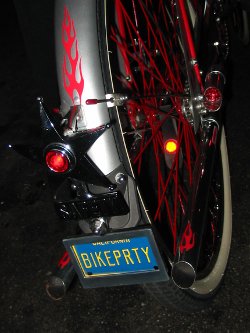 The tailpipes around that BIKEPRTY are pure show. That bike had so much well done home made bling!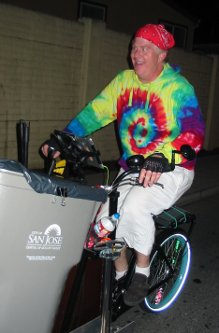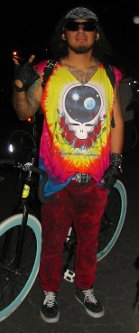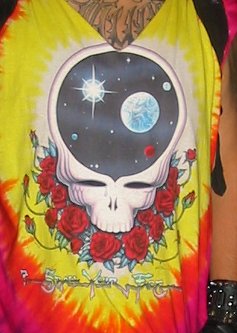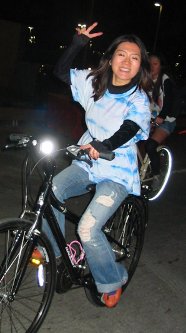 Where did she find bell bottoms?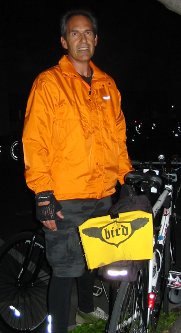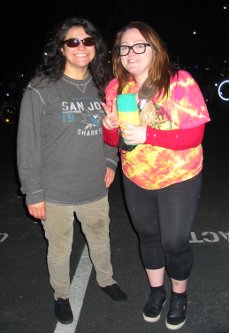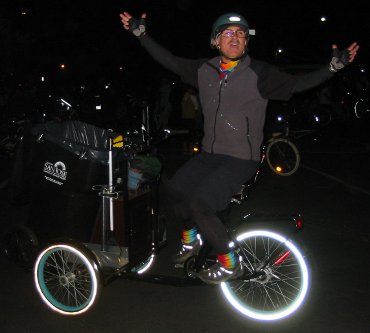 This was Ed's 54th consecutive San Jose Bike Party. That's turning into a difficult to beat record!

The regroup on Democracy Way was perfect. The street was big enough that everybody had plenty of room, the crowd was in a good mood and so many nice things were going on. I focused on having a good time for a while.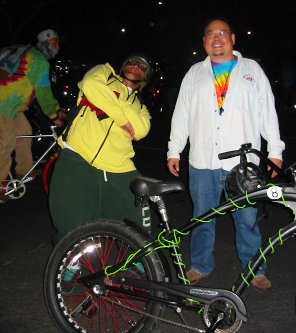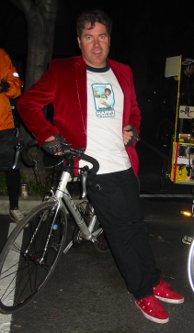 I think the guy on the left got his hippie costume from a costume shop. The kind where you can get a wookie costume or a pirate costume or a hippie costume or many other choices.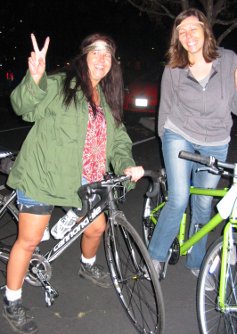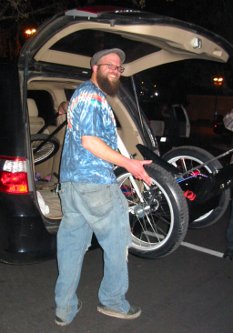 By the end everybody was smiling. Something about riding and partying with people just puts everybody in a good mood. Looking forward to next months ride!