This month SJBP had a "voltron" start. That's the kind where in each corner of the valley a location was selected that would work for the local folk. Then we each did our separate legs and met at the first regroup. I started at the bicycle shop a couple of blocks south and/or east of San Thomas & El Camino Real. Rode down from Mountain View so it was a fossil fuel free day, except for the lighting and cooking and food miles.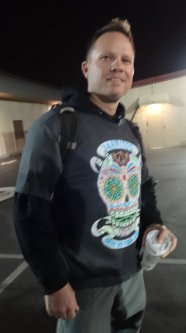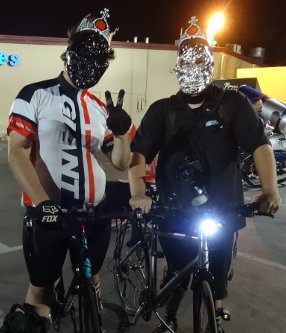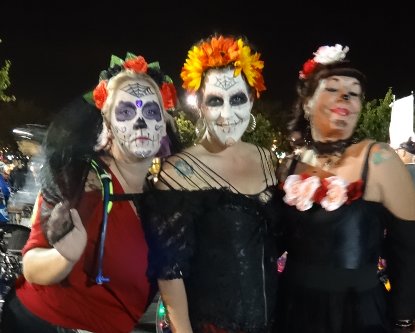 Dia de las muertes was a very popular theme the other two times we did it, so I knew it would be a busy evening for my camera. It started slow. One reason was that we only had a hundred or so start in Santa Clara.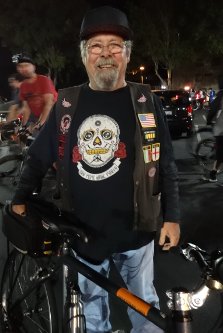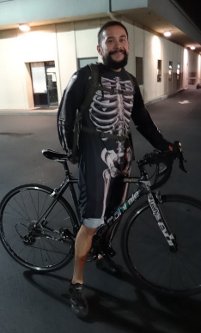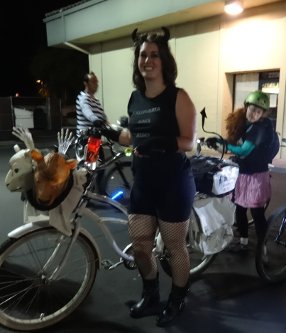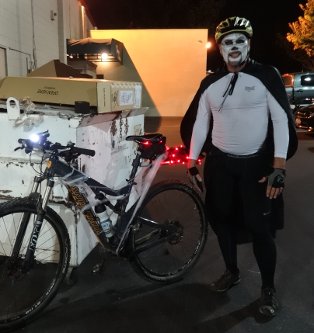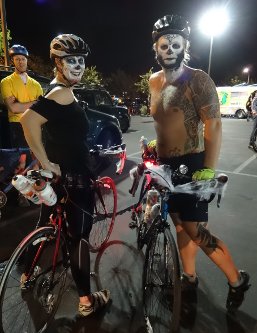 Once we started rolling I just put my camera away until we got to Discovery Meadow. Pictures from there start with the last one on the above line.

I found out later that a bunch of people started by going to the Discovery Meadow, expecting it to start there at 8 PM. Ooops. Bike Party didn't get there till nineish. For some of them this bike party was a nonevent because they found something else to do. Sorry kids. Better luck next time!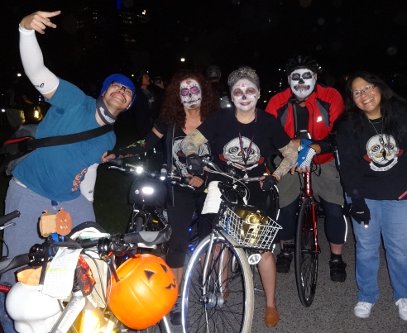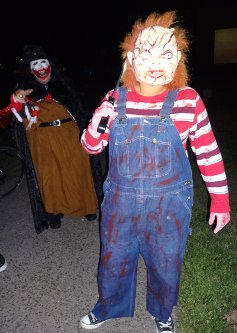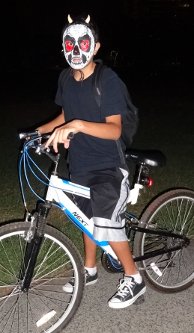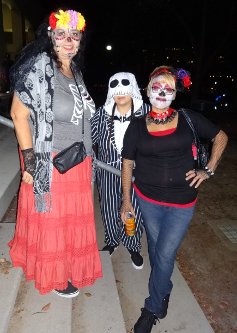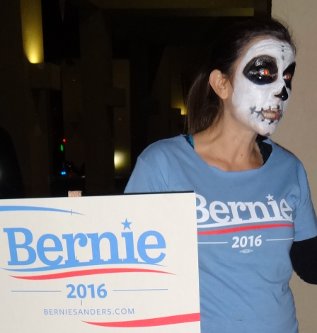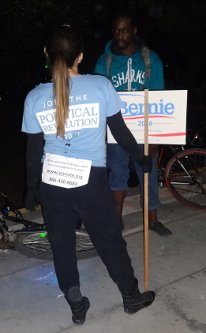 The Bernie activist had a little speech that she wandered around giving to small groups one after another.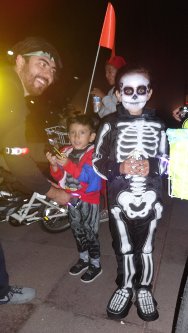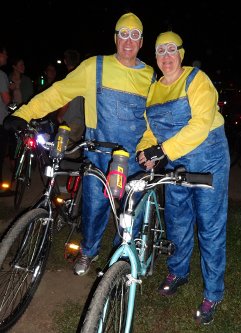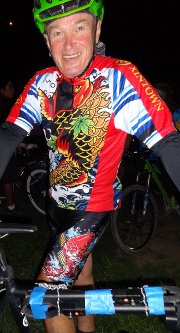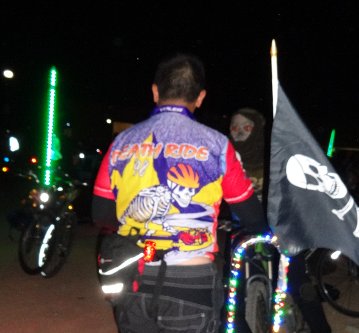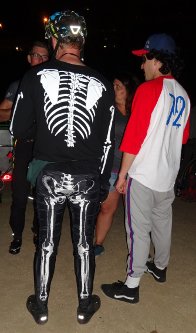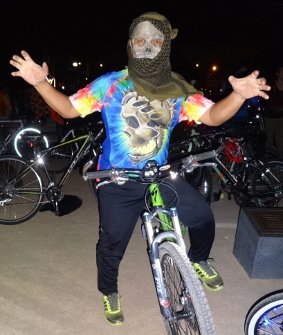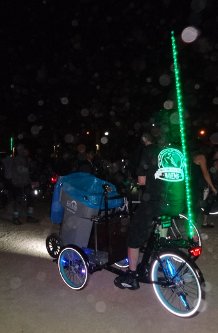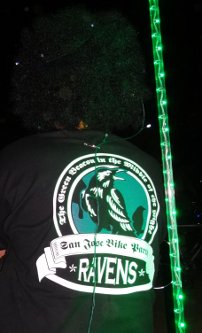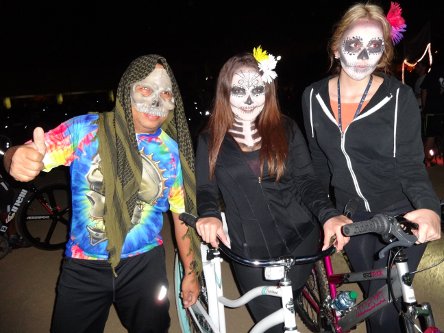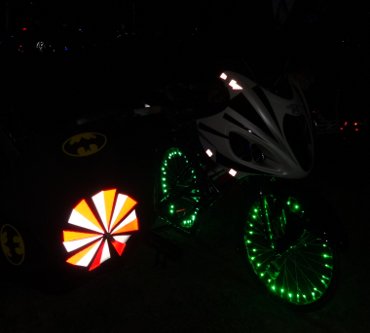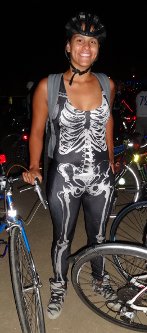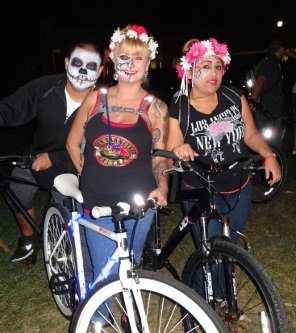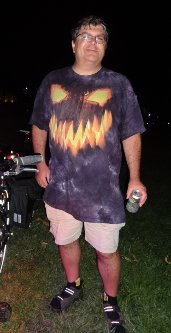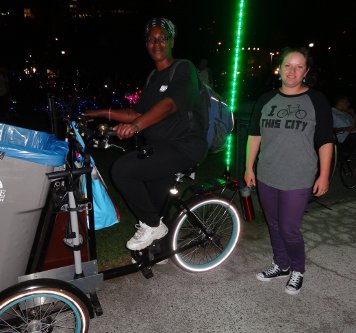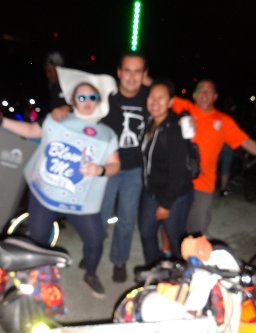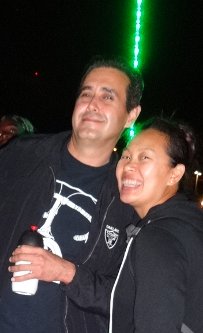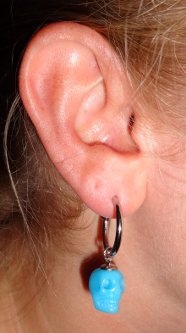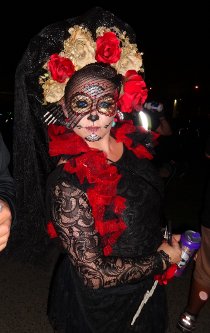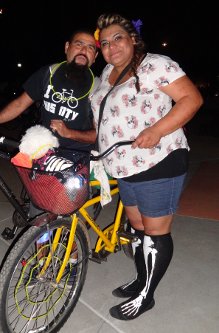 News flash! Santiago brought his girlfriend to bike party! :-)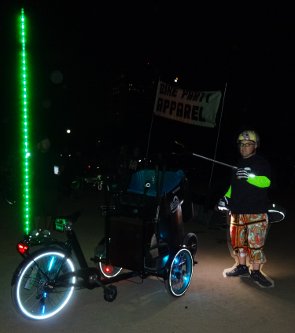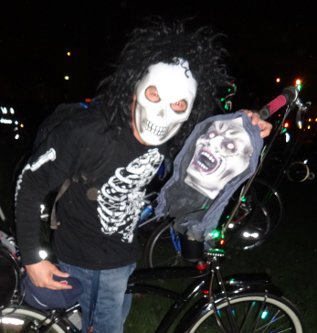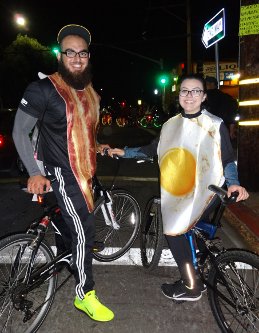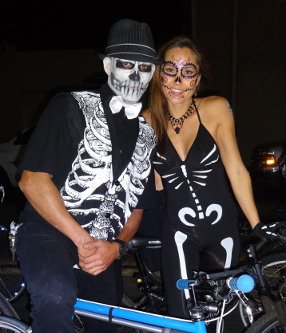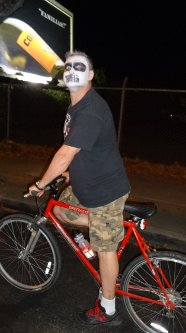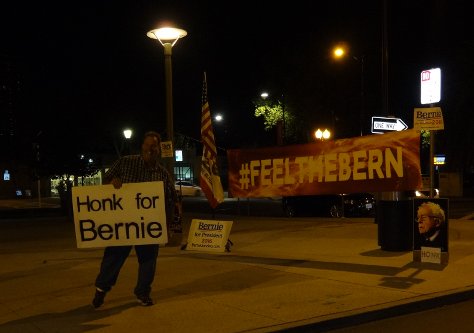 If other candidates had sent activists I would have photographed them to. The simple fact of the matter is that only Bernie seems to want everybody to get political.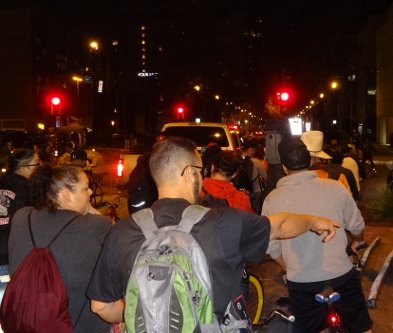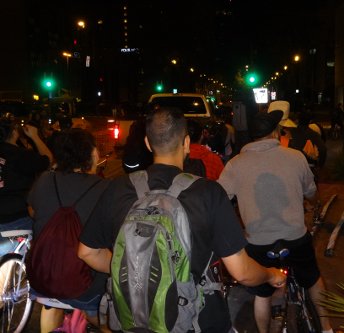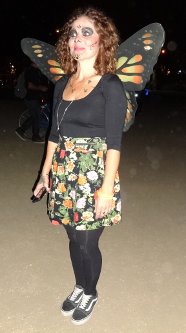 See how fast peoples attention focuses when the light goes green? Bike party is awesome that way. Gotta move while it's legal! While cross traffic is flowing we wait our turn.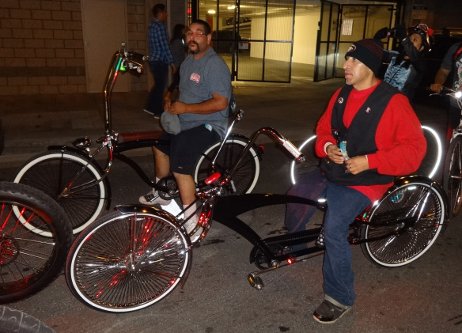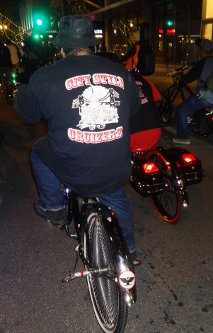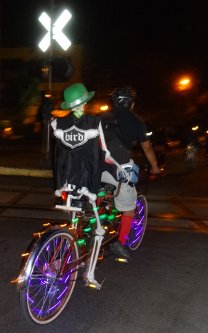 Spooky that a departed bird was riding among us...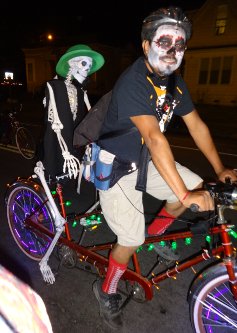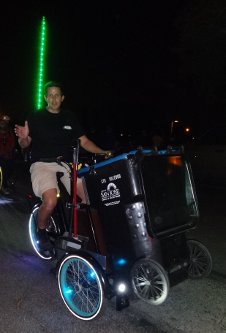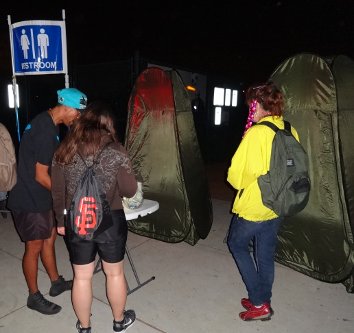 Frederick thinks the bathroom thing makes enough sense for him. He sells the super absorbent diaper ziplock thingies for $2 each to the people that need to go. They go in the tent and fill the pouch with whatever. It zip seals and then they throw it in the bucket you can't see from this angle. The first month he used about 20 pouches, this month he used 50+. He's pleased to report that people come out of the tents happy. It all packs down to a bike trailer full.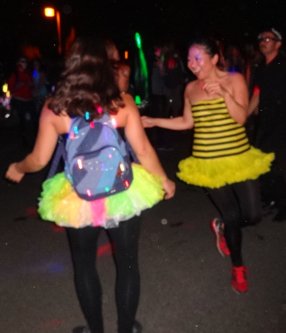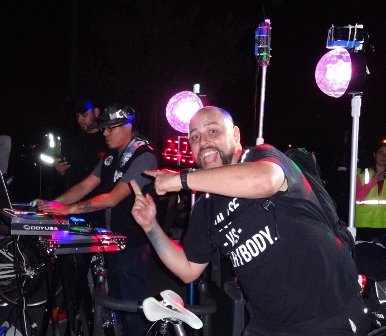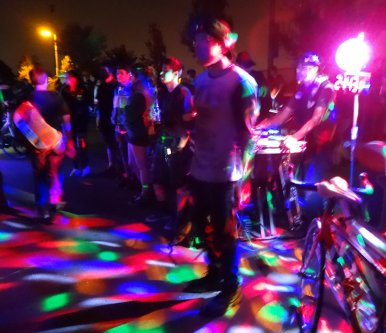 I think Tanner is saying "The DJ is awesome!" For sure there was a lot of dancing going on.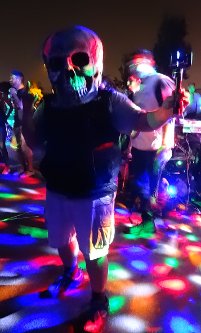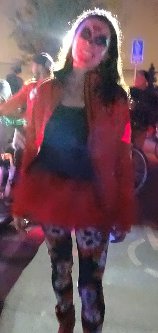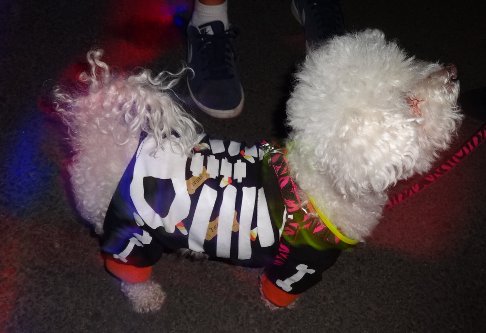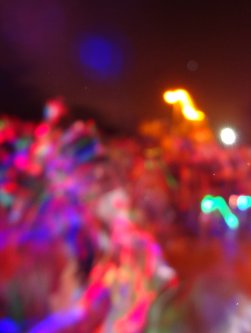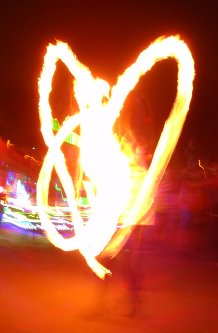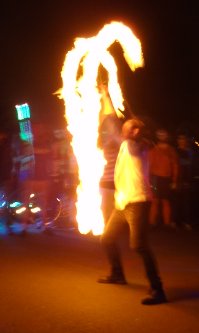 I have no idea how I got that blurbuly picture to happen. Must be some mode I got in by accident.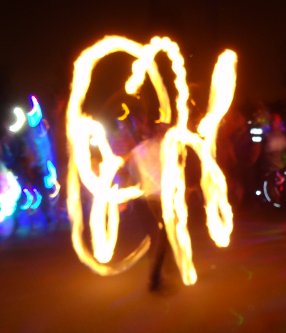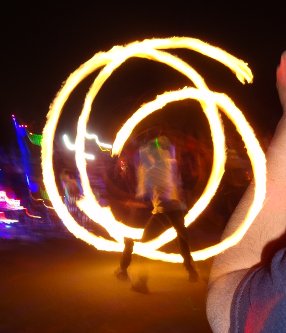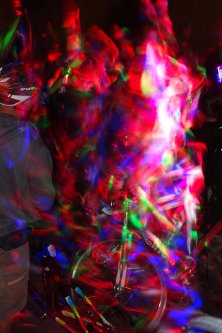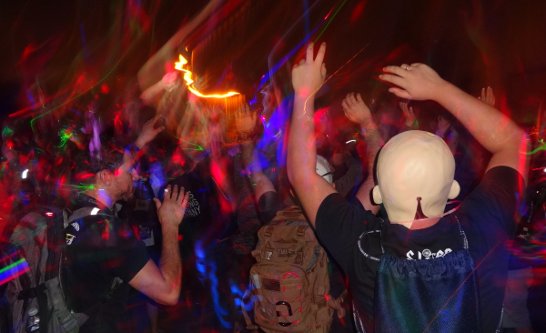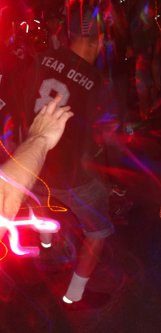 People would watch and cheer when year ocho (Sherm) would spin off some awesome dance moves.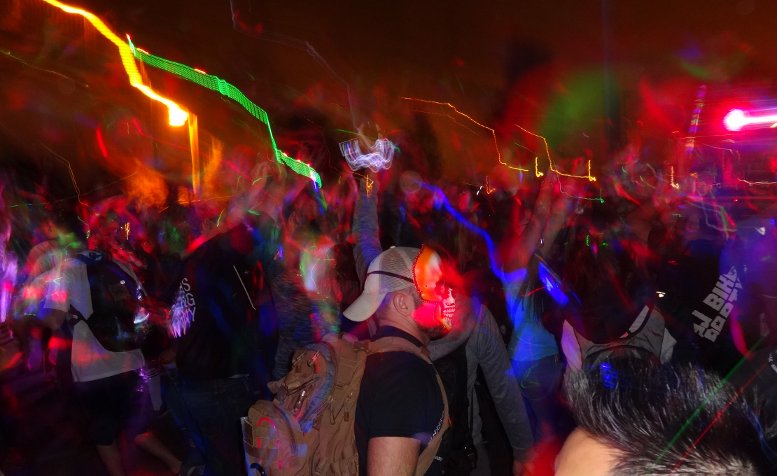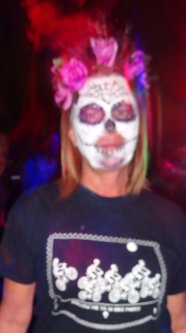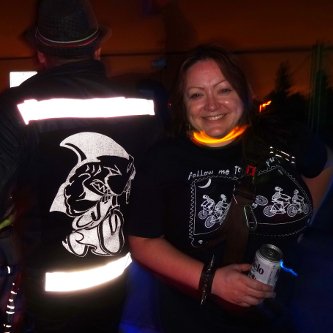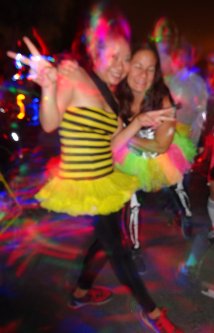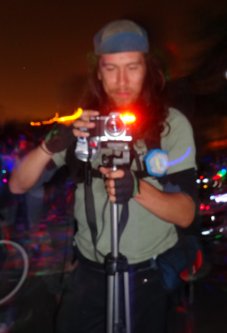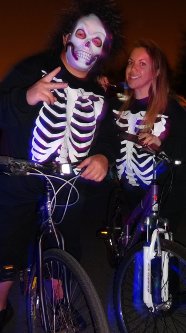 Ronnies version of that picture probably has a time stamp about when it was. All I remember was "getting late."