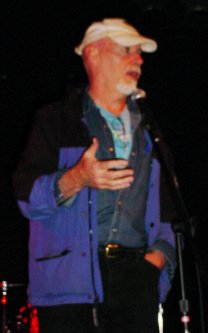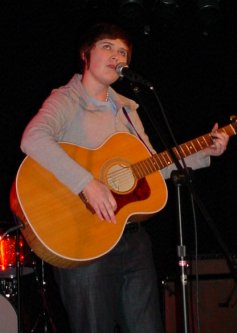 The first speaker was Kevin Danaher. He told us that the Republican ship of state is sinking, but to get people to jump on our boat they have to see something better in it. He recommended having such a good time that they find our thing irresistable.

Aimee Allison thanked the San Francisco Green Party for their early endorsement. Then she told us her campaign had just been endorsed by the Statewide California Teachers Association. Aimee wanted everybody to come to her campaign kickoff party Thursday Feb. 2nd in Oakland (446 E. 12th Street).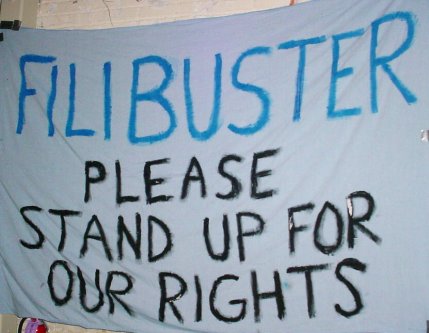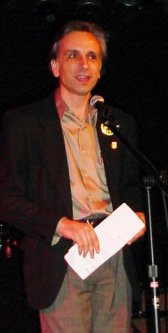 This guy introduced many of the performers.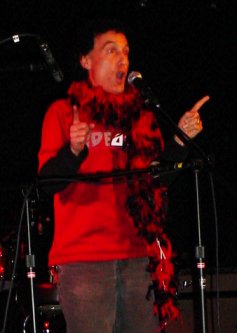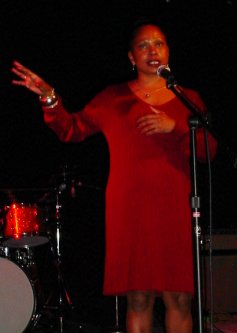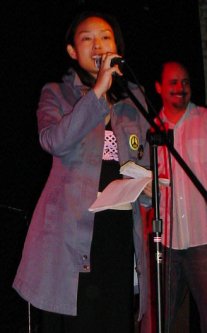 Jane Kim (in purple) was the other half of the MC pair. She kept things moving and didn't let us forget that we were at a Green Party fundraiser.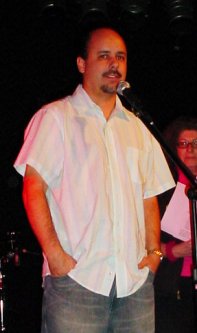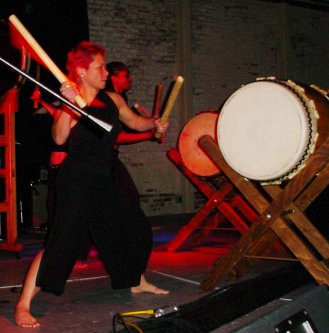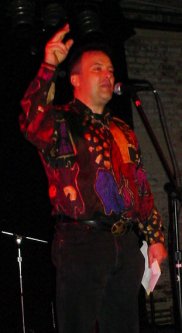 Mark Sanchez talked about the school district, where he is a board member.

The Taiko drummers did a great set that started with one of them reading a very dramatic piece about how the Bush Administration is mounting an assault on our privacy and other civil rights. She recommended we fight back. The drummers showed what that ment by doing a riveting set.

Jello Biafra disected a mailing he had gotten from the Democrats, pointing out that among the list of important issues you could check off Iraq was nowhere to be found. He finished by telling us to become the media if we don't like what we are getting from the mainstream.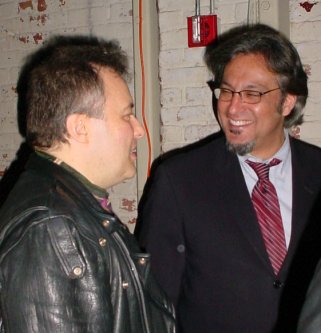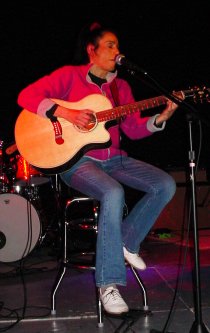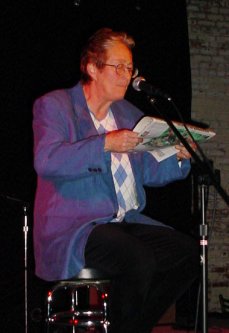 I didn't manage to get a good picture of Ross Mirkarimi until after he left the stage. He talked about how the San Francisco Greens were the activists working with the Communities of color to make sure the system gives them a square deal. His words made me proud of being a member of the Party.

Terry Baum did an exerpt from her recent one woman play about her Congressional Campaign two years ago. She explained how she had been captivated by going to her first Green Party meeting. They spent the evening hand writing lobbying letters to legislators on the backs of previously used paper. At the end of the meeting she wasn't able to get a ride home because nobody there had a car. The outrageous radicalness of it had appealed to her so much that she ended up taking it to the next level.

There was more to the event after the above, but the last CalTrain home was about to leave the station, so I had to run. I caught it, but I didn't have many minutes to spare. On the way home I figured out that this event might have gotten me to the point where I have enough signatures on my nominating petitions to get my name on the ballot. On top of that, it was a very enjoyable evening.