For years Jacky and I had been tossing around the idea of riding up Mt. Hamilton. Finally we got around to doing it this day. I muffed the start due to mistakes on light rail, so I got to the start very late. They had waited for me, but it didn't feel like the right time to pull out my camera. An hour or two of pedaling uphill later we took our first break at this trail head with a porta potty on the left side of the road. I was still getting used to standing up when Moya caught up with us. A few minutes later everybody was all smiles so I got a group shot.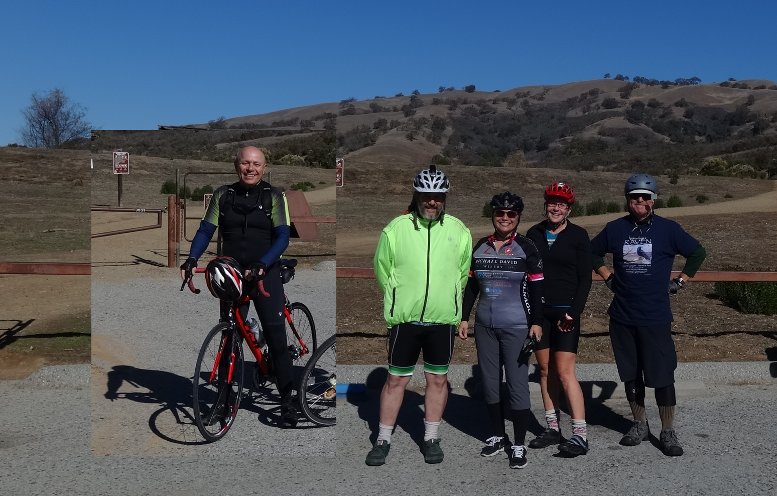 After that it was a long uphill slog to the top.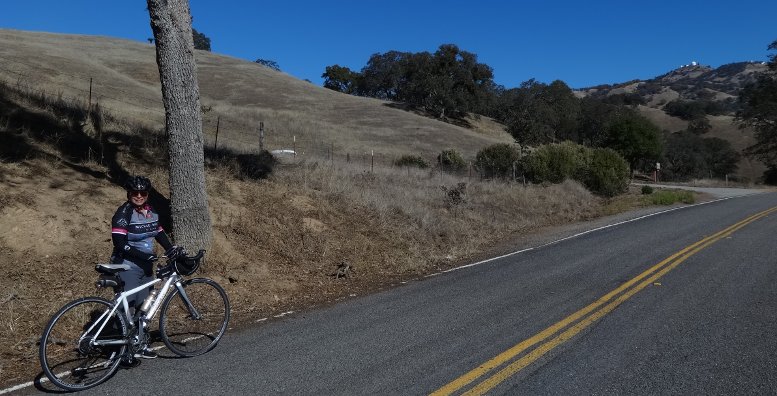 We rounded a corner and stopped to admire our first view of the top. By this time Tom and Townie were far ahead of us zooming up the hill on those hyper powerful legs they have. Moya had to leave us five miles from the top. She had to rush off to something important, I forget exactly what.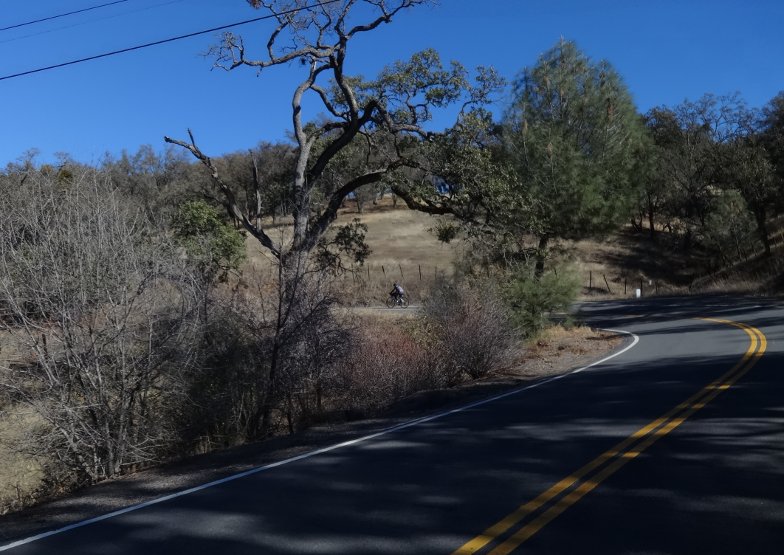 Turns out that a sunny and chilly Thursday in November is the perfect time to be taking on Mt. Hamilton. In hot weather it takes A LOT of water because of the central valley heat. On weekends all year long the road has a steady stream of spandex clad cyclists, motorcyclists, sports car enthusiasts, and tourists clogging it. For us the other traffic amounted to an occasional FedEx or UPS truck and a couple of tourists. Most of the time it was just pedal, pedal, pedal.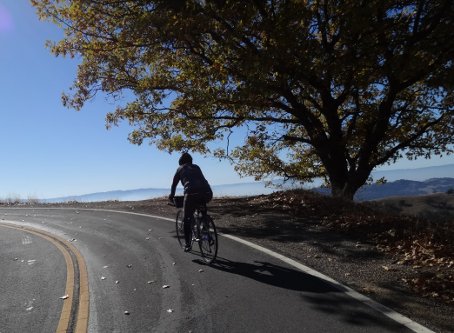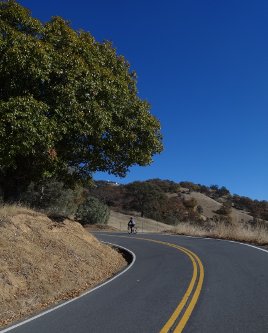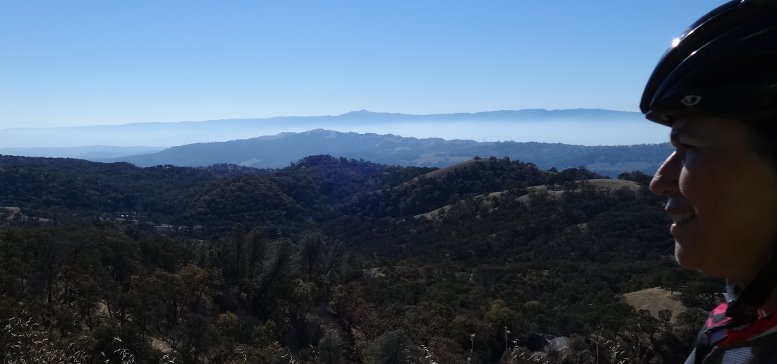 The views just kept getting better and better.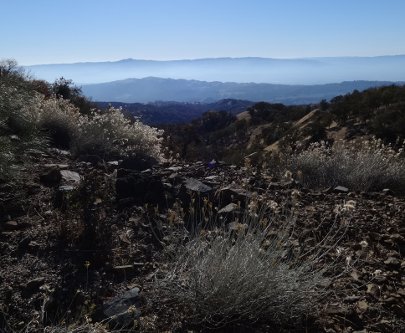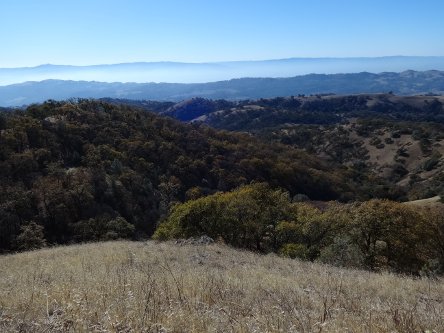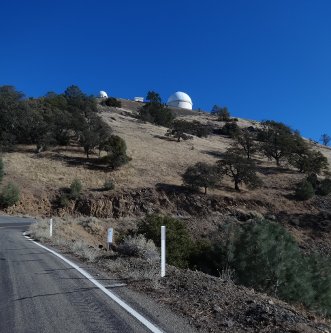 Every now and then we'd go around another turn and the observatory would come into view again. Every time it seemed considerably bigger than it was the time before, but somehow still quite far off.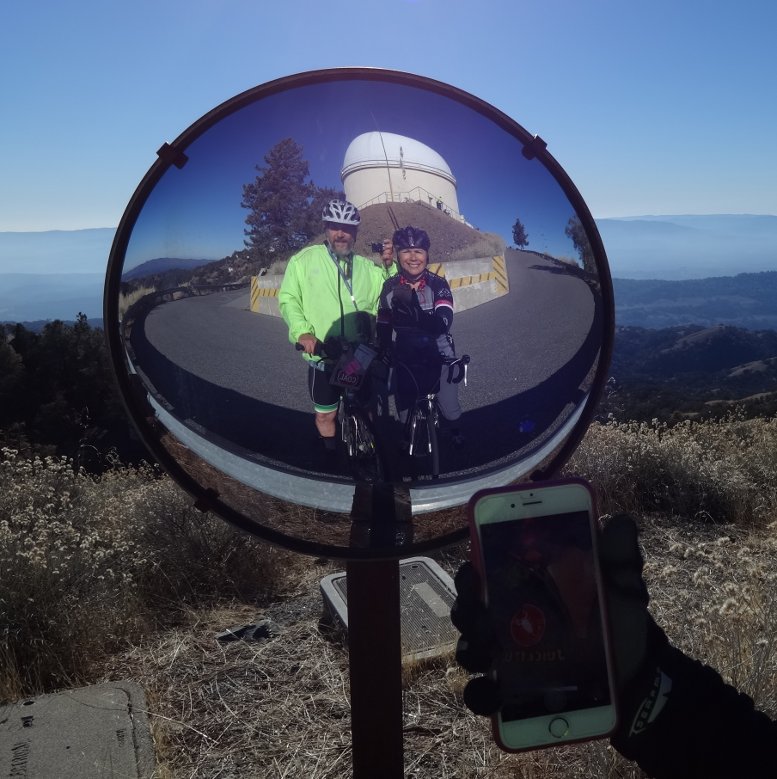 The cool picture to have is a selfie in this mirror. Jacky's version of this picture is on facebook, and looks about like this one. I'm honored to have stood there with her at that time. Those tiny people leaning on the fence around the parking lot art Townie and Tom waiting for us to finally get there. It happened soon after this picture was taken.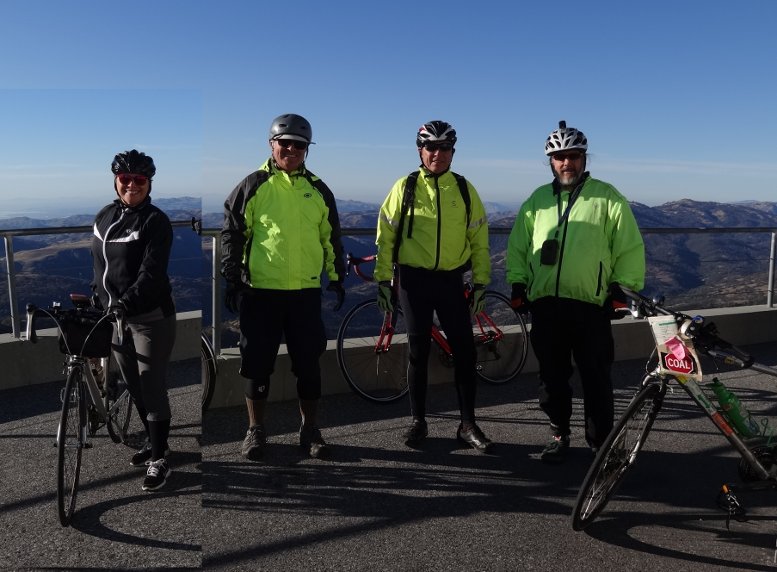 Yup. We four made it to the top that ride!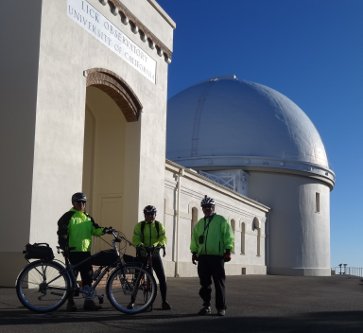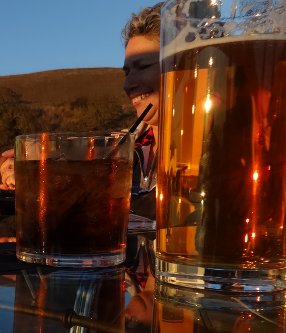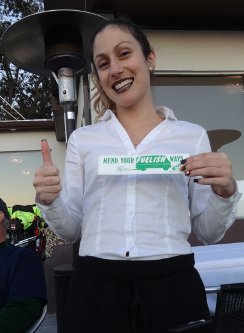 Riding down was chilly. It wasn't just the wind. On the way up we had to pedal. Going down I just kept my feet in the stirrups and tried to keep my brakes from overheating. After a few miles of that I had to stop and give my fingers a few moments of rest. After it was over we went out to eat. Somewhere in there I gave the waitress we talked to a tip. I was very tired the next day. Now I'm still happy I finally went up Mt. Hamilton!