I was iffy about going to East Bay Bike Party until I got an email from Camille saying "have fun at bike party" or something like that. Then I figured out what the train schedule was and hopped on Caltrain at about the right time. Unfortunately, when I got on the BART train I didn't realize I was on the wrong train until I got to Orinda.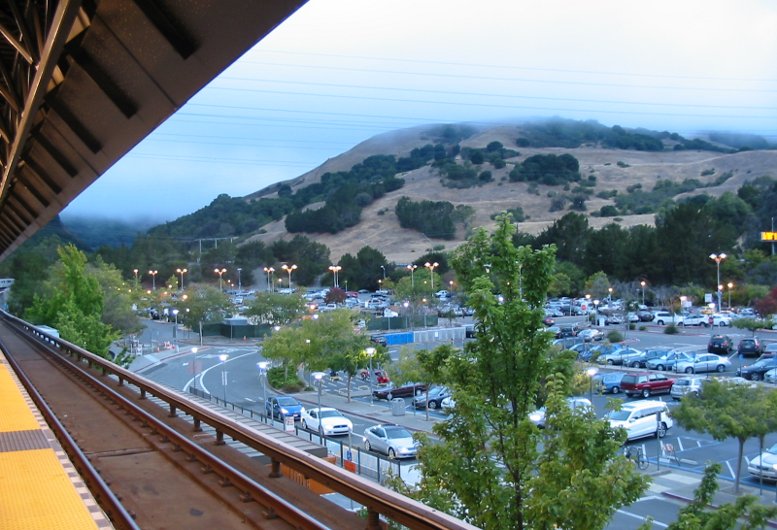 The ride rolls at 7:30. It's 7:05 and the train that's going my way doesn't get here until 7:15ish. Then there's a 20 minute ride to get to Fruitvale BART. Obviously they will be long gone when I get there. I almost gave up. But then I figured "I might as well try."

Turned out well. When we got off the BART at Fruitvale there were something like 50 of us. Nobody knew how to find the ride, because they only gave out route sheets at the beginning. So those amazing people with their pocket smart phones started looking through their contacts for someone that was on the ride. Soon enough somebody had someone else on the line who read the directions to the first regroup to us over the phone. After that I just pedaled like mad and did my best to keep up with the people that knew where they were going. Soon enough we were passing people that were out because the parade of bicycles had drawn them out. They offered encouragement. Luckily we caught them just before the first regroup.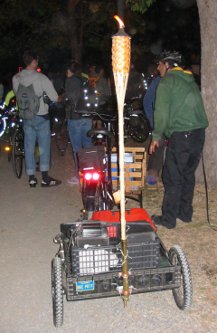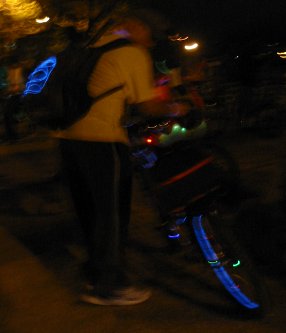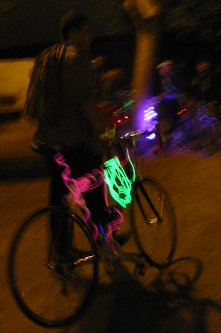 The theme was "Light at the End of the Tunnel". What that boiled down to was a sprinkling of bikes with lights and glow wire. For most it was just a party with friends. I'd say there were several hundred of us out for it though.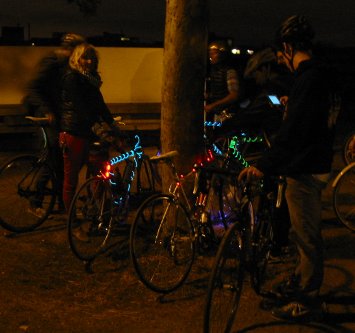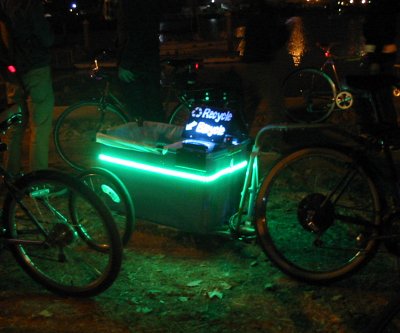 The Recycle bicycle was awesome! I remember it because it was about the only place I could find for the empty can I wanted to get rid of. It was easy to see from far away once I knew what to look for. Thank you recycling activist!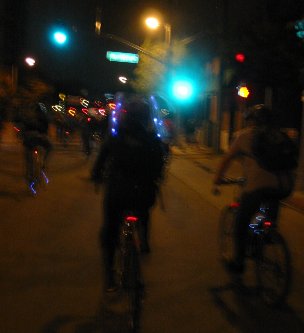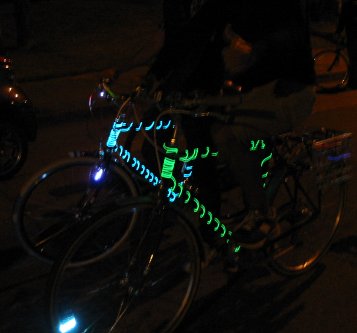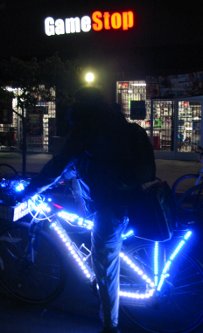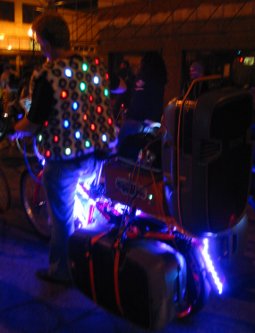 It's hard to describe the awesomeness of that bike Mark (the guy with the lit vest) is riding. For one thing, it has three huge good quality speakers and the sound system to drive them with good tunes. Mark has good enough taste in music, so usually you hear loud and infectious. For another it had the brightest lights of any bike there that evening. In the picture they are blue, but over time it cycles through a rainbow of colors. I'd call it the current "best in class" among lit music bikes.

There was a regroup a few miles later. I spent some of it pushing stickers, but after a while I found this Polish woman and had a beer with her. Turns out her lifestyle isn't that different from mine. Then we rolled to the end.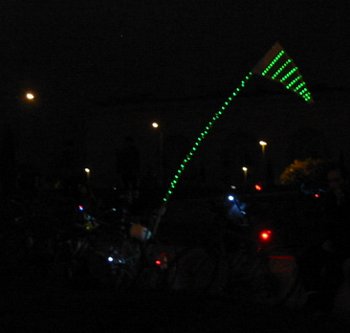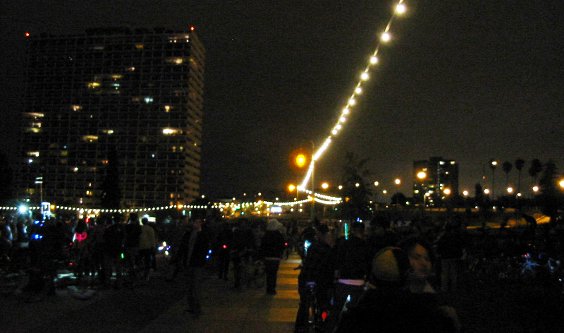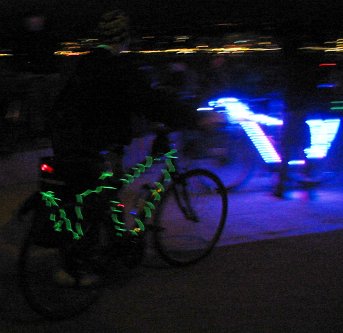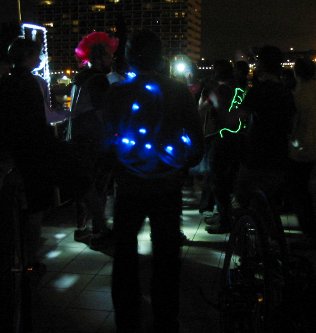 This guy started spinning these lit ballish things. It was a treat to watch so I took a few pictures of that.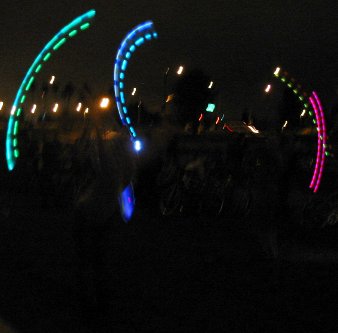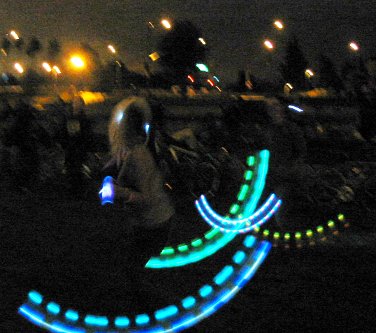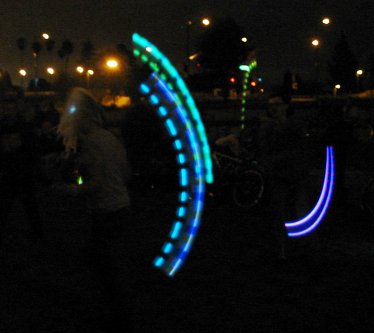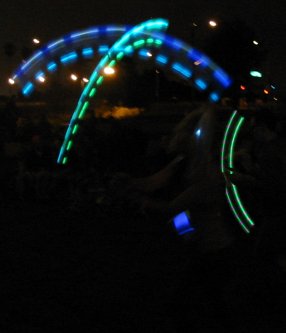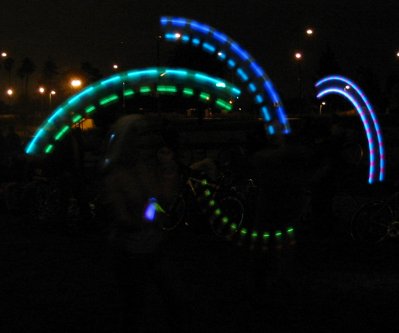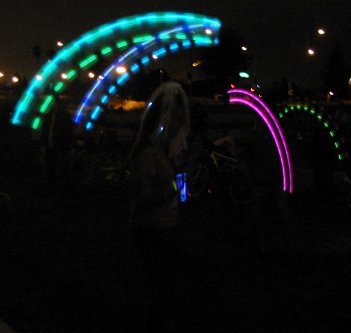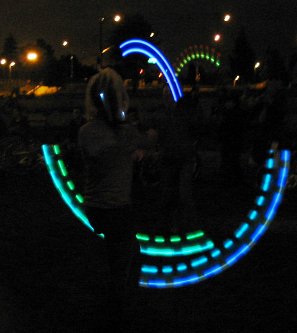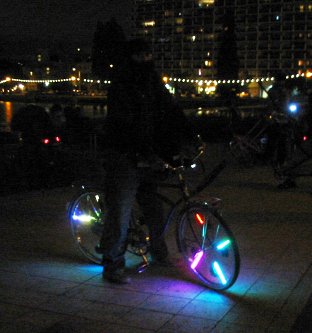 Then it was time to go. When I got to the BART station it was very clear that I'd missed the last Caltrain to Mountain View. I took BART to Union City and pedaled the rest of the way home. I was very tired when I finally put away my bike and went to bed.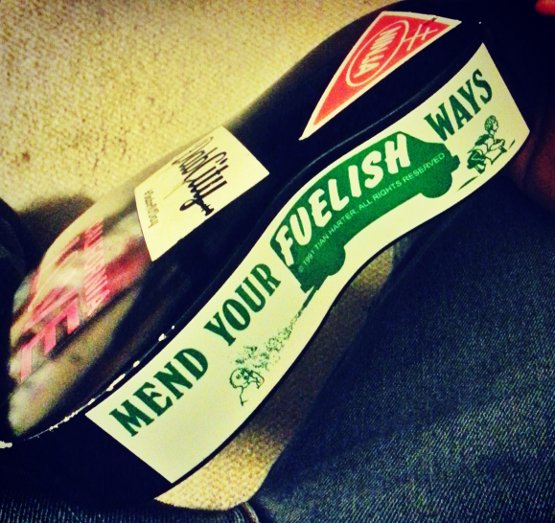 Then a few days later a musician I'd sold a sticker to sent me this picture of where he installed it. I liked finding out that my sticker was on the same instrument as CALIFORNIA LOVE. I like sharing the proof with you. It's a better ending for the story than I had any right to expect. :-)