Virginia wanted us to do something out of the ordinary for my birthday. We settled on taking a day trip to Angel Island, one of the tourist donations I'd not been to before. Turned out that all we had to do was get to San Francisco and buy tickets before the ferry left. We did that.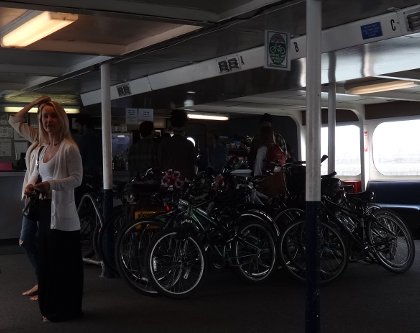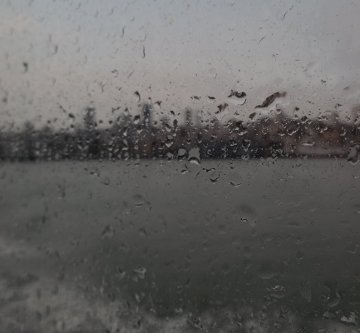 We got on the ferry okay, but the day started out gray and foggy. We hid below decks for the trip, staying out of the wind. I was bracing myself for a cold wet day.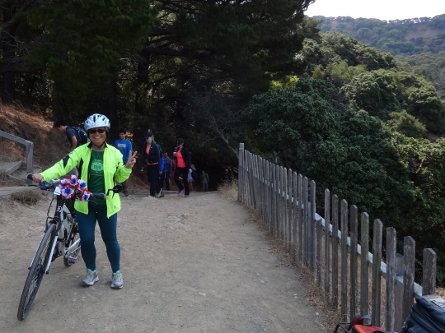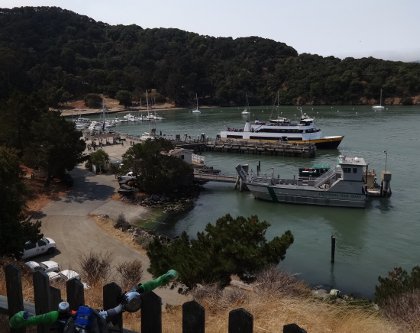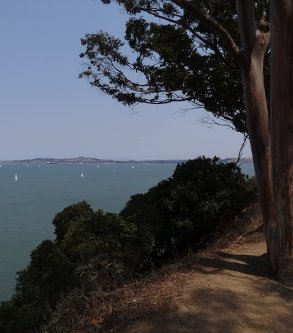 Turns out I needent have worried. Once we got off the ferry we were greeted by a very fine day. The fog had burned off. The views were spectacular.


Virginia was like "you need to be in the pictures to."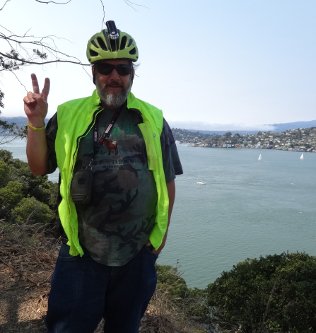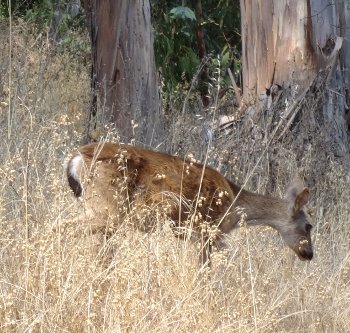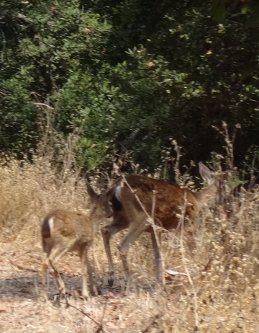 Then she shot me. Not so long after that I got a deer. Good thing I didn't hurt her, because she had Bambi following her around...

We blundered across an enclosed prison camp kind of thing. Turns out a tour of the facility was just starting. We joined it.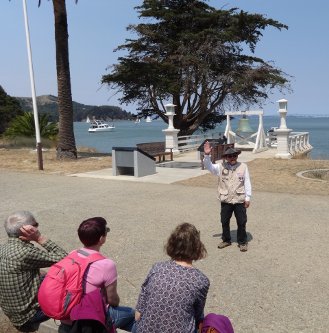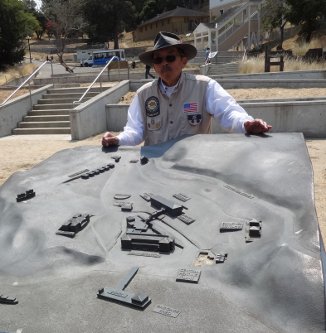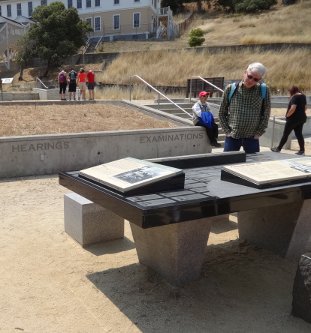 Joe explained that ships carrying immigrants would dock in San Francisco. The passengers who had paid for first class passage would have their papers stamped immediately, and the rest would be sent to Angel Island to wait for the authorities to decide whether to let them in. Most of the waiting were Chinese, so the story is mostly about them.

The detention camp was mostly these buildings in this area. Immigrants would get off at the dock at the bottom of the model. Most would spend most of their time in the big wooden building. It was presented as adequate for survival but not very comfortable.

Immigrants claiming to be joining relatives in the USA would be grilled about their relationships and hometown. Sometimes the interviewers would catch people lying about something and use that as an excuse to send them back to China. He had many anecdotes about how tough the process was.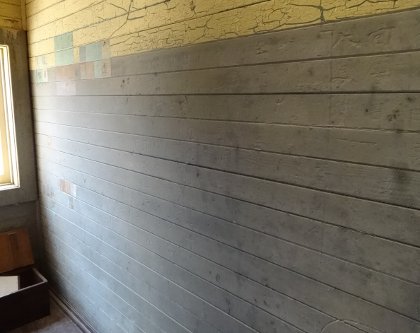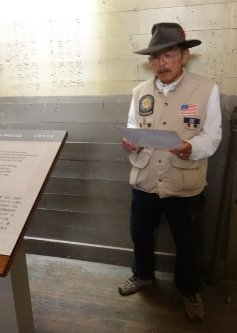 Immigrants would be confined for anything from days to months or years. Some would write poetry. Some of the poems were inscribed on the walls of the place. Many plaques around the building spoke of the poems.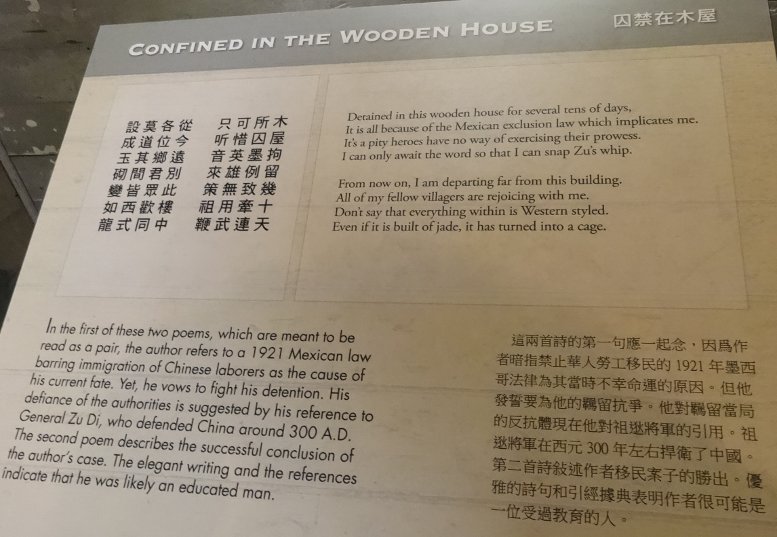 This was the most visible poem. Joe read it to us.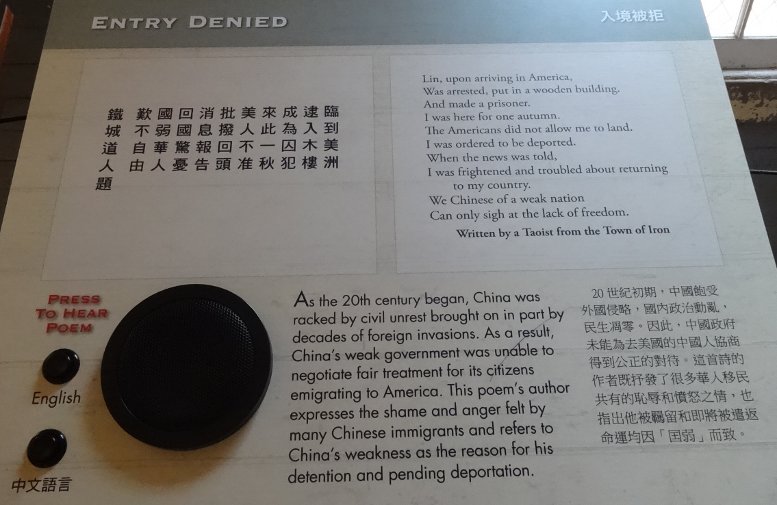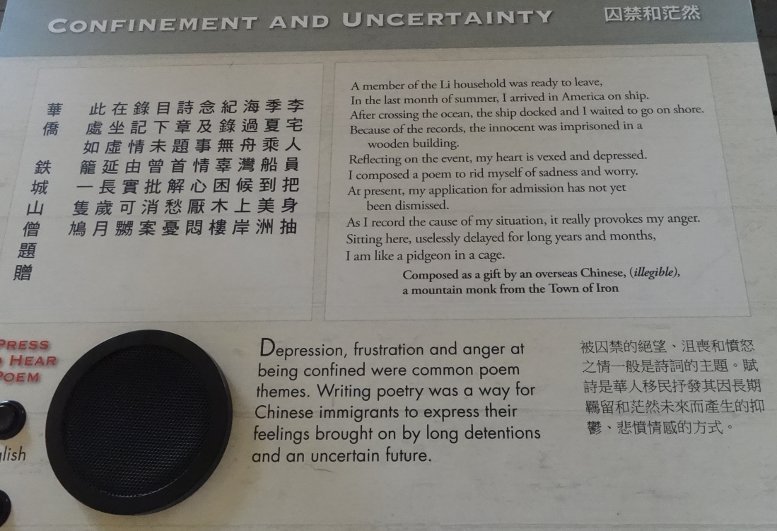 After leaving the immigration station we continued around the island.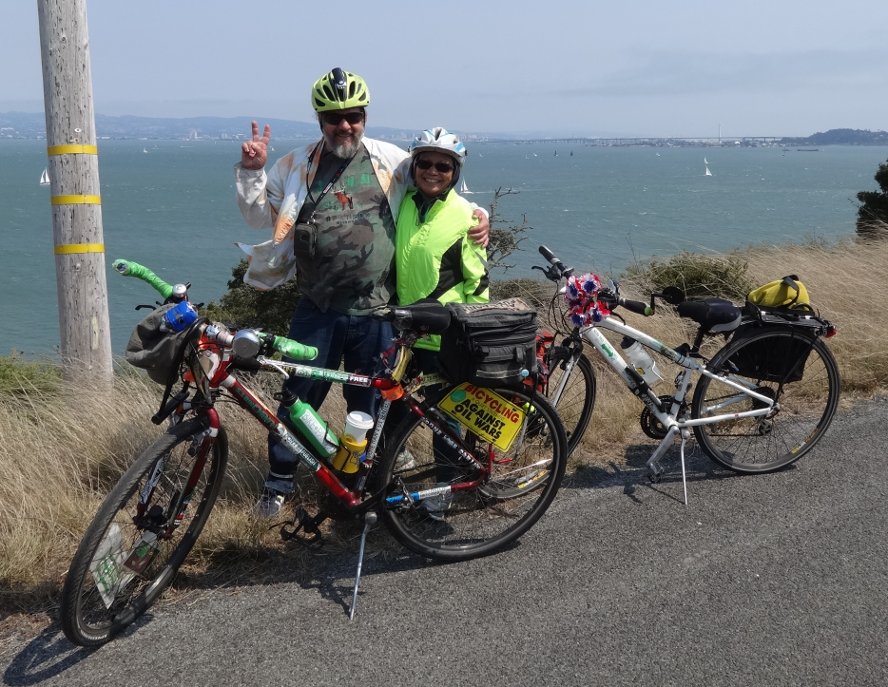 Some nice young couple stopped while we were trying to get a good selfie and took a picture of us.

We climbed this hill that wasn't super high, but it was high enough to give us a great view of the southern end of San Francisco Bay.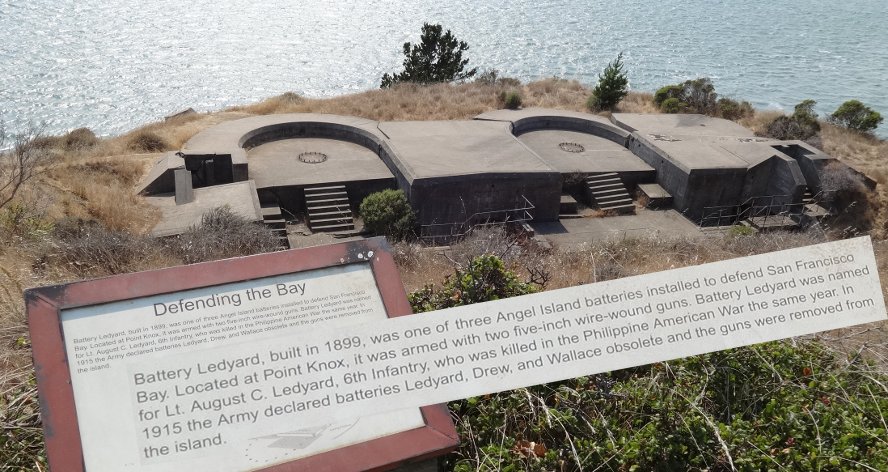 There were lots of sights like this one. The other interesting thing was a quarry where they got gravel for the roads, but it wasn't visually interesting enough to make me pull out the camera. What I remember most about the trip was enjoying the time with Virginia.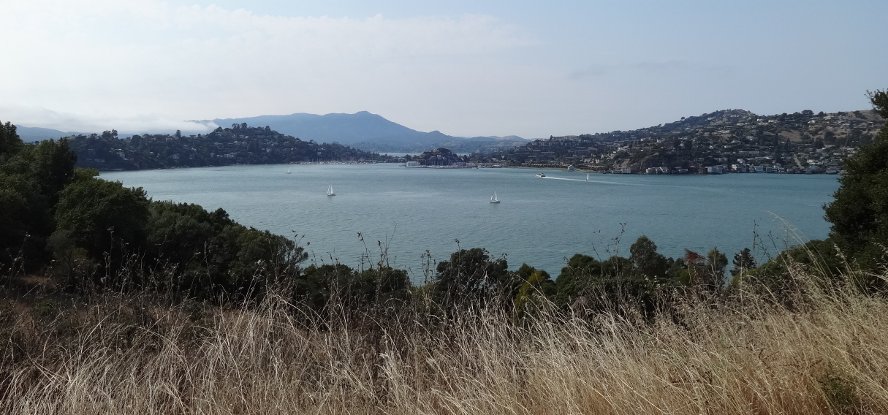 By the time I took this picture we were most of the way around the island. We made it back to the ferry port in plenty of time for the last ferry to San Francisco of the day.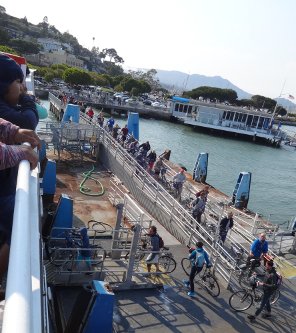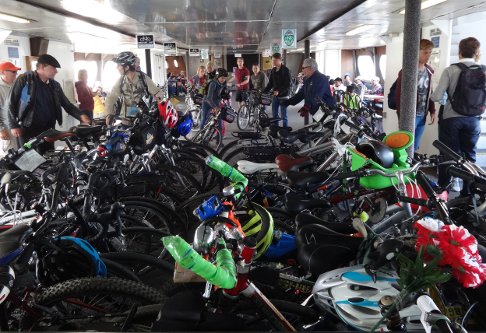 After we got on there was another stop in Marin County someplace. At that stop a surprising number of bikes got on. I watched them load for a while and then got out my camera and took a picture. Then I went down to the galley to see them being stacked. The guy was telling everybody "Just put your bike on the stack and walk away." I could see that was an act of faith for many of them. Went back up and watched as a whole bunch more got on.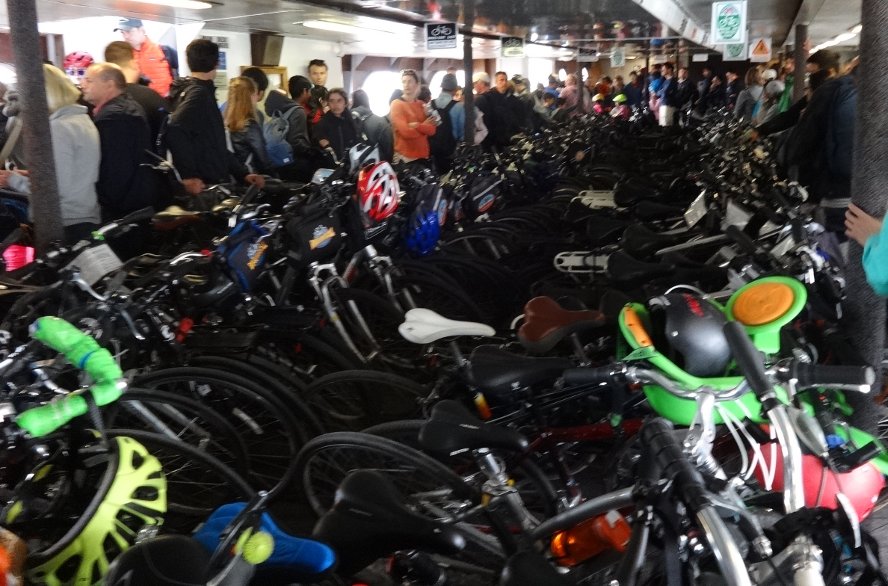 The below decks room was quite full with bikes by the time we headed for San Francisco.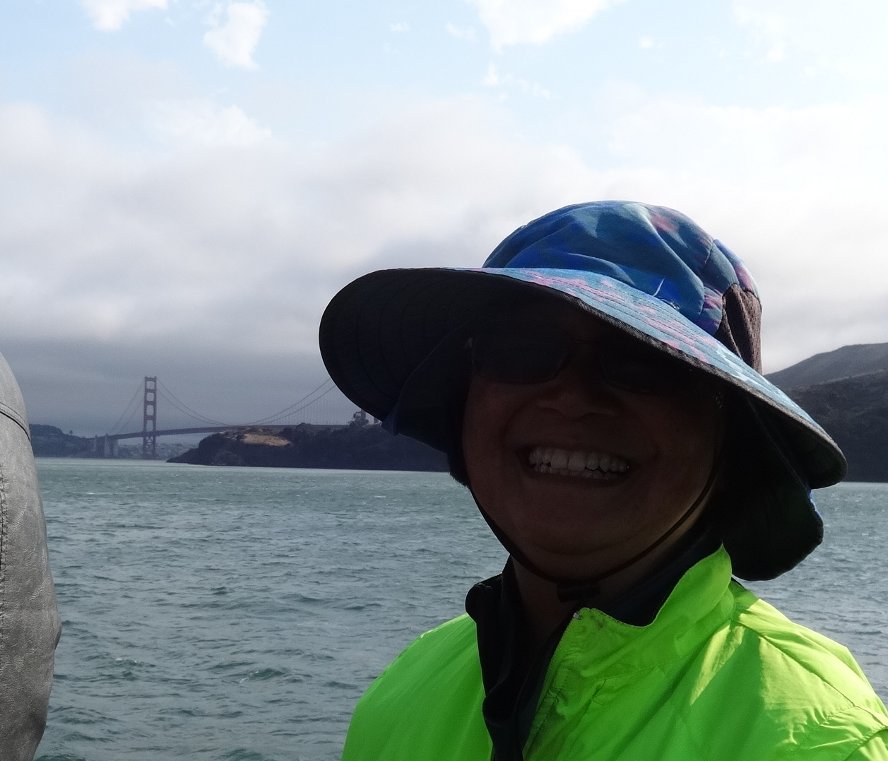 The Golden Gate bridge was not far off when we got our closest. After we got back we had a nice dinner near Fisherman's Wharf and desert at Giradelli Square. So happy to have found someone that enjoys spending time with me.