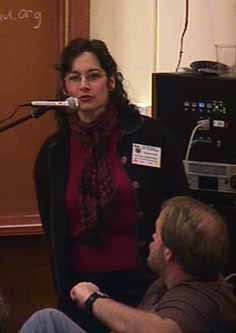 The afternoon began with John Strawn and Susan King giving us a report about what the Presidential Candidate Exploratory Committee had come up with so far. They began by reeling of the names of a long list of important people that they are sending letters to asking if they want to run for President as Green Party Candidates. The list included Ralph Nader, Cynthia McKinney, Cornell West, Jim Hightower, Manning Marble, Erin Brockovich, and many other names I didn't recognise as readily. Then they explained that the real test of a candidates worthiness comes during primary season, when whomever they are have to fight it out for the hearts and minds of the voters. They also explained that to get Green Parties going in the dozen or so States that don't already have them, a good Presidential Candidacy is a hard tool to beat. Many States have ballot access laws that make it hard to get started any other way. We are already part of the system in the states where you can qualify a party by petition.
Beth Moore-Haines of Nevada County was totally charged by the fact that the Governor of Illinois had just emptied death row in his state by changing all of those execution sentences to life in prison. She thought that we should seize the moment by putting out a press release urging our Governor to do the same thing. The Green Party of California had no trouble consensing that this was a great idea. You might even say it was one of the most enthusiastically endorsed proposals of the weekend.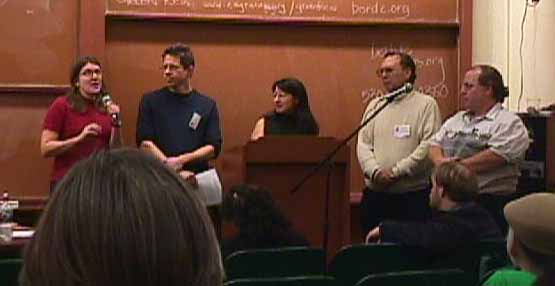 The Campaigns and Candidates working group announced that John Strawn is stepping down as co-chair. Susan King of San Francisco is continuing, as co-chair, and Magali Offerman of San Diego, Larry Shoup of Alameda, Forest Hill of Yolo are taking up roles as equal co-chairs. Craig Peterson of Contra Costa County is joining as an alternate. They will develop a structure for the CCWG, to be brought forward to the Spring Plenary in Sacramento. In the event their plan is not accepted or is incomplete, two co-chairs will be elected.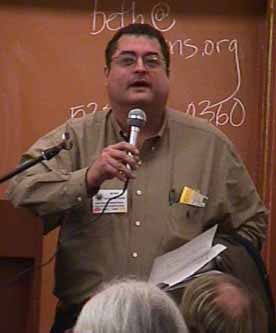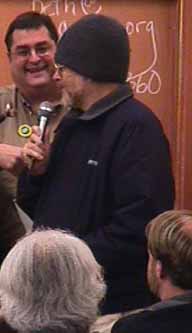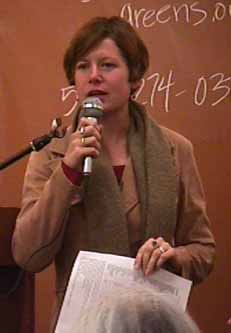 Bill Pietz explained that the Electoral Reform Working Group is primarily working on getting IRV enacted in more places than just San Francisco. There is some effort being focused on the clean money campaign, but not that much because it appears the Democrats have hijacked the noble sounding initiative for their own purposes. However, he expects that we will be hearing more about that one.
Gerry Gras introduced himself as the Coordinating Committee liaison to the Electoral Reform Working Group. He is bundled up because he had to drag himself out of bed to come to the meeting because of his flu. It doesn't show here, but he had a lot to do with Santa Clara County coming through as a good host for the statewide meeting. I think that is one of the reasons he dragged himself out there. He needed to know that the registration was handled correctly.
The GrassRoots Organizing Working group was represented by Robyn Ottinger, who said GROW has many tools to assist locals on its website cagreens.org/grow. Their other projects include the Green Focus newspaper, which they plan to publish in time for every Plenary ($20/500 copies); as well as Video production, County Council support, tabling and voter reg support, diversity outreach, and Campus Greens.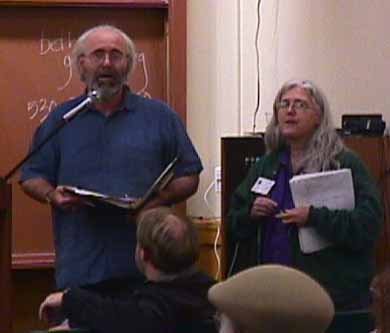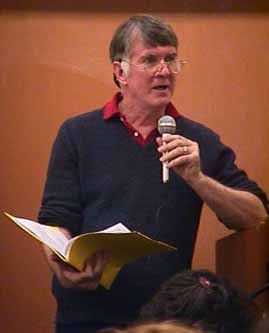 Don and Starlene reported that the Green Issues Working Group is going to make the Green Party the Electoral Arm of the progressive movement.
Mike Wyman gave a detailed treasurers report. It sounds like the Green Party of California is in excellent financial health.