Jonathan Lundell and Jo Chamberlain hosted a volunteer thank you party a week and a half after the election, when everyone had managed to catch their breath. Their home was stuffed with people, many of whom had remarkable campaigns of their own. During this speech, the only time in the whole evening that we listened to prepared comments, Jo explained that it was knowing that people depended on her that got her out there on the campaign trail. Later, in one on one conversations, I heard her say that the most brilliant thing she had done on the campaign trail was get a button machine early in her campaign.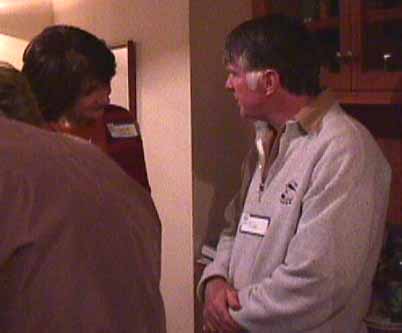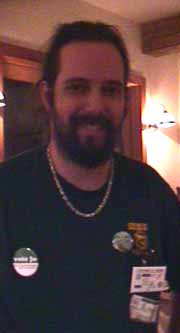 There were many guests at this event, but I only managed to get good pictures of a few of them. In the left above is Mike Wyman, the current treasurer of the Green Party of California, talking to Charlene Spretnick. During the speaking portion of the meeting, Charlene was introduced as the person who came up with the ten key values. She corrected that she was on the team, but I think they were first published in a book she wrote that is very famous in Green circles.
Charlene brought Danny Moses, half of the first pair of Green Party of California Statewide Candidates and her significant othe to the event. I can't show you his picture because he let me know he didn't want his picture taken. He is currently an editor for Sierra Club books, having left Earth Island Institute some time ago. The last time I had seen him was in 1994. It was an honor to shake his hand again.
Thomas Leavitt (right picture) ran for City Council in Santa Cruz during election season. When I talked to him he was all on fire with good ideas for making our transit system work better. The business card he gave me promised "Pro-Active and Principled Leadership for the Progressive Agenda". If I was living in his district, I would have voted for the guy.
Scott Boyd I was surprised to see at this event. The last time I saw him, we were working at Apple Computer and it was 1988. Now he is an elected politician in San Mateo County, serving his community there and as Co-chair of their League for Coastside Protection.
Rachel gave me that "it's a small world" feeling. She went to high school across Old Georgetown Road and down a ways from where I went. I don't remember her because I graduated years before she was born. It is rather funny that Bethesda, Maryland is supplying a sizable minority of the Green Party activists in the Silicon Valley Region. Part of me wonders if it is because Washington, DC (for which Bethesda is a suburb) is such a deeply political place.
Peggy and Michael Borenstein came over from the Sac-Sierra Region (AKA: Big Pink) to attend the event. I spent most of the evening talking to people I didn't know, and the main thing I remember Peggy telling me was "I love the pictures on your website." Michael told me that "within a few months Calaveras County is going to have an active Green Party". Now I'm wishing I had gotten some information about campaign season in Sacramento from her.
I took this picture of Gerry because I wanted to show the people I was talking to at the time how good the zoom was on my camera. At the time I was on the other side of the room, at least fifteen feet away. Gerry was responsible for me being at this event, having inspired Dana and I to bike with him up to Arlan and Jeans home in San Mateo County, from which we carpooled the rest of the way to Half Moon Bay. By the time I got home, I was thoroughly saturated, having had many stimulating conversations and at least a sixteen mile bike ride.
Tian Harter
11/18/2002