Beat The Heat is a weekly ride that meets at San Jose City Hall around 8 PM, usually rolling out by 8:30 or so. It's fast local riders. Almost always someone has an unusual angle on bicycle culture to share with the rest of us. This time one of the riders showed up on a penny farthing bicycle. While we were waiting for the rest of the riders to show up Quincy decided to try riding it. I took a few pictures of that.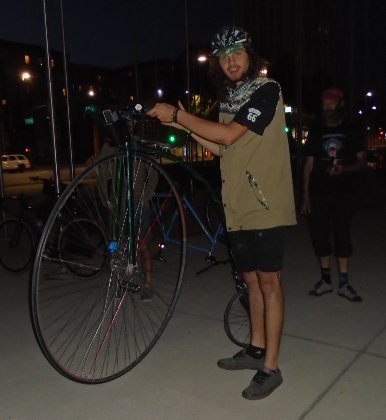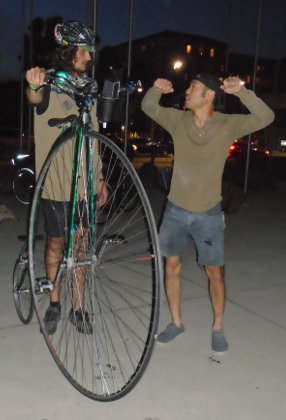 First he got a few pointers about how it's done from the guy that showed up on the thing. Stuff like "Get it rolling and then stand on the cross piece and wait for the pedals to roll around to where you want them before stepping onto them."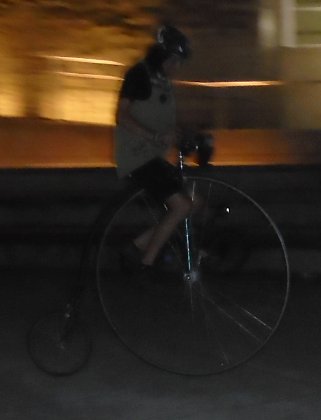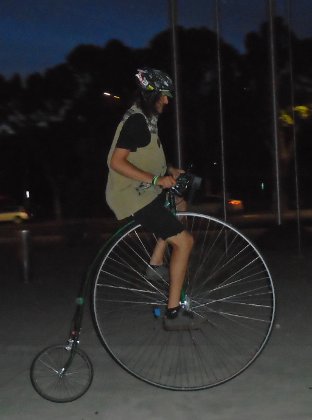 Then he got it going and figured out pedaling the thing. Turned out it only took him a few tries to get going. Then he rode around enough to prove he could and hopped down. Wasn't the kind of ride he wanted to do for miles and miles. That's the kind of feat the other guy can handle better right now. Even he went home and traded it for a more normal ride before we got too far. Penny farthings are clumsy and unsafe compared to most modern bikes.