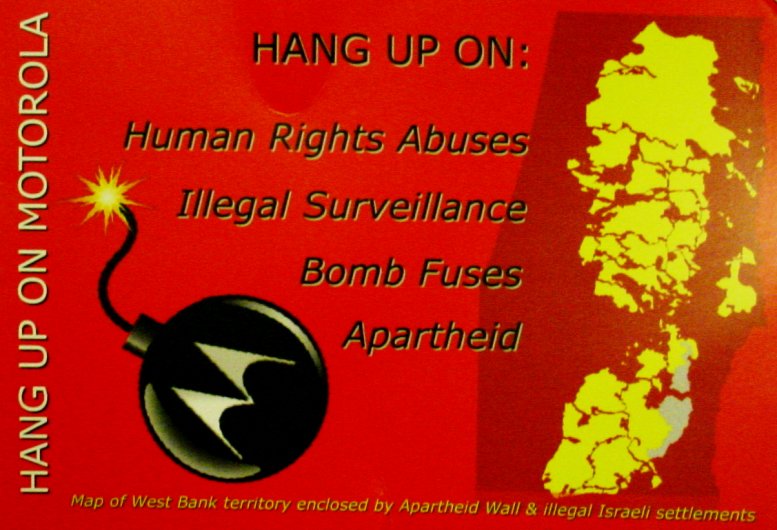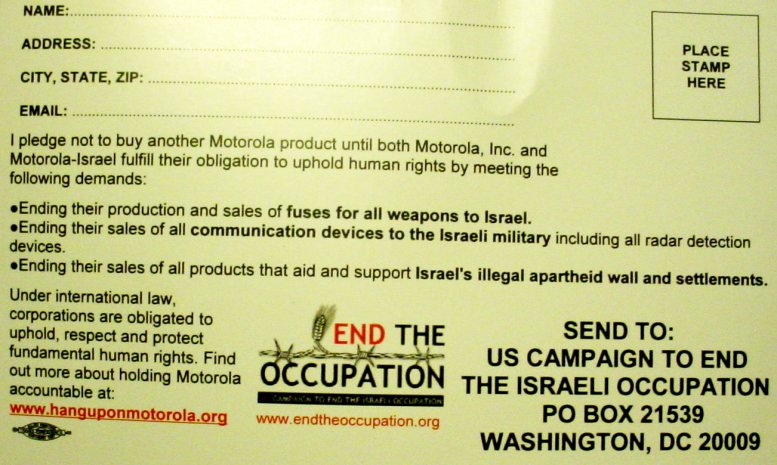 I remember talking to a guy that told me Motorola and Apple worked together on a supercomputing project. They figured out that the complexity of the hardware/software system they could develop was limited by the complexity of the subsystems the individual employees could understand. It's still true that Apple computers have Motorola brains, and boycotting Motorola boils down to not buying another Macintosh for me. That is a complicated nest of issues it will take me time to sort through. Hopefully that computer won't die before I'm ready to not replace it. On the other hand, boycotting cell phones, another big distribution system for Motorola components, is easy. I rarely use a cell phone and have never bought one. It's okay with me if demand for those things crashes like a piece of software from that company up in Redmond, Washington.

Global Boycott, Divestment, and Sanctions (BDS): Goodbye Motorola!

Monday, March 30 2009 @ 11:30 AM
Verizon Store, Mercado
3133 Mission College Blvd
Santa Clara


We will be on the sidewalk at the Mercado complex entrance distributing fliers and postcards to people.


Why Boycott?


In the wake of Israel's recent assault on the people of Gaza and the US government's complicity in the attacks, we as people of conscience in the US must challenge Israeli policies. Hundreds of Palestinian civil society organizations have called on the world to work on campaigns of boycott, divestment, and sanctions (BDS) against Israel, and the Bay Area is taking up the call!

Why Motorola?


Motorola USA and its wholly owned subsidiary Motorola Israel develop and provide equipment to the Israeli military and settlers, including bomb fuses, military communication systems, and surveillance systems for the wall and settlements. Join us in raising awareness about Motorola's profiteering from human rights abuses and military occupation and to call on the corporation to cease producing and selling equipment to the Israeli army to prevent its involvement in future abuses.


Similar practices by Motorola during South African apartheid prompted a successful boycott against them.

Let's do it again! For more information, visit: HangUpOnMotorola.org and Whoprofits.org

This event is sponsored by BDS BayArea