When I first got there the place was already packed. Every now and then this guy would get up on a chair and announce the results as the count proceeded. When I got there it looked like Angela Alioto was in 2nd place, but not long after that Matt passed her. The place went wild when we heard the news. History was being made! A Green vs. Democrat runoff for Mayor of San Francisco is coming up!
The place was so packed it was hard to maneuver around. It turned up the stage was in the back room, and the closest I could get was the doorway, where I could clearly hear Matt saying "you are going to hear a lot of things about me in the next month, and many of them won't be true", part of saying he had made the runoff. He then explained "My oponent will be spending $100,000 every day until the election. We will be spending $5,000 a day during that period, but we will win because people will see many clear differences between our ideas and strategies." All I could see was a sea of MATT Gonzalez signs over heads and this huge dragonfly floating above them. He continued by explaining that San Francisco has tough times ahead, and a Green Mayor is what the city needs to get through it. Lots of cheering and encouragement came from the assembled throng.
Matt was getting the superstar treatment when he left the stage. Everybody wanted to congratulate him and shake his hand and give him a hug. I followed the currents of excitement for a while before I got a clear picture of the guy. Women were getting excited about just seeing him.
The alley outside the bar was as big a party as the one inside the building. The San Francisco Bicycle Coalition was monitoring the bike parking, and there were a lot of bikes there. Many of them had MATT GONZALEZ placards on them. Mark Sanchez, the first Green elected in San Francisco, was hanging out there with a bunch of friends.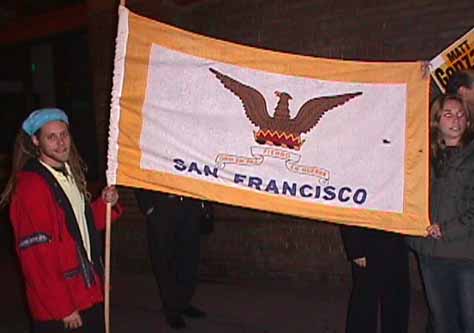 We even had a color guard.