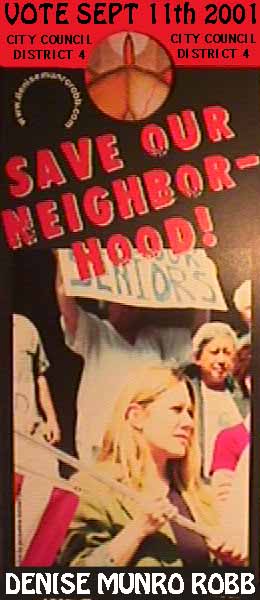 On 9/8 and 9/9 I walked precincts for this campaign. This is my memory of the event:
I road tripped down to LA with Susan King and Matt Spencer of the San Francisco Green Party this weekend. We went down to help with Denise Munro Robb's campaign for the 4th City Council District seat and attend some organizing meetings for next years campaigns. While we were there we slept in the home of Jenny, a staffer for the Pico Blvd Green Party office. Every waking moment of the whole weekend was filled with urgent discussion of Green Politics, everything from "whose running for what?" to "who can't stand whom?"
Denise is doing quite well, having raised something like $50,000, including matching funds from the City. This is not much compared to the developer sponsored campaigns, some of which have spent quarter to half a million dollars on their campaigns. However, it is enough that her campaign has lots of professional looking literature, and the Peace Center, which she is subleasing space from is quite busy with volunteers coming and going and using the phones to get the word out. The impression you get from being there is that a lot is happening, and people are having a good time doing what they can.
Saturday morning, Susan, Matt and I sat down over breakfast with Denise's literature and compared impressions. Matt noticed that only some of it has Union bugs on it, and Susan noticed that the stuff was very "sound bite" oriented. After a while Denise joined us and said the polls show her in third or fourth place, but the lead candidates are slinging a lot of mud at each other. She pointed out that Nancy Perlman won because people didn't want to vote for mudslingers, so there might be hope for making the runoff.
Most of my daylight hours were spent walking precincts, on Saturday with a French guy from Orange County and on Sunday with Matt Spencer. We put doorhangers with the headline SAVE OUR NEIGHBORHOOD over Denise in a green sportscoat waving an American Flag, only three stripes of which are visible in the picture. The color scheme of the piece was mostly red and black, which gave it a Zapatista quality. One time Sunday Denise drove by in a green pickup truck with a bullhorn, letting everybody know that voting on Tueday is VERY IMPORTANT! At least in the precicts where we worked, the Robb campaign was one of the three most visible ones.
Tian Harter
I gave Denise a green leaf during Saturday's breakfast talk.
It was a pleasure to find out that she remembers me and my sticker.
The newspapers, radio, and TV were dominated by terrorists, but the big news in my email box was this:
>
> Dynamic Independent Campaign for Los Angeles City Council
>
> by Casey Peters
>
> Denise Munro Robb, a 39 year old paralegal, has run a dynamic campaign in a special election to fill a vacant seat on the 15 member Los Angeles City Council. She is founder of the Miracle Mile Action Committee which has preserved historic buildings and improved her neighborhood's parking conditions. Denise is also active in the Green Party. She quit her job with the National Immigration Law Center to make the run.
>
The focus of her campaign was on strengthening tenants rights and limiting over-development. Denise was the only one of 10 candidates to address the need for civilian police review boards. She also highlighted the need for electoral reforms such as Instant Runoff Voting and Proportional Representation. Denise called for protecting the Ballona Wetlands, restoring the LA river, expanding the living wage, and giving neighborhood councils control of land use decisions.
>
Denise's campaign mobilized dozens of volunteers to walk precincts, do phone-banking, and put up signs around the huge district. The 4th district includes Park LaBrea, Wilshire Center, Larchmont Village, parts of Hollywood and North Hollywood, Laurel Canyon, Studio City, Los Feliz, and Silverlake. Each city council district in Los Angeles contains a quarter of a million residents, the most populous (and least representative) in any known municipality.
>
She was endorsed by a local newspaper, the LA Weekly, and by Americans for Democratic Action, LA Greens, National Organization for Women, and the Peace and Freedom Party, as well as Ralph Nader, Bonnie Raitt, and Martin Sheen.
>
Denise's campaigns amazed everyone by raising over $25,000 in contributions of $250 or less to qualify for city matching funds. Her budget of over $60,000 allowed her to send a mailer to high propensity voters and to run cable TV commercials. Unfortunately, the money came in too late to allow her to wage an effective appeal for the early absentee ballots.
>
Two days before the election, Denise forced her way into KABC talk radio which had interviewed the wealthiest candidates, and defied an arrest threat. The station management backed down and gave her half an hour of air time.
>
Before the polls opened on the morning of September 11, the attention of the entire world was drawn to the aerial demolition of New York's World Trade Center and partial destruction of the Pentagon. Voter turnout was 17%, just half of what had been predicted by the City Clerk. One-third of all votes were absentee ballots.
>
> Denise placed 5th out of 10 candidates, garnering 1,596 votes (7.7%). The top vote getters spent over $1.3 million between them.
>
One observer noted that in the first candidate forum, Denise really sounded unique, but by the last debate virtually every candidate was emphasizing issues originally raised by Denise.
>
On June 16, Denise married environmental activist Rex Frankel and they postponed their honeymoon until after the election. She is thinking of running again in 2003 when the seat is up again. For more information, click on www.DeniseMunroRobb.com
>
> ------------------------------------------------------------------------