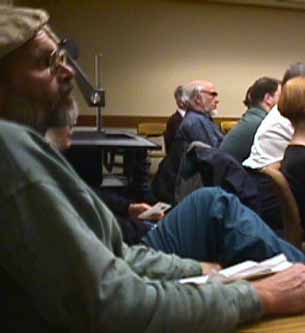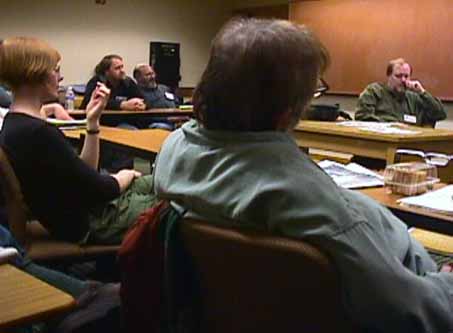 This region is only a small percentage of the plenary, but we filled a classroom fairly well. If we hadn't been hosting there would have been more like ten of us, instead of the two dozen or so that showed up.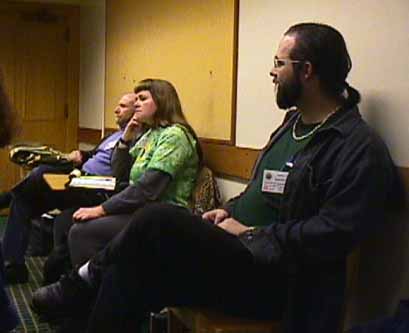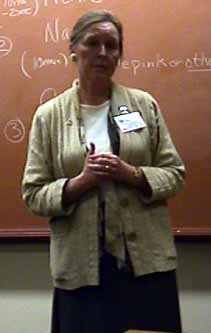 Thomas Leavitt was observing us as an envoy from the region that includes Santa Cruz. I'm sorry to say that I missed the opportunity to get a picture of the row of people at the table between these along the wall and the people pictured above.
Jo Chamberlain facilitated the meeting. Our big decision was to rename ourselves the Ohlone Region, if the Ohlone (the indigenous people) can be persuaded to let us use the word. The other thing I remember was that we are going to hold our regional picnic in San Mateo County this year. There was some discussion about running candidates next year, but nothing was decided.
One troubling story came to light during the meeting. Mike Feinstein of the Santa Monica Greens had been implicated in a fund raising scandal. It had came to light because a big donor had found out that the donation he had given Mike for the LA Greens had not been recorded in the FPPC records. At the time Mike was Mayor of Santa Monica, so they had tried to keep the problem as quiet as possible. However, now that he is just another City Council Member the guy is going back to his activism. There have been reports that he is raising money using names he shouldn't, and people are being asked to steer clear of his efforts.
I can't tell you how unhappy I am to share this piece of Mike's story with you. I have long considered Mike to be a friend and fellow traveler. Part of me thinks the problem is a campaign finance system that makes it almost impossible to make the system work without breaking the law, which they fine you viciously for. Another part of me understands that if we are going to be a respectable Party, we need to play by the rules. I feel torn.