Al Gore, speaking for Live Earth, talked me into hosting this party. All I had to do was find a location, put together a few small items and invite all my friends. They gave me the URL where I could download a packet to use to make my party part of a planetary thing. I followed the recipe to large extent. They said to "be as green as possible in preparations." Friday I walked four well filled bags of groceries back from Safeway, where I got crackers, chips, juice and beer. The morning of the event I rode my bike down to the Sunnyvale Farmers Market to get fruit, bread, tomatoes, and a few other fixings. Then I spent the afternoon making salsa, eggplant dip, and signs to guide people the last quarter mile to the party. I asked everybody I could to bring a cup of their own, and for the role of disposable plates I put out a years worth of clean TV dinner plates.
The packet said I should play
this video
at 8:30. I had a friend with high speed internet burn a CD for the event since the clubhouse has no information wiring. Unfortunately, the CD and my Macintosh weren't getting along. However, by pure luck around 8:30 Al Gore kicked off the organized part of the event from the TV. He promised to do his part to reduce his CO2 production and work to implement Government policies to move things in that direction for everybody. Then we turned off the TV and had a round table discussion about the issue.
I wanted to give everybody a chance to speak. I said "If you have something you want everybody to hear, now is the time to say it." Margaret said "If everybody uses 2% less energy every year we will hit some aggressive sounding climate change targets by 2040." Cameron said "If you want to be an activist, pick something you enjoy doing, it almost doesn't matter what. That way you won't burn out." A number of people said things like "I'm hanging my laundry on the line in my back yard to dry. It saves a lot of energy and the clothes smell great." or "I ride the train to work nowadays. It's great!" Beth talked about her work with the clean cities team. Ellis talked about the two or three year struggle they had gone through to elect McNerny, who is currently the only Engineer/Scientist in Congress. Another guy talked about being a Solidarity activist back in the days when he lived in Poland. We must have shared for an hour and a half. There were so many interesting stories!

When it was my turn I told of the engineer from the Palo Alto Utility Department I had met during the Enron induced power crisis. He had come to that event with a large collection of new low power florescent (LPF) bulbs. That was back in the days when they were $7 or so each. He explained that he had used money that he had saved from using LPF bulbs in his own home to pay for the pile. Then he said he would give them out free to people who would pledge to use the money they saved on their utilites from using the bulbs to pay it forward, meaning spread the meme. I finished the story by saying "I don't know if I would go quite that far, but I have these bulbs, and I'll give you one if you promise to swap it in for an incandescent bulb when you get home." Then I gave out my five spare bulbs to people that put their hands up.

After that we all posed for a group shot, which you can see below.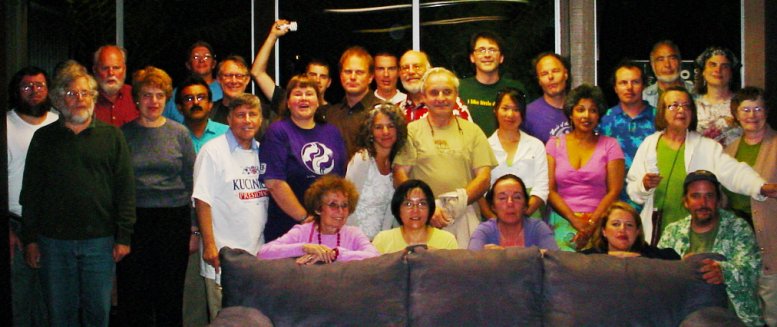 Special thanks to DrPesto for taking this picture. Of the 29 people shown, I knew about 15 before the evening started. I think the Live Earth phenomenon was responsible for bringing in the rest. Thank You Al Gore!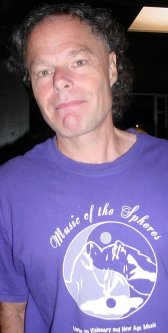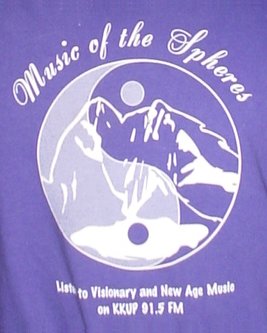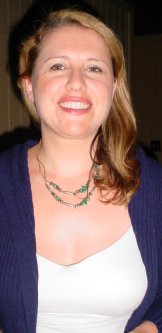 After that some went back to mixing, and some went back to watching the show on TV.

Part of me wants to read that clever 2008 logo as "the world is to the left of Pax Americana". Another part thinks it's "world peace". Either way, I know who Ivan wants us to vote for. Click his picture to check out his recommended URL collection. It's great!

I think I took this picture while the Police were singing "sending out an SOS"...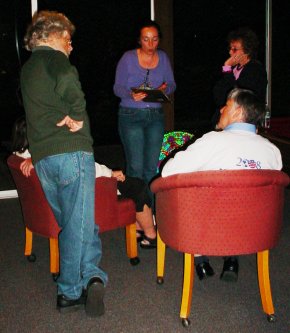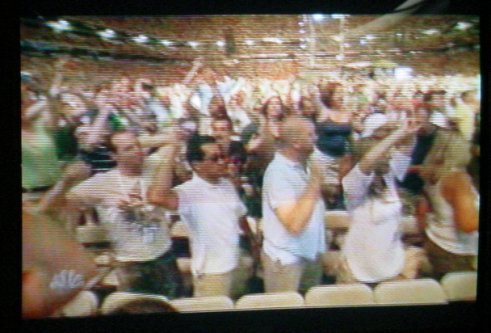 It was neat being reminded by the babble box that we were part of a globally shared experience. I did come away from the experience with a feeling that "we are all on the same page". Thanks to everybody for making the evening something else!