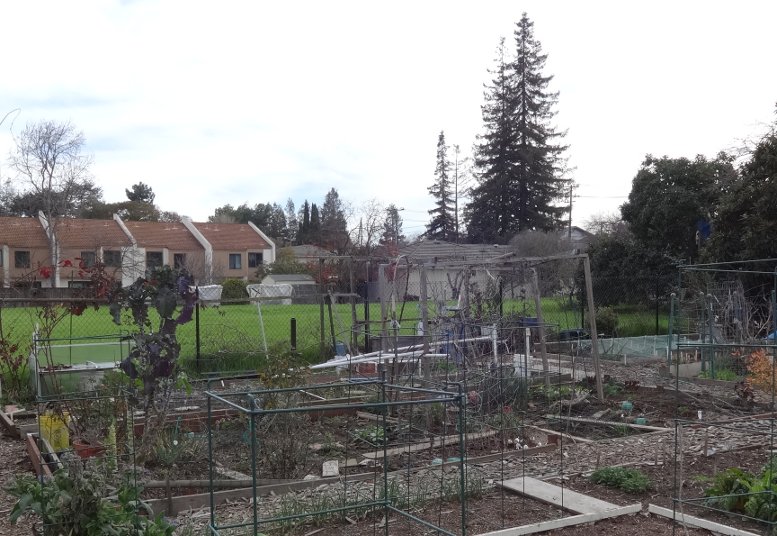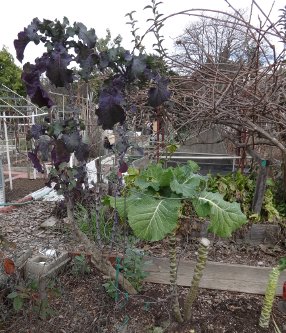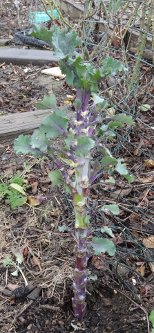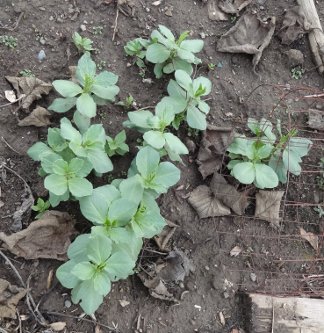 The collards continue to be a staple crop in my kitchen. For a while I had so many plants there was always more to give away. Now I'm getting almost as many as I want most of the time. The rest of the time I get by on soup greens (kale, spinach, chard).

The weather forecast said "rain and wind expected" so I decided the time had come to plant an arm off the big walking stick collard. So far it's doing well.

The fava beans Dora and Danika planted have come up. We have the plentiful rain to thank for that. That dark moist land is about as dry as it's been lately. We've been having a lot of minor rainstorms. The soil is so happy. The fava beans are just one symptom.

That bucket has become my rain gage. It said that day we'd gotten about an inch since the last time I'd poured out the water. That's been happening a lot lately. Maybe it's been a month since I've watered. One gentle rainstorm after another, none far enough apart to dry the soil much. Not enough to generate much runoff, but the soil is very workable now.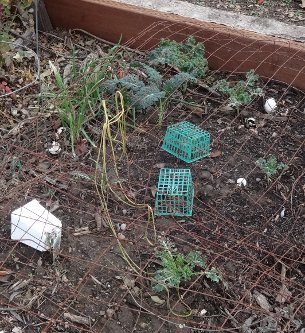 I planted a six pack each of two different kinds of kale. Some of those plants are getting to the point where they donate a leaf to the soup every now and then. I'm liking them more and more.

See that thicket of onions behind the kale? That turned out to be some shallots that I'd planted a year ago and forgot to harvest. Each of the nodules had sprouted, just the way garlic does. After I took these pictures I separated them and planted a whole bed of shallots. The way they break up is perfect for someone that likes a tactile gardening experience. Looking forward to harvesting some of those when they die back next fall!

That sage is to the point where I have to hack it back every now and then to keep it from taking over. The thing is giving me too much organic matter to use spicing my food. Now I'm looking for good string for tying sage bundles to burn aromatically. I'm also looking for more ideas on what to do with the stuff.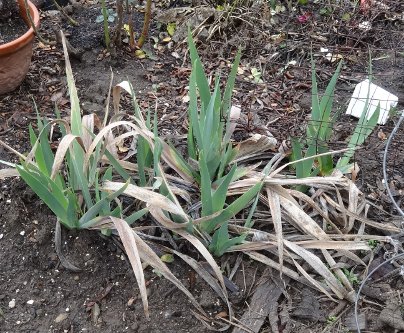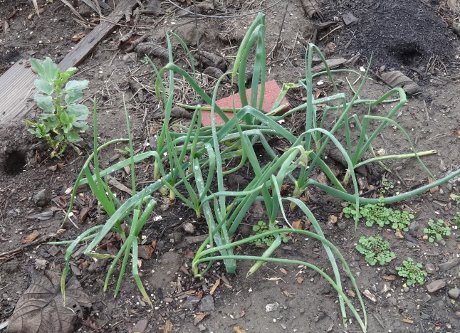 Those irises Joyce gave me are puttering along. I never water them. She said "just let them get by on what they can glean from what you give your other plants." The rain is making them green again. I like that. Betcha there will be attractive flower stalks in a month or two!

That onion patch looks good, but the balls under the plants haven't developed much yet. I had one in my soup the other day. It was good, but I have a strong feeling that if I leave them for a month the rest will have a lot more onion under the green part.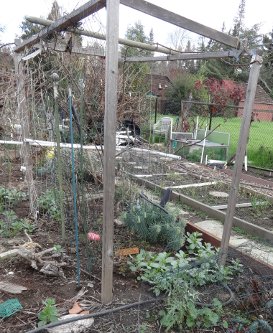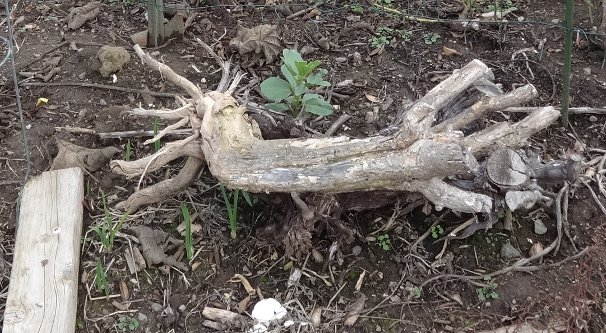 The arbor is stark right now. I'm planning to replace the near corner post with a round wood one and then plant another grape vine in front of it.

Those stumps are from the two most amazing plants I've had so far. The bottom one was that grape vine I gave up on. It was a struggle to dig up. The other stump is from that collard plant that was like a forest of collards the second year. I still have a few seed pods from that. if you want some let me know.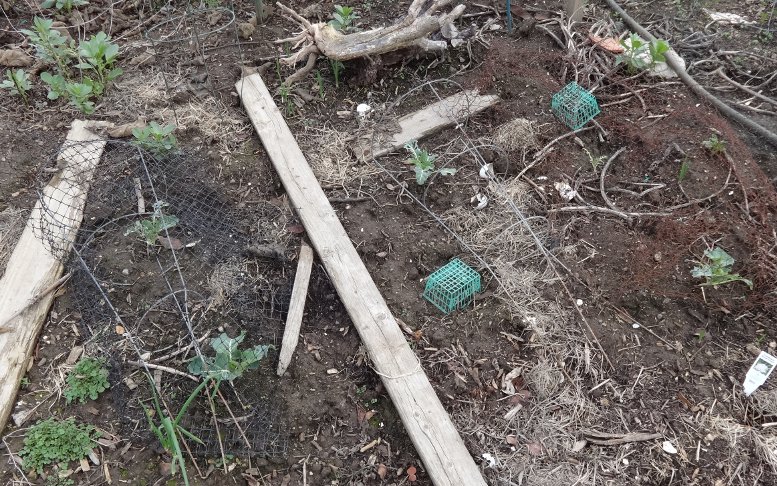 The cabbage patch looks kind of bare right now, but my hope is those plants will grow up to cover it well.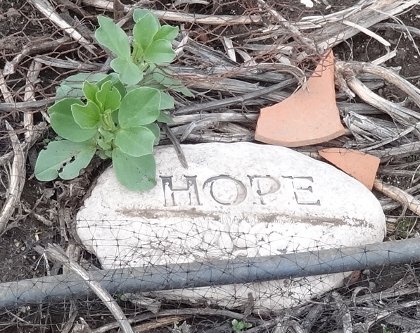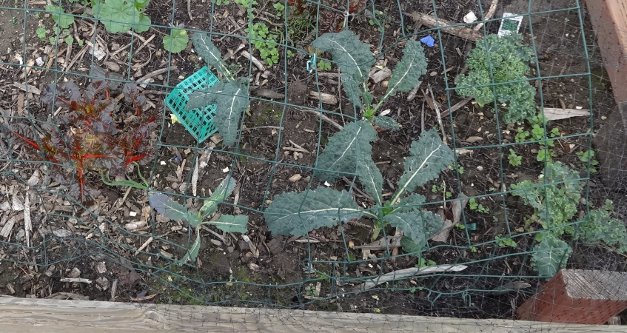 That HOPE was a garden ornament in my Dad's yard the last part of his life. Now it's a stepping stone in my plot.

That's the rest of those kale plants I planted, along with some chard plants that just keep giving me soup greens. Right now I'm getting a few ounces of leaves a day at the most, but I know later there will be more.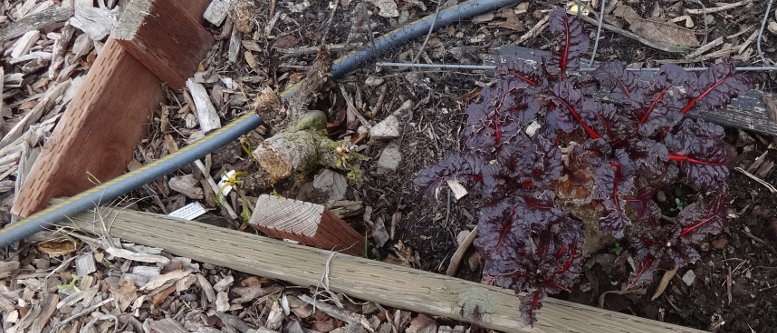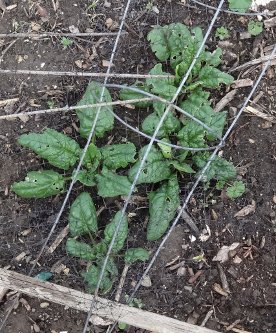 So sad that golden chard that used to be in the corner of my plot died. Grateful that it still works as a hose guide.

That's most of the spinach plants I got to take. They each give me a leaf or two every harvest cycle, give or take.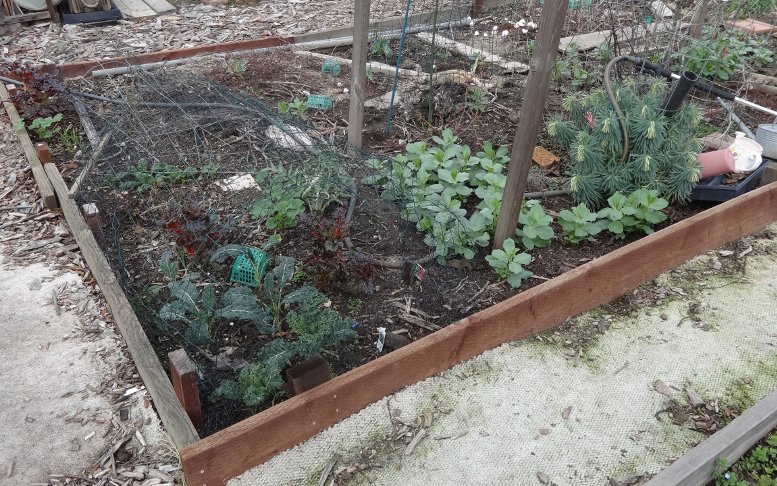 This corner is the best view right now. That frilly looking plant on the right is a weed. I just enjoy watching it grow. Pretty and trouble free. Thrives on rainwater.