Since joining the Kellogg boycott, I've decided to explore the alternatives. My criteria was it had to be available within walking distance of my home and sugar (or evaporated cane juice or whatever they want to call it) had to be no higher than third on the ingredients list. Here are the ones I've tried and liked. The ones at the top of the list are the ones that I like best.


Uncle Sam was a great discovery. Notice that salt is the third ingredient, and it doesn't have much of that. It tastes as whole grain as the ingredients say it does. A nice chew factor. I get it again when I haven't had it for a little while. Trader Joes has it right now.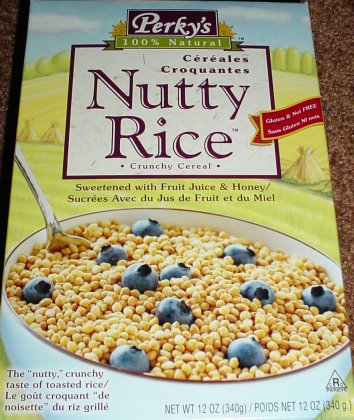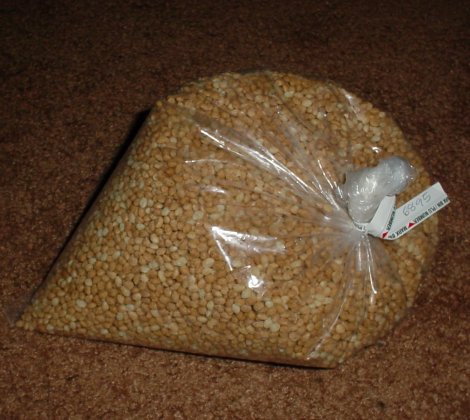 I'm used to seeing Nutty Rice in the bulk food bins at the health foods store. I first got it that way during my Sacramento days, when Laurie turned me on to the Natural Foods Coop there. Ever since I've gotten it any time I was in a store where they sold it. Whole foods is the only place where I've seen it in consumer packaging, but maybe that is changing. Eating the stuff feels a lot like eating grape nuts, as far as chew factor goes, but the flavor is much ricier.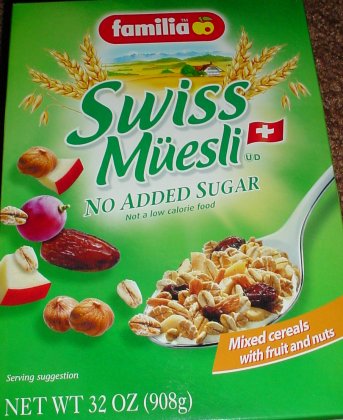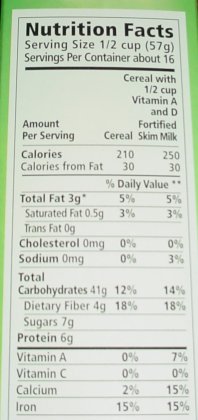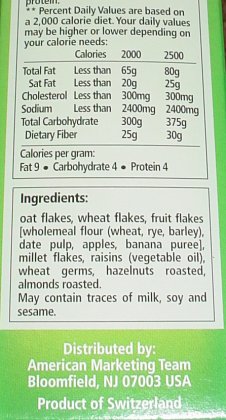 A wonderful cereal. The main drawback of this stuff is it's expensive compared to most of the ones I get regularly. I think it's the only Swiss cereal on the list.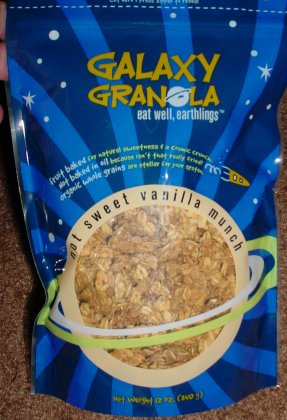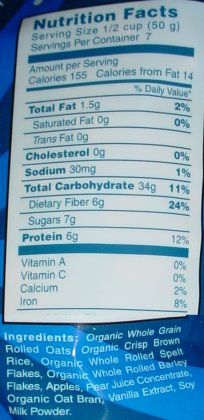 Good granola. Crunchy. Not too sweet. Nice sized morsels.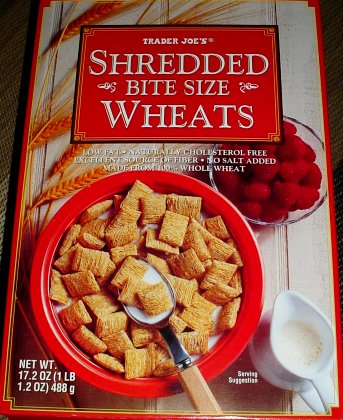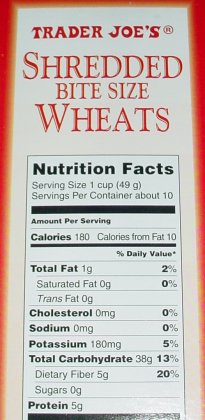 Yup. Tastes like wheat. Lots of crunchyness. Tastes a lot like some other cereal that looks a lot like this one.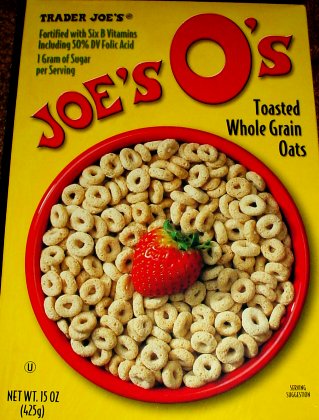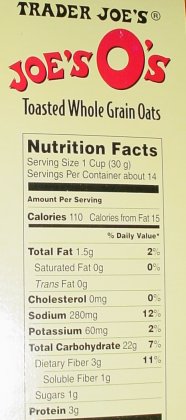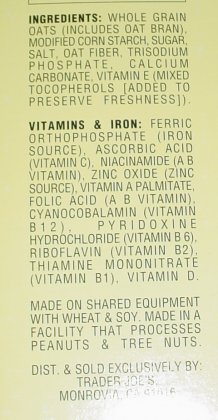 Another quality copy of a fine brand name product.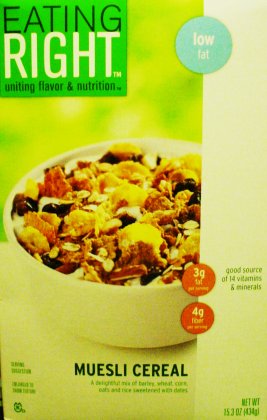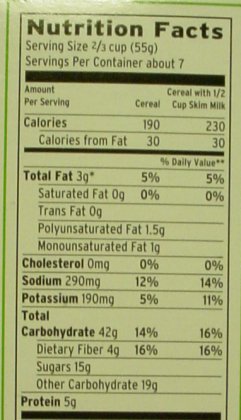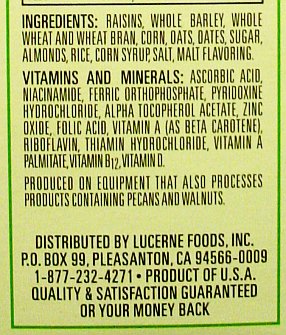 Tastes a lot like Muesli. A lot cheaper than the Swiss verison. Somehow not quite as inspired.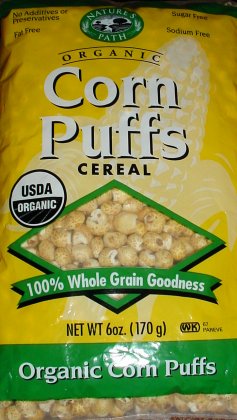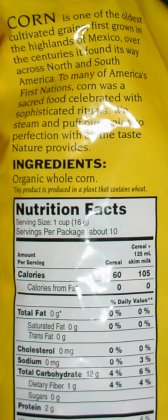 This stuff is good when you want to add food to your belly without adding calories. It tastes a bit like styrofoam, with pleasing corn overtones.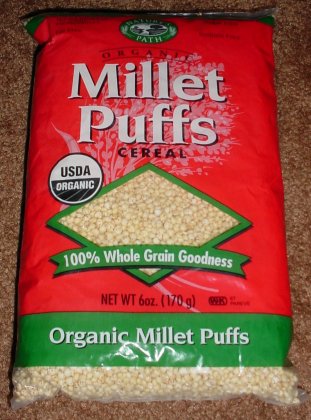 This stuff is good when you want to add food to your belly without adding calories. It tastes a bit like styrofoam, with pleasing grain overtones.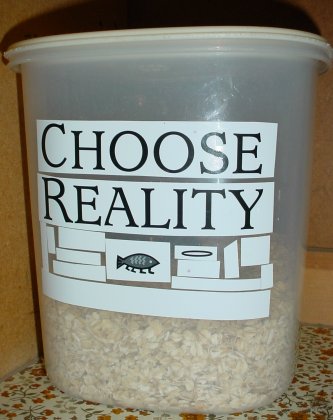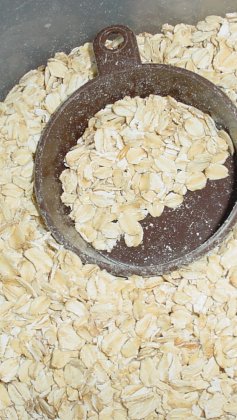 It has a long shelf life. It takes adding stuff to really well. That scoop is just the right size for a single bowl of the stuff. I scoop it, add water to fill the bowl, add whatever (right now pulverized almonds and raisins or other fruit), and put it in the microwave for 16 minutes or so at a third of full power. When I come back a half hour later all I have to do is stir and eat. A predictable low hassle meal that's usually easy to clean up after. Gets you to lunch time okay. Awesomely cheap. A pound of bulk rolled oats at the hippie food store costs 55 cents, and works out to about a weeks worth of morning meals. I've had it many times, and I'm sure I'll have it again.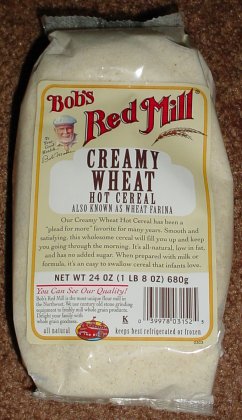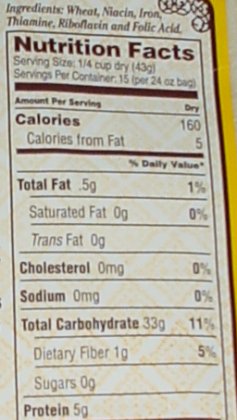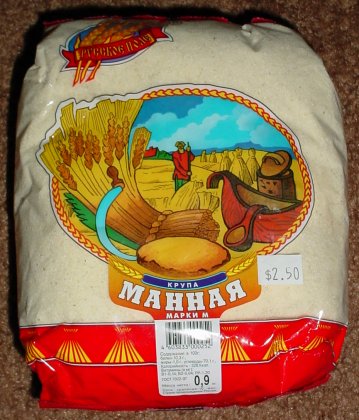 My mom called this stuff "cream of wheat". I don't like it as much as oatmeal, mainly because it's too easy to make it boil over in the microwave. Maybe you will have better luck with it than I have. Once it's made it's a yummy breakfast. The Russian version I got from a Russian food place, mostly patronized by Russians. I just wandered through the place one day and got a package of this stuff not knowing what it was, just to get the guy that runs the place off my back. I've since gone back and gotten more, just because it's good and cheaper than the other versions of the stuff available to me. I think it's the only Russian food I eat repeatedly.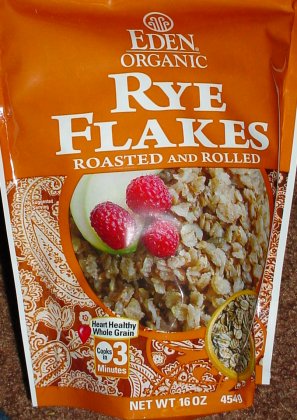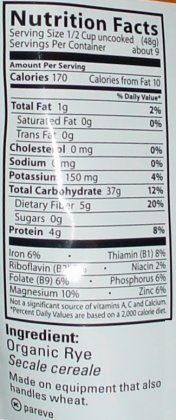 The back of this package says the Rye in it is "organically grown on Nebraska family farms". The flavor is a lot like that of oatmeal, with overtones of rye bread flavor. Good for a slight change when you've had oatmeal too many days in a row.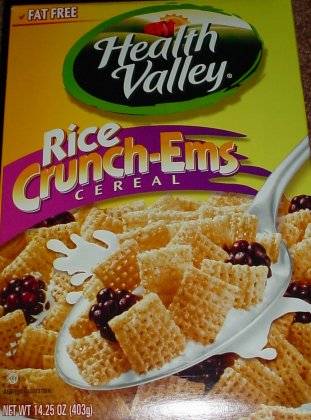 I got this one at the Bumble Bee, a local health foods store. I was dithering because it seemed likely that sugar was the third ingredient. I asked the lady behind the counter and she said "two grams of sugar per serving isn't much." The stuff tastes fine.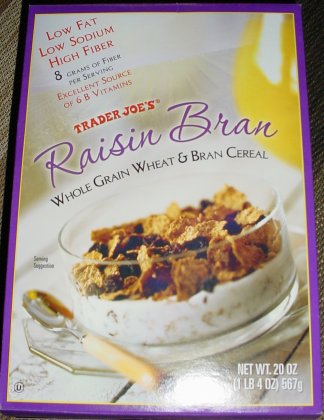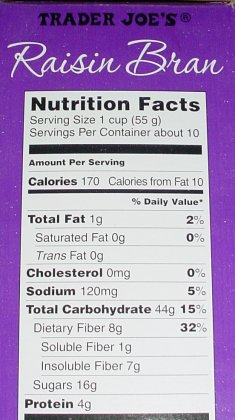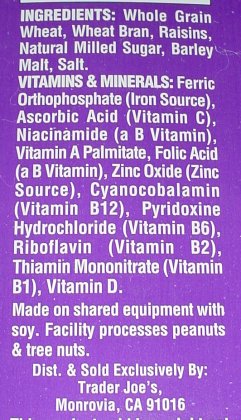 Yup. Tases like raisin bran. A bit sweet, but not too bad if you use it as a spice on another cereal.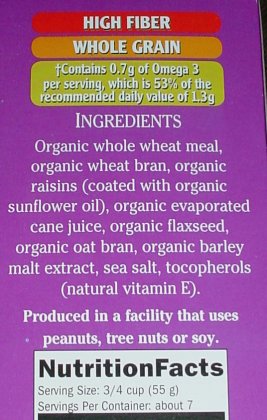 Another "tastes like raisin bran." The problem with this one is that the raisins were too dry to be chewed comfortably.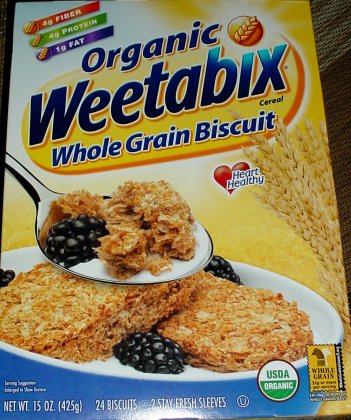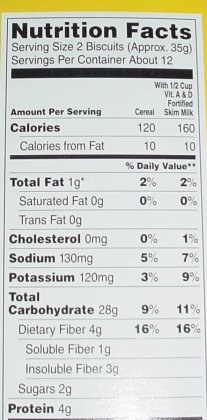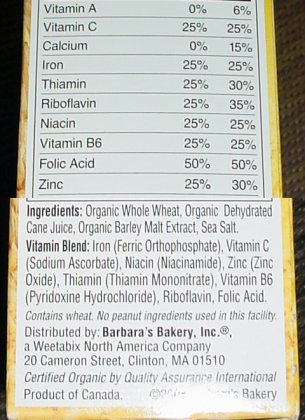 Weetabix has less air in the box than most cereals. The only problem I have with the stuff is that it rapidly becomes mush in milk. Maybe someday my teeth will be bad and I'll appreciate that, but right now I don't get it often at all.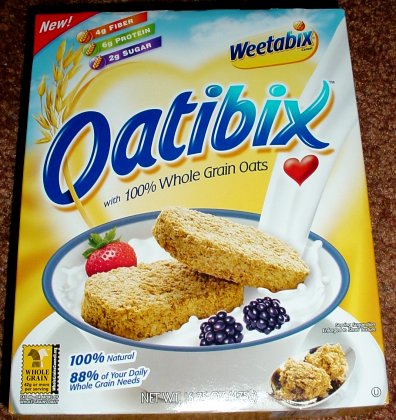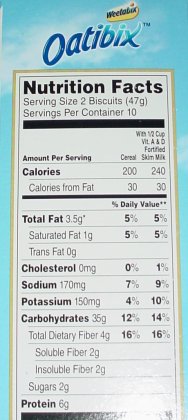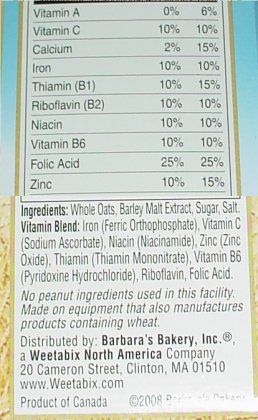 Like Wheatabix, but with oaty overtones in the flavor. My grandmother liked this kind of stuff after her teeth fell out.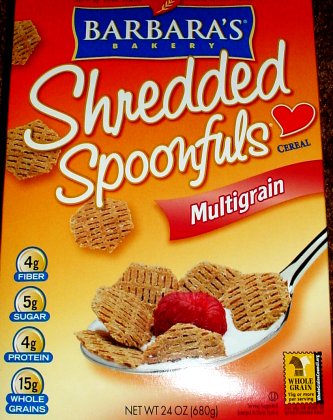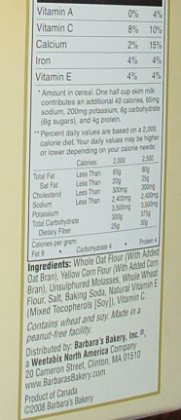 I found this stuff a bit sweet. Nowhere near as bad as most of the stuff at Safeway though. Trader Joes and Whole Foods both sell it.

A Jello Biafra fan in Maryland told me I should put this one up here. I thought it was a bit sweet based on reading the ingredients, but since medicinal hemp has something to do with this page I figured okay...

The dominant flavor of this cereal is sweet. I'd say "the hemp walked through on stilts", meaning there is just enough of the stuff in it that they can put it in the ingredients list, but not enough that you can really taste it.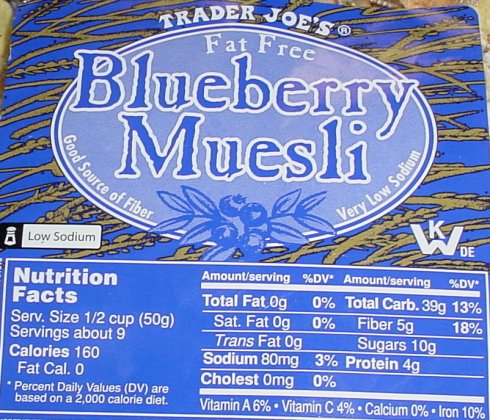 This came in a simple plastic bag. Of all the cereals on this page it probably has the best cereal/packaging ratio. I'm not sure the blueberries really tasted like blueberries though. As of June '09, I've still not gotten another bag.

I did another trip to Trader Joe's, and found these cereals I've not tried yet: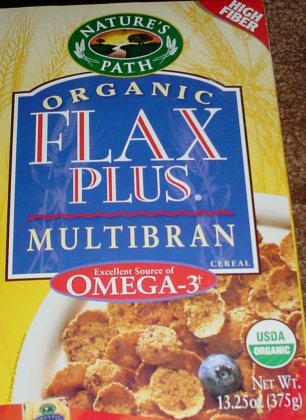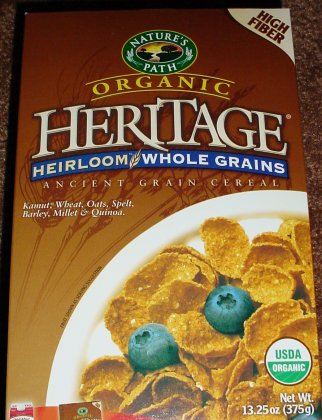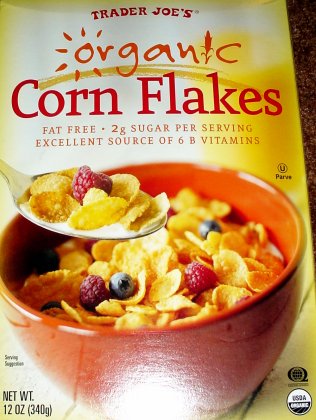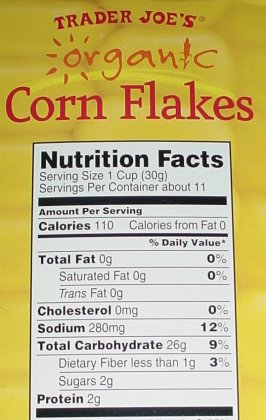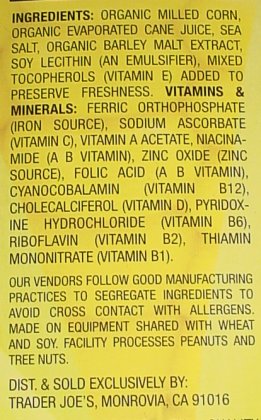 I was looking for more cereals to add to this list. I stopped into Whole Foods and found a shopping basket full of other choices. The ones I haven't tried yet are below: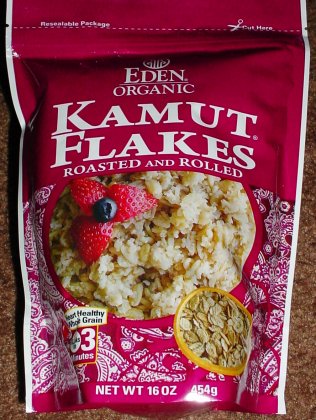 The back of the package says the grain in this one was "organically grown on Montana family farms".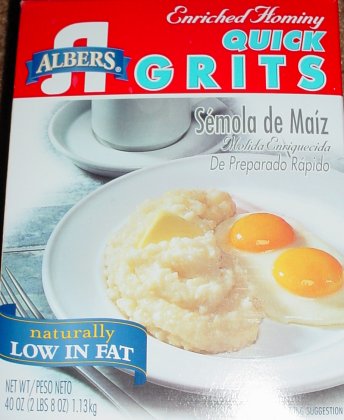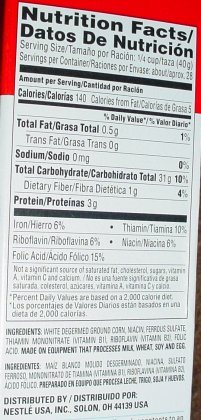 Brian said:

>
> I quit the conventional cereals back in the 80's when I realized
> corn flakes had a per-pound price the same as steak.
>
> When I bother with breakfast, I eat Albers corn grits, the
> cheapest cereal going. I put it 2:1 water/grits in the microwave
> for 3:33 and its done. Add canned beans, egg, spices, blanched
> onion, spices.
>
> Gets you going!
>

Later he explained "A blanched onion is diced and microwaved maybe 30 seconds until it gets semi-transparent. Put a lot of water in with the blanching onions or they'll burn." For spices he recommends "ginger, garlic, turmeric, rosemary, or whatever."

This page is a work in progress. I'm looking for more to add. Maybe there will be more info here in a month or two. If you have any suggestions, let me know! I'm looking for a better morning meal...