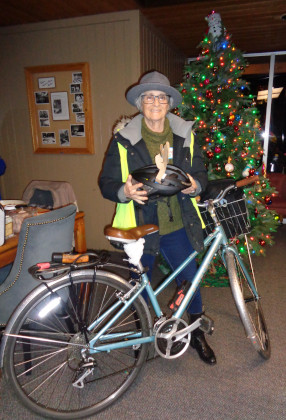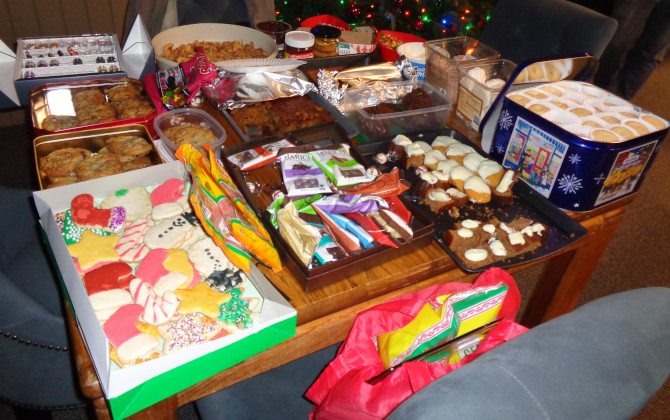 Diane was the first guest to show up. She did a few things like make the new "Festivus for the rest of us" sign. By the time she left that empty room was converted into a hubub of holiday cheer.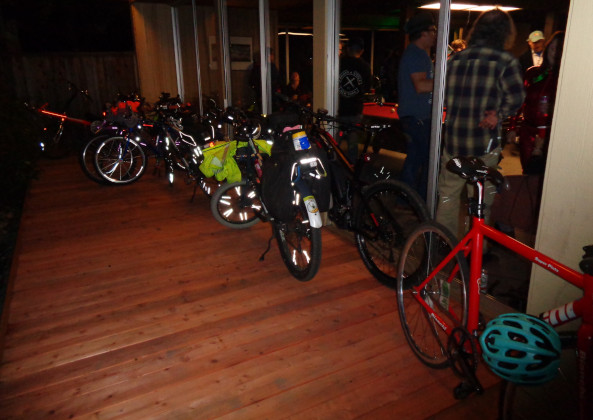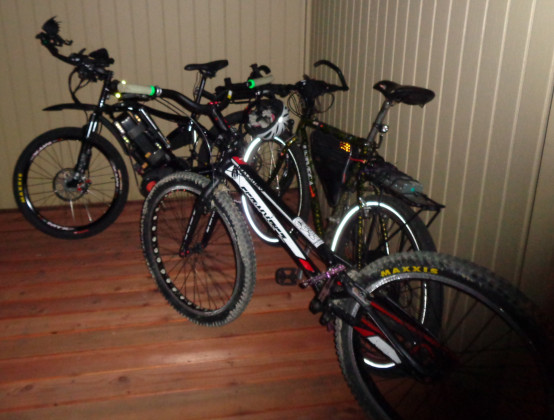 At first we just chattered and ate and drank. After a while a big bunch of bikes showed up together. I took these pictures about then.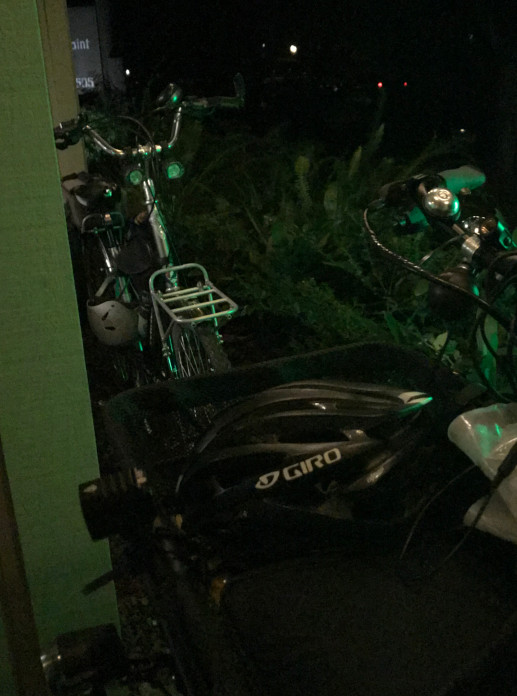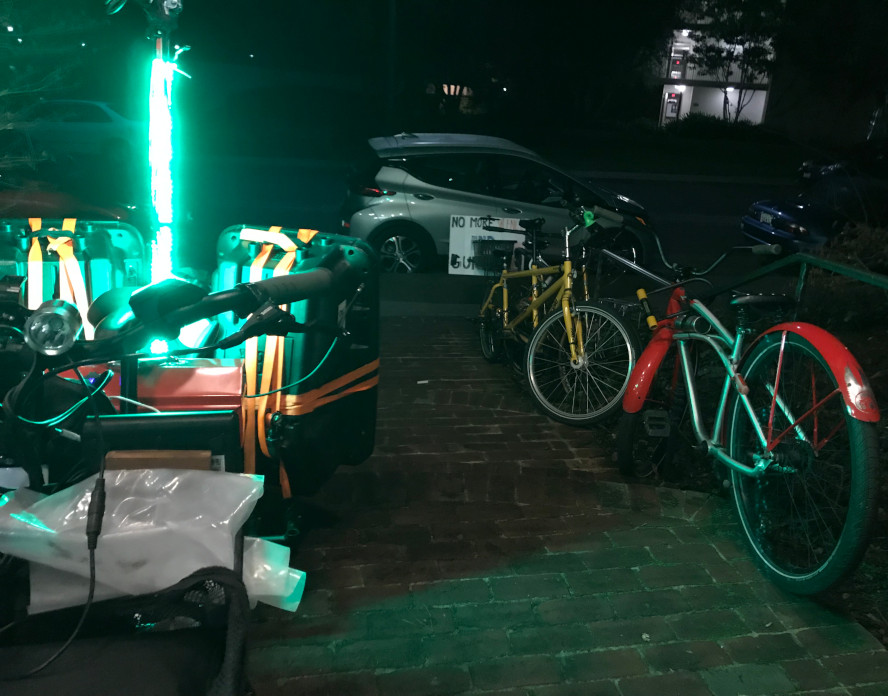 Virginia took these pictures of the view standing in the front doorway. Thank you Roy for bringing your music bike. The green pole works like a big neon sign for the event!

After that it was time for the airing of the grievances.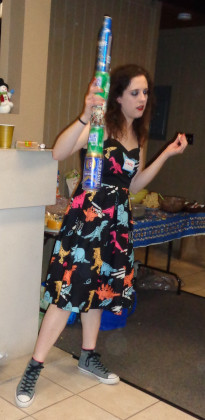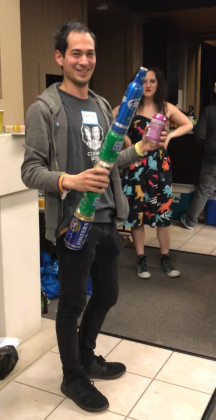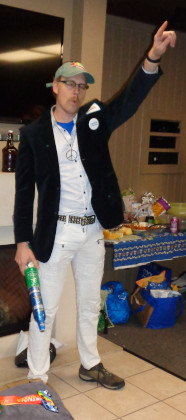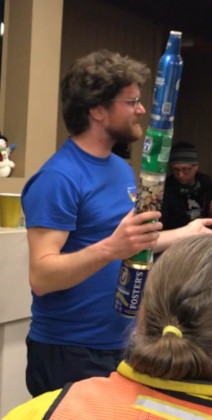 At first I took volunteers. These were the people that really wanted to say something. Lizzie gets off work at midnight. Her grievance is that there are too few decent food options at that time of day. Safeway. Who wants to eat out of Safeway at midnight?

Chris wishes there were more choices of good beer than IPAs. He's glad they are all better than piss water mainstream beer, but he wants more choices of porters and stouts, etc.

Boone still thinks car culture is too dominant. Just in the past year we have seen more freeway widening. His new solution to the problem is "VOTE FOR MARSHALL WOODMANSEE!".

Susan thinks the real election happens in the primary. She wants us all to be registered to vote by the end of January so we can vote on election day.

Peter's grievance is that "It took them this fucking long to start righting the wrong."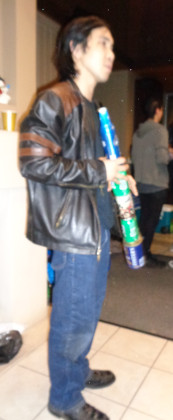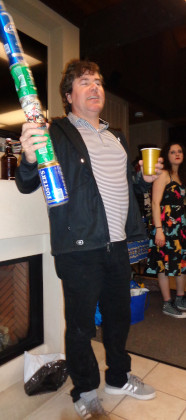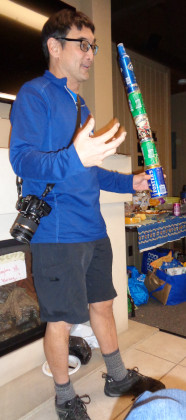 Ann has a grievance "against Mark Davis for moving the Raiders to the worst city." She is doing something about it by becoming a 49ers fan.

This guy wanted to thank Peter for dragging him out to this party. He hadn't been out for months and it was a welcome change.

Nat's grievance is that men aren't allowed to wear tights in public. He went skiing with leggings under his snow pants and his legs were super warm and comfortable. Also, his legs look great. He's opposed to the rules that mean only women can wear leggings.

Miles thinks wearing shorter shorts should be okay.

Lloyd thinks that if you think billionaires hold on to their money too much you should think of something that billionaires would want to spend their money on and ask them for the money to make it happen. Maybe they'll say yes.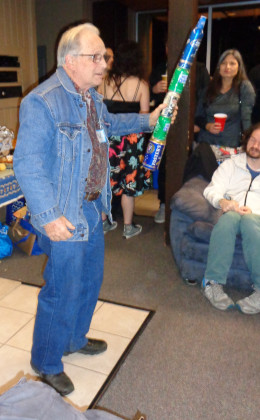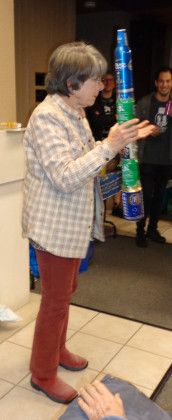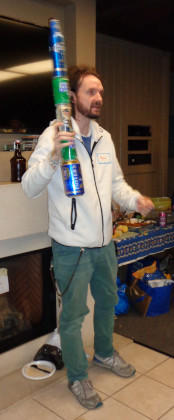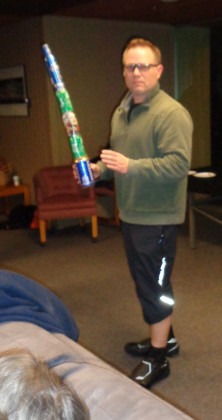 Phils grievance is Democrats that got run over by Republicans. He thinks if the Democrats come up with someone too middle of the road they are going to lose.

Anne's grievence has something to do with smart phones. She tells people about something she doesn't know and suddenly there is a room full of people tapping away on their smart phones looking at their hands. Then they look up and they all have different information, telling her about what she was trying to tell them she didn't know. The shrug of her shoulders suggested that maybe they missed the nuance that it was something she didn't want to talk about was the message she'd been trying to give them.

Green pants thinks we should stop making overcinematized remakes of old movies. We're ruining the beauty of those gems by redoing them.

After that I started passing around the festivus pole. It went from hand to hand until someone with something to say got it. Matt thinks mainstream medicine prices are too damn high.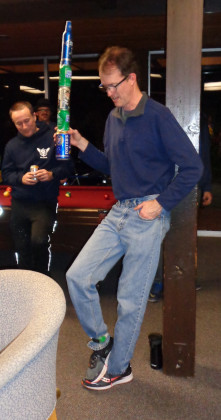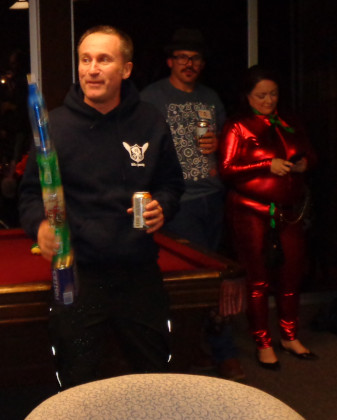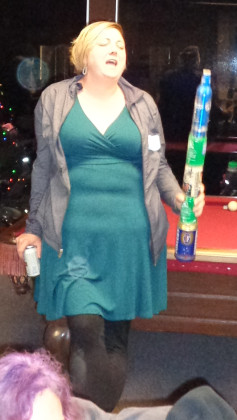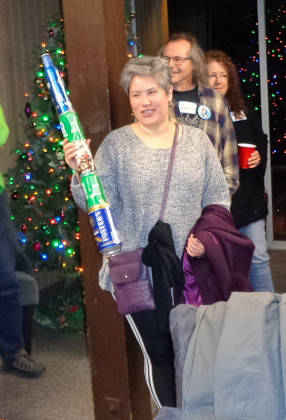 Jeff's grievance is climate change deniers. Jeff is a biologist, and he's sure we can't keep putting more pressure on the systems that support us the way we have been recently. Australia is burning like never before. F*** the deniers!

Roy thinks a lot of good stuff in cities happens because volunteers want to make it happen. His grievance is "Why aren't there more volunteers out having a great time doing neat stuff?"

Ellen talked about how cold it is with a broken heater around here. Her last sentence was "I'm from Chicago, and the coldest winter of my life is the one I'm going through now here."

Keren just purred out some warm holiday greeting and passed the baton.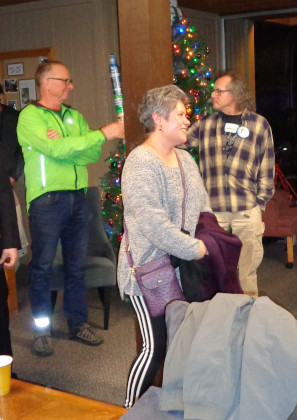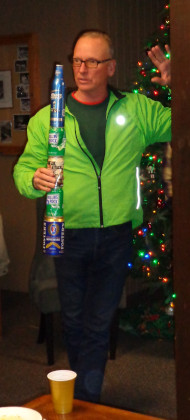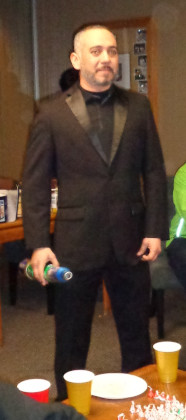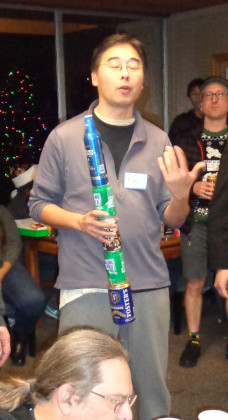 Camerons grievance is people driving cars that don't see bicyclists.

Kent is very bothered that we just don't see as many insects as we used to. What happened to them all? Where have they gone?

Alex thanked us for making another good festivus. His grievance is that he doesn't really have a grievance this year.

Ken is very bothered by all the oil drilling the federal government is allowing.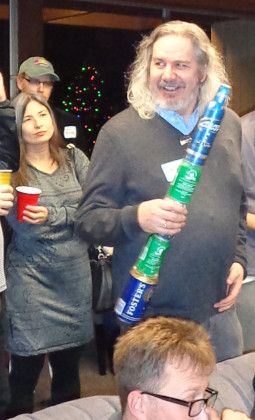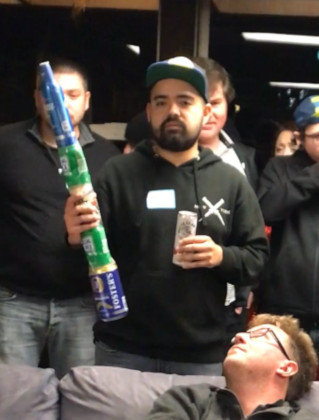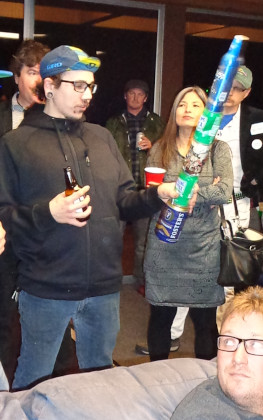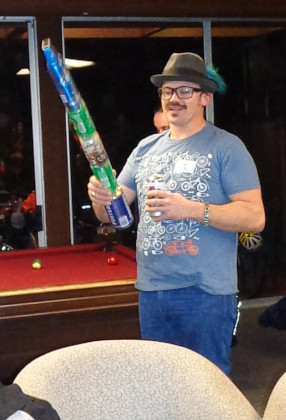 Dave has a peeve with people that get their facts wrong. It bothers him when they throw up their hands and say "Well, I'm on the right side of the issue so who cares about the facts?"

Eddie is bothered by people that don't treat mental and physical health the same way.

Justin is mad about all the crap that gets left in bike lanes. Particularly so because he got thrown off his bike during bike party by a log that was buried in a pile of leaves. Had to get stitches, but he's riding again now!

Antonio thinks "We've become too much of a me first world. That doesn't make it right!"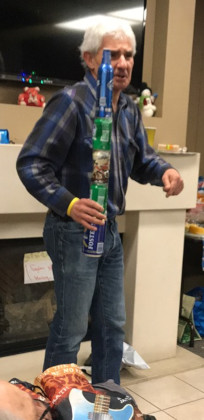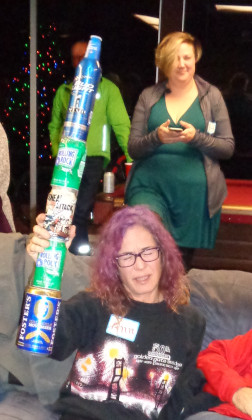 Barry got his knickers in a tangle over some newsgroup moderator. The word "antisemitic" was used.

Deepa thinks "There is just not enough whiskey in the world."

Ann wants more vegan options in restaurants. She also thinks kids should be drugged a lot less. She emphasized that she "has a grievance against pharmaceutical companies."

David said that "We can't let it be normal times, what we're going through. The past three years have not been normal."

Amanda said "Please spay and neuter your house pets! There are too many kittens for us to find homes for all of them. I have eight kittens five to six months old right now that need homes. If you need a kitten please come talk to me!"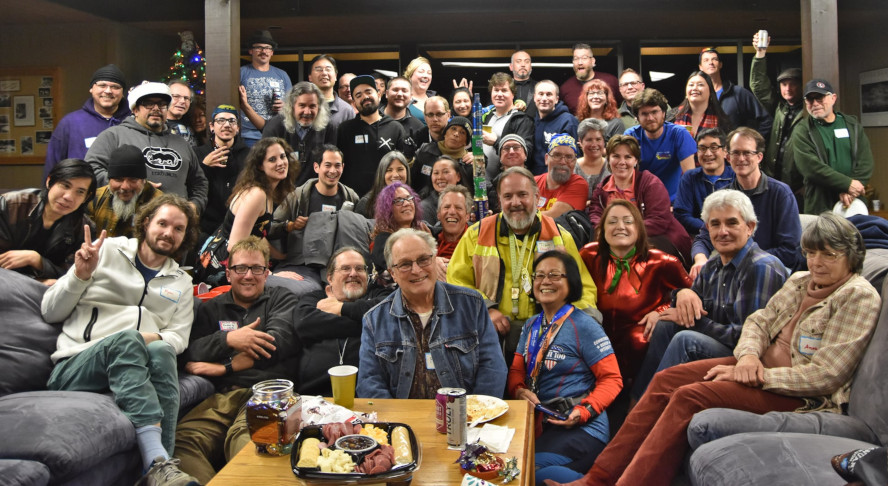 After everyone present had said what they had to say, we posed for a group shot.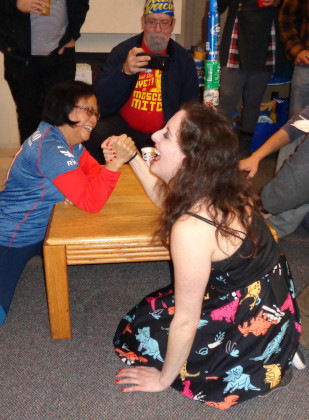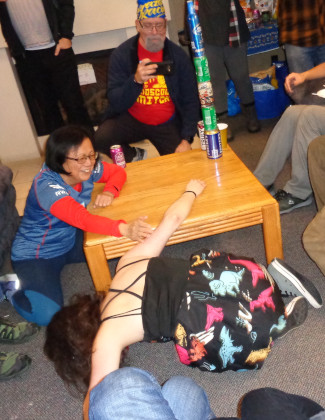 Then there were the traditional "feats of strength". Virginia once again beat Lizzie in arm wrestling. Later she said it was much harder than it had been the previous year.

Melanie is trying to protect Jurastac from being developed into a gravel mine. She's gathering as many signatures as possible. Please sign if you haven't already.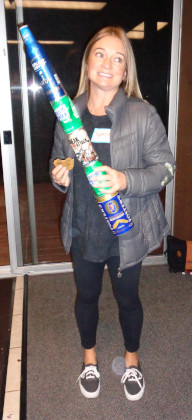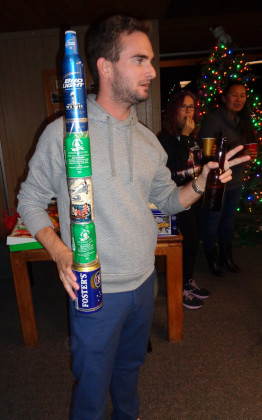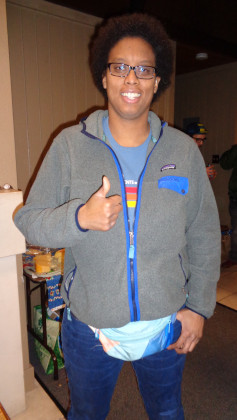 Crystella has gotten desensitized to all of the bullshit by the constant noize that's out there.

The guy from Hawaii thinks we should be more considerate with karts in grocery store parking lots. It's not that hard to wheel you empty cart to a spot where it's out of the way and easy for the staff to round up. Please do your part!

In the end we got the place back to the management in okay condition. As of 1/05/2020 still waiting for my deposit check to be returned. Should be just a matter of time. That time I didn't pass Denley called me and said "You need to do more cleanup right now if you want your check back!" I did the cleanup required and it worked out fine. Didn't get a call like that one, so hoping it's a good sign.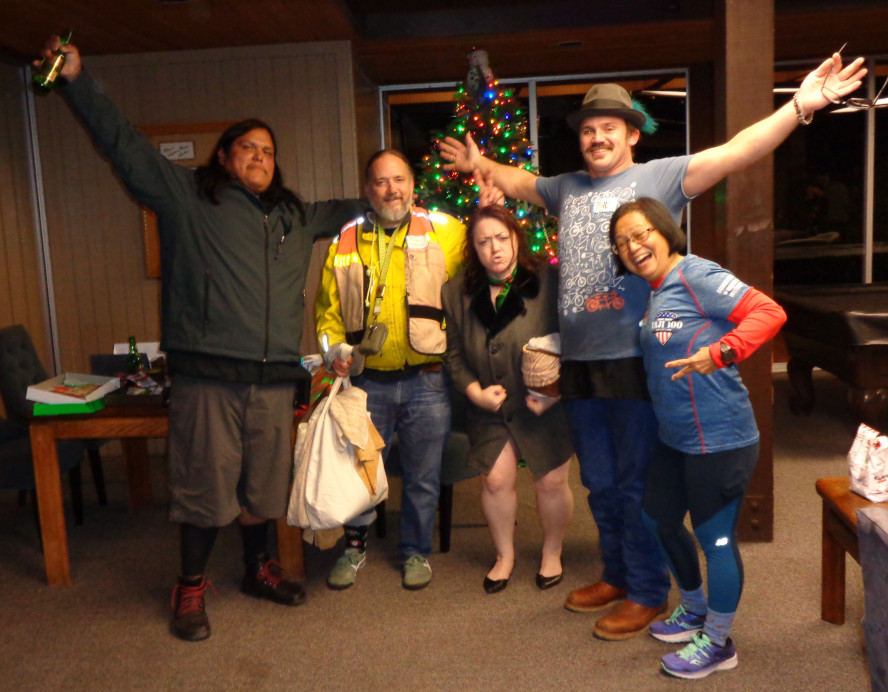 Happy New Year!