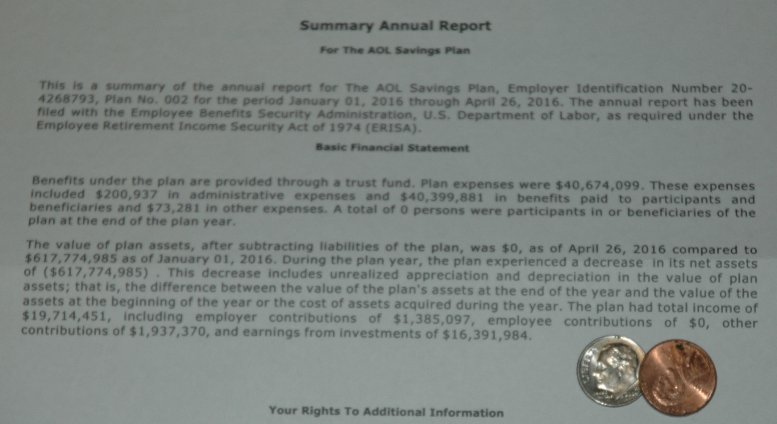 March 10, 2017: This is the kind of change that I really don't like. I open my mail and find out that the money I had in the AOL savings plan went up someone's nose. Yuck. Six hundred million plus dollars disappeared while we weren't watching. I'm starting to understand why those assholes flew jets into the World Trade Center. To say I feel pissed is an understatement.

Sunday March 12, 2017: Yup. Finished the Go Green Half Marathon in 3 hours, 44 minutes and 3 seconds. Proud of that, even though I was the last finisher before they closed down the finish line apparatus. I got the Nixon and Kennedy dollars from a NO DAPL event in San Francisco the previous evening. There was a guy vending buttons from a cart. He had a green mustache. Sold them for cash value, but I was so grateful I paid full price for a Janice Joplin pin. I'm a bit sad, because that means the presidential dollar series is (almost?) over. Wondering what's coming next.

...65 ...

Sunday March 26th, 2017: Finished the San Francisco Rock-n-Roll Half Marathon in 3 hours, 41 minutes and 12 seconds. Proud of that. The day before I'd picked up my shirt and race bib at the expo at Pier 35. One of the things in the packet they gave me was a bag of Pop Corners chips. The morning of the race, headed for the starting line, I was hungry. Found the chips and ate them. Sweet and salty, with overtones of popcorn flavor. Quite delicious. I was in a good mood when I noticed the above across the top of the bag. I looked at the address on the back, and it was nothing familiar to me. Ended with "Liberty NY 12754". Whatever, they gave my new personal record a rebellious quality.


Friday May 12th, 2017: At the SVBC Bike Away From Work Bash Rich gave me the above coin, just because I wanted to buy it from him for cash value. Probably it's the "oldest picture of a bird" on my website by a lot.