The week of May 16th to 19th I spent many hours a day doing and supervising bike parking at Google I/O, an event held at Shoreline Amphitheater in Mountain View. Google hosts it for the developers that make their system work. We didn't get access to the inner workings of the event, but we did get plenty of time with the bikes used to attend the event.

We'd get upwards of 150 bikes a day using the SVBC parking corral. You can see from the pictures that many more came on google bikes. Not shown are the extensive space devoted to shuttle buses and the "uber area", where ride hailing services had to do their drop offs and pickups. They also had several tiers of car parking. I'd say a larger percentage of the developers in the conference came by bicycle than spectators come by bike to events at Levis Stadium.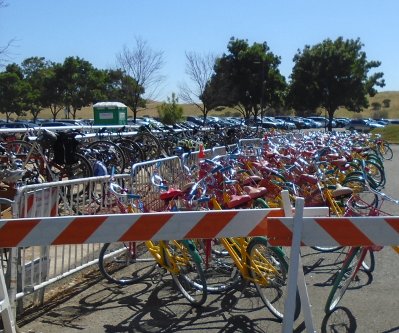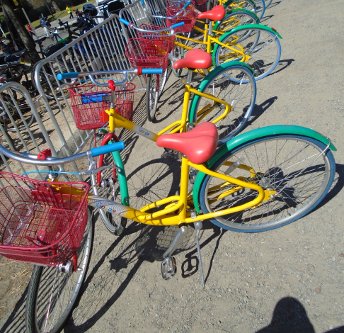 There were many subtypes of the google bikes, although most of them had baskets, yellow frames, pink seats, fenders, and blue or green tires. We ignored them until they got so numerous they were blocking traffic. Then we called Angel in facilities and they sent out a truck to "rebalance" the situation by taking away a truckload of the things. After that they came and went in rough balance for the rest of the day.

The first day the SVBC corral ended about where the porta-pottie was. That day I'd say "park over by the green thing" to people that showed up on google bikes. One guy browbeat us into checking his google bike. That turned out to be a mistake. Somebody else explained to me in simple words that "Google bikes are more of a public resource; first come, first served." The next day we got way more bikes than expected so they expanded our fiefdom to the end of the island in the parking lot. After that I'd say "Google bikes in the back" when someone else wanted us to check their google bike. I wasn't interested in hearing that speech again.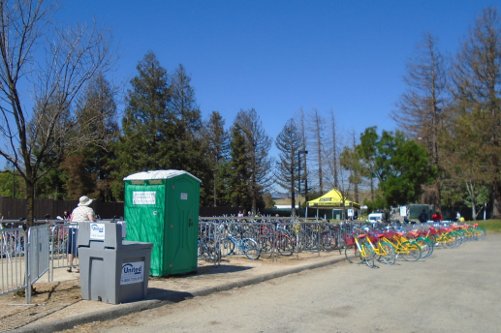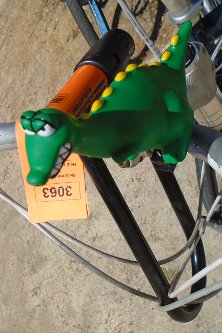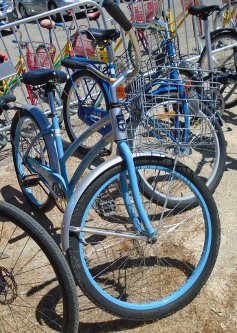 The green porta-potty was locked. Reserved for the guys that kept the traffic flowing. We had to borrow google bikes and ride them to the other porta-potties at the back of the parking lot to use a bathroom ourselves.

I'd say that this dinosaur was the peak of cute personality among the bikes in the lot. There was a broad variety of bikes, everything from low end but working bikes to high end electric assist bikes. Very few had any stickers or stuff like that. Two or three had flat tires. One lady talked us into fixing her flat. The others just took their bikes back at the end of the day without comment or fixed them using out pump and patch kit.

Several other companies have programs similar to Google's google bike program. Notable among them are Intuit and Linked-in. Intuit employees that brought their bikes had no problems with checking their bikes. Linked-in, on the other hand, sent security over to repossess the bikes their employees had checked into our lot. The first time they did that I called the person who had checked in the Linked-in campus bike and asked her to spread the word that Linked-in didn't like that. There was no second time.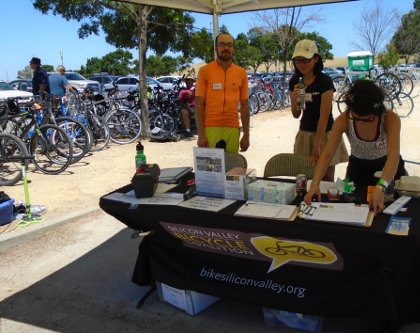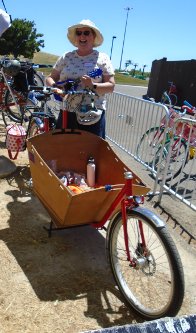 This was the bike parking crew when I was in the mood to be a photographer. So cool that the mom on the right's mom-mobile is a cargo bike!

Our hope is that Shoreline will hear from our customers or figure out on their own that having bike parking in that spot is a great idea. Then maybe localish people will be able to attend concerts there by bicycle without worrying about leaving their bikes locked someplace nearby. If you like the idea of bike parking at Shoreline, please ask Shoreline to institute bike parking any time you find yourself there and talking to an employee of the venue.