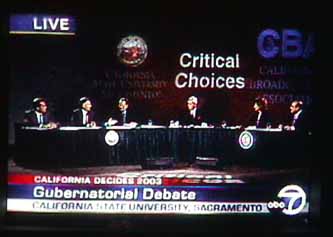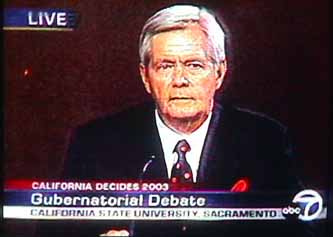 This event was billed as THE BIG DEBATE. Arnold Schwarzenegger had announced that it would be the only debate he would attend. It was broadcast on a lot of stations, including KQED and ABC7 here in the San Francisco Bay Area.
Stan Statham, the President of the California Broadcasters Association, was the moderator. He explained that all of the candidates who were running real campaigns and had some shot at winning were invited to be on the stage. Until this event, I hadn't heard his name since the time in the early 1990s when he had been a strong advocate for dividing California into three States as a Legislator from one of the more rural and under-represented areas of the Golden State.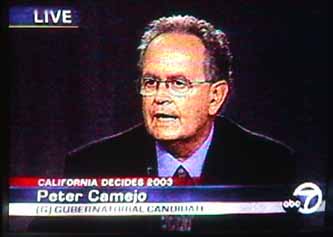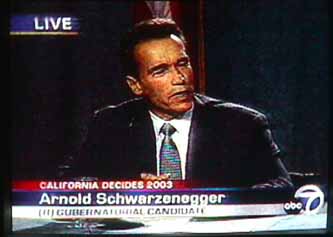 Peter Camejo's big solution to our financial problems was to raise the tax rate of the rich to the same level the rest of us are experiencing. In his closing statement he said that a vote for him is a vote for a more sustainable future and a vote against illegal oil wars. For the Green Party his presence there was a huge victory.
Arnold Schwarzenegger had a few good liners. For example, when Huffington attacked him for the way he treats (or treated) women, he told her "I have a role for you in Terminator 4". He interrupted the other candidates a bit more than is really polite. In his closing statement he said he was doing this to give back to California, because when he came here all he had was a dream, and the State had been very good to him.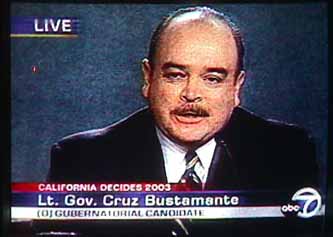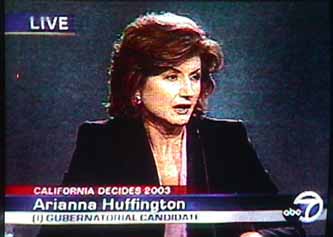 Cruz Bustamante represented the Democrats well. As the only candidate from the biggest Party in the State on the stage, all he really had to do was not blow it to seal his victory. He didn't blow it.
Arianna Huffington worked hard. As the only Independent on the stage, she brought the whole issue of cronyism among incumbents and lobbiests into the discussion in a much needed way. She refered to them as "pigs feeding at the trough".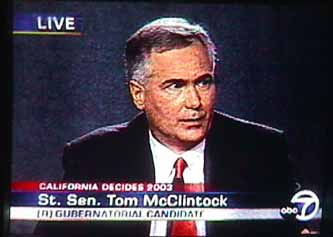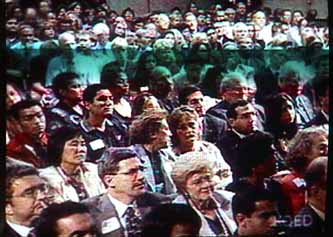 Tom McClintock represented the Republican Party establishment. In his closing statement he said he was "the only pro-life, pro prop 54, anti tax candidate on the stage."
The studio audience took it all in, and gave everybody a good hand at the end when Statham said "regardless of how it all turns out, you have seen five really incredible people work very hard", or words to that effect.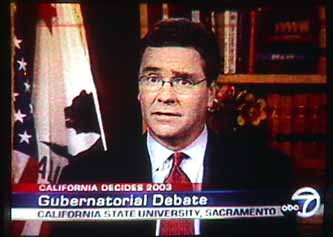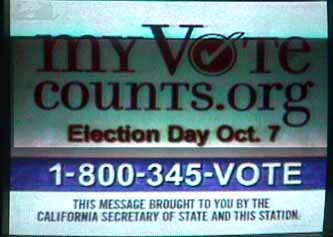 Secretary of State Kevin Shelly came on to explain that there are 135 candidates on the ballot, and if you only try the state will bend over backwards to count your vote. He suggested "after you decide who to vote for, find your candidate on the sample ballot and take it with you to the polls on election day." If going down there at that time is not an option for you, he went through the mechanics of how to get an absentee ballot and then mentioned that some Counties may allow you to vote early. He finished by asking people to call their local registrar of voters if they have questions that need to be answered.