When we started the meeting this was the agenda on the wall: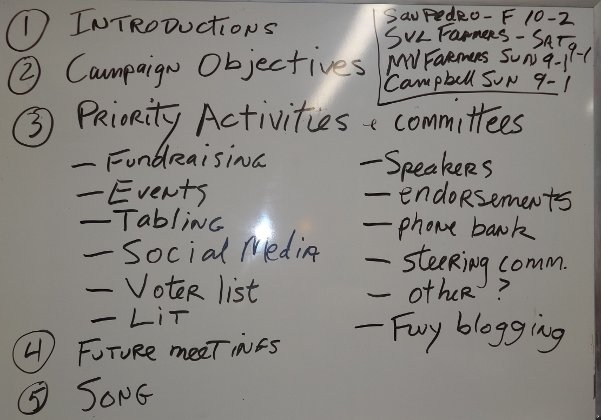 I pulled out my camera every time someone put an image up I wanted to share: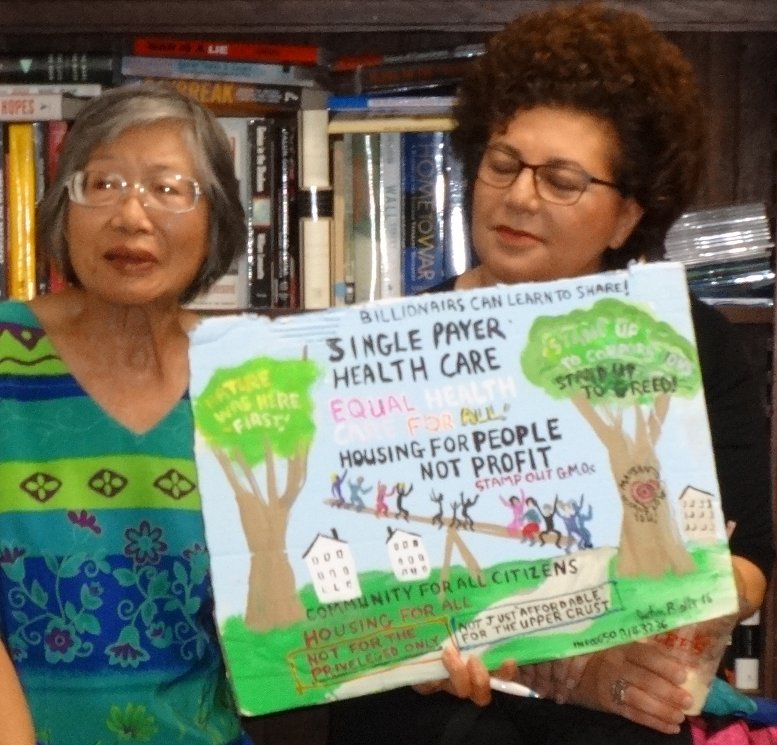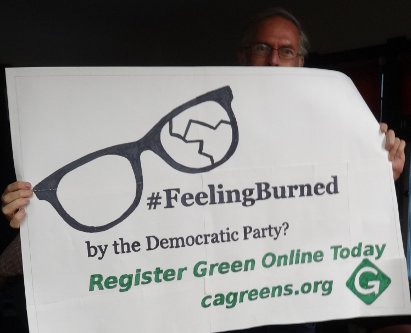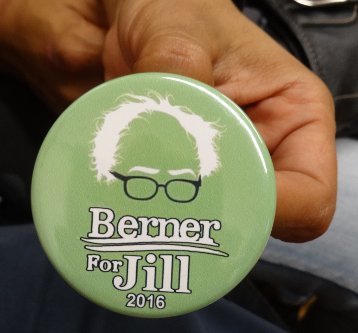 During the go around many people talked about being Bernie delegates at the Democratic Convention and being shut out of the event after they exposed themselves by voting for him. It was like the Democrats wanted nothing to do with such people. So now they were glad to find a home in the Jill Stein for President campaign.

Also among us were some long time Greens and a number of NPP voters that were looking to make a difference. The question of "What do we say about the spoiler argument?" came up. This lady brought out the thing she always shows voters that ask that question.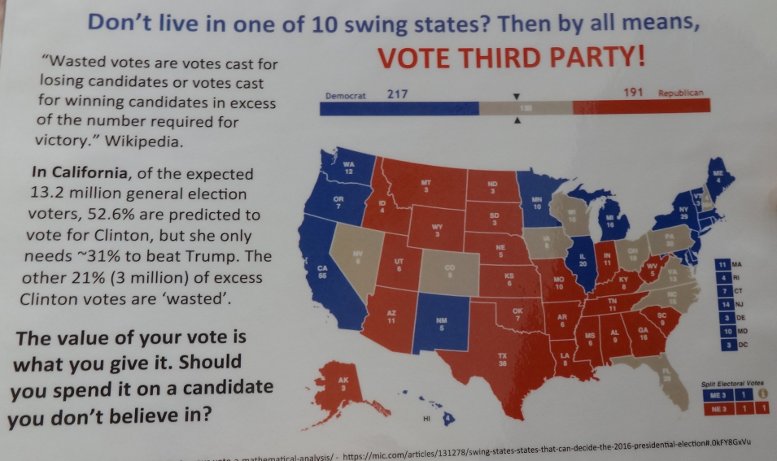 She also had a comparison of all the main candidates: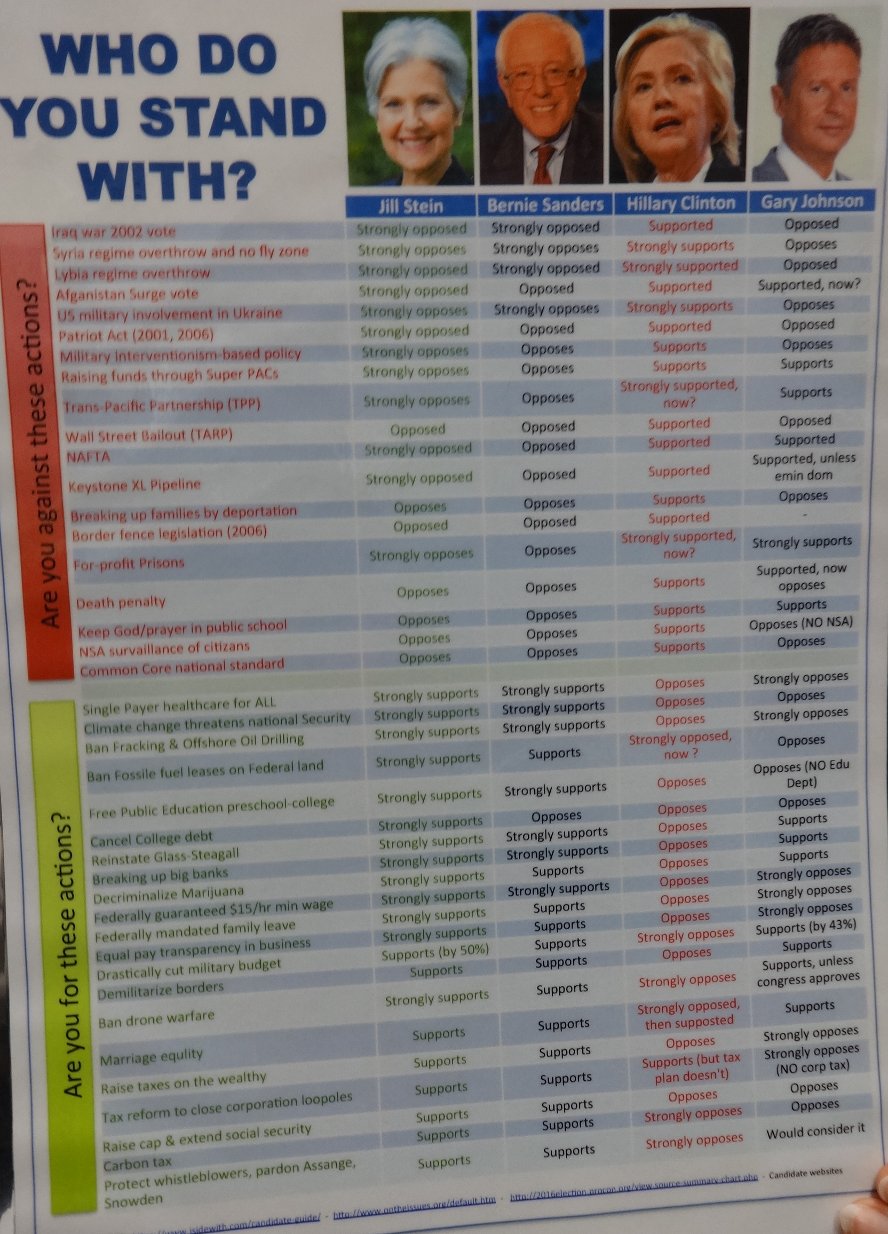 Then we brainstormed objectives for a while: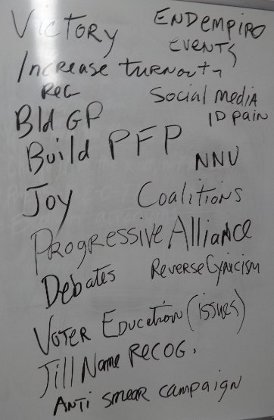 Then we figured out we only have a month and a half or so to get the word out on this. Lots of people signed up to wave signs on street corners and table at farmers markets. Sandy wants us to do a big event for Jill Stein, maybe a candidate visit or a rock concert. At the end of the meeting we posed for a group shot.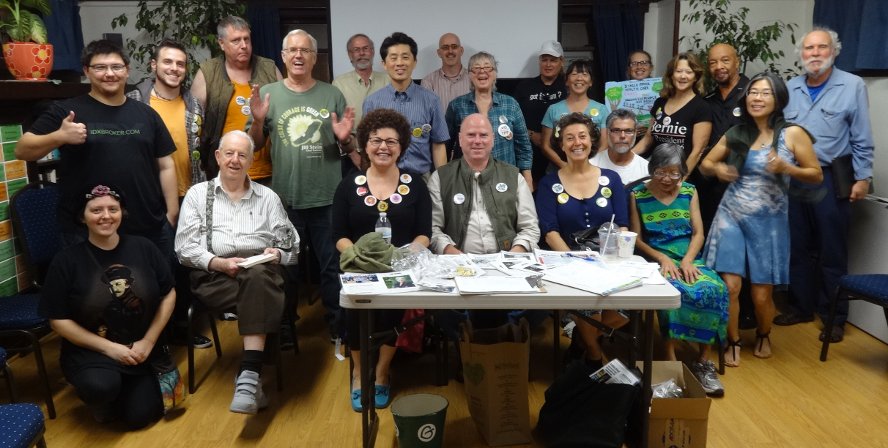 Then when I got home I found this email from Sandy that I'd call the official notes from the meeting:



Hi Everyone,

Great campaign kickoff meeting for South Bay for Jill Stein last night! Attendance was about 25 and enthusiasm was high. Hopefully, Tian and Nassim will post photos on https://www.facebook.com/voteJillStein/

After introductions, the meeting held a brief discussion of campaign goals and brainstormed the following:

1) Victory for Jill Stein & Ajamu Baraka in November!
2) Politics of joy (not fear), defeat cynicism, increase voter registration & turnout
3) Build the Green Party
4) Build Push for Progress
5) Voter education: Jill name recognition, get Jill into the debates, oppose smearing of Jill, oppose the spoiler myth and wasted vote myth
6) Build coalitions with community groups such as unions (NNU for example) similar to Richmond Progressive Alliance
7) End empire.
Committees or individuals were organized to make the following activities happen:
1) Tabling – Nassim
2) Campaign signs – Amanda
3) Laminated brochures for tabling – Nassim
4) Buttons – Nassim, Nadia, Susie
5) Social media – Nadia
6) Twitter – Maria
7) Voter list – Sandy & Ray
8) Phone banking - Alex
9) Honk & Wave events – Joyce & Nadia
10) Freeway blogging – Brian

It was agreed we would not do major fundraising for our local group but direct funds to the national campaign. We did take up a collection for local expenses & Sandy was asked to oversee the funds. People who have reasonable expenses should ask Sandy for reimbursement. Larger proposed expenses should be brought as proposals to future meetings. The collection taken totaled $117.60. $20 was already given to Amanda for sign-making supplies and $10 allocated to the Peace & Justice Center for the meeting room. $87.60 remains.

Four tabling events per week are organized beginning this week, in San Jose, Sunnyvale, Mountain View, and Campbell. For more information see https://www.facebook.com/voteJillStein/ or www.jillstein2016 under the grassroots events section. We also have a team that will be tabling in Spanish in East Palo Alto.

We agreed to continue meeting weekly for the time being. I secured the San Jose Peace & Justice Center, 48 S. Seventh Street, San Jose, CA 95112, for meetings on the following evenings in September from 7 to 9 pm:

Wed. Sept. 7
Wed. Sept. 14
Tues. Sept. 20
Wed. Sept. 28.

It was pointed out that we need to get up and running immediately because absentee ballots in our county go out in mid-October. If we look over all that we need to do between now and October, it is clear that this can never be accomplished by the 25 people who attended this first meeting, or even by the 75 people on our current email list. We have to get hundreds of people involved in a matter of weeks. But if our growth in the five weeks since the Democratic Convention is any indication, this is entirely possible and even likely, if we get the word out and organize! There are hundreds of thousands of people in Santa Clara County for whom the status quo is not working. People are desperate for a political revolution and just looking for where to find it!

By the way, the new Green Party of Santa Clara County web site is up and running at https://thegreens.us/