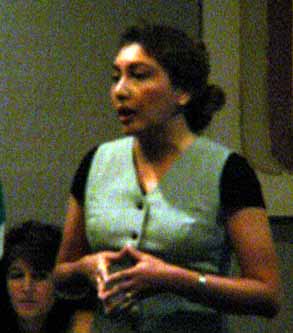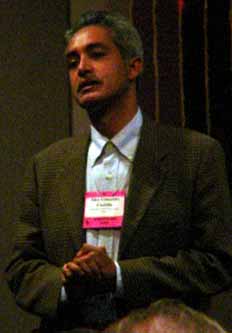 This woman is an elected Green from Peru. She talked about the awful pollution problems that oil companies had been causing in her back yard, and how they had been able to bring political pressure to bear on them to stop it.
I think Alex González is the President of the Peruvian Green Party. When he sat down I had a feeling that my country could do a lot better at respecting its neighbors.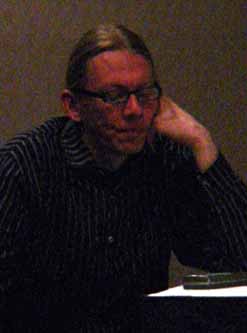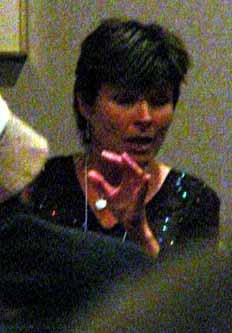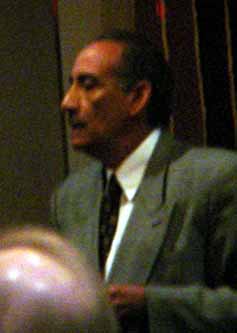 I think this guy is Green MP Panu Laturi of Finland. He had a deliberate and thoughtful manner.
This is probably Alain Lipietz of France, a Member of the European Parliament or Ane Aadland, the International Secretary for the Miljøpartiet de Grønne, the Green Party of Norway.
Miguel Angel Pimentel from the Partido Verde Dominicano (Central America). His translator was wearing a David Cobb For President T shirt.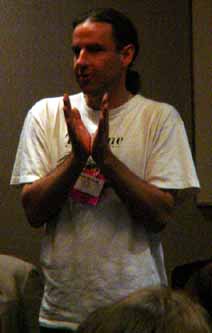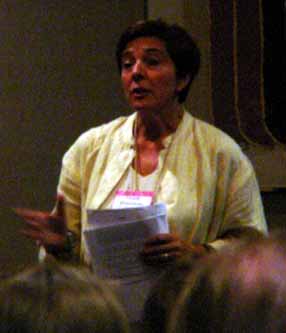 Nick McKim is an elected Tasmanian Green (one of four on the island). He carefully explained that as a foreign national he was prohibited from dissing the US Government, but since ours was very similar to his he would just talk about the problems back home. Then he talked about the folly of the Howard Administrations Iraq policy. The words were so biting earthquakes went through the purple ideas in my understanding of reality.
Grazia Francescato is an Italian Green, and the newly-elected co-spokesperson of the European Green Party. She was elected in February at the founding Congress of the European party and leads the world's first and only multi-nation Green party. She talked about how there are organized Green Parties all over the range of the Euro, and how they were the best way for Europe to work together on environmental issues.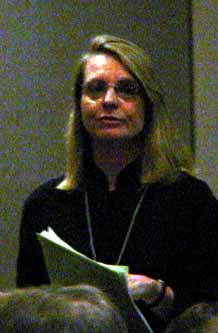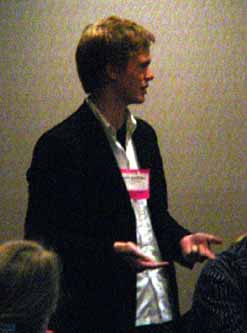 Justine McCabe, is a member of the International Committee, specialing is Palestinian rights issues. She talked about what she saw during a trip to Palestine. She was one of the people that mentioned the many human rights abuses the Isrealis are guilty of.
Gustav Fridolin is a Swedish Green that first got elected at the age of 19. He talked about how time passes quickly and said "there is no army that can resist an idea whose time has come."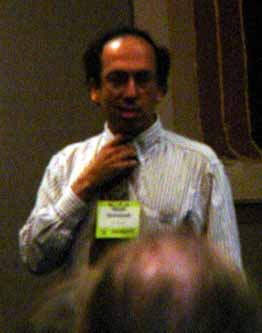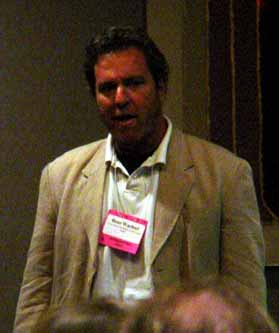 A Palestinian Green. He said there are two things missing from the Oslo accords that would be important foundations of a real agreement. The first was "international law" and the other was "human rights". His recommendation was that we have a one State solution because the Apartheid situation they currently have is not working. He had copies of his book for sale.
Boaz Wachtel is President of the Israeli Green Leaf Party. What I remember was not so much what he had to say but the extremely negative reaction to him that some in the audience had.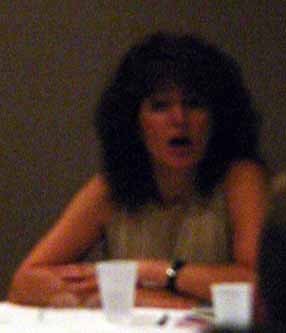 Sara Amir of California. I missed her opening statement, so all I saw her say was a few words about the MBTE pollution problem and the international fiasco that Canadians were causing in California because of the things NAFTA had empowered their chemical companies to do.
There were something like four New Zealanders there. Unfortunately I missed their speaking part of the meeting. However, one of them Ian Ewen-Street (My understanding is that he is one of nine Green Members of Parliament there, and that he is going to be retiring from being an MP at the end of this term.) was trading these Green pins for whatever schwag you happened to have that would improve his collection. I got one for one of my MEND YOUR FUELISH WAYS stickers.
For more information, please visit the International Committee website by clicking on this line.