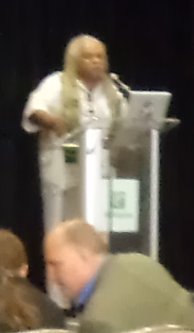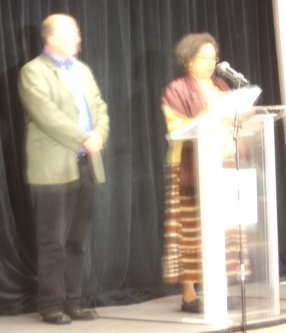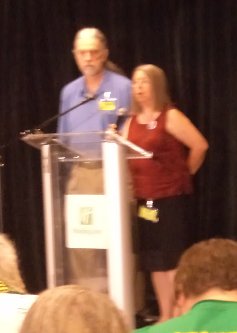 George Martin was speaking when I got there. I remember that it was a rip roaring speech and that people were super into it, but I can't remember much about what he said.


After that they had the platform approval process. What it boiled down to was that most of the platform was okay to most of the policy wonks. There were only a few small disagreements...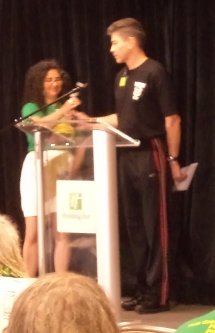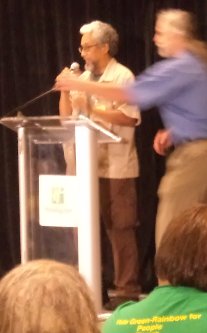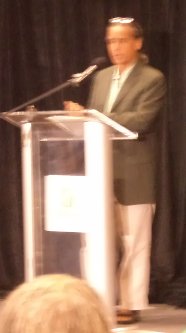 The Black Caucus sent up a Lawyer that had argued cases before the Supreme Court to say "this paragraph must be struck down." Mike Feinstein of California said "the paragraph is necessary to show that we are in favor of reforming the way this country does things." Neither side put the language in the paragraph on the board and explained why it bothered them. Nobody was handing out copies of the platform for people like me that figure out such stuff at the last minute.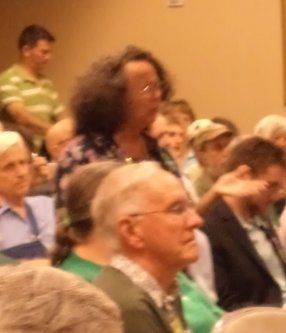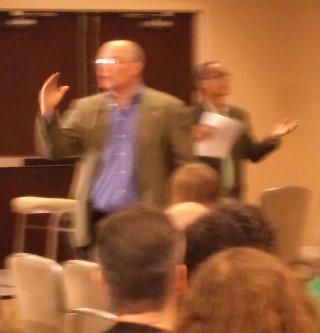 The questions didn't really clarify the matter for me. They tested for consensus and there wasn't enough of that, so we had to break into States and figure out how to vote on it. David Cobb made an impassioned plea for us to support the Black Caucus as we broke for five minutes of caucusing.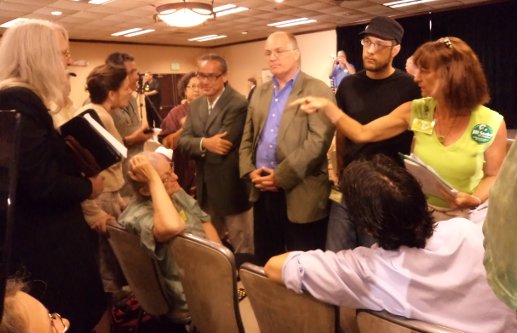 I voted. Then I looked around to see what else was going on.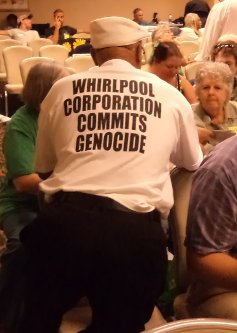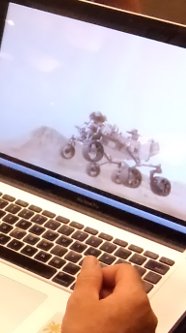 One guy was handing out newspapers about how Whirlpool had poisoned the area around their factory so bad that people there are dying left and right. Another guy was watching an animated movie that showed the new Mars rover Curiosity landing on Mars. Mike Feinstein was counting votes to see which way the decision would fall as the States announced their votes. The roll call of the states took a while, although they went through it as quickly as possible.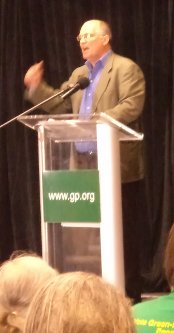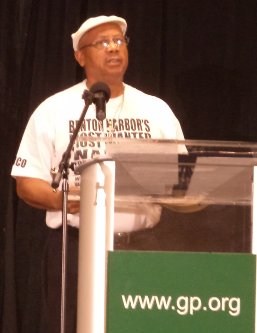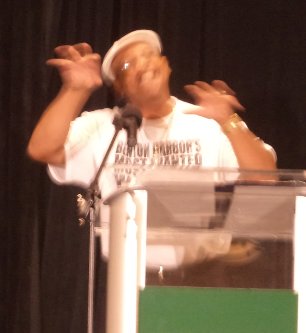 Cobb said that one of the pleasures of his tour around the USA supporting the anti corporate person-hood amendment was the time he spent in Benton Harbor, Michigan. The leader that made that stop so memorable was Rev. Ed Pinkney, whom he introduced as our next speaker.

Rev. Pinkney got us all fired up about the injustice that Whirlpool was dealing out in Benton Harbor. Toxic waste that is giving the kids of the poor who live near the factory cancer. Moving their production to Mexico so that the unemployment rate shot through the roof. By the time he sat down I was ready to boycott Whirlpool for the rest of my life.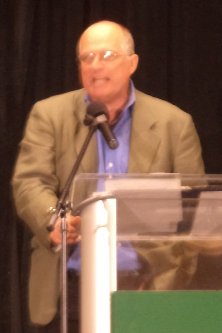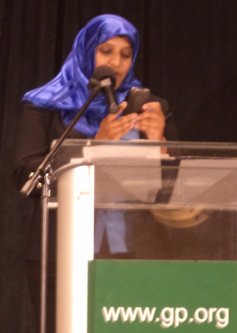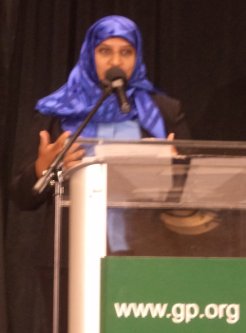 Cobb explained that Roseanne Barr couldn't be with us today, so in her place (I forgot the name) would be speaking to us.

Roseanne's surrogate took her time getting to the mike. Then once she was there she fiddled with her phone for like a minute. Then she launched an attack on Jill Stein that included such shockers as "she is pro Israel."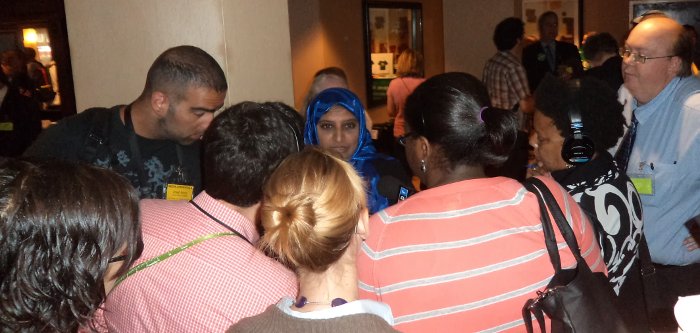 After the talk a lot of people wanted to talk to her.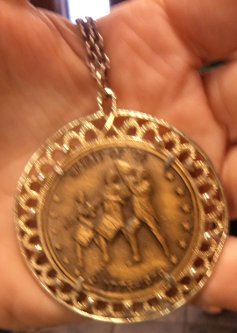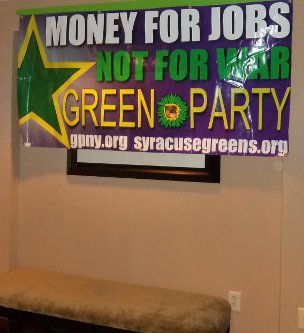 It was lunchtime, so we went out looking for a place to eat.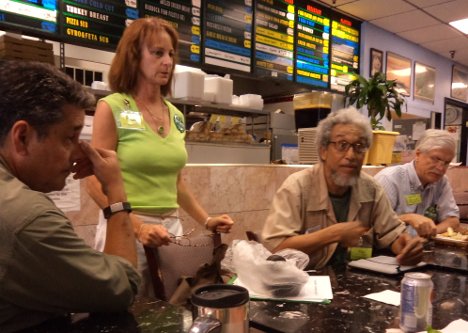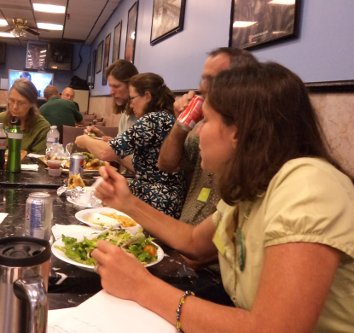 June got us to work together on wording for what California would say about our great state when our turn to vote on the nominees came up. I wanted them to say "the state with the lowest per capita energy use in the nation." They had a lot of stuff to say in not much time. I left before they had it all ironed out.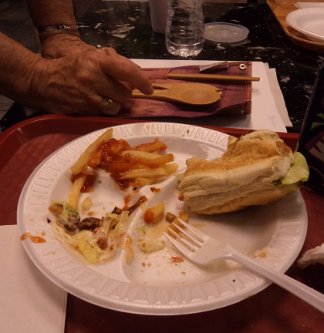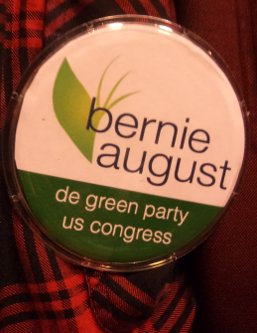 Sanda brought her own utensils, so she didn't need disposables. I ordered a sandwich because usually that's finger food, but it wasn't at this cheese steak place. Next time I'm going someplace else.