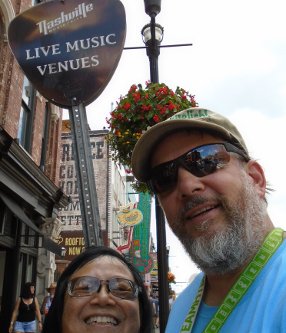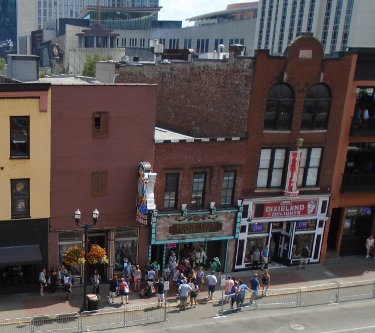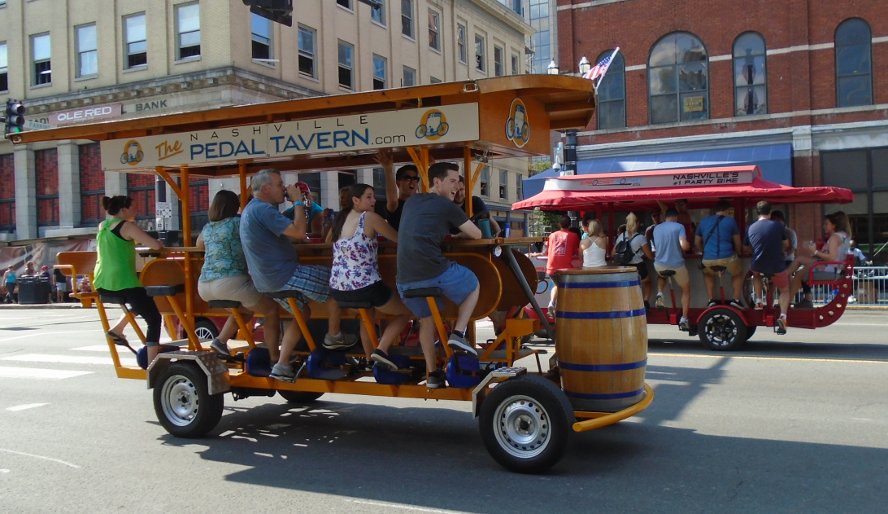 Turns out that Nashville is a destination city for heartlanders that want to have a good time. Broadway reminded me a lot of Bourbon St., that party street in New Orleans. Every second or third storefront was a bar with a live band in the window. Most were cover bands doing good time party pleasers, but there was an occasional different artist. The big difference was that here the second or third other building is a boot joint. As in this was the place to go for infinite choice in cowboy boots. You'd get two pairs free when buying a pair. Lots of activity in the boot shops. Sorry, I was too busy looking at boots to take pictures of that. Tried on a million pairs but couldn't find a green wide and comfortable pair anywhere. Not buying shoes that don't fit right.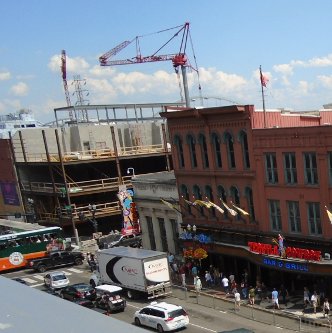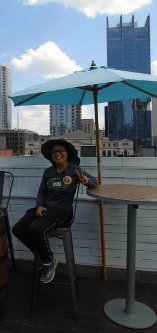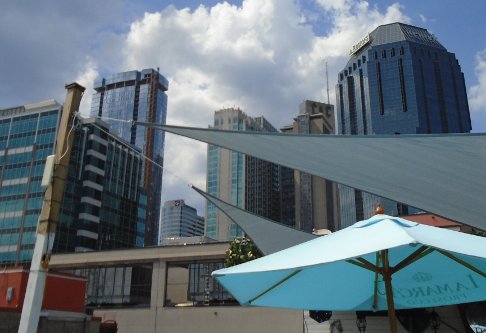 We wandered the scene for hours. It was good to not be sitting after three days on the bus. Finally we had dinner at this rooftop bar. The rest of the day was all about getting ready for the next day. Gotta do the eclipse fresh and ready!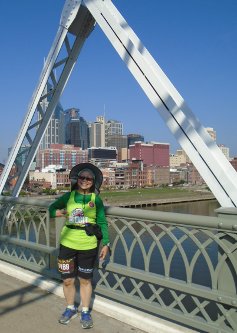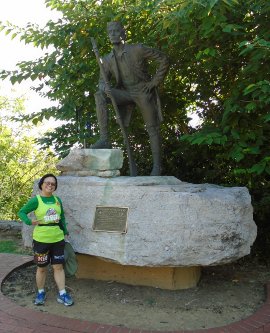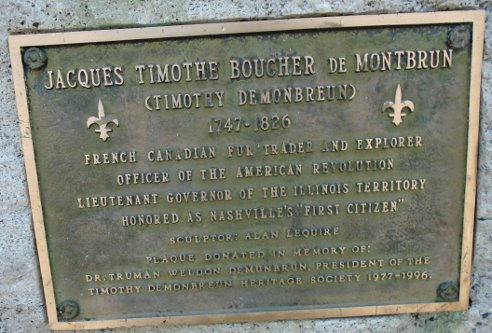 Our plan was to do a 10K the next morning before it got hot. We started out okay, figuring we'd figure out a reasonable pedestrian trek.

Gotta catch a picture of Virginia and Nashville's First Citizen!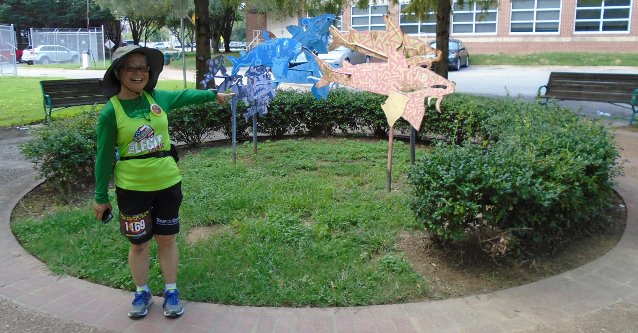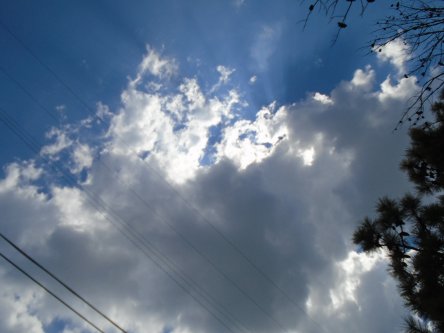 Fish swimming upstream!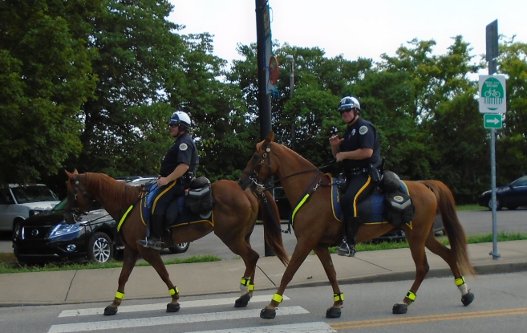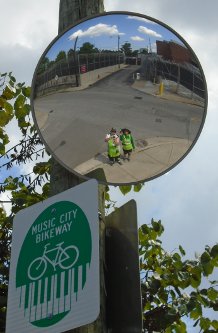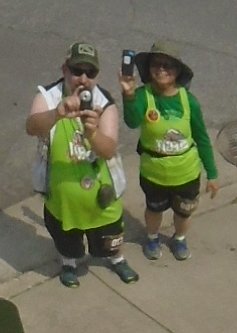 Kind of fun that the cops there get around on horses. Fish eye view of us!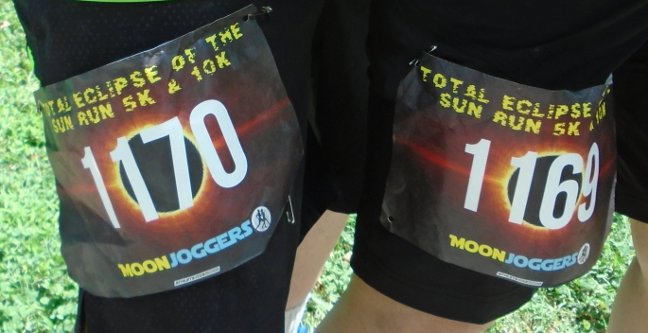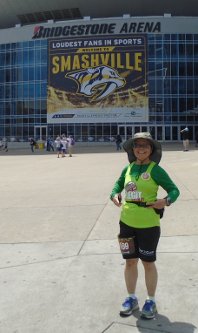 Yay! We got back to the car having gone 7.77 miles. The eclipse was due in half an hour or something like that. We got out and put on our newly earned bling. Turned out to be a good conversation starter all day long.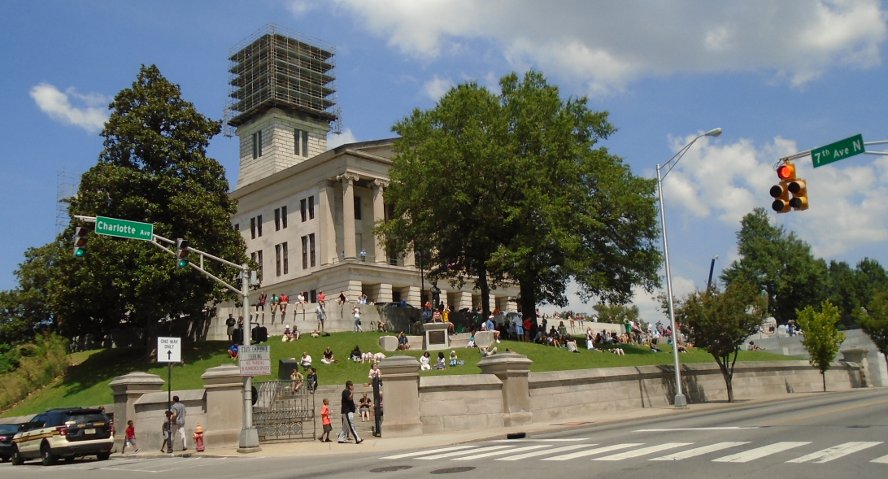 Our goal was to reach the state seal and eat the bananas we were carrying before the eclipse hit. Maybe we had twenty minutes or so before it got interesting when we got to the State Capitol. Unfortunately, Tennessee doesn't have a huge state seal by the front door the way California does. The cop we asked about such had no idea where that would be. The official looking other guy suggested we go down to New Millennium Park, likely we would find something there. We headed thataway.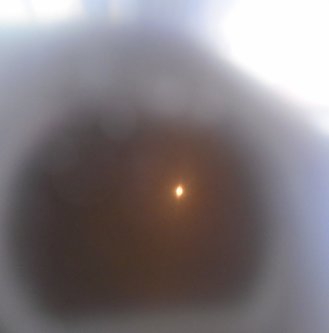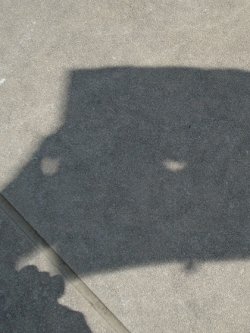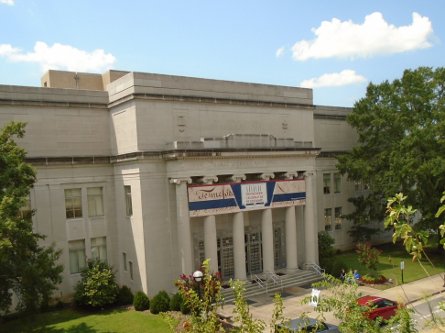 We tried several things to make the eclipse photographable. Putting the glasses over the camera didn't work. My pinhole camera didn't work either for some reason.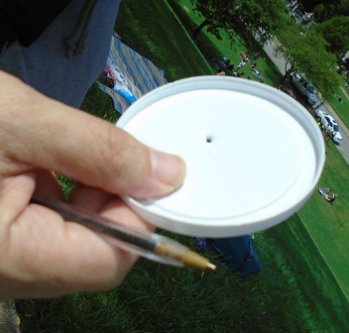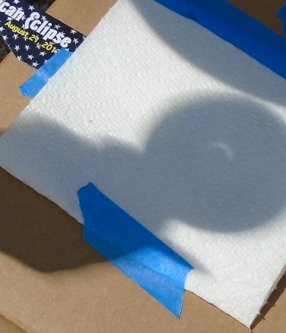 This guys pinhole worked much better. Next time I gotta try that type of hole size. Like there is going to be another eclipse that cuts across the entire continent of North America in my life.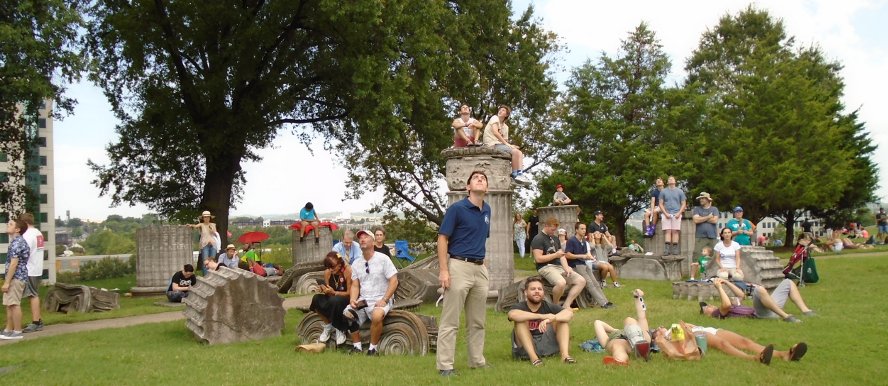 The sky was becoming a riveting sight to most people there.


Dark was the word for what I was expecting. It so happened that there was that freight train with apropos grafitti parked right there on that railroad bridge. I remember hearing it moving off as the place got dark, but wasn't in position to take another darker "DARK" picture.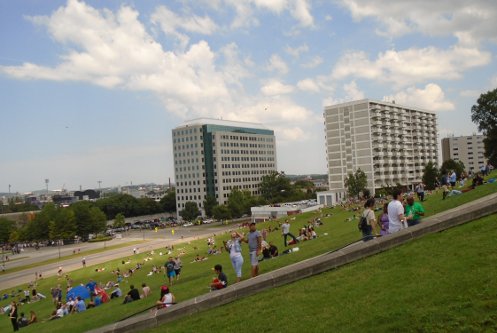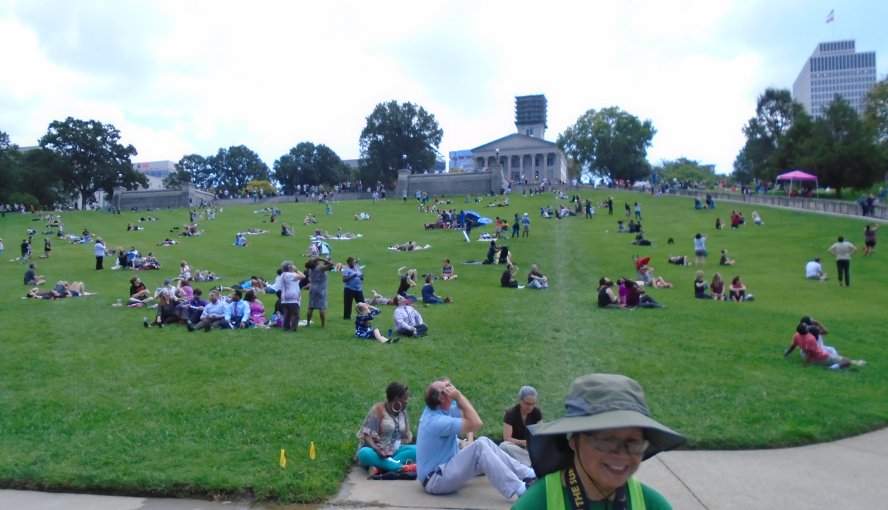 There were people everywhere, but not a lot of people anywhere. A comfortable group enjoying a rare experience together.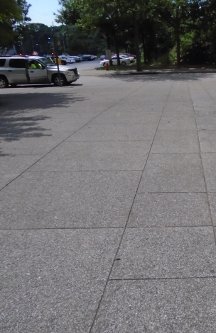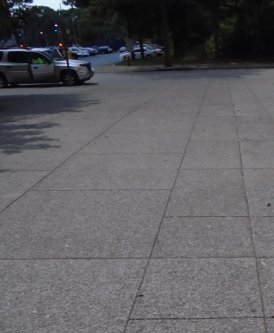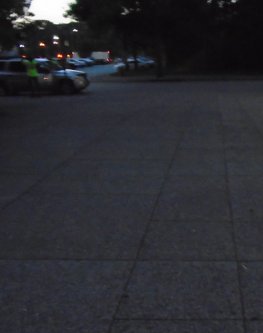 Suddenly it started getting darker quickly. I took these pictures intending to show you the ripple patterns that crossed the ground, but my camera didn't pick that up. For sure it caught the fact mother nature was leaning on our big lights dimmer switch though.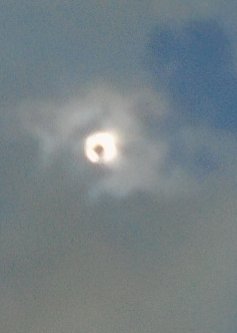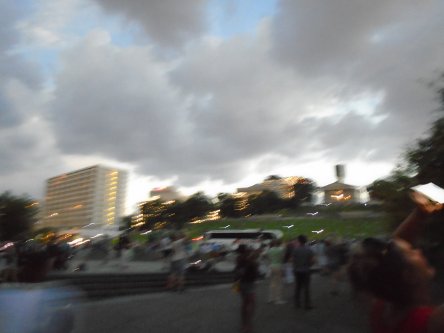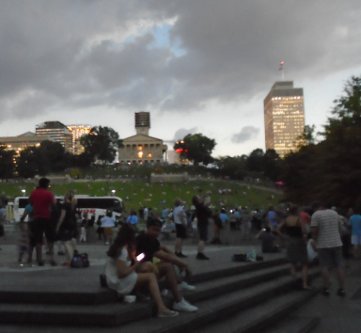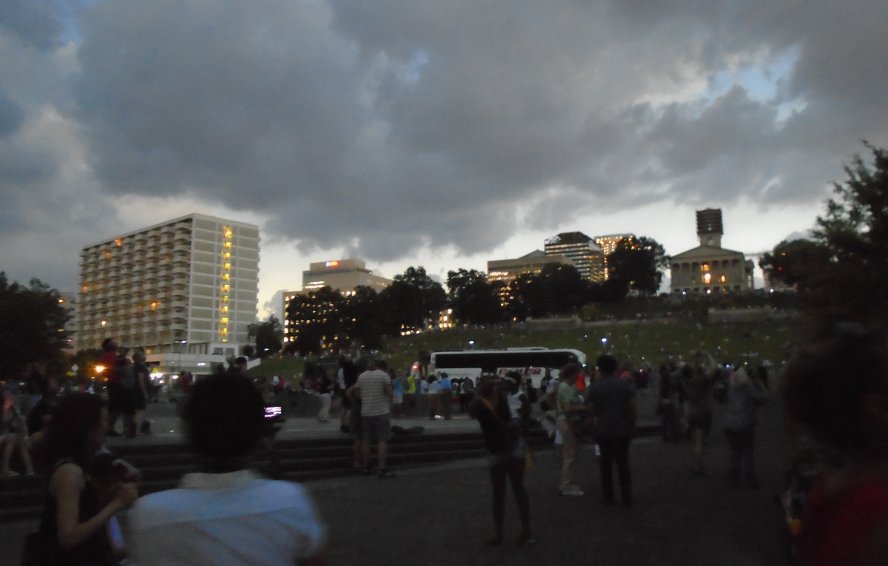 Maybe the clouds were bouncing in light from outside the zone of totality. It was dark enough to see stars where there weren't clouds, but the rest of the sky just looked very rainy.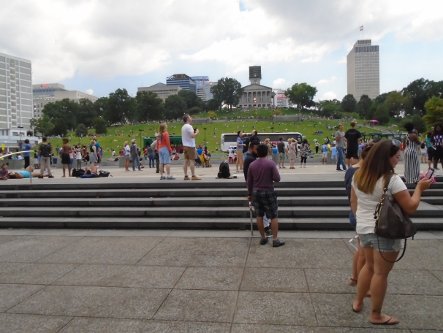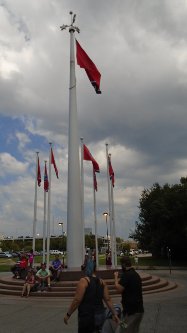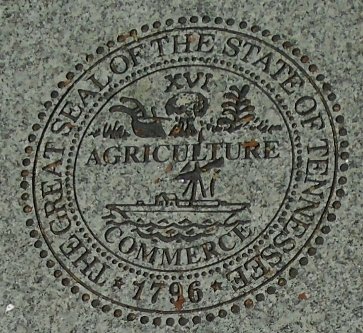 Sad to report we didn't find the state seal until after we'd eaten the bananas. We did find it, but we never did find a super-sized one like ones in California I'd been hoping to find. Maybe we missed "before the eclipse" by five minutes. They were delicious anyhow.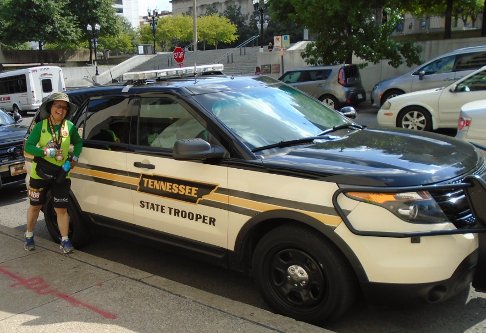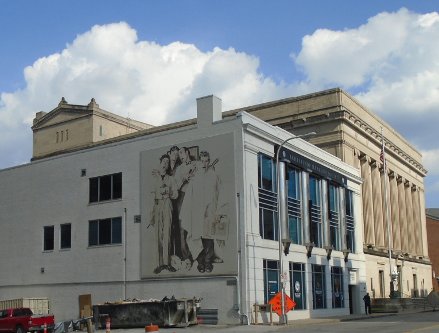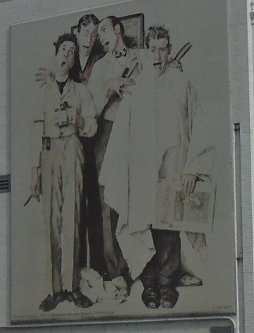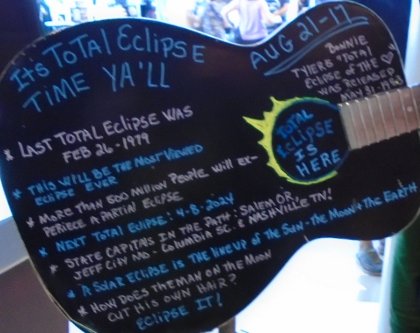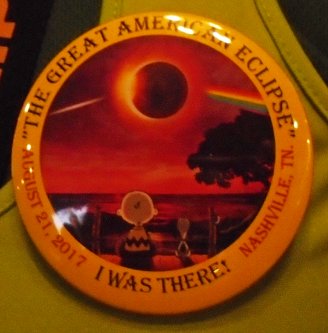 We had yummy food at this brewpub. The buzz about the eclipse was all around us.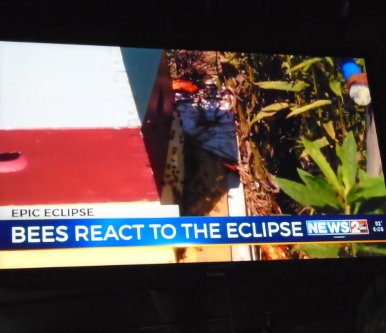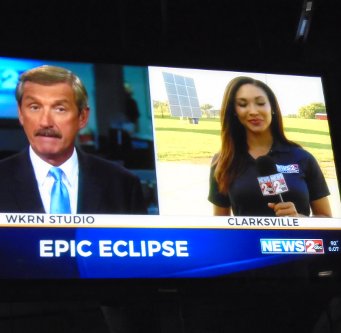 Even the TV in the background was coming through with live coverage of the event. I missed getting the picture, but I saw more than one picture of a totaled eclipse, meaning the car got mashed in an accident. I wondered if any of them were drivers that were watching the eclipse instead of the road.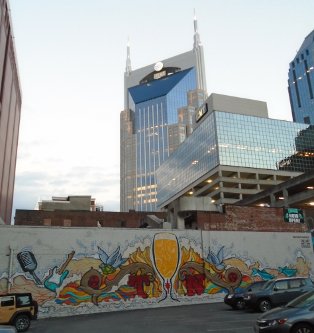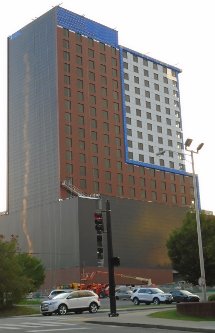 Mother nature, playing with the dimmer switch again.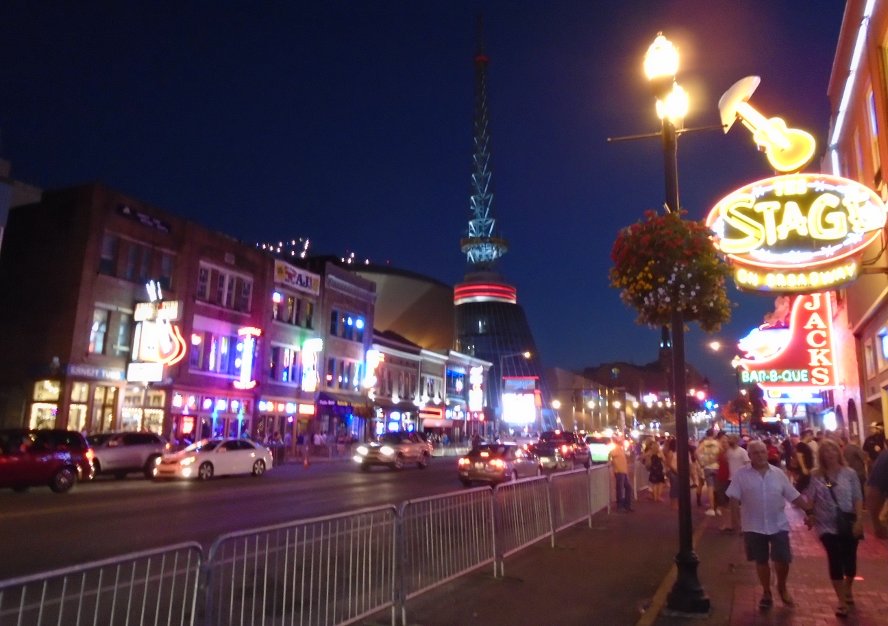 This time it was business as usual. The only difference was that a lot more people than usual were wearing shirts about the same thing, The Eclipse.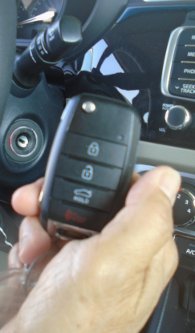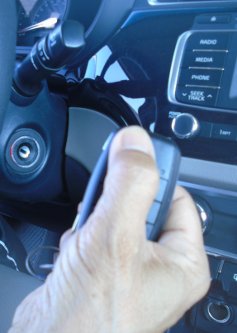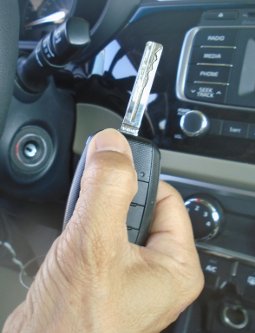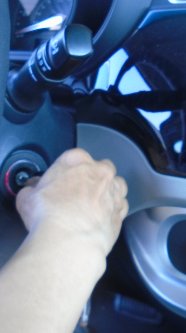 Didn't take another picture until the next morning, when we bought gas on the way back to the car rental place.