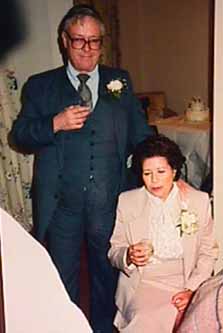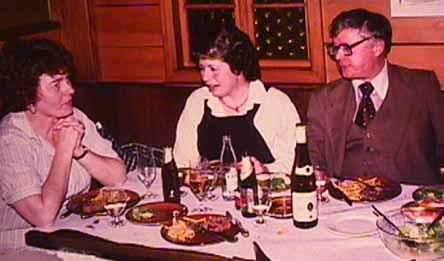 The picture on the left above was taken at my sister's wedding. I didn't go because I didn't hear about it until later. Apparantly what happened was they figured out that Tonia was pregnant, and it seemed like a good excuse to get married. They made a few phone calls and had a service at the end of the week. My father was glad to pay for a party, and my sister baked a cake, which you can see in the background. This is one of the happiest looks my mother ever had on her face.
When I first graduated from college, I needed a job bad. I came out to Palo Alto and camped on my grandmother's sofa and looked. Not too much later, I had a job at Ford Aerospace, which Mrs. Deitrich helped me get. Not long after that, my parents came out and broke bread with them. Mr. Deitrich took this picture, which he later gave me. I think he was the guy that told me "The most famous thing named Bradley I know about is a conversion kit that makes Bugs into fancy looking sports cars that zoom like Bugs."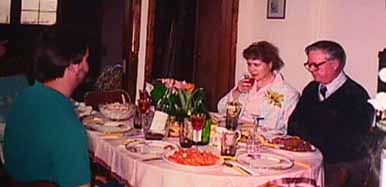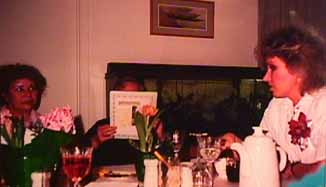 These two pictures are the only pictures of my brother in laws people I have. The picture on the right shows my mom talking to Barbara, my sister's husband's mother. The guy across the table from my parents in the other picture was her boyfriend at that time, a guy named John. These pictures were taken late in March of 1989.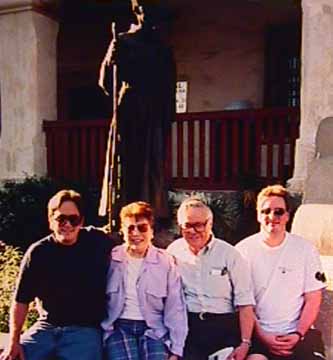 Thanksgiving of 1997 my parents and brother all flew out to California, and the four of us road tripped up to the Bay Area, stopping along the way at places like Mission Santa Barbara, where this picture of the four of us was taken. It is hard to tell from this picture, but I am wearing a T shirt with the California State Seal on it. My brother is wearing a Virginia Tech shirt. About a year later he finally graduated from there. We all went to his graduation.
The picture of my parents and I along the Big Sur Coast was taken by my brother. I'm glad to have a picture of us in front of what has to be one of the most famous pieces of coastline anywhere, judging by the number of pictures of it I have seen.
Going through my mom's stuff while I was back east, the picture on the left was the best one of me I found. It was taken just before election day, 1992, when I was working the crowd at an event on the west steps of the State Capitol. I gave it to her not long after that, explaining that it was a great study of how much information you can get from a picture. Even in this shrunken version the sticker in my left hand is easy to read. Harder to read is the PRO-CHOICE AMERICA on my hat, and my name on the envelope in my other hand. Even harder is the copyright statement on the sticker. The flier in my hand is almost impossible to read, even on a large on the eight and a half by eleven print. The guy who took the picture was an amateur. A couple of years later when I ran into him at the Natural Foods Coop, he told me that it was the only picture he had ever sold.
When I worked at AOL, my mom thought a lot about how to add entertainment value to the game of life. One of the stops on our Thanksgiving trip was at Grace Cathedral, where we all had to do "the official maze in the videogame of life." The maze under and behind her takes about fifteen minutes to walk from the outside edge to the center, where there are a half dozen spots to sit and meditate briefly. What I learned from the experience was that to make life into a game, you are better off modeling it after golf than racing. There are so many obstacals along the way that having an achievable objective on the course is a good idea. Also, play should be the spice, not the main course. I sometimes choke on that last piece of advice.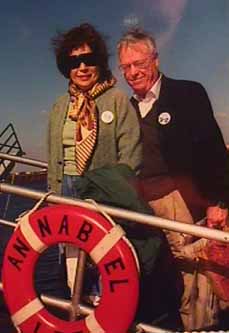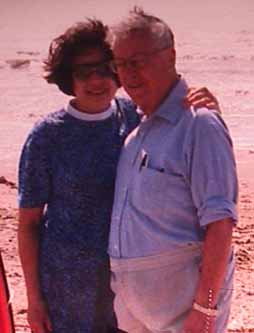 There are many pictures like these from their retirement period. I'm not sure where the left picture above was taken, but the date on the back is Nov 6, 2000. The one on the right was taken on the beach in Galveston, Texas, a few months later. Not long after that my mom found out she had Myelodysplasia, the form of leukemia that took her on February 10, 2002.