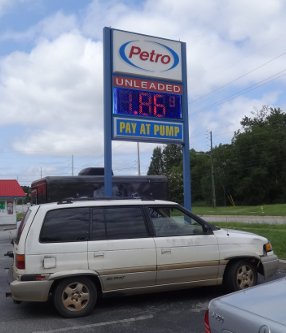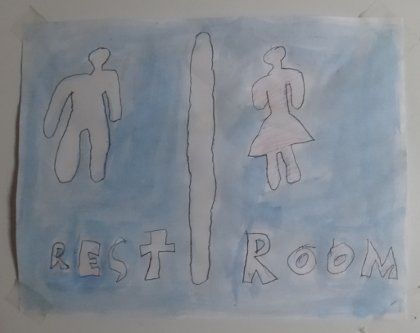 Gas at $1.869? I was in Georgia. At the time gas in California was more like $2.429ish. I was visiting my sister and her family. Nice of her daughter to make a sign for the rest room door. Didn't take many pictures right away, it was more about washing the road out of my system and catching up on basic news. The next day my sister showed me around the current incarnation of the farm.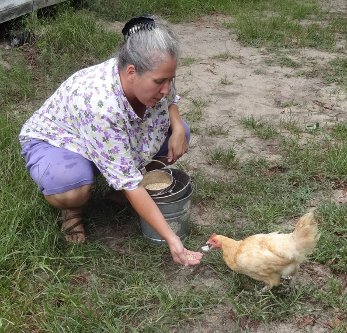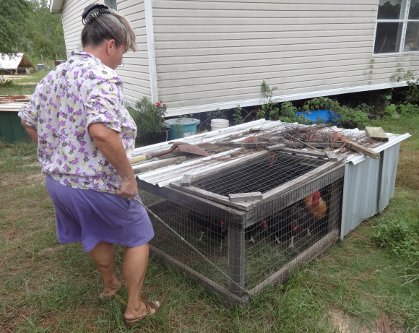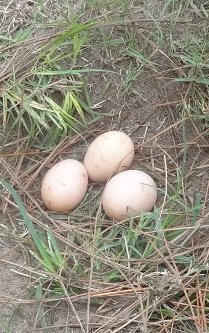 She still has lots of chickens in mobile pens. She starts with them by moving the pen on skids about two yards onto fresh grass. That exposes whatever eggs the chickens laid since yesterday.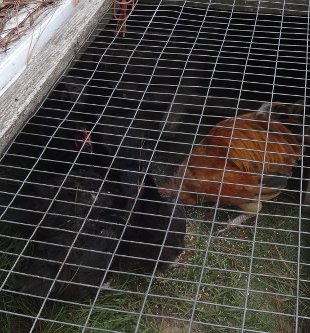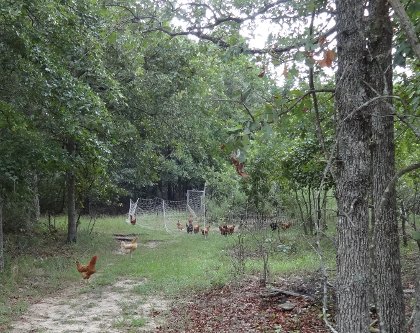 Then she throws in some grain. They chow down on it, making happy noises.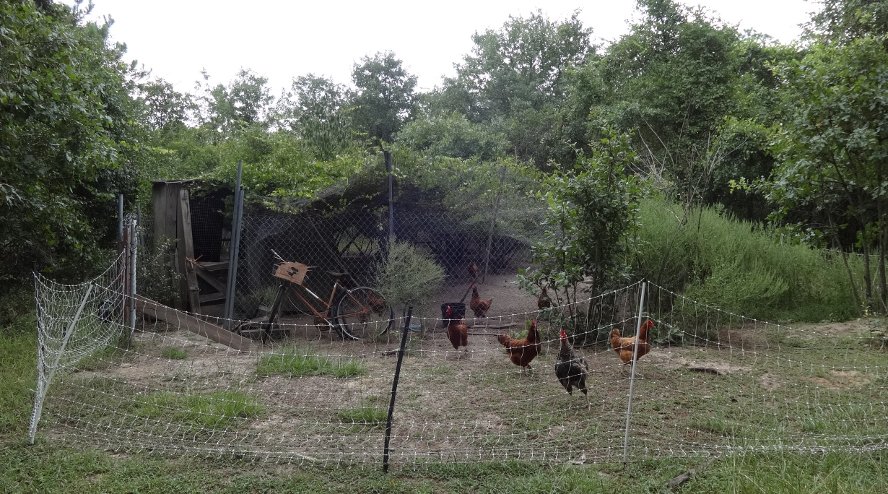 Seems there aren't as many chickens in the big pen as I remember from last time. My Brother-in-Law is very happy with the muscodine grapes growing across the top of the thing. He says it gives the chickens more shelter from the sun and heat, and the grapes raining down add to their diet.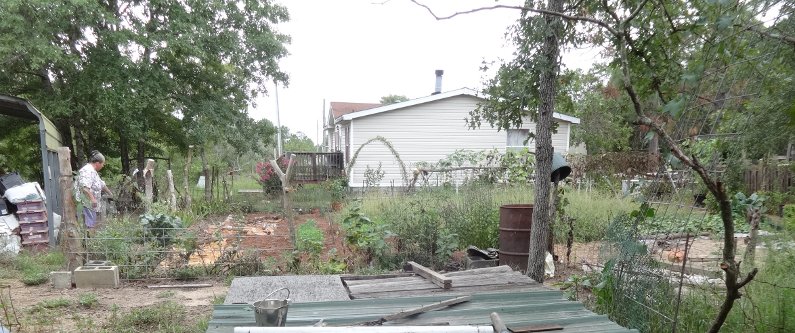 The vegetable patch is much bigger than I remember it being before.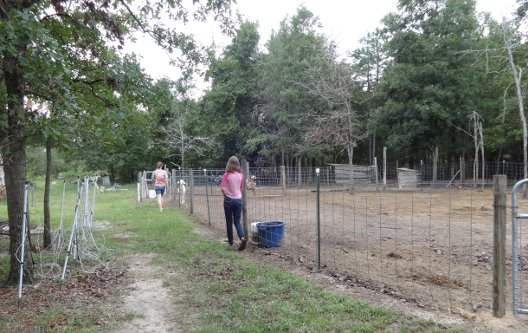 Livestock pens seem bigger than I remember to. They found out that the goats are great at clearing land. Just enclose some brush and they eat away at it until the trees fall down. Presto! Doesn't happen that quickly, but it doesn't take any labor beyond moving the fence line.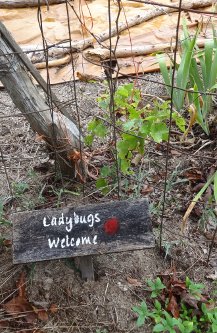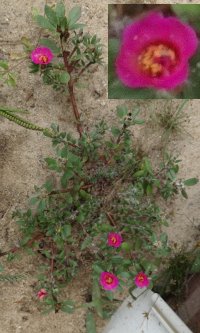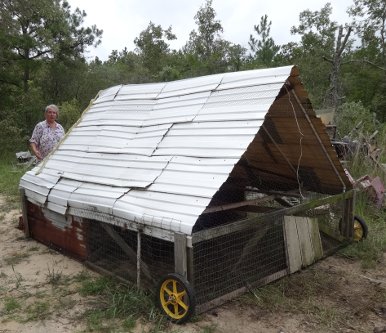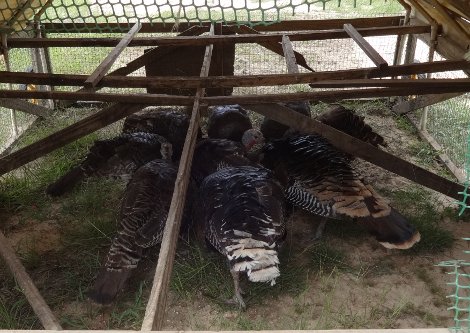 The turkey shelter is a lot like the chicken ones, except the turkeys seem to have escaped the harvest last fall. When I got there they were talking about eating one, but it didn't happen. We had burgers instead.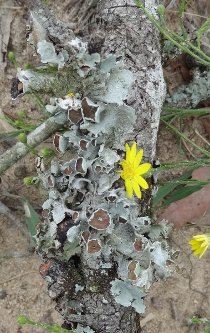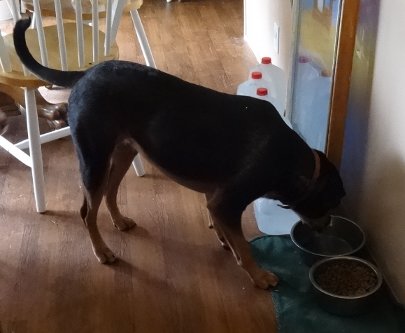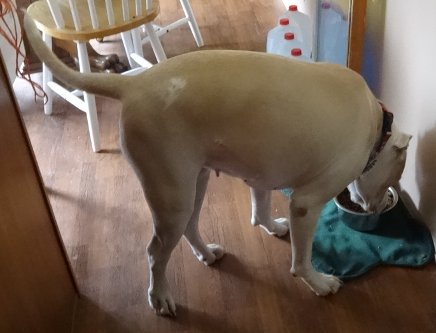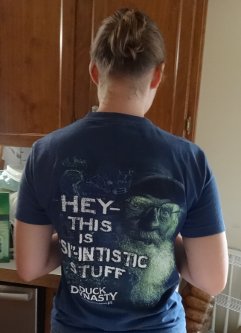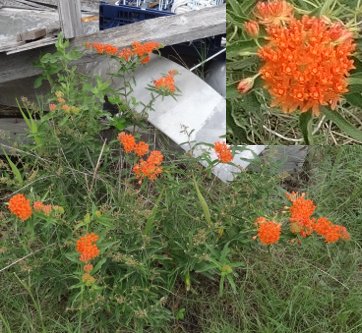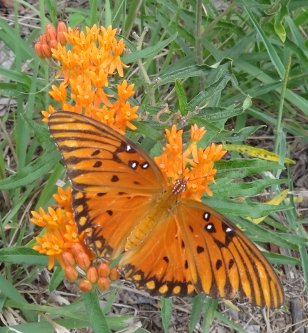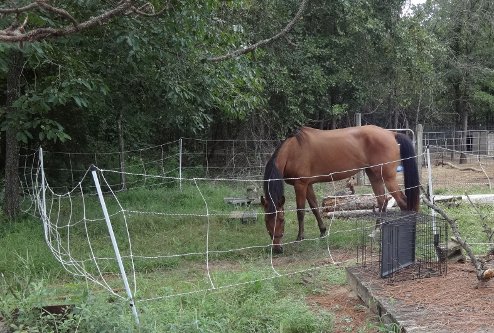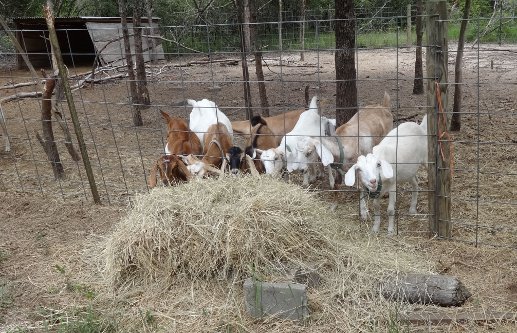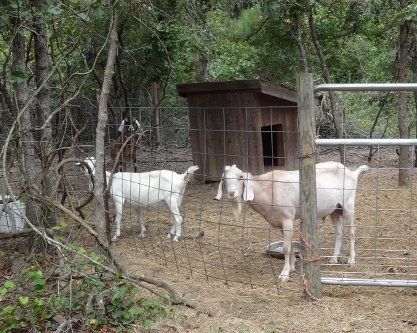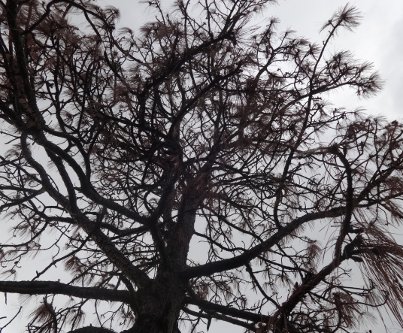 For a while my brother in law had a hydroponic system, but it was based on this motor moving the water around. It lasted long enough that he harvested a couple of crops of lettuce, but then the motor died. He got another one, but that didn't last any better. Then he decided that "the juice ain't worth the squeeze", as the saying goes. Now the hydroponic system is yet another lawn ornament. Sorry, I forgot to take a picture of that Rube Goldberg contraption. Loved hearing the explanation of how it worked though.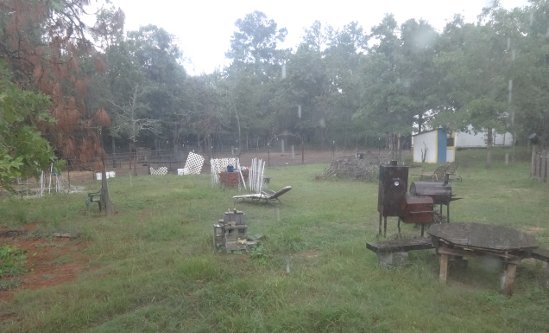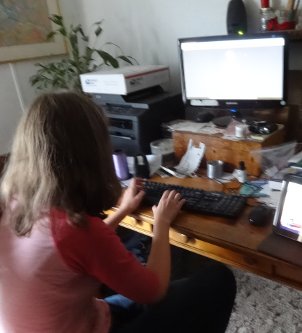 The next day was wet and miserable, so after doing the chores we hung around inside.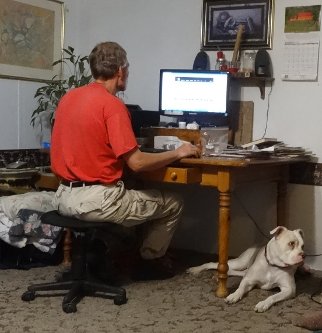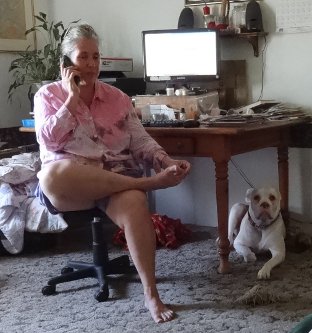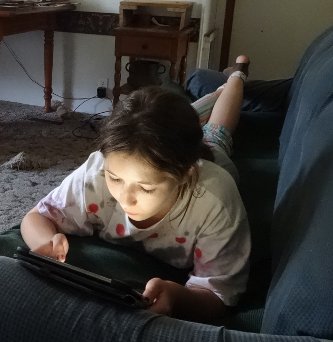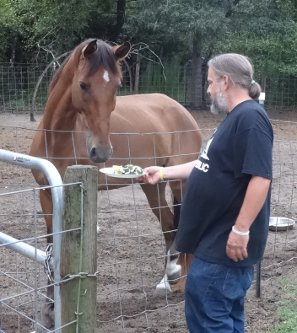 My contribution to supper was cutting the watermelon. They grew it in the vegetable patch, so it had very little transportation during it's life. It was delicious. After we ate the red part I gave the rest of it to the animals.

I'm feeling grumpy towards Coda (the horse not shown) after this he broke out of his pen, broke into the vegetable patch, and ate the rest of the watermelon crop. Boo Coda!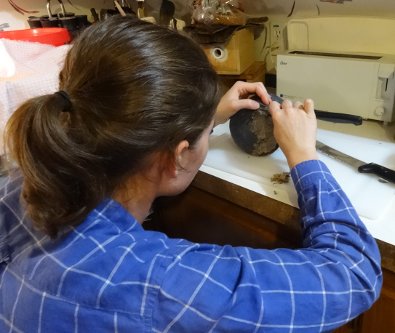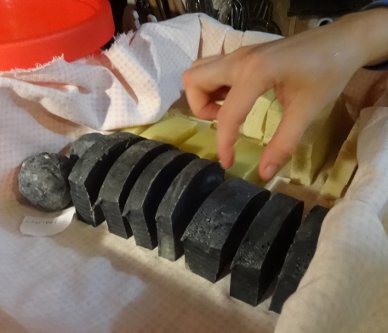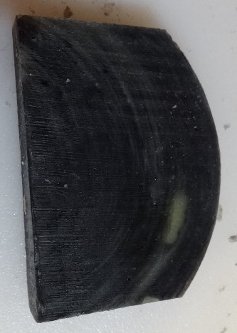 Grace makes soap just like her mother. I didn't take pictures of the whole process, but we could hear her working in the kitchen while we watched TV. She sells it at the farmers market and online.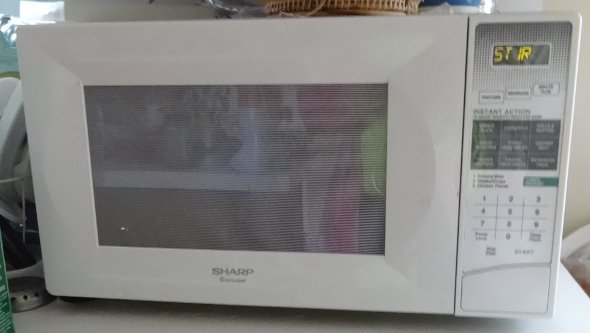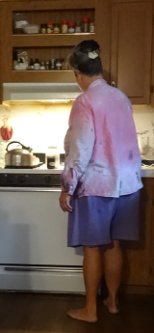 Making breakfast in my sister's kitchen is very different from making it at home. For one thing, goat milk seemed like an unlimited resource. That means oatmeal with goat milk instead of water and butter. So delicious! I had it almost every day, and it was a great way to start the day. For another thing, if you mess EVEN ONE CRUMB on the floor those feet will detect it. I didn't realize it until she caught me. No way would my mother have complained about that crumb. She wore shoes in the kitchen.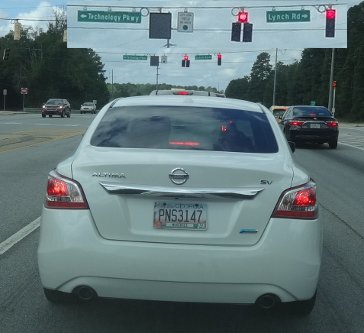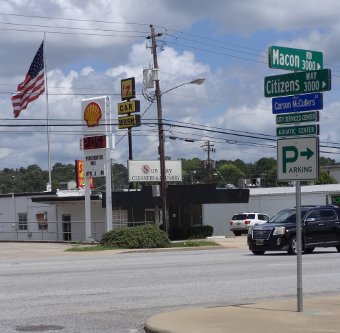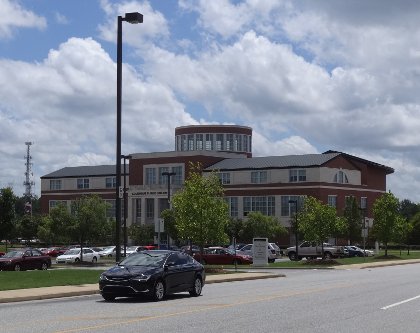 The plan for the day was "Go to Columbus". Grace had a shift as a volunteer at the library's book sale, so the car had to go. I went along to wander around town and see what I could see. The first thing I noticed was that the streets change names in Columbus a lot like they do in San Jose, or so it seemed.

Did my heart good to know that the main public library is on Citizens Way.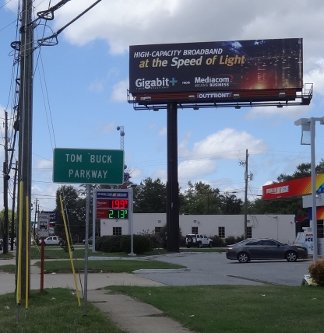 I thought I was on Macon Road, but this sign said it was "Tom Buck Parkway". Figure that one out!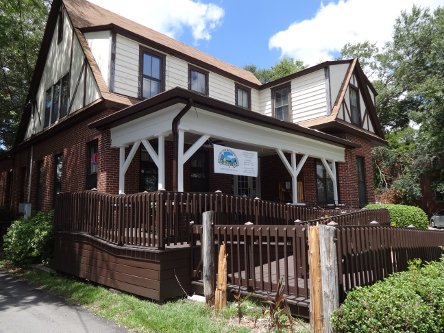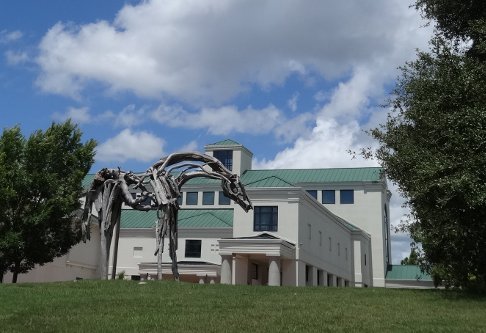 Country Life is a vegan restaurant and health foods store I got to walking down the road. It's hot in Georgia during August, anybody would need to refill their water bottle every hour or two. Turns out the cheapest nice beverage I could find is a packet of "Emergen-C" from the restaurant and some water from their cooler. Back on the road 54 cents lighter and a refilled water bottle happier. So awesome there is a place like that there!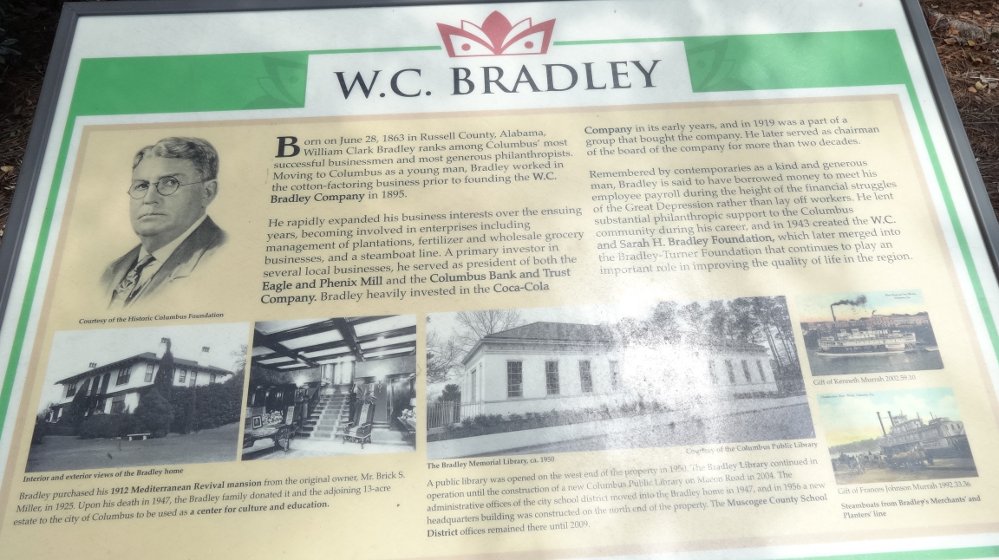 I saw "Bradley" all over town. Here was this plaque in front of the museum that explained why.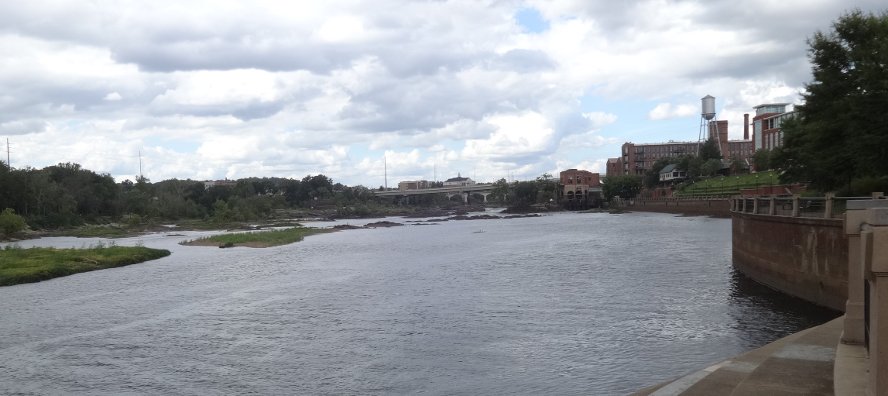 I kept walking until I got to the Chattahoochee River. Looking upstream I could barely see the rapids that made the rest of it impassible to big cargo barges.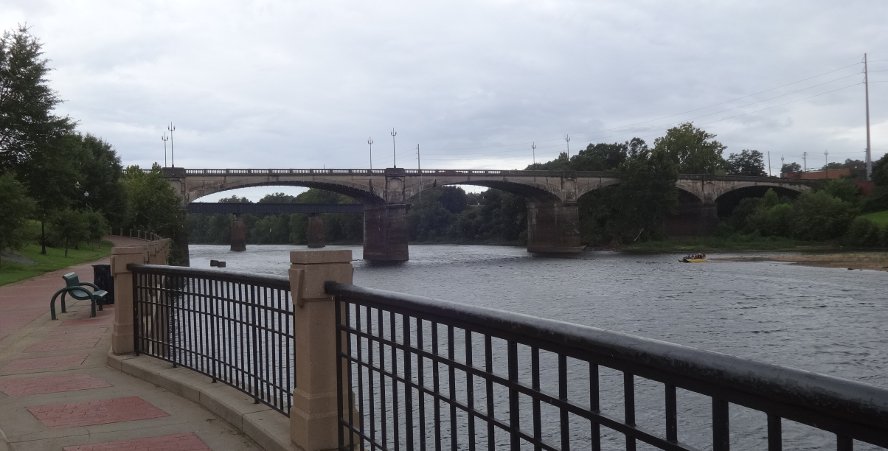 Looking downstream it looked about like the Illinois River did in Peoria, meaning wide and flat with bridges high enough for barges to go under them. Didn't see any cargo docks though. About then it started raining so I decided it was time to head back for the library. This rain wasn't anywhere near as warm as the summer rains in Virginia I enjoyed when I lived there.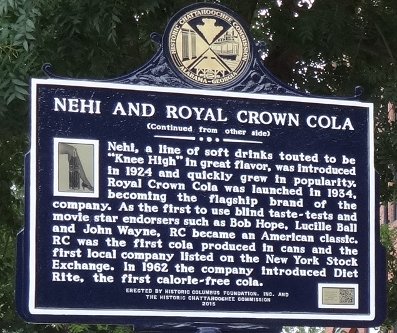 There were signs like these all over the place. Made me feel like Columbus was "the silicon valley of soda" a hundred years ago.

I remember reading someplace that the active ingredient in coca cola was cocaine, back before that was illegal.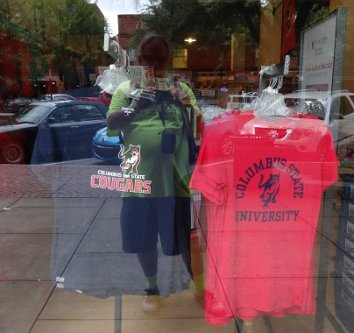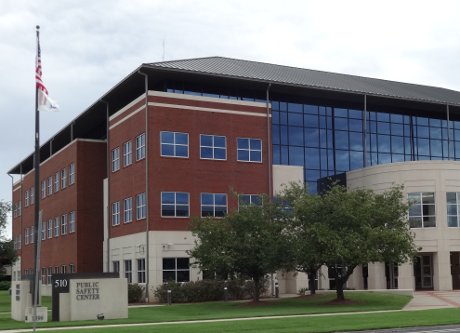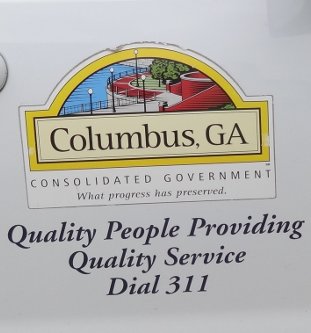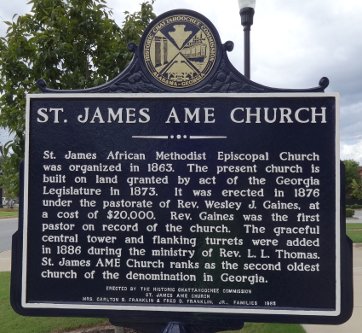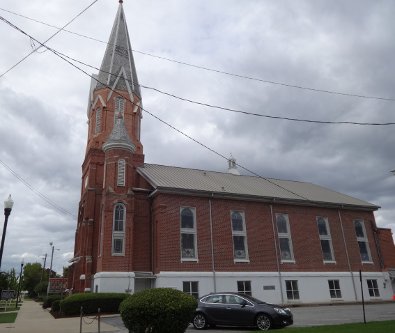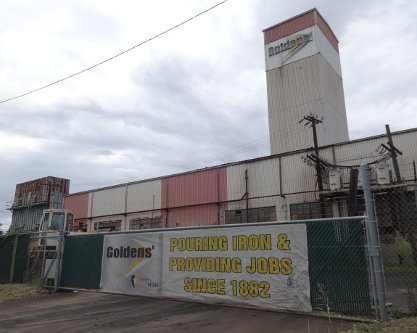 It was easy to find pillars of the community with more than 100 years of continuity there...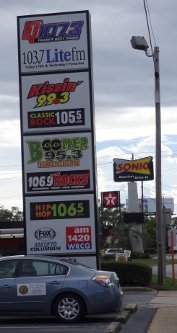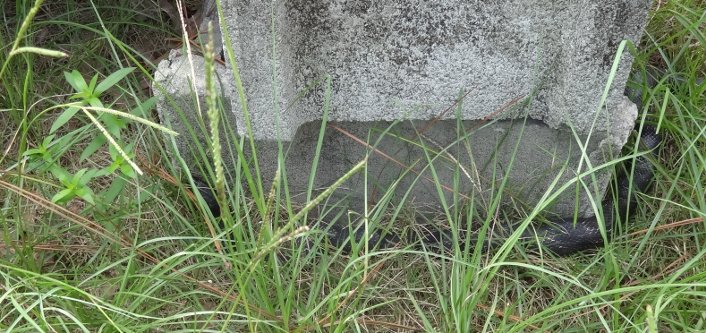 Funny that some of those formats have stations with similar names at similar frequencies here. Even funnier that "sonic burger" is right next to the corporate radio local office. I remember a time when I'd walk past a radio station office and they would claim ONE FREQUENCY. Nowadays those seem relatively rare.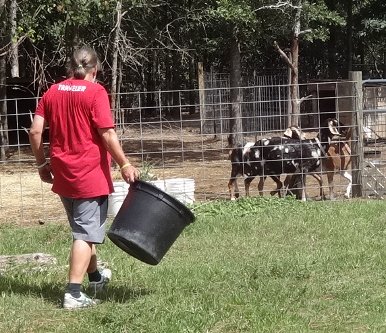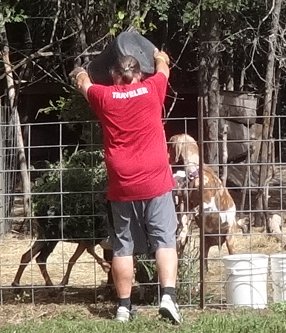 I kept telling them I wanted to help out around the farm somehow. Finally my sister suggested I pull a bucket of weeds and feed it to the goats. I did that. They were VERY HAPPY about the fresh food. Then I did another bucket of weeds for the next pen over. I repeated for hours. Five or six buckets of weeds later my sister came and told me "It's now so hot you should go inside." I did. Felt like I'd done something. For the rest of my stay there the goats were much more interested in me when I got near their pens.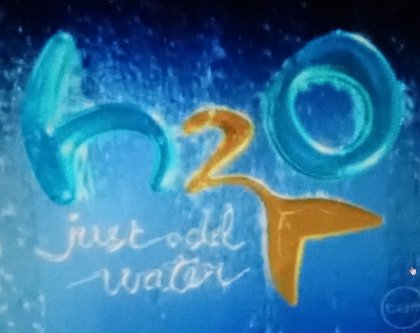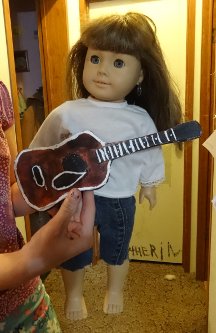 What I remember us doing for the rest of the day and evening was binge watching "Just Add Water". It's an Australian comedy about three girls that get mermaid super powers from visiting this weird island. I found it as believable as "I Dream of Genie" without the studio laugh track. While she watched Katie cut something out of old cereal boxes. I wondered what it was until she started painting. I asked and she said "A guitar." When she was done she got the doll she'd made it for and posed them together for me.

The next day was Saturday, when they have a booth at a nearby farmers market. I accompanied them to it. Unfortunately, I forgot my stickers. Wound up pacing around and listening to conversations for the entire time. It was fascinating. Had a great time and learned a lot about how small farms in Georgia fit into the system there. Wound up even more impressed with how important goats are in that world. Plenty of people came to buy. The vegetable sellers did okay. The baked good vendors did okay. The honey guy had plenty of customers. Seems like the craft vendors had slim pickings. The talk had a "wondering how to build up the local economy" quality. There was a lot of that.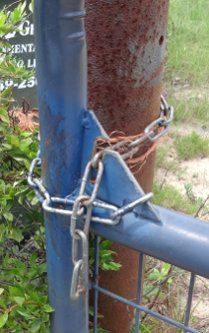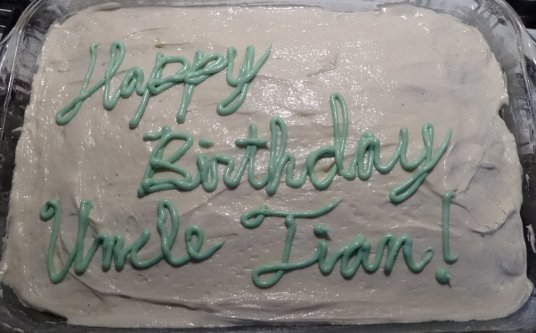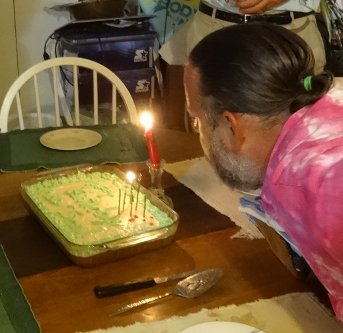 Getting back from the farmers market I was impressed again by the simple nature of the latch on the gate. Makes excellent use of a piece of chain and a groove in the extra piece of metal.

Since it was near my birthday Grace made me a cake. It's my favorite type, carrot cake. We got the carrots for it at the farmers market.

By this time my lungs were so allergied from being around the animals it was a real struggle to blow out the candles.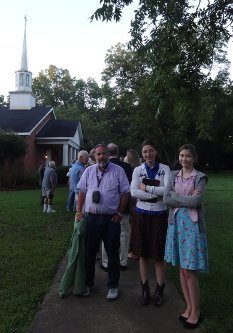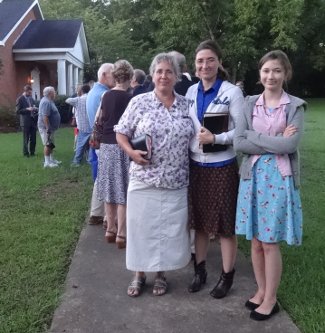 Our objective for the following morning was to see Jimmy Carter at the Amarantha Baptist Church, where he teaches Sunday School when he's in town. Their website indicated he would be in town this day. By the time they opened the doors the line was very long.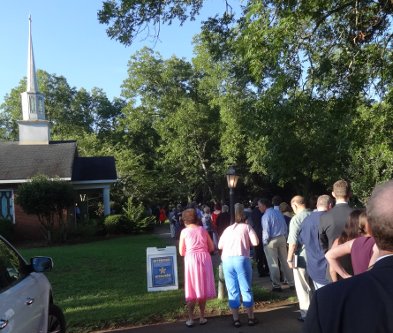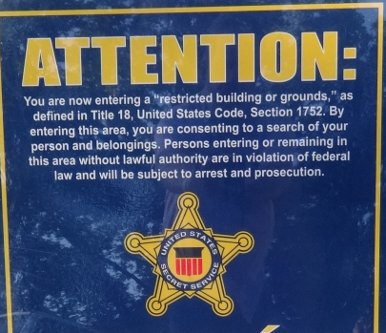 They were not shy about letting us know we were entering a controlled zone, where misbehavior would not be tolerated. It wasn't just the sign. There were dogs sniffing and a speech by a stiff lady with an "I'm in charge here" attitude.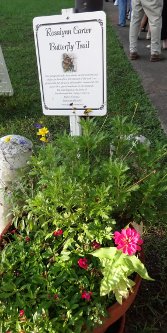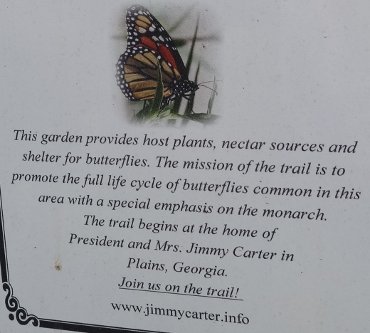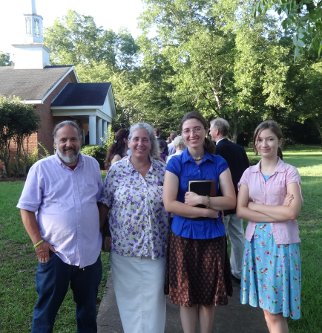 Thank you to the preacher behind us in line for taking this picture of the four of us! There was plenty of time in line to chat, and the crowd was friendly in a southern Baptist kind of way. As long as you were in favor of Jesus we all got along well enough. I guess I exercised my right to remain silent on that topic.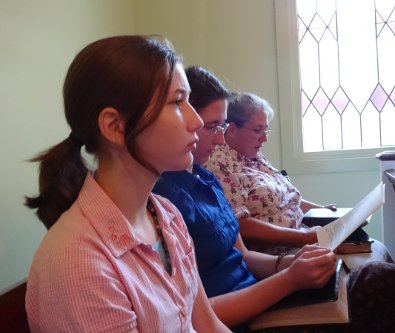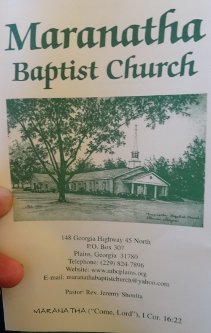 We got in. Yup, seats in the back corner of the room. Oh well. At least we got in. It was looking iffy for a while there.

Not long after I took this picture Miss Peggy went up and explained how it was going to go down. She mentioned that Jimmy Carter had done many things for the church, including making the collection plates, which he signed JC. They know that he's famous because on Sundays when President Carter isn't around the crowd for the service is more like 17 regulars. President Carter would come out and warm us up by asking "What State are you from?" He wants to hear each state exactly once. He'll repeat back each state as he hears it. That's the only time during the event that picture taking is okay. After that is over the picture taking is over until after the service, when we're invited to come up and have our picture taken with the Carters. She also had folksy advice for us on where to spend our money while we were in town and stuff like that.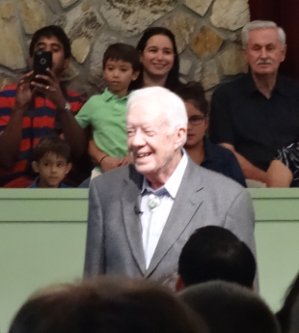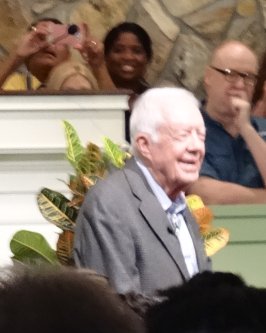 I was proud to say "California" when the opportunity arose. Glad to say I know he heard me because he repeated back "California" soon after that.

Then he pontificated at great length, saying things like "This past year has been the worst of my life because of cancer.", "peace", and "middle east". I had difficulty staying awake for it for some reason. I also had difficulty falling asleep, because every time I nodded off one of my sister's daughters would poke me. By the time it was over I felt very poked. Then we did the whole Baptist church service thing before lining up to have our picture taken with the Carters.

When the collection plates came around I was glad to put a dollar in JC's handmade alms bowl.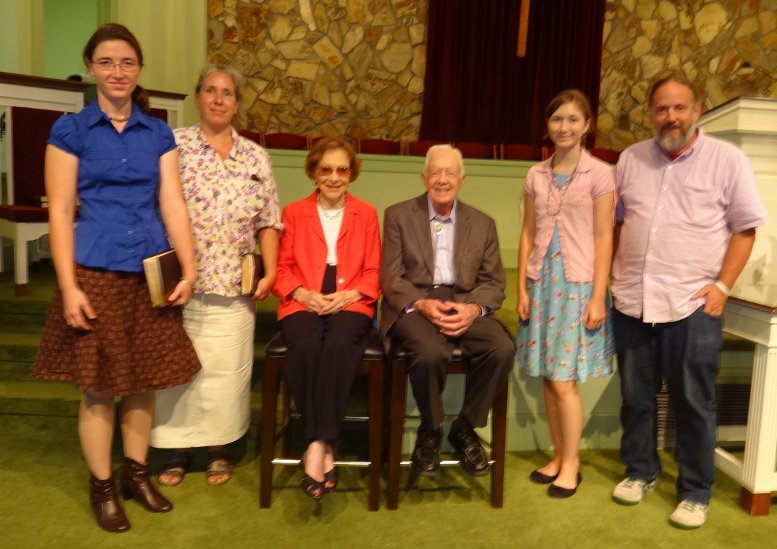 Wow! I got my picture taken with Jimmy Carter! So awesome....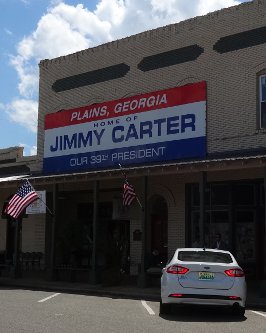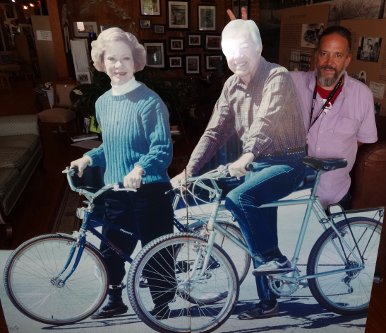 There were lots of opportunities to buy "Jimmy Carter for Cancer Survivor" buttons, stickers, and lawn signs. The only problem was they were too overpriced for my sensibilities. I ended up passing on the schwag. My sister bought us all peanut flavored ice cream from the woman that made the stuff. It was delicious.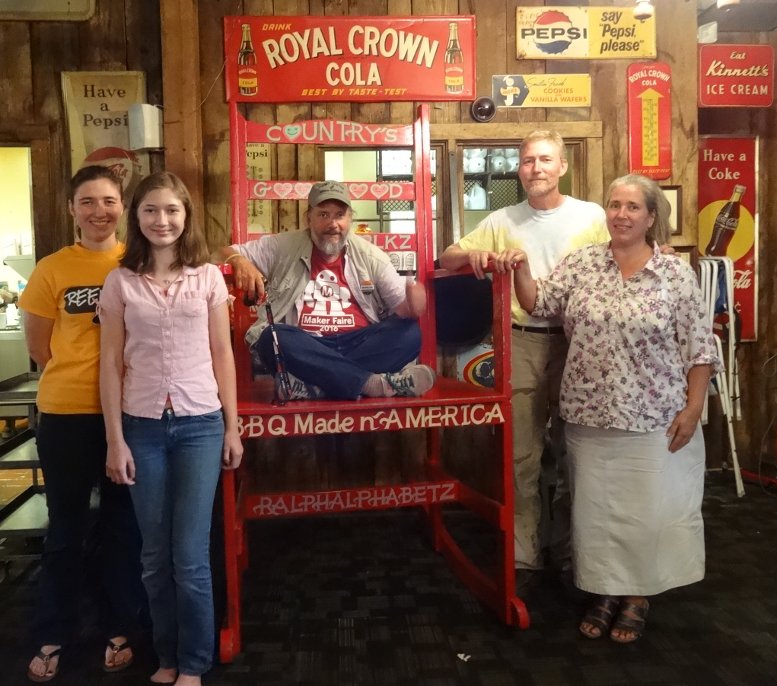 That was theoretically our last evening together, so I took everyone out for BBQ. Turns out the BBQ joint had this great photo op spot, which we got the waitress to take a picture of us at.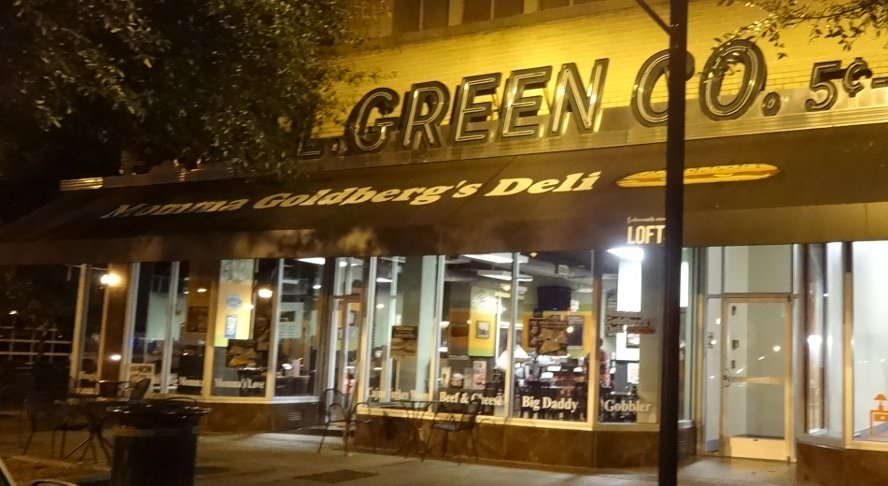 Then we wandered around downtown for a while to kill time until the bus was due.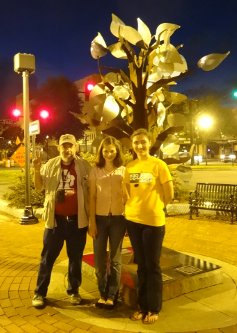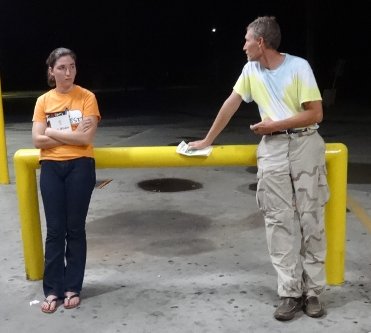 Of course the bus was late. We waited by the dock, talking about all the things we'd forgotten to bring up earlier, and whatever else crossed our minds. It's one of the traditions that I rather enjoy. Things took an unexpected turn when the bus driver looked at my ticket. He said "There has been massive flooding in Louisiana, so the road west is closed. You don't want to get on this bus. You want to come back tomorrow and re-ticket for another route. Otherwise you'll spend a few days waiting a few hundred miles down the road."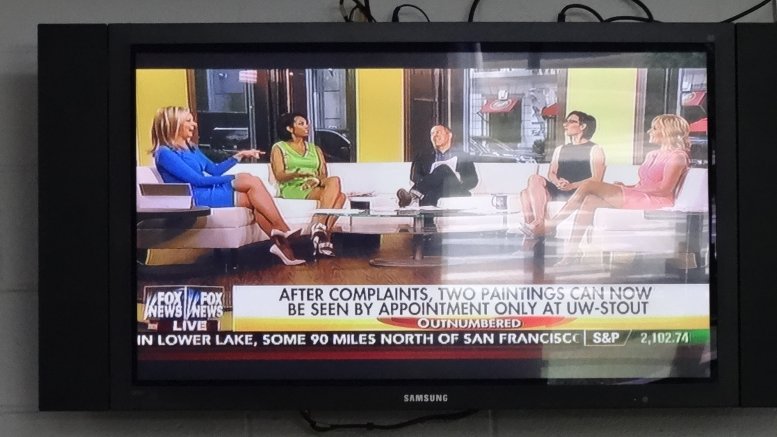 We went back to my sisters and got a good nights sleep. The next morning they dropped me at the station again. This time I was able to get on the bus no problem. I vividly remember meeting people at bus stops further down the road waiting for roads to open up so they could go home to Louisiana. Glad I'd listened to the driver!