For me, this was the 2nd annual trip up to Lair Camp. It wasn't really about taking pictures or being political, more about relaxing in a friendly place with fun people. I never did take out my camera. Virginia only did when she wanted to record some highlight.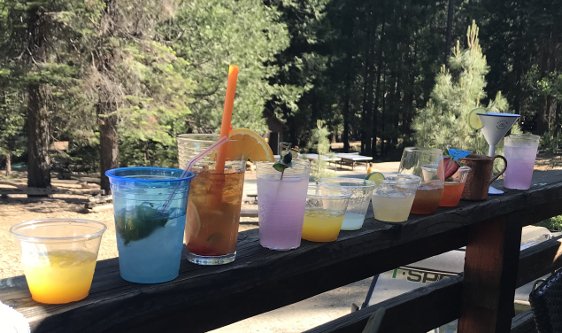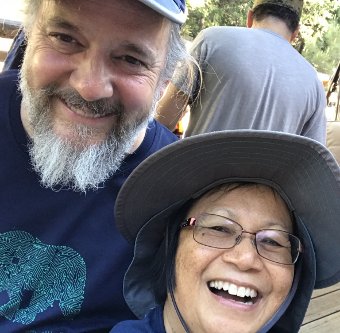 The first thing that inspired picture taking was judging the cocktail contest. The contestants were lined up, creating a nice group shot. Every one of those drinks had something going for it. Some were strong flavors, some had catchy names, all had lots of alcohol. The drinks were divided into two heats, kind of a playoff round. Chris and Lizzie both entered something. Judging my heat required picking the best two drinks from four for the final round. I felt quite drunk by the end. Very sure we advanced the right drinks though.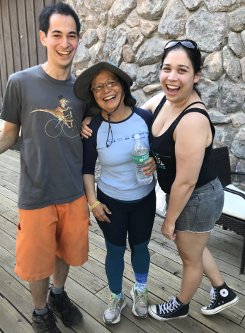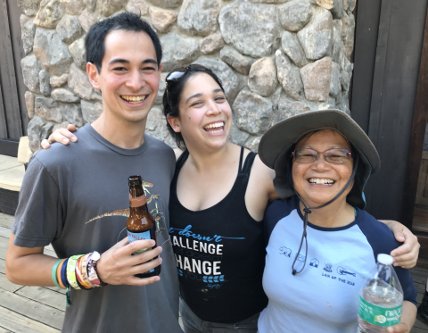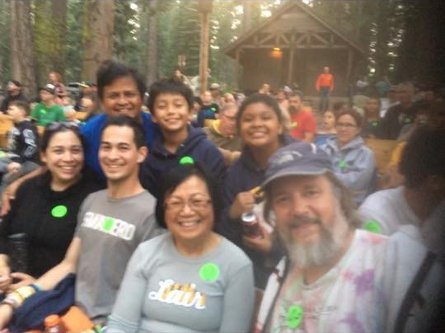 Later in the evening we went down to the Pinecrest Theater and saw The Incredibles 2. A good time was had by all. Thanks Silver for the group shot.

Turns out Chris had forgotten his bug hunting ordinance.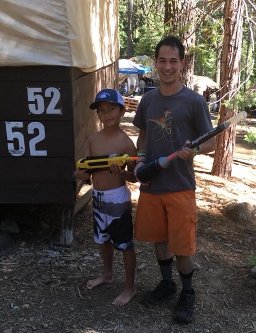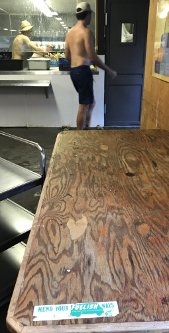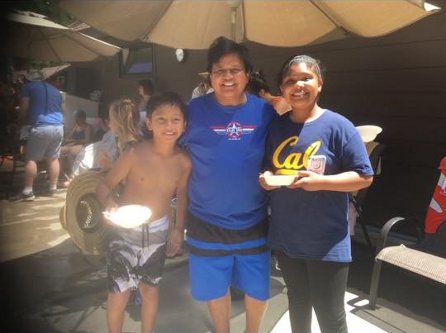 No problem, Lizzie had access to all that stuff and brought up hers the next day. Pity the poor mosquitoes and flies they hunted down.

Virginia found my sticker on one of the dining room tables. It had obviously been there a year or so.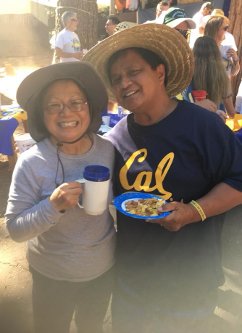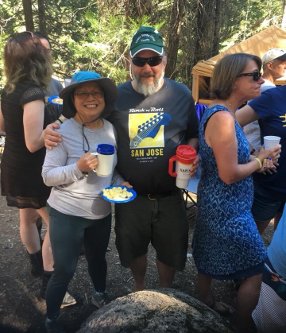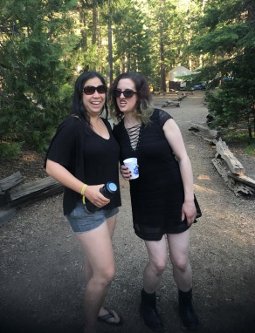 That evening the mixer was "Ho-Hos on the Hill!" Stiff drinks from a huge cooler that left me as drunk as I'd been as a judge. One conversation I remember was with a guy that knows a lot about the state of the art in wind power. He said that ten of the huge windmills they are putting up nowadays give us as much power as a normal fossil fuel power plant.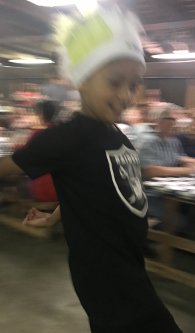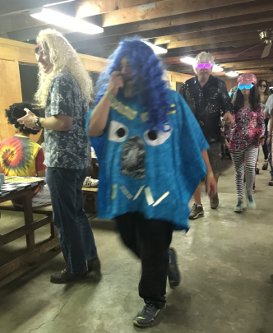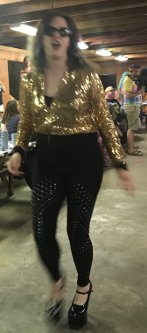 Later we participated in the Disco Bingo thing. I got a costume contest prize for showing up in ridiculous blue hair hair and my Pac-Man ghost poncho. Thanks to Chris for donating his trippy sunglasses at the last moment to put me over the top for the coveted lair burger! After the game was over we went up to the lodge to divvy up the food and play cards.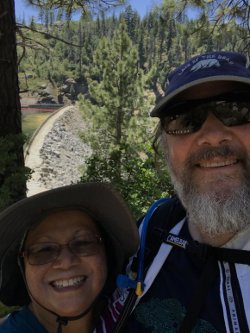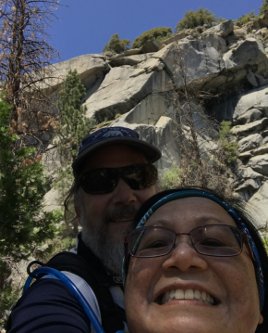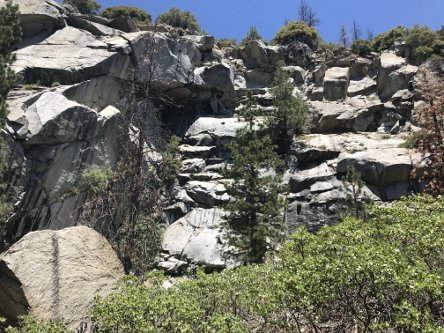 The next day we hiked around the lake. Had a great time and saw lots of nice scenery.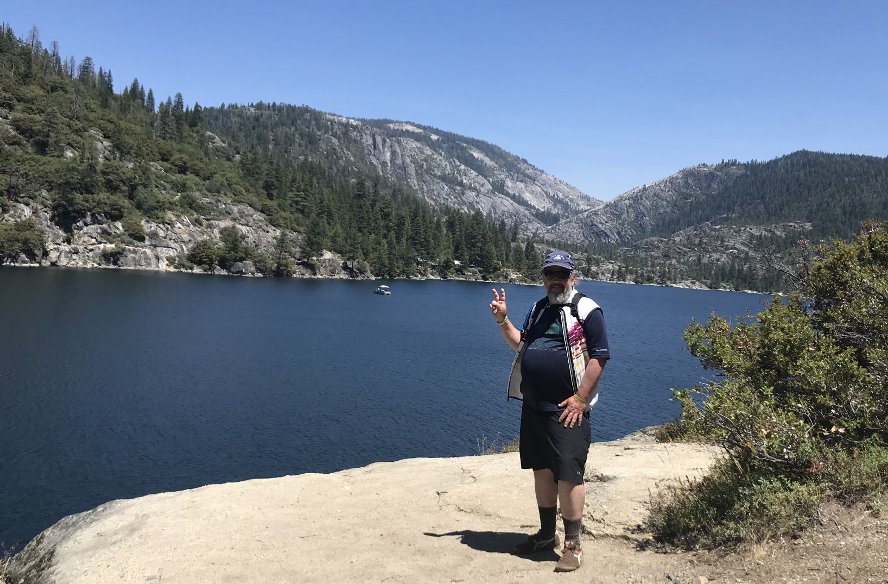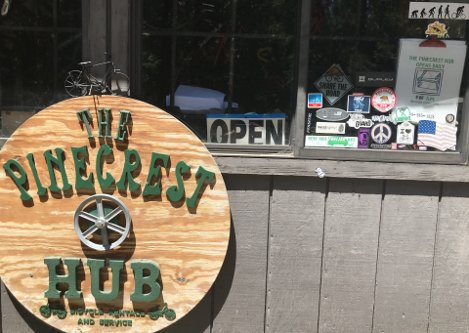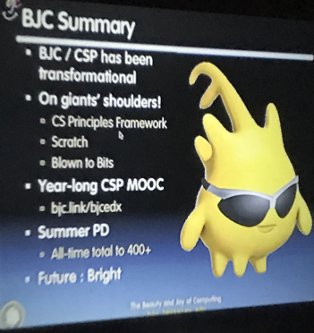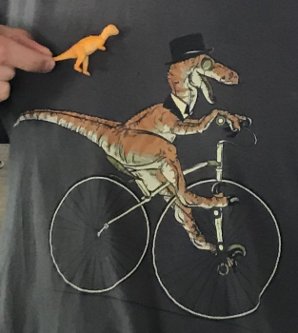 After going around the lake we were ready for some sitting. Dan Garcia, this Berkeley Professor type, had a presentation about the Beauty and Joy of Computing, his introductory course on programming for high school kids. He said the course is having good luck getting women to continue taking programming courses beyond just this first course. For one thing, the programming language is a matter of assembling building blocks, so they can't get lost in syntax errors. So many students give up because of those. For another, they are supplementing the classroom teaching teachers with online extras and volunteers that help a lot. What struck Virginia most is that the percentage of women taking this programming course has increased over several years from 40% to 65%, and most of his TAs are now women. She was so excited about the possibilities she's going to take the information to San Jose High School and see what they think of it.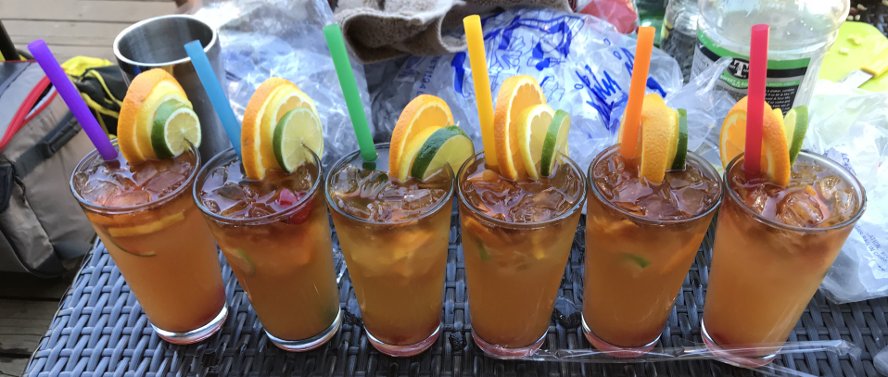 The next evening was the final round of the drink competition. Lizzie worked hard on her drinks, making one for every judge and maybe a few extra for others.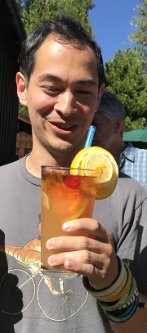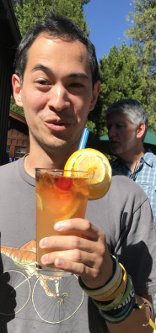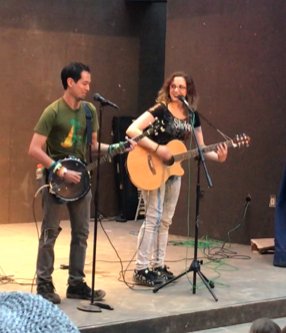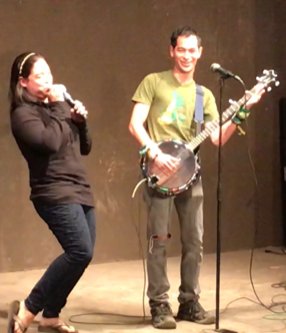 As an also ran from the first round, Chris was one of the judges this time. He took the job seriously. To make a long story short, Lizzie won "Best Dressed Drink", but the big bragging rights went to one of the other other drinks.

Wednesday evening's big event was "The Blue Review", a camper talent show. Chris and Lizzie did a cover of "Africa", a hit they both like. Later in the show Chris and Juliana did an original song. Lots of other campers did something to. The crowd enjoyed all of it. Good show!

We had to zoom home for a one day trip on Thursday, so we missed whatever they did then. Got back on Friday early enough to walk to the lake and try out the boat rental scene.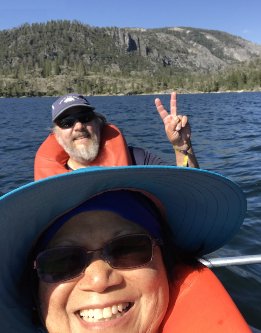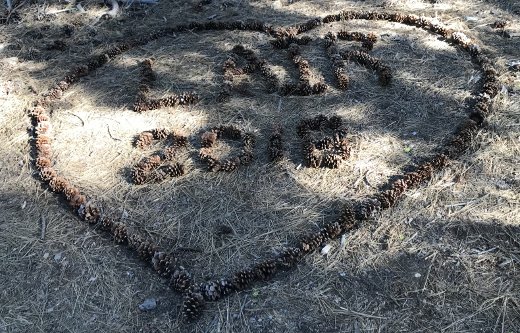 Turns out that starting at 4 PM the boat rental place at Pinecrest Lake has a special deal, two hours of tandem boat rental for $20. We took them up on that, renting that blue and green boat. It didn't take long to figure out how to work together rowing. We then used it to row across the lake and back. That took at least an hour and a half or so. Got plenty wet in the process. No problem because it was a hot and sunny day.

Walked home with very sore arm, shoulder, and belly muscles. Despite that, I had enough strength to lift the camera and take a picture of somebody else's very fine pine cone arrangement.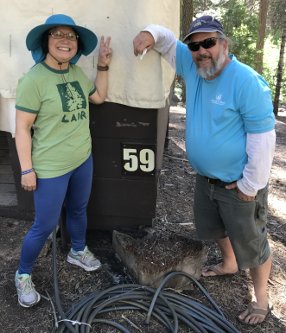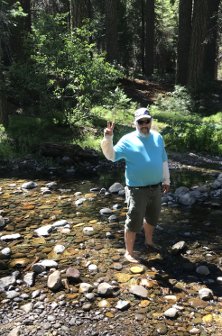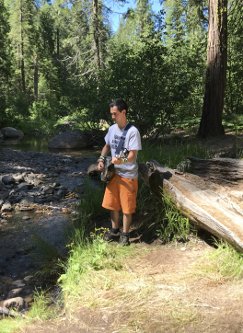 That last morning we played in the creek a bit before hitting the road.